The Thryv App Market is a page for all of the other softwares that Thryv can directly integrate with. Here you will find other apps with which you can sync contacts, set up recurring integrations, or find useful partnerships.
Article Contents
Navigation
To view more information about an app, click on its icon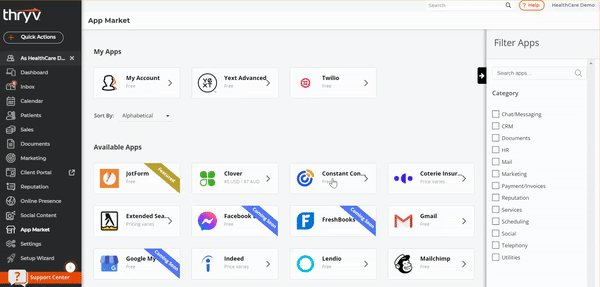 It will show a page with information about the app, what permissions are required, and reviews for this app from other Thryv users.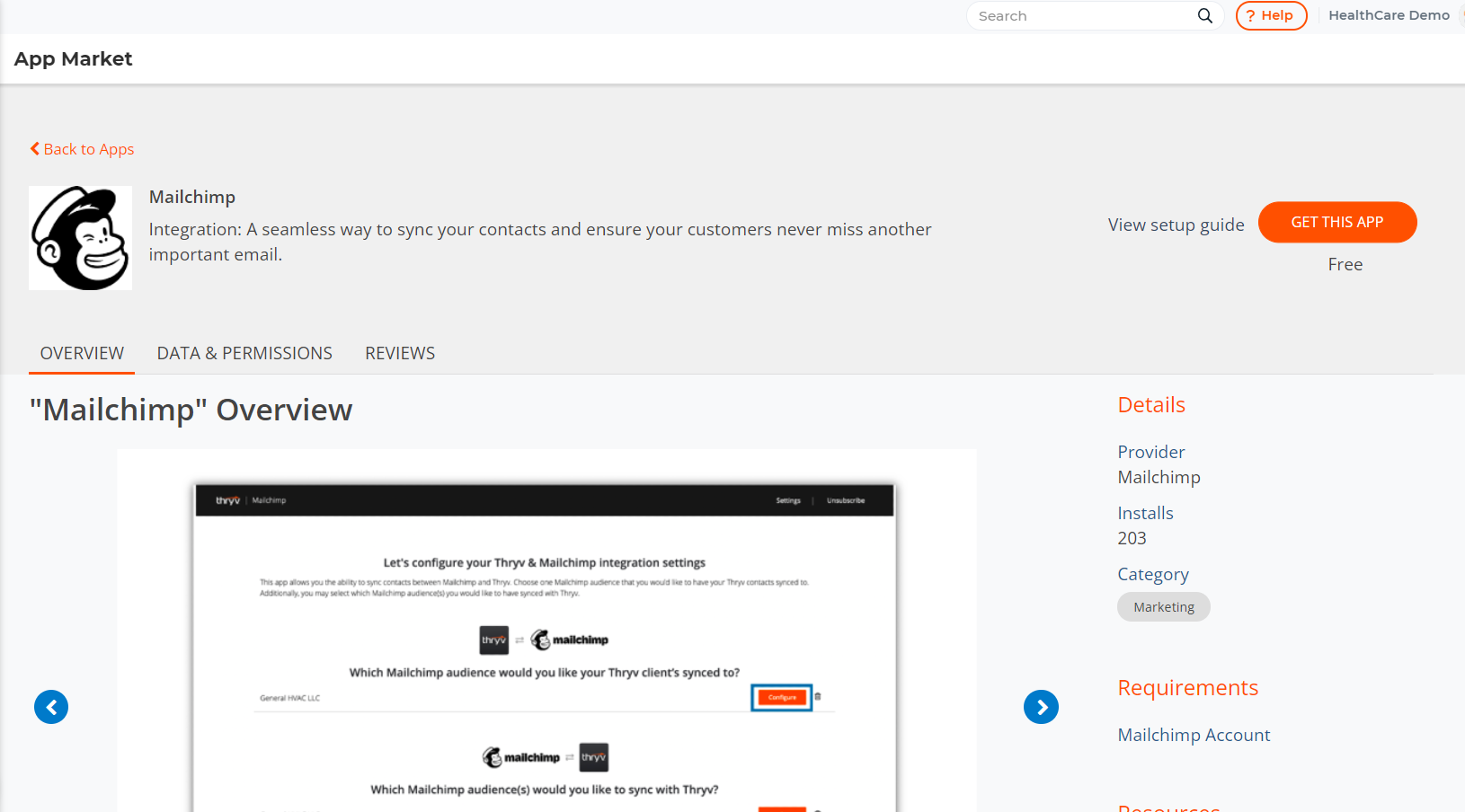 To use the app, click on the orange button in the top right. The cost for the integration, if there is any, will be shown below the button.
Note: The price shown here is specifically for the integration between Thryv and the other software. If the other software has a cost associated with it, that will not be shown here. If a cost is shown, it will be added to your regular Thryv billing to pay for the integration

You will then be taken to the setup screen for the app. From here, the process will vary depending on the app selected.
Click on View Setup Guide to be taken to the support center article for that app, which will show how to install and what to expect.
Pre-Installed Apps
Two apps will always come pre-installed with your Thryv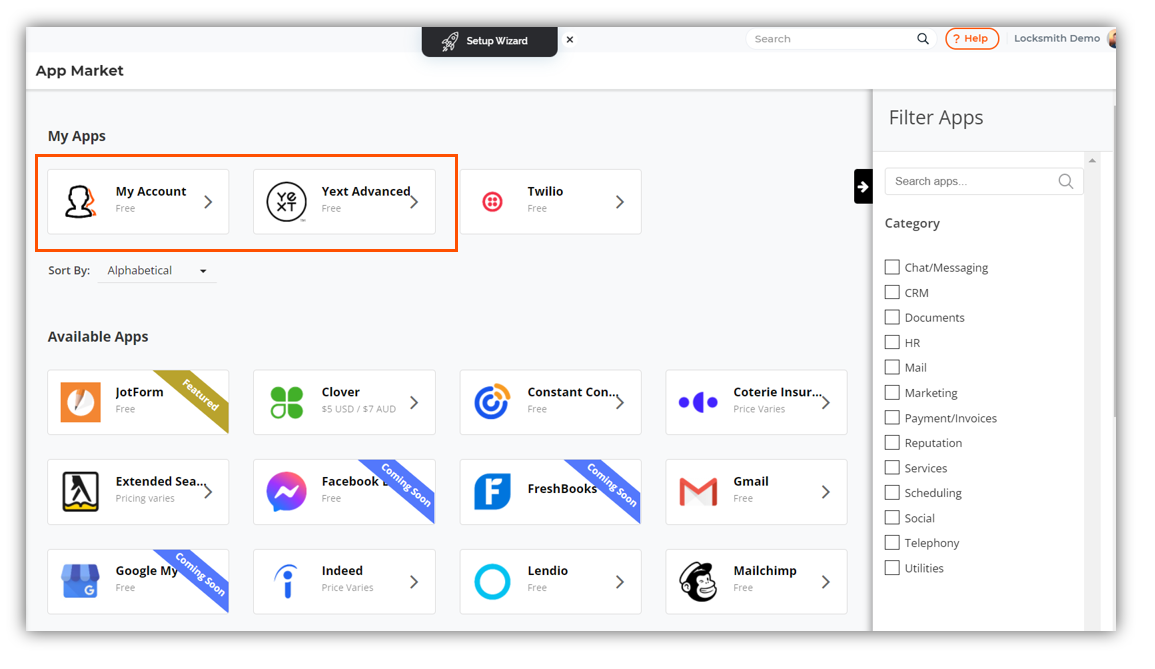 My Account - A place to see your Thryv billing and other information about your account including updating your billing information, or upgrading your software. Click Here for a full guide
Yext Advanced - Where you can edit advanced information about your online listings. Click Here for a full guide
These apps are necessary and can not be uninstalled.
Available Apps
This is the selection of 3rd party apps that are available to integrate with your Thryv software.
They fall into one of x different categories:
Partnerships - This is a link to one of Thryv's partners that offers a service many businesses would be interested in. Sometimes there is an incentive for adding this service through a Thryv app. Indeed and Lendio are examples
One-Way Sync- These apps will sync contacts and other data from one software to another, in one direction. For example, a contact added in Thryv would be automatically added to Quickbooks Online, but not the other way around
Two-Way Sync - These apps will sync contacts and other data between Thryv and another software in both directions. In other words, a contact added in either Mailchimp or Thryv would appear in the other software.
Each App will have its own guide in the support center, and a graphic at the top will always appear at the top of the article, indicating the direction(s) of the sync.
FAQ
If there is a cost associated with an app, how does the billing work?
The cost of the integration will be added to your Thryv bill on the next billing cycle. It will remain on your Thryv invoice as long as the integration stays connected.
If an app says "Free," does that mean the other software is free to use?
Not necessarily. While many softwares in the app market do have a free version, there may or may not be a cost associated with them. "Free" in this case strictly refers to the integration with Thryv
Are these the only softwares that Thryv integrates with?
While these are the apps that Thryv integrates with directly, Thryv also connects with Zapier, a 3rd party platform that can connect with over 3,000 other apps. Click Here for a list on their site of all of the other apps that can connect with Thryv through a Zap.
An App I want is "Coming Soon." How do I get notified when it's here?
Click on the icon as normal. In the top right, the orange button will say "Notify Me" instead of Get This App. Click on that button, and you will receive a notification when the app becomes available.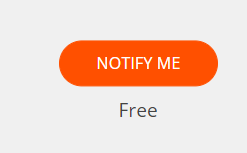 Will more apps be added to the App Market?
Absolutely! We are always exploring opportunities to integrate with other software to streamline your business. Check back often, as we will usually place an app in the app market when it is considered "coming soon!"