Instagram Messenger
To connect Instagram messenger, you must ensure that your Instagram is both an Instagram Business Account and that it is connected to your Facebook Business Page account in Facebook. To learn how to create an Instagram Business Account, see the video guide located here. To connect your Instagram account to your Facebook Business Page, see the walkthrough guide located here. Once you have ensured these steps are completed, you can install the Instagram Messenger App.
To do so, navigate to the App Market and select the Instagram Messenger App.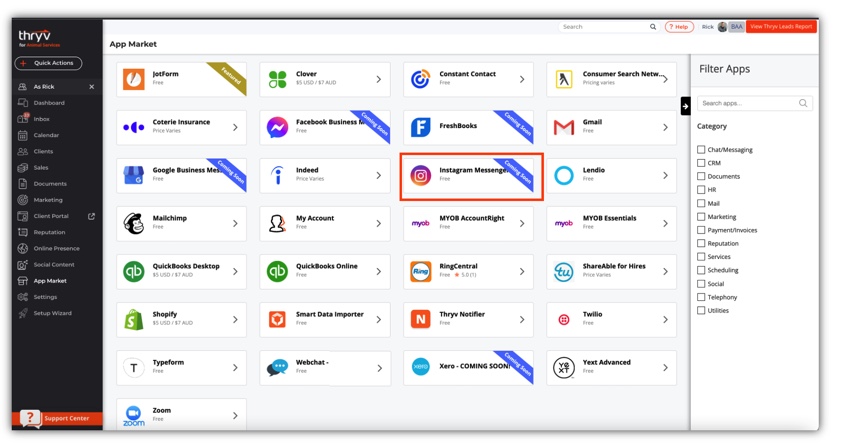 Next, click on Get This App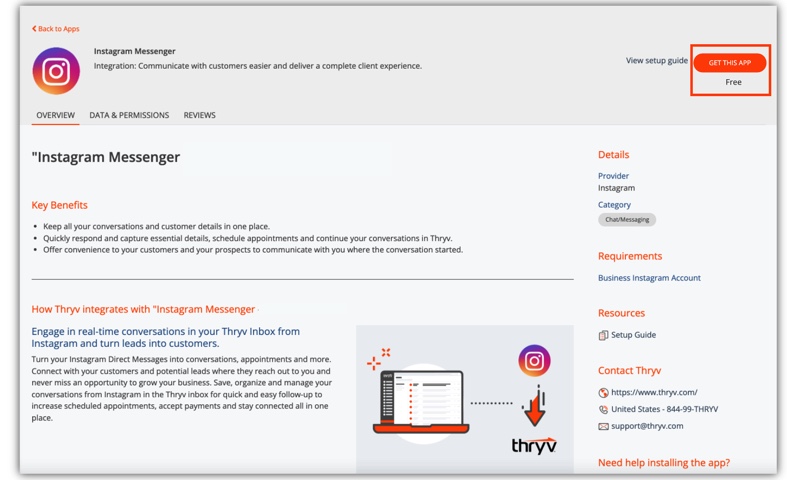 Next, review the permissions that Thryv will need to connect to Instagram, then check the box accepting the terms and conditions and click on Connect To Instagram Account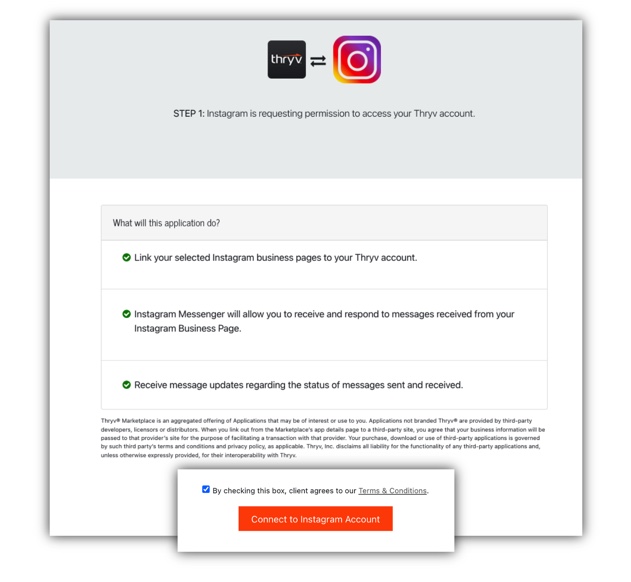 You will next be prompted to log in to your Facebook Account, or "continue as" if you are already signed in.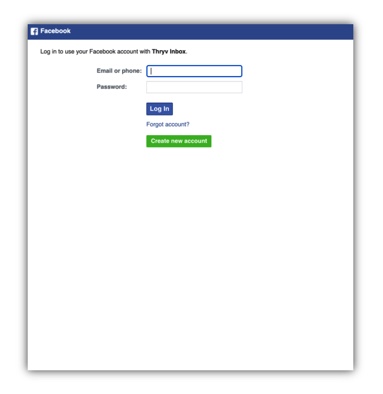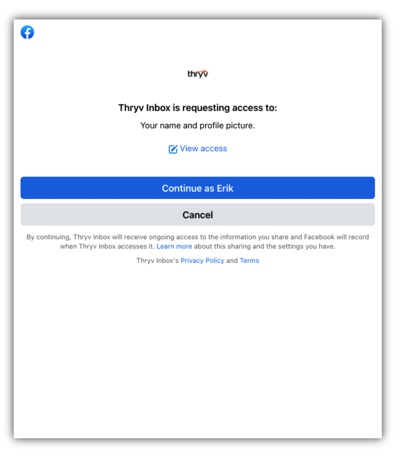 After logging in to Facebook, you will need to connect your business page or pages to Thryv. To do this, click on Add Pages.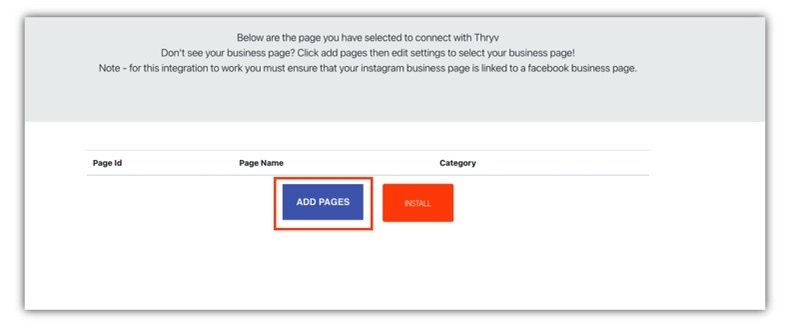 Check the box for the page or pages you want to connect, and click on Next.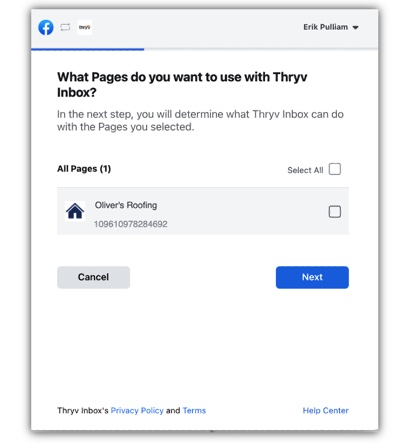 Next, review the permissions for connecting your Thryv inbox and Instagram Messenger. Keep in mind that turning off any of these permissions could affect the performance of your Inbox. Once you are finished click on Done.
Click OK on the confirmation screen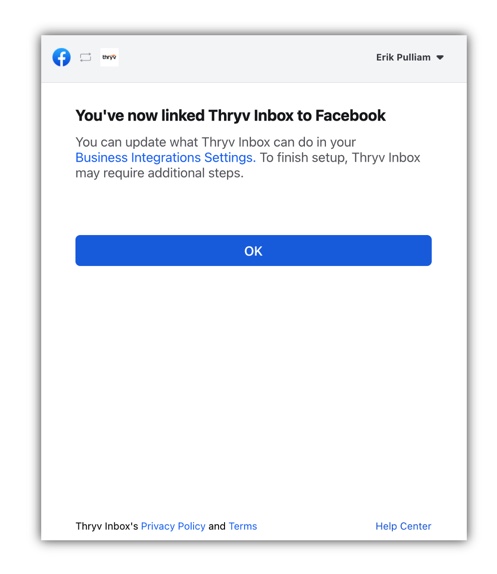 You will then see your connected pages listed. Click on Install to complete setup.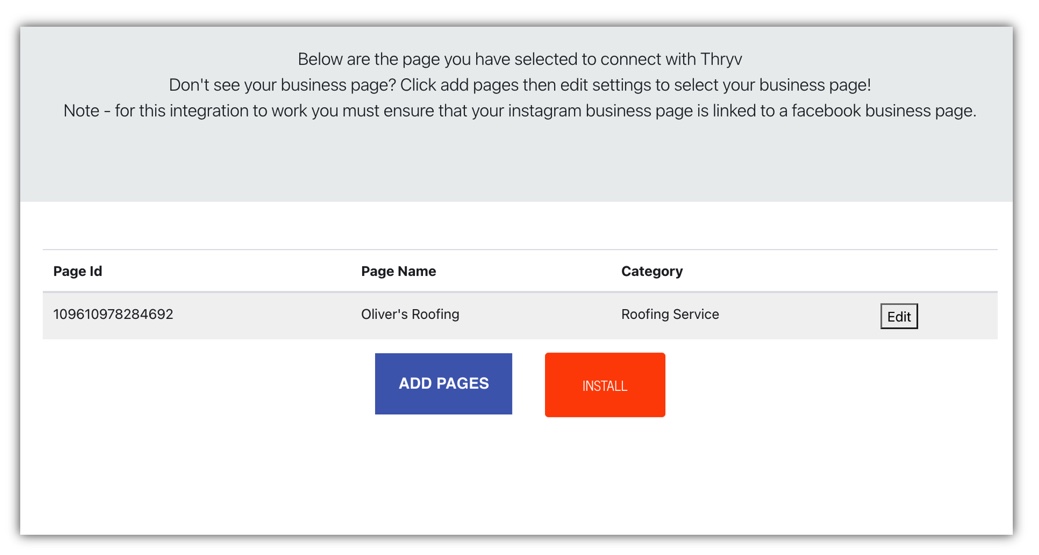 Wait for a moment while the install takes place. You will then be redirected back to Thryv.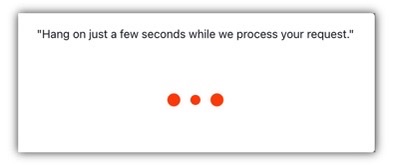 FAQ
My customers are sending me messages that I'm not seeing, why is that?
Ensure that your customers are not using Vanish Mode on Instagram. Vanish mode is a setting in which messages sent will be automatically deleted shortly after they are opened. Because of the way these messages work, they will not appear in your Thryv Inbox.
I only see my Facebook page connected, not my Instagram page?
That's okay! Thryv connects to your Instagram Business page through your connected Facebook Business Page. Because this is the way that Meta has their page structure organized, it will display the connected Facebook Business Page
Do I have to have my Facebook Business page connected to my Thryv inbox in order to use Instagram Messenger with Thryv?
Not necessarily, you only need to have your Instagram Business page connected with your Facebook Business page.
How long will Instagram Messenger conversations stay active?
Instagram Messenger will stay active for 7 days of inactivity by the customer. After this, the conversation can only be initiated by the customer again.
Want to finish connecting the rest of your messaging apps? Click Here for a full guide!