Ready for your new staff member to get started using Thryv? Here is a guide for your new staff member to set up their login and get started using Thryv.
Note: The first section of this guide, "Create Staff Account" is for the Thryv Admin. The remainder of the guide is for the individual staff member to complete. After the Thryv Admin completes the first step, they can send a link to this guide to their staff member.
Article Contents:
Create Staff Account
For a full guide to adding a Staff profile, Click Here.
Navigate to Settings>Staff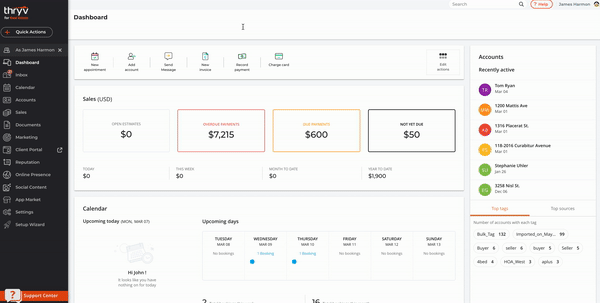 Click on Add Staff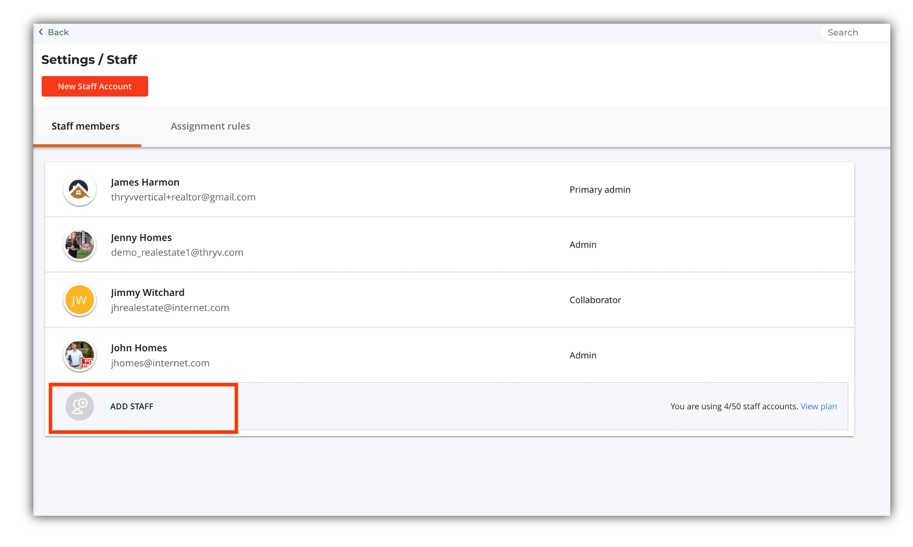 Add a Name, Email Address, and Role for your new staff member. Click Here for a full guide to staff roles.

Also, make sure that Send email invitation with set password instructions is checked. This step is necessary to make sure the new staff member receives an email to set up their password.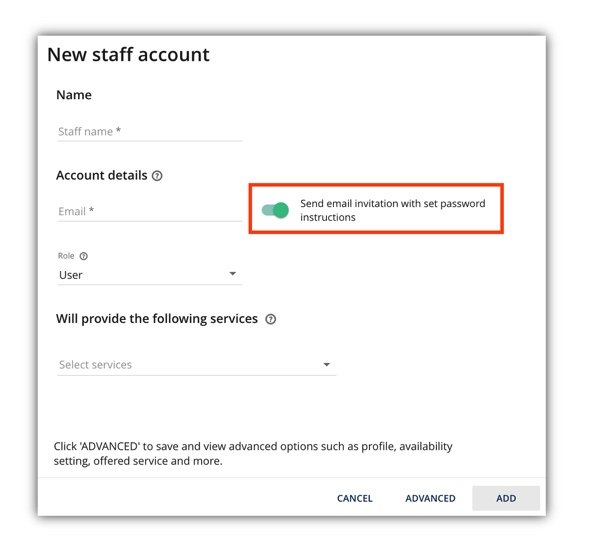 High-Thryver Tip: If your staff member reports they did not receive the email, or would like it again, click on the tri-dots by their name, and Resend activation email to send the email to them again.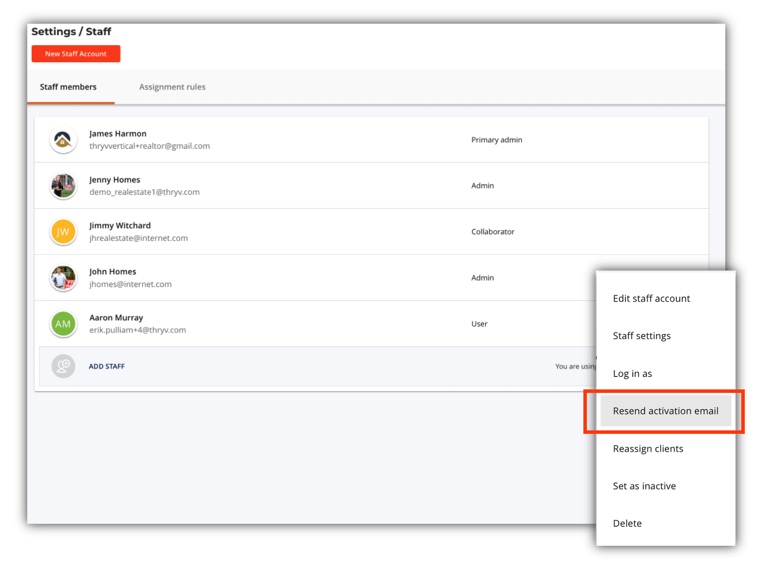 Set Up Your Login Information
Once you receive your invitation email, click on Accept Invitation to set up your account.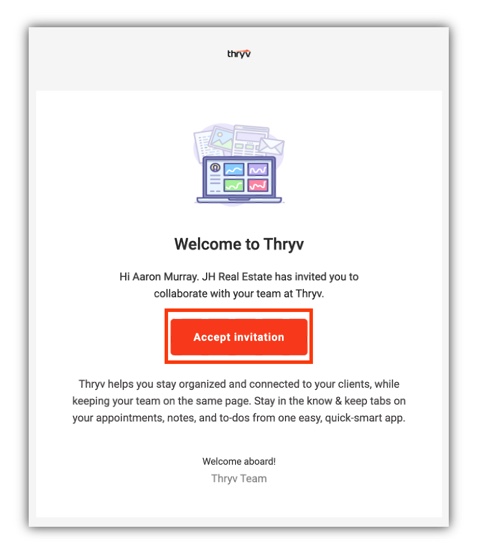 You will be prompted to create a password that will be used to log in to Thryv.
Take note of the requirements for your password:
8 characters minimum
One lowercase character
One uppercase character
One number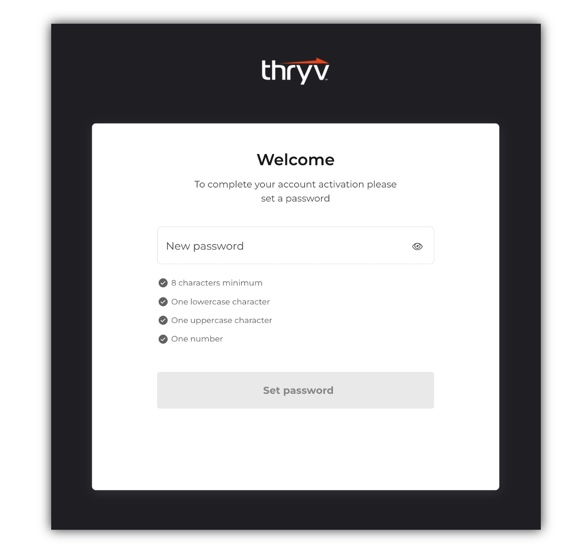 After clicking on Set Password, you will automatically be logged in to Thryv.
Download Mobile App
You are also able to access Thryv out in the field or on the go with the mobile app. It is available for both the iOS App Store and the Google Play Android Store
On the login screen, log in with the email address for your staff account, and the password you set in the previous step.

If you haven't been able to set up a password yet, you can still log in with a One-Time Code sent to your email address. Note: You must use the same email address that was used to set up your staff account.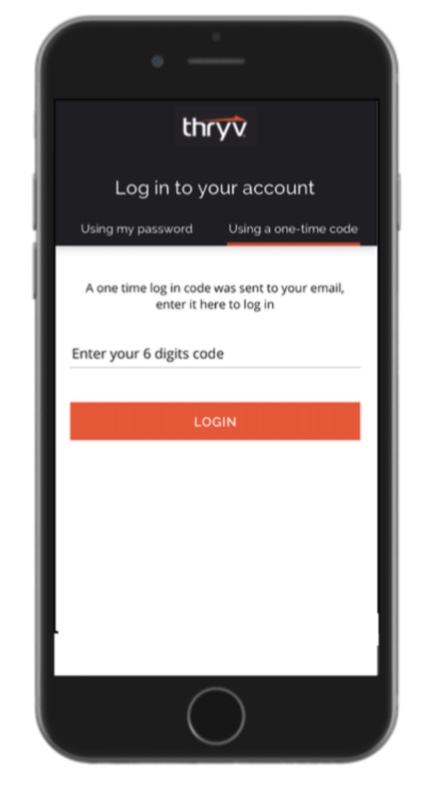 For a full guide to using the Thryv Mobile App, Click Here
Complete Your Profile
For a full guide to completing your staff profile, Click Here
Note: This step can only be completed on the desktop version of Thryv. It is not accessible on the app.
To edit your profile, click on Settings.
My Profile
In My Profile you can edit basic information about your staff account, including:
First/Last name
Email address

Note: Changing this email address will change the email address you use to log in to Thryv

Change Password
Display Name

This is the name that will be displayed in Thryv and shown to clients (on appointment reminders, invoices, etc.)

Professional Title
Color

This is used to color code appointments on the calendar
Note: Please make sure to consult with your Thryv admin for any company guidelines on how this information should be entered.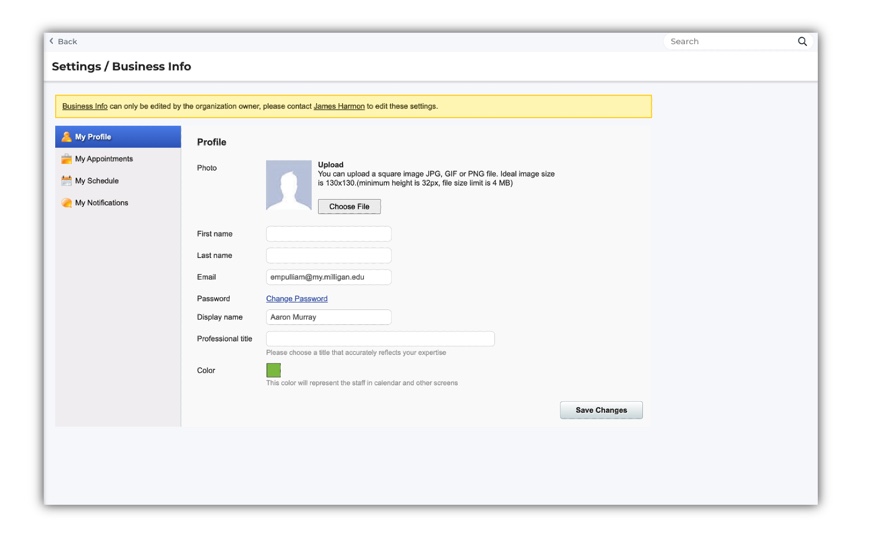 My Appointments
Use this screen to toggle which services you offer. Again, make sure you consult with your Thryv admin to ensure this is set up according to company guidelines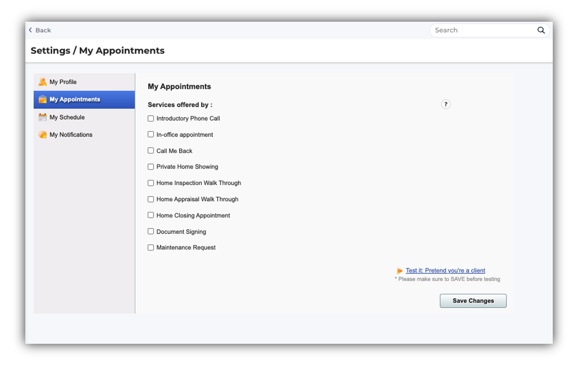 My Schedule
Use this screen to set up your Thryv calendar. Setting your hours here will display your availability to other staff members, and set the hours you are available for online booking, if this is something that your company offers.
For a full guide to setting your schedule, Click Here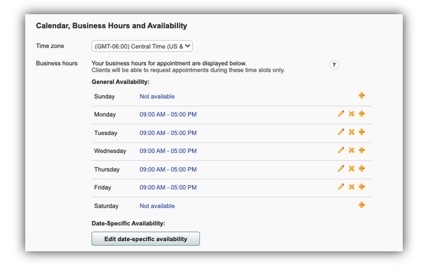 You also are able to sync your calendar to an external calendar, (such as Gmail, Yahoo, Outlook, or others).
Calendar Push means that any appointments in Thryv will have an .ics file sent to the email address associated with your staff account. This will automatically place the appointment on your calendar
Calendar Pull means that Thryv will take the .ics files from your external calendar and mark that time as busy on your Thryv calendar. This will show to other staff members and block that time from being available for online booking.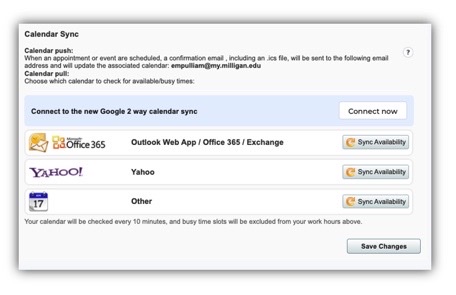 My Notifications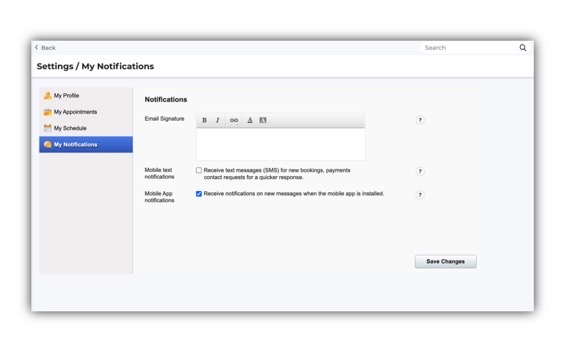 Use this screen to customize your email signature for messages from Thryv, as well as toggle mobile SMS notifications for bookings, payments, and contact requests, and toggle notifications for new messages when the mobile app is installed.
Ready to get started using Thryv? Click Here for a full guide to adding your first client!