This article is for users that have a Thryv account. If you have do not have a Thryv account, go here for assistance.
ThryvPay Mobile App Guides:
Download the free app to start getting paid faster.
https://thryv.biz/3eC6t1G
for iOS and
https://thryv.biz/3uI9Euj
for Andriod.
Upon opening the ThryvPay app you will be taken to the Log-in or Get started page
Already have a Thryv software account or already signed up for the ThryvPay Mobile App?
Simply click on Log in and use your Thryv log in information to sign in.
Log in initially then you can enable biometric ID screening under Settings: Payment settings
Face ID or fingerprint or other biometric ID can be set up to make logging in more convenient in the future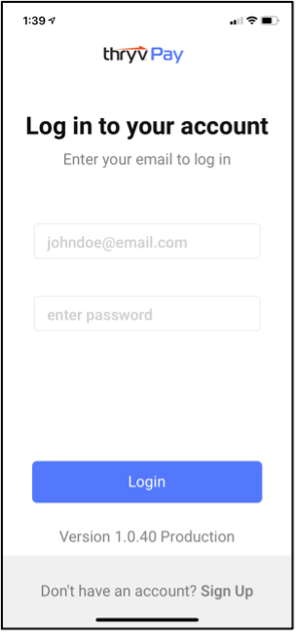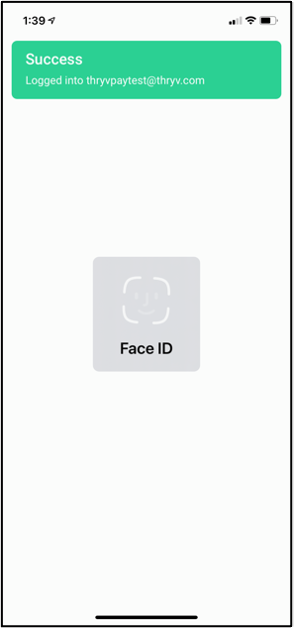 Once you set up face ID a two-factor authentication code will be sent via email. Enter the 4-digit code and click verify. You are now able to transact using the ThryvPay App.
IMPORTANT NOTES: ThryvPay App vs the Thryv Software
The ThryvPay App is meant to be a quick payment app allowing businesses to send a payment request quickly and easily to a customer and track the payment.
The ThryvPay App does not include invoices, estimate, marketing, online presence, social, or any other Thryv feature other than Sales>Payments Received, Sales>ThryvPay and Sales>Scheduled Payments
The ThryvPay App will pull in your Settings>My Products for you to choose from when creating a payment request if you have it checked to include in your bookings
The ThryvPay App will also pull in any Settings>Services that you have created that also include a rate associated to it. NOTE: The app will not list any items without a price or with a variable rate associated to it.
Any new Services/Products added via the ThryvPay app will be added to your Thryv in the Settings>My Products section
Tips and Convenience fees paid via the app will appear on the initial payment request (the app does not separate the tip and convenience fee to a separate transaction)