Congratulations on your Thryv purchase! We're happy that you've chosen our software to get the job, manage the job, and get credit for the job! This guide will show you how to get your software set up so you can start automating tasks, saving time and running your business!
Find Your Business
First, enter your zip code and business name. This will allow Thryv to scan Google and quickly find your business so we can start syncing your listings.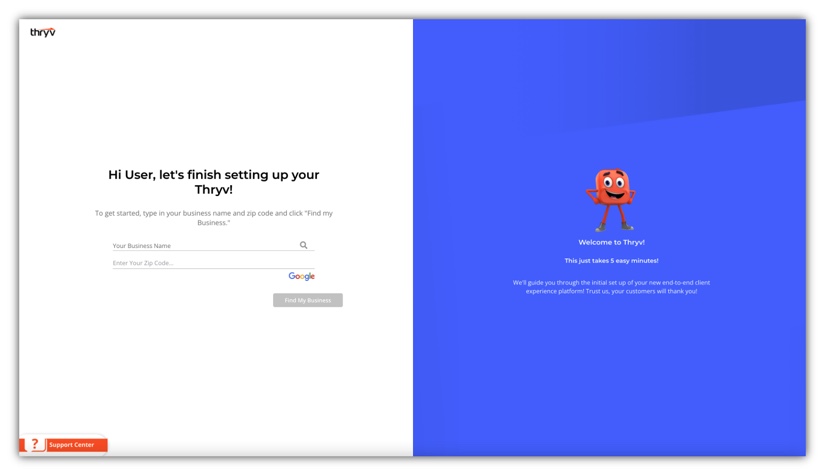 If your business information appears here, you can click on your business listing to select your business and start syncing your listings. You can skip the section "If Your Business Information Does Not Appear," and go to Set Up Your Inbox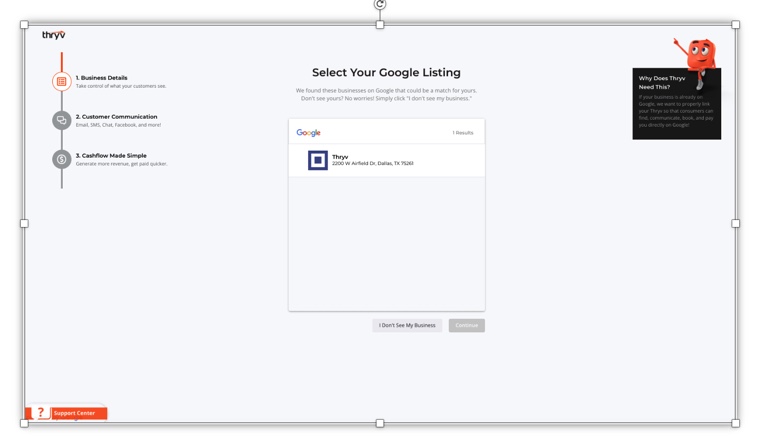 Thryv will auto-populate your business information into the appropriate fields. Confirm they are correct and click on Confirm & Continue
If your Business Information does not appear
If your business does not appear, that's okay! Just click on I Don't See My Business

You will then be prompted to fill in your essential business information. Thryv will use this to try to match an existing Google listing, or make one for you if it can't find one.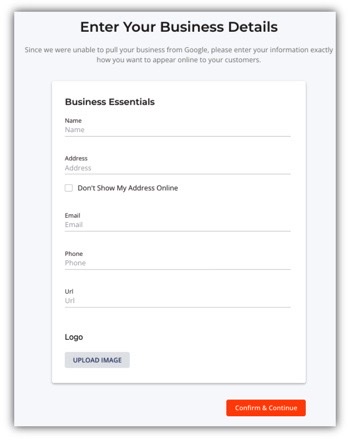 Note: Be sure to include the full URL for your website including https://
Set Up Your Inbox
Next, Thryv is going to text-enable your landline phone number. This means that any sms messages received at this number will appear in your Thryv inbox, and any sms messages sent from Thryv will come from this number, even if it is a landline! All you need to do is click on OK, Got It!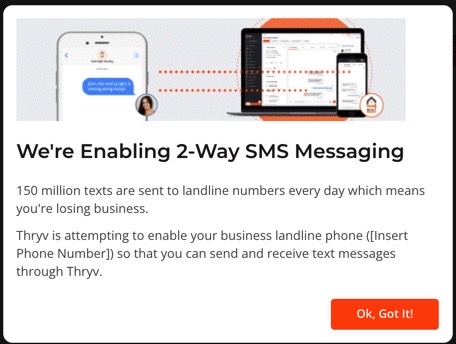 You can test the functionality of texting with your Thryv inbox. Enter your cell phone in the field provided, and click Continue.
Note: If you want to skip this step, or if you don't have a cell phone, click I Don't Have A Cell Phone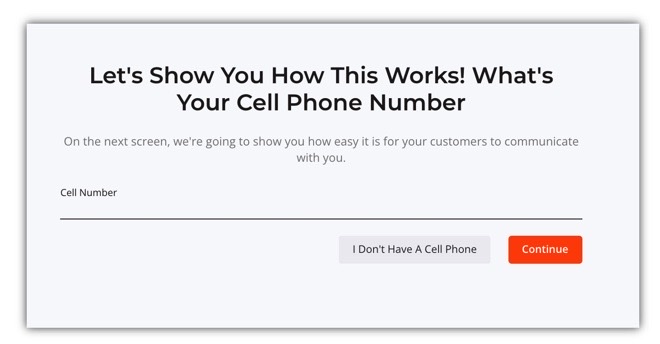 Make sure you have your cell phone ready, and click on I'm Ready! Send Me A Message.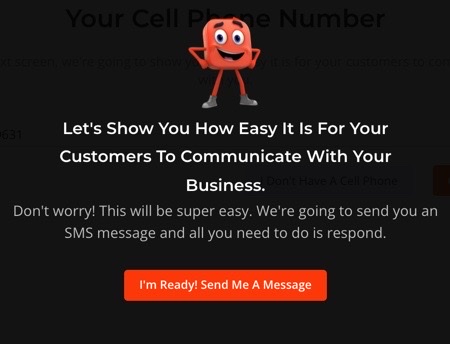 Next, connect your Facebook Messenger, Instagram Messenger, and enable WebChat on your website. Click on the above apps for a full installation guide. If you want to skip this step for now, click on I'll Do It Later. Once all of the desired apps are connected, click on Continue.
Set Up Payments
To set up taking payments through Thryv, click on all of the options shown that apply to your business.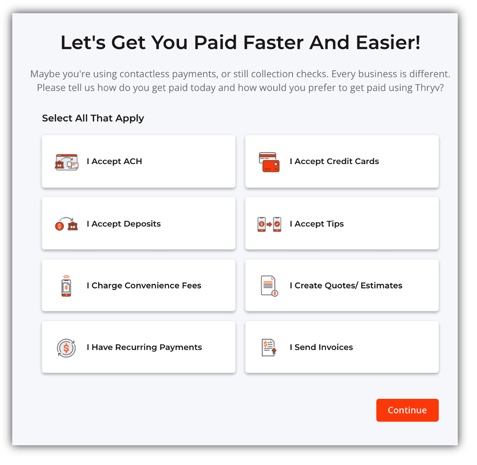 Based on the options selected, Thryv will recommend a payment processor to connect with Thryv. All of the options will still be shown for you to select. Here are the guides for each one:
You also can skip this step for now, by clicking on I'll Do It Later. If you do so, a guide will quickly appear so that you can find where in Thryv to do this later.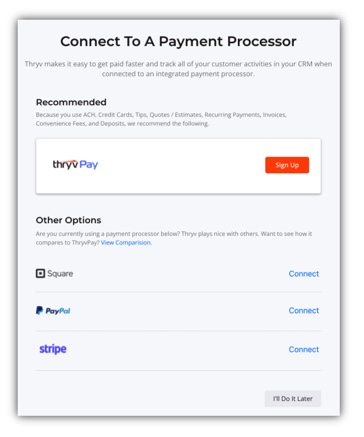 Personalize Your Thryv
From here you will see a few more options for setting up your Thryv exactly how you want it.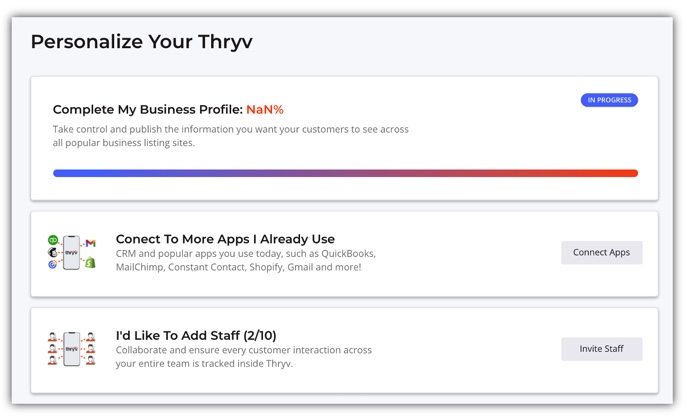 Complete My Business Profile will take you to your Listings Settings to fill out more information for your online listings. Click Here for a full guide.
Connect To More Apps I Already Use will take you to our app market, where you can browse a list of apps that Thryv directly integrates with. Click on each app that you already use, and then click on Continue. You will be prompted to connect each one to Thryv, and then be taken back to the setup wizard when complete.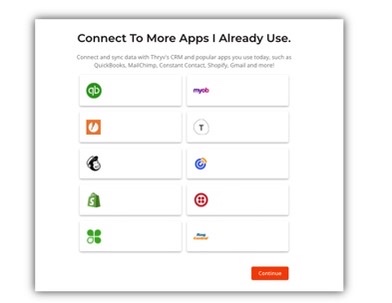 Note: This is for apps that you have an existing account with. If you don't already have these apps, first create your account with that app, then navigate to the Thryv App Market to connect after your initial Thryv setup.
I'd Like To Add Staff will invite your staff members to setup their individual Thryv logins. Enter their email, and select a role for them (Click Here for a full guide to staff roles). They will get an email inviting them to set up their password, and then they can start using Thryv.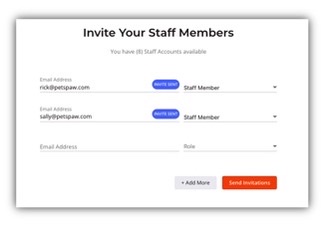 Next Steps
From here, you can select which items you want to start on next. Click on the activity you would like to complete, and then you will be prompted to complete the setup within Thryv

Ready to get your staff accounts added to Thryv to collaborate with your team? Click Here for a guide to adding staff accounts!