With over 70% of internet searches being performed on Google, it is critically important that your listing is optimized. Luckily, Business Center gives you all of the tools to do just that. Here are some of our most frequently asked questions regarding your Google Business Profile (GBP) listing.
Q: Where can I make changes to my Google Business Listing?
A: Navigate to Online Presence>Google Profile to make changes directly to your GBP Listing. Information from Settings>Listings will be included on your listing as well.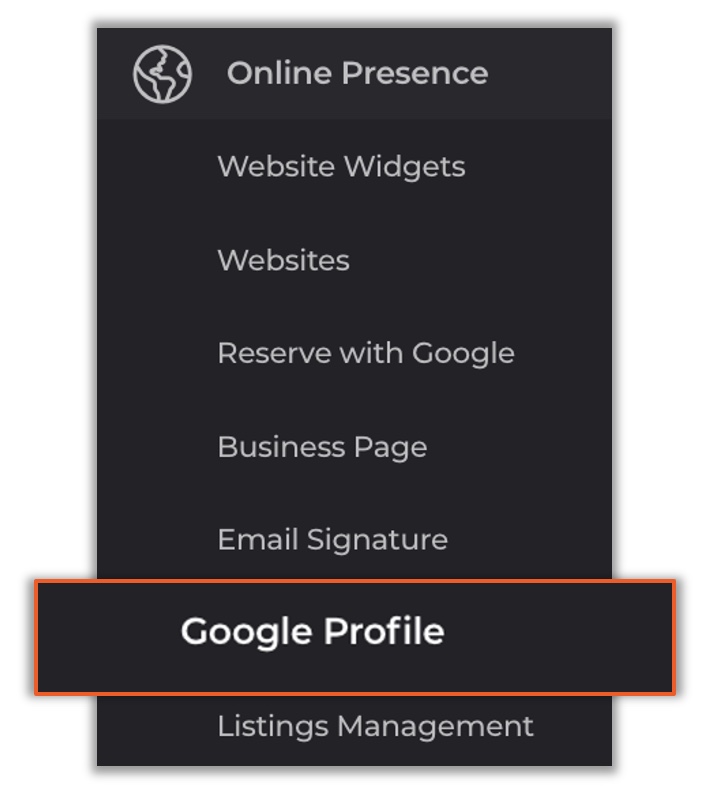 Q: Doesn't Google already give me a free listing?
A: The short answer is yes, but it isn't quite that simple. If left to its own devices, Google will find information on its own about your business from what it calls "web-crawled" content. This is information about your business that could come from trustworthy places like your business website, or it could come from out-of-date listings or other unreliable sources. It also relies on "crowdsourcing." This means, unless your free listing is claimed, any Google user can report information about your business that may be accepted by Google and changed on your listing. This is why it is important to claim your listing so that Business Center becomes Google's single, trusted source, for your business information.
Q: What is the best way to increase my ranking on Google?
A: Due to Google's ever-changing algorithms, there's never going to be a simple answer to that question. However, keep in mind that Google's goal is to deliver reliable search results to their end users. That means a listing with more content generally will out-perform a listing with less content. Make sure your listing profile is as filled out as possible, and your listing contains pictures. Click Here for a full guide. 
Q: What is the difference between a Verified and non-Verified Google Business listing?
A: Google tries to verify their listings through either a text message (SMS), phone call or video recording of your location.  This is a security measure that Google takes to ensure they are only listing legitimate businesses and that the one claiming it is the rightful business owner. Our support team is able to guide you through the process, however Google requires that the business owner or employee of the business completes the verification, they do not allow it to be done by 3rd parties such as Thryv.
Q: How do I add photos to my Google Business Listing?
A: Your Business Logo and GMB Cover photo can be added from the Google Profile section of Business Center mentioned above. Click on the spaces that say Business Logo and Cover Photo to add them. To add additional photos scroll down to Media. Click on Add Photos & Videos to add to the photo and video gallery on your listing. Adding photos is considered essential for your listing to be competitive on Google, as it will drastically improve your listing's performance.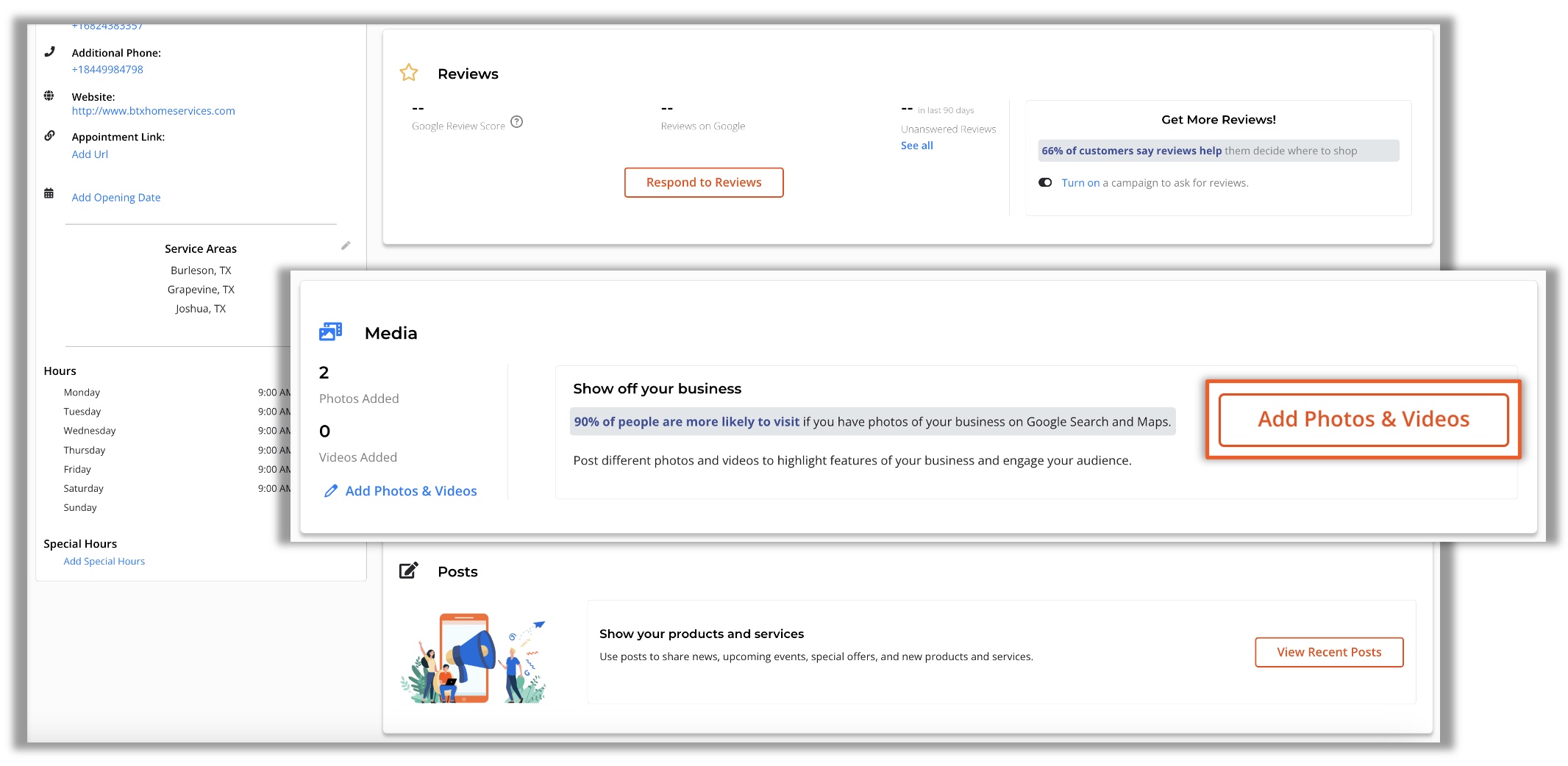 Note: In some instances, this action doesn't guarantee the cover photo will show up as the first image for your business. If the cover photo you select is low-quality or if other sources suggest that it's not the best photo to represent your business, a user-submitted photo may be selected instead.
Q: What if I can't find a category that matches exactly what I do?
A: All the categories you see listed in Business Center are predetermined by Google to ensure that you're listed correctly across the publisher sites, including Google among many others. We make updates in accordance with what categories are offered by Google and those sites. In other words, if you don't see a category that matches your business, it's because Google and other sites don't offer it.
In these situations, we recommend that you pick the category that fits as close to your business as possible and fill out as much information about your business as you can, i.e. business description, additional categories, services, attributes. That way searchers who do find your listing will still be able to get a clear idea of what your business has to offer.
Q: How do I get more Reviews on Google?
A: The answer is surprisingly simple: Ask for them! Customers are much more likely to leave you a review if you make it easy for them to do so. Business Center makes it even easier with Automated Campaigns. Click Here to learn how to set up an automated campaign right here in your Thryv software to automate the process of asking your customers to leave reviews.
Q: Can I respond to reviews about my business on Google?
A: Yes, you can, and Business Center makes it easier. Simply navigate to Reputation>Reviews, and under each review will be a text box for you to respond to reviews on Google as well as other search sites from one dashboard.
Q: I want to be listed on Google, but I want to have my address hidden. Is this possible?
A: Yes, but it is vital that you replace that address with a Service Area. To define your service area, scroll down on the left hand column until you find Add Service Area. You can add ZIP codes, cities, or counties (remember to include the state abbreviation!). Navigate to Settings>Business Info and uncheck the box that says Display Business Address to Clients. This way, instead of Google showing a pin with your physical address on the map, it will only display a red outline of your service area. (Note that in the event Google ever needs to re-verify your business, the physical address listed under Business Info is still what they will use).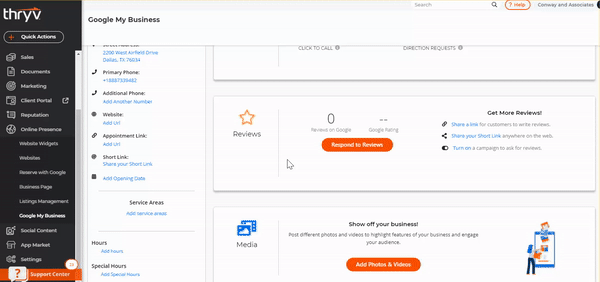 Q: What are Google Posts?
A: These posts are an easy way to get a quick message into your Knowledge Panel on your verified Google Business Profile. If your customers perform a Google search for your business, your Google Posts will appear as part of your verified Google Business Profile. After one week (7 days), your posts will disappear from the Knowledge Panel, but your potential leads and customers will have the opportunity to see your past content by clicking a link on your Google Business Profile.
Q: Is there a way for Business Center to automate this process for me?
A: Yes! Thryv offers the GMB Optimization Add-On, a paid addition to your Business Center software. The GMB Optimization Add-On is a managed service to assist in optimizing your Google Business Profile to help consumers discover you in keyword searches, call you, visit your website, research your products and services, view/contribute FAQs, request a quote, book an appointment, make a reservation, and more. This add-on is already included with any Business Center Unlimited accounts purchased after 8/9/2021. If you would like to purchase this add-on for your account, you can call Thryv support at 844-998-4798, or contact your Business Advisor.