Thryv's Social Presence Management includes ways to help pull more customers toward your business and saves you time.
What is Social Presence Management
How to review my scheduled posts?
What is Social Presence Management?
Thryv's Social Presence Management will create and schedule engaging posts to help you to build a consistent presence online. Posts are scheduled a month in advance and automatically posted on your Facebook business page, X (Twitter) account, and Google Business Profile.

 Benefits of Social Presence Management
Create a consistent online presence with ongoing posts
Build brand awareness and loyalty
Provide engaging/fun/educational/conversational experiences
Engage existing and potential customers where they search for your business
Where do we post?
Thryv Social Presence Management creates and schedules posts for your Facebook business page, X (Twitter) account, and Google Business Profile. 

Posts are scheduled 1 month in advance to allow you time to review all of them prior to them going live on your page.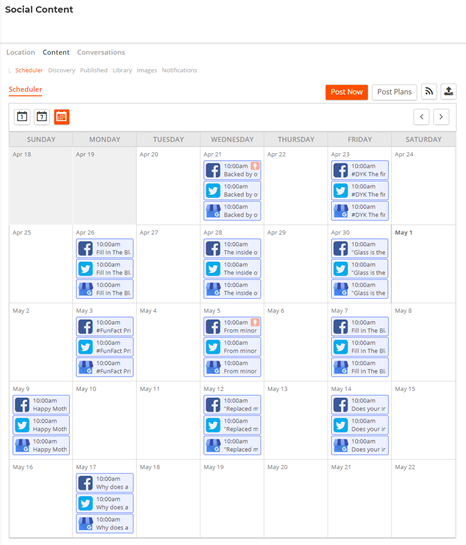 Currently, we do not post to Instagram or LinkedIn. You can create posts to be posted on these pages. Click here on how to create a social post
Type of post we schedule:
Industry news/trends/current events
Either/Or posts (asking fans what they prefer)
Questions/conversational posts
Regular/unusual holidays (July 4th vs. National Take Your Dog to Work Day)
This day in history
Company and/or community events
Tips/advice/how-to-articles/infographics
Boosted Posts (Included with Unlimited only)
Boosting is Facebook's way of helping you drive engagement. We boost posts that will reach a much larger audience than just your current fans. As an added bonus, Facebook will display your boosted post to people more likely to Like, Comment, and Share helping you spread your message faster and further.
Posts are boosted on Facebook Only
2 of your 12 scheduled post are Boosted
Boosted post can be edited but must adhere to Facebook regulations
Posts scheduled to be boosted are marked with a lightning bolt on the Content calendar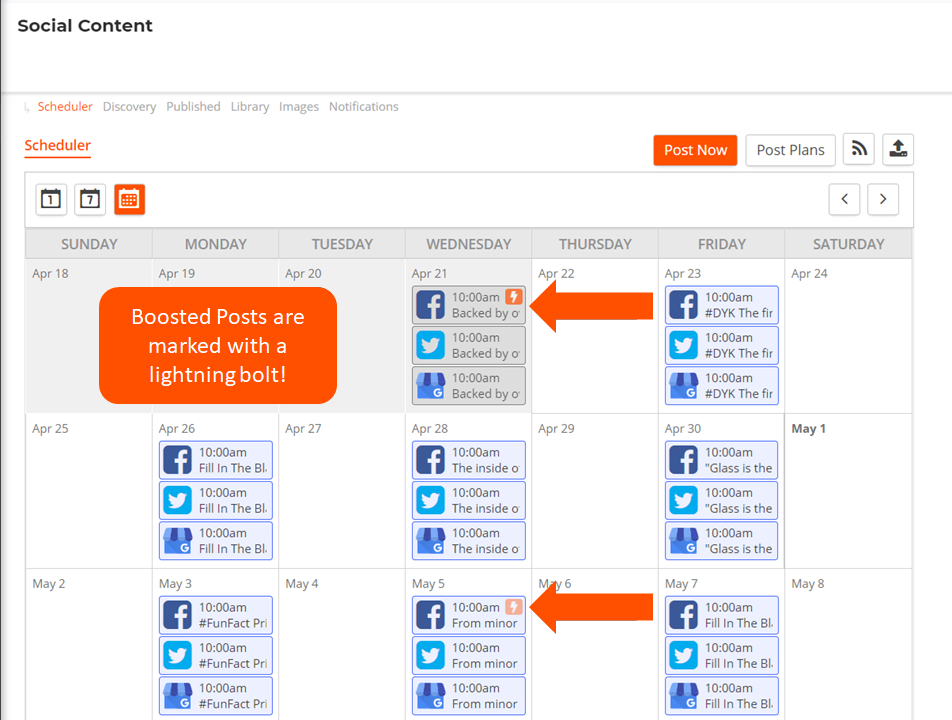 How to review my Scheduled Post?
You will receive a notification in your Business Center inbox that new posts has been scheduled. You are able to edit or delete them by navigating to Social Content>Content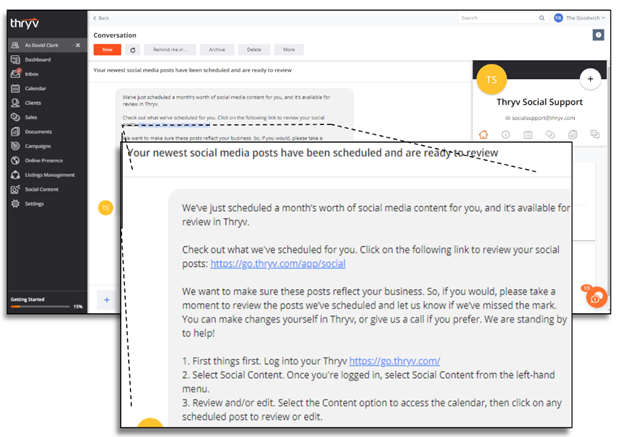 Click the Social Content tab in Business Center and select "Content" at the top.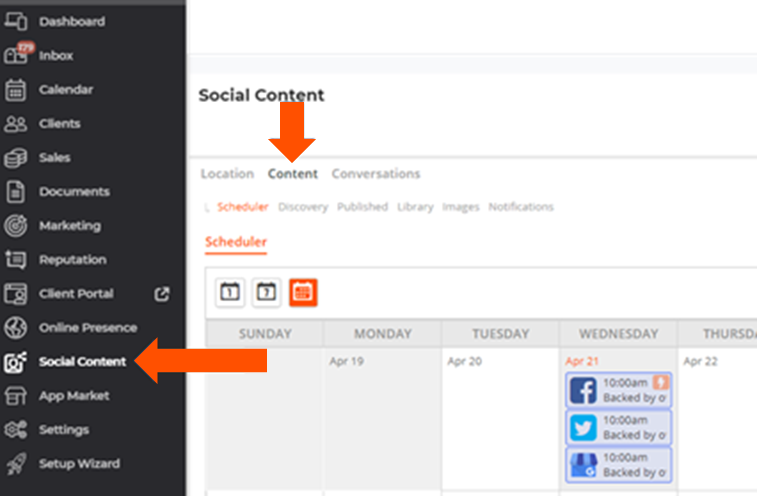 You can click on each post to review and edit. (click here for more info on editing post)
Requirements
Unlimited or Professional Business Center Package

Facebook Business Page – Thryv can create a page for you if you currently do not have one. If you already have a Facebook Business Page you will need to connect your Facebook page in Business Center and provide us with permissions to post to your page. 

Connect X (Twitter) and Google Business Profile accounts in Business Center

Meet with a specialist to discuss your desired content

Review scheduled posts in a timely manner.

Engage with customers online
FAQs
Why are the pictures on my scheduled posts on Facebook not of my business?
Images are added to a Facebook post in one of two ways, auto-generated from a site link or by attachment. When a site link is added to a post, Facebook randomly selects the image to be shown. If the link is to an article or blog the image will pull from the specific site. The attached images are limited to stock photos as we cannot guarantee licenses, image quality, or that the image meets Facebook requirements.
Why are there scheduled posts that are not about my business?
The goal of any social media campaign is to build awareness and grow your followers. The posts are educational, informational, and shareable to engage users. This may include an article related to your industry or tips customers can look forward to reading on your page to bring them back.
Can I change the information that is posted to my page?
Social Presence Management Posts are scheduled one month in advance to allow you time to review and edit the post prior to being published on your page. You will receive an email along with a Business Center notification that your posts are available. If you would like to change the type of post that is being created, you can contact customer support to discuss the type of changes you would like to see in the scheduled post moving forward.
Can I choose which post I want to be boosted?
Boosted posts are identified on the calendar with a lightning bolt. You can edit the information of the post that is scheduled to be boosted but cannot change which post will be boosted. These posts must adhere to Facebook guidelines.
Why are there no posts scheduled for my Instagram page even though it is connected?
Currently Thryv's Social Management posts to Facebook, X (Twitter), and Google Business Profile only.
What's included with your monthly FB Boosting included with Social Presence Management?
We boost 2 of the 12 custom posts we create per month. These posts include specific content written with your business in mind. This does not include FB Video Ads.