| | |
| --- | --- |
| | Estimated reading time: 2 minutes, 30 seconds |
Set up recurring billing, installment plans, and membership billing with ThryvPay scheduled payments!​
Scheduled Payment guidelines:
Scheduled Payments are only available

if you have an active

ThryvPay payment connection

.

Scheduled Payments can be applied to invoices

or direct charges

Scheduled payments can be customized to bill one time, daily, weekly, bi-weekly, monthly,

quarterly,

or custom

Scheduled payments can be customized to handle recurring billing, installment plans, and memberships
Types of Scheduled Payments:
Recurring
Installment
Membership
Automatically charge

customers the same amount

every

, year, quarter, month

or week, day

​

Allow customers to make

payment installments over

time. Or use installments to

allow for deposits

Manage and track

membership billing​
| | |
| --- | --- |
| If you have not signed up for ThryvPay, then the scheduled payments tab will invite you to do so. | If you have been approved for ThryvPay, you will be navigated to the scheduled payments. |
| Prior to ThrvyPay sign up | Once approved for ThryvPay |
| | |
To see the steps on how to sign up for Thryv Pay Click here for the ThryvPay Onboarding Job Aid.
Create a new scheduled payment
Click on Add New.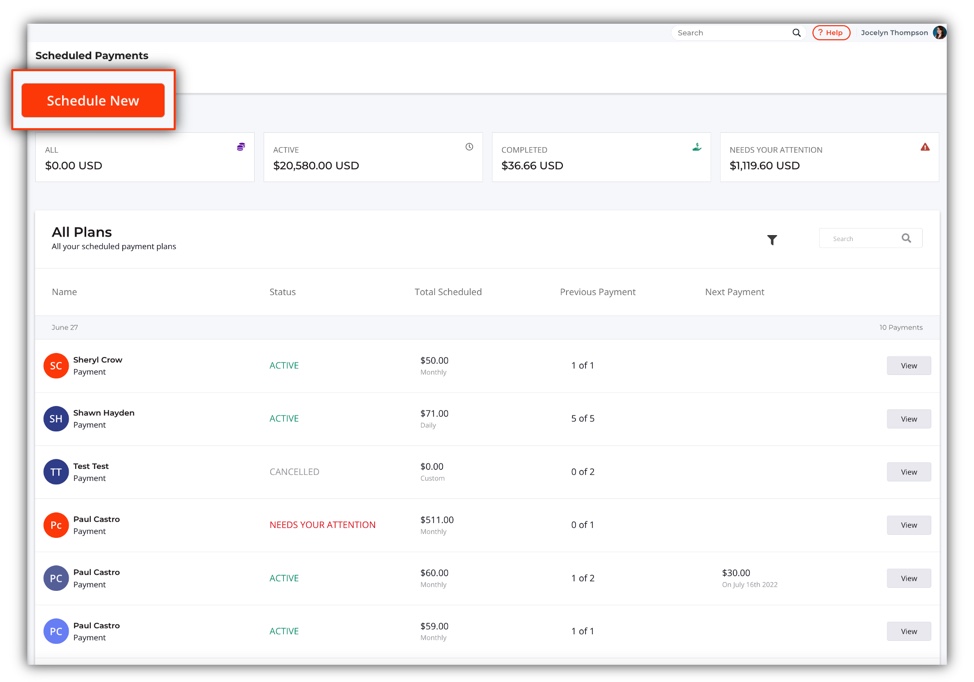 Start typing in the client name or add a new client

Select the correct client

Add new client if not found
Select the associated open invoice from the drop-down if available or you may skip this step if there is are no invoices.

Just want to apply a scheduled payment

as a charge without an invoice?

​ Select Skip. In this case, proceed to step 6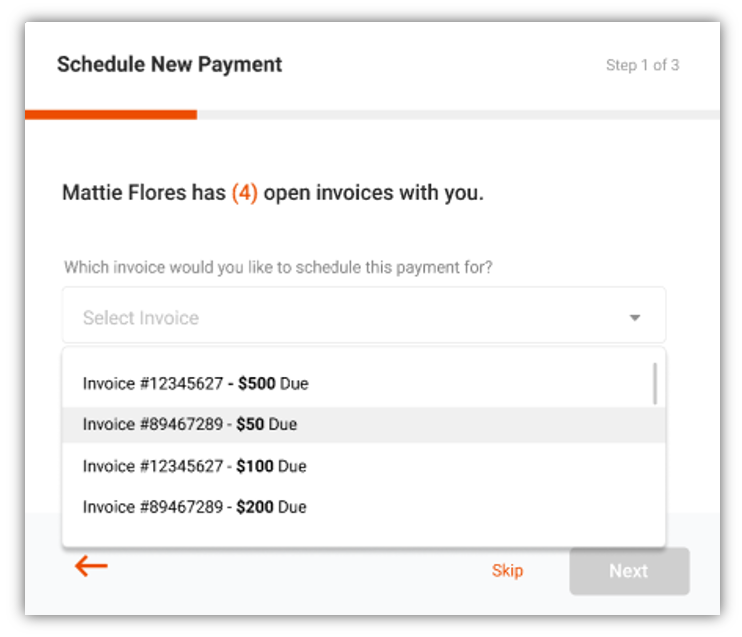 If one of your invoices is for a package you have available, you will be able to schedule the payments for that membership package
Once you select the invoice you may schedule a new payment. If you selected an invoice that amount will be populated in the scheduled payment amount field. If you didn't select an invoice to apply this payment to, you will have to key the amount manually. Enter the date and if you want the scheduled payment to repeat, and if so how often.
Choose the frequency, one time, daily, weekly, monthly, or a custom timeframe. If you select "custom" you will be able to schedule multiple installments
Schedule installments payments. Enter the details for the payment amount and the date the payment will apply. Click the +add field to add additional payments.

Click Save

Select the payment type if there is a card on file or ACH on file, or add new payment type
If entering a new payment type, select credit card or checking account tab and complete the information.
NOTE: If you want to save this new payment type click the "save this payment method" checkbox at the bottom before clicking next
Success screen, your payment is now scheduled
Once you have scheduled a payment the "Sales>Scheduled Payment" tab will change to your scheduled payment reporting dashboard.


Scheduled Payment reporting includes:

Scheduled payment dropdown – active, completed, failed, canceled
Customer name (cardholder name)
Payment amount
Status: active (pending), completed, failed, canceled
Last payment date and time
Next payment date and time

Edit or cancel payment

Add new payment

Clicking on the transaction line will drop additional details for that payment
You are able to see the customer's email address, phone number, address, and zip code if supplied on the client card. You will also see the total amount for the transaction, the amount collected to date, and the amount still due.
Schedule Payments with Thryv