Creating professional invoices has never been easier or more efficient. This how-to guide will teach you how to issue a new invoice from Thryv for your services and products.
Article Content:
Create an Invoice
Thryv has multiple ways to start a new invoice for a client.
Select

New Invoice

from a Quick Action button.
Select

New Invoice

from the contact card.
Navigate to

Sales

from the left navigation. Click on

New

and select

Invoice.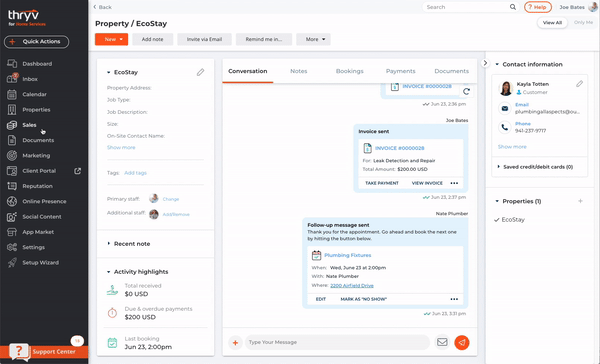 Select Contact, Individual, or Item to issue an invoice to
In the next screen select a contact, individual (i.e. client, patient, student, or pet), or item (i.e. job, project, opportunity).
If the client is new, you can add them by selecting + New Client.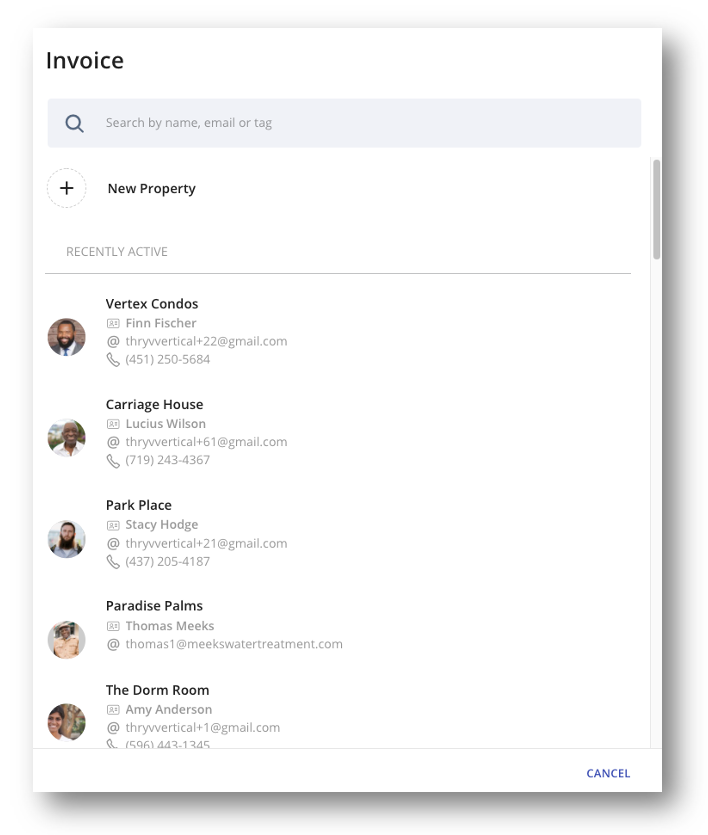 Edit Invoice
Once you've selected who to issue the invoice to, you will be brought to the invoice template.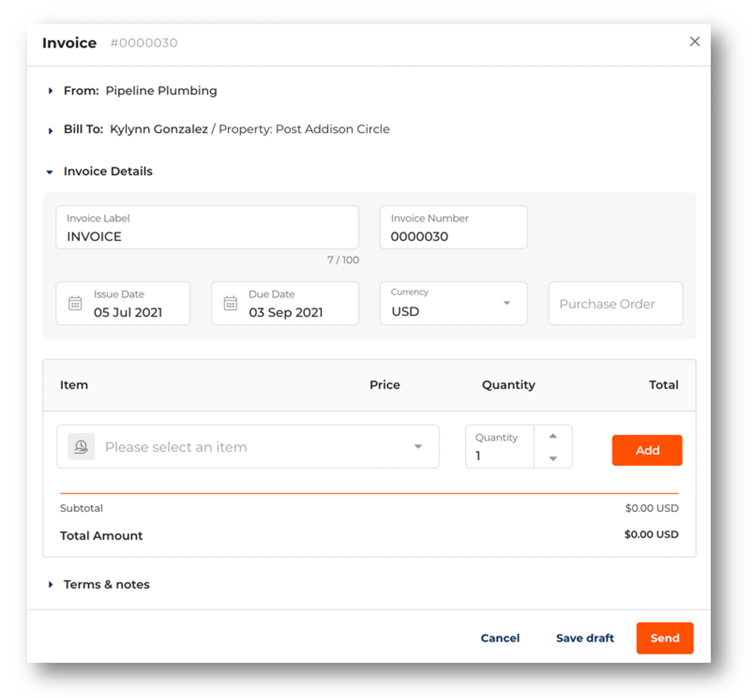 To view the invoice header, select the arrow and it will expand that section.
Edit options:


Business address and info - select the pencil icon to change what is displayed on the Invoice
Add additional recipients, if applicable.
To modify the fields that display in the Bill To section, go to the invoice settings.
Modify the label of the Invoice depending on how you refer to Invoices in your business (i.e. bill, statement).
Modify the due date, if different net terms from your default settings are needed.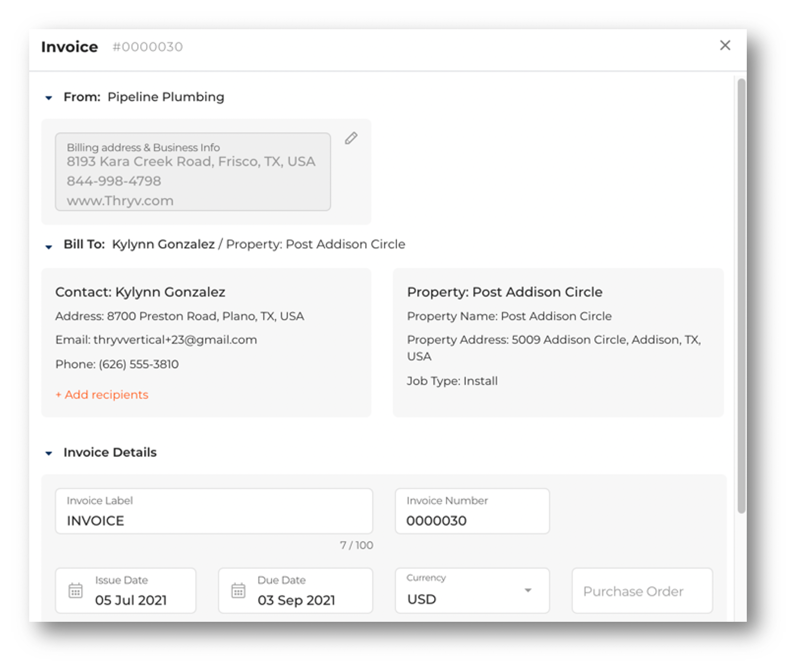 Start adding items to your invoice.
The items can be existing services, or you can create new items to add to the invoice.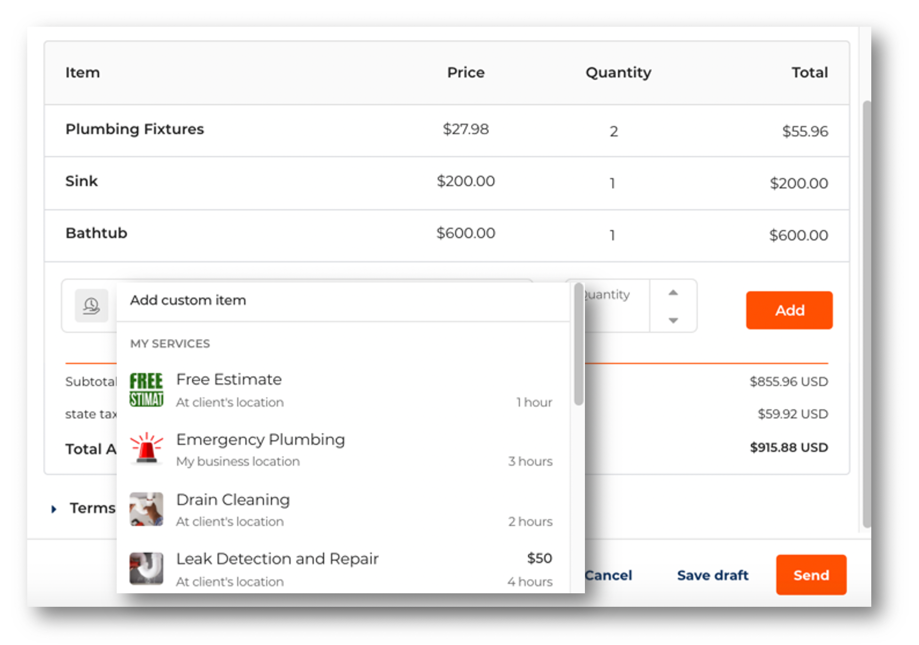 Edit Items
If you need to add discounts or taxes to a line item, you can hover on the line you'd like to edit and select the pencil icon.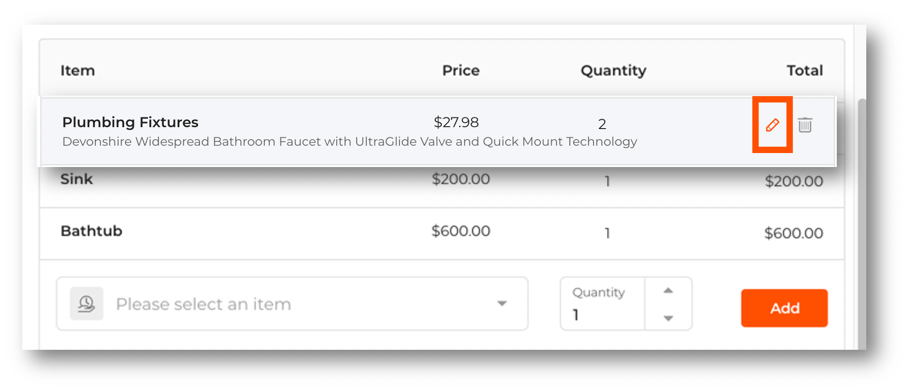 In the pop up window, you can edit the item details, i.e. name of the item, description, quantity, and price. Discount by % or $ can also be applied to the item along with multiple taxes if applicable. Note that even if the item description is cut off in your view in Thryv, the full description will show on the client's PDF. There is no character limit for item descriptions.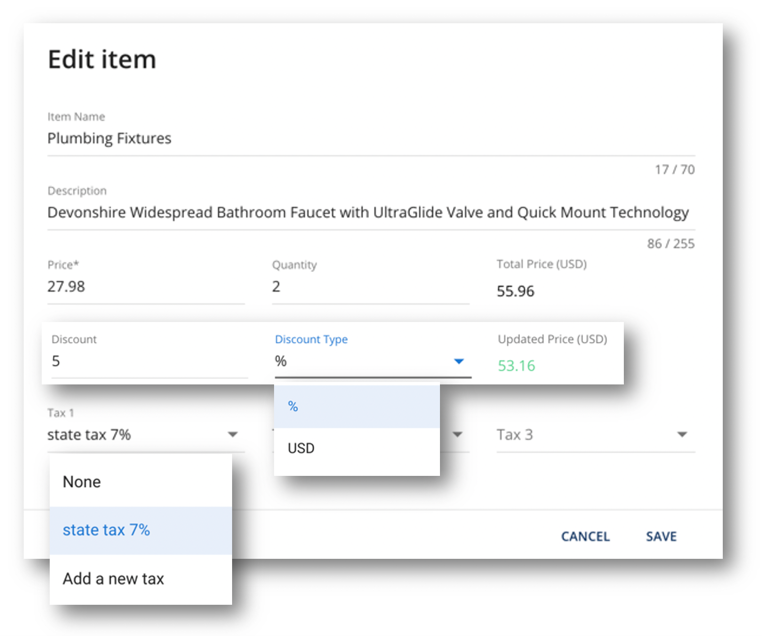 Add Notes
The terms and conditions for the invoice will appear if you select the drop-down arrow next to Terms & notes. You can also add any notes for the invoice in the field beneath the Terms & Conditions.
If you have a general note that you would like to be sent on all your invoices, you can save a note by checking the checkbox

Save notes for future invoices.

That will carry the same note over to any new invoice.
You are able to remove or update your saved note at any time.

To remove a 'saved note'

>

erase the note

in the field (make it blank) >

select the checkbox

to save notes for future invoices >

select save draft.

Reopen the draft, the

note to client field

will be blank.
Any new invoice

note to client

field will be blank.

To update a 'save note'

to a new saved note > delete the existing note > enter your new note, select the checkbox

to save notes for future invoices.

That new note will appear on all new invoices.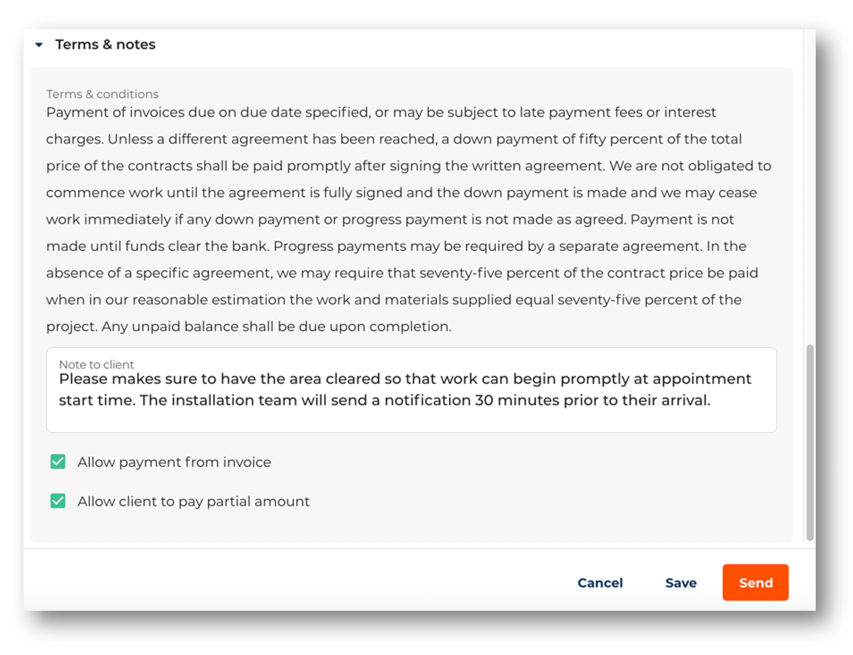 Select Payment Options
Allow payment from invoice

Checking this checkbox will allow your clients to pay via credit card or PayPal if you have a payment gateway connected.

Allow client to pay partial amount

Checking this checkbox will allow your client to submit a partial payment on the invoice.
To set a minimum % amount of the total balance refer to invoice settings.
Review & Send
Review the invoice, then select send.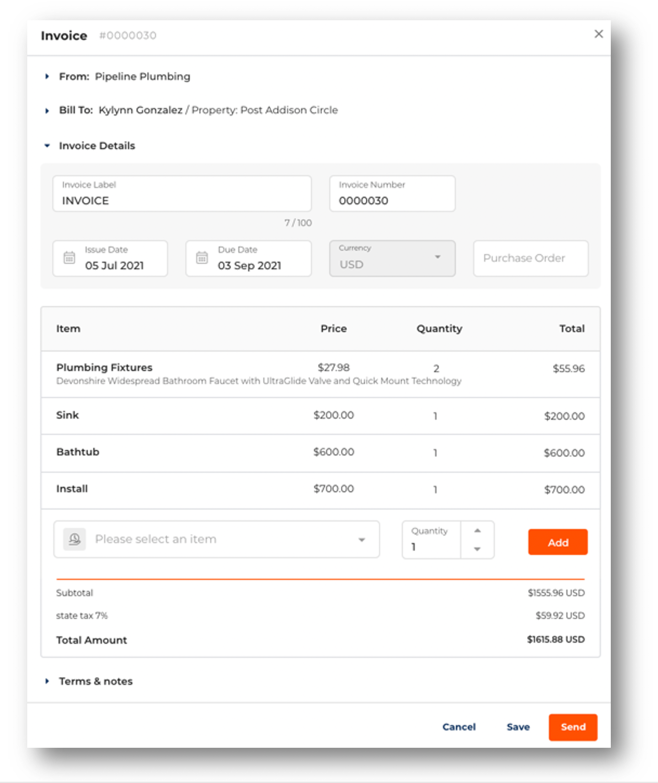 Invoice Details
Once the invoice is sent, you'll be taken to the invoice details screen. All the details of this invoice are listed on this screen. To learn how to edit an invoice, refer to this how to guide.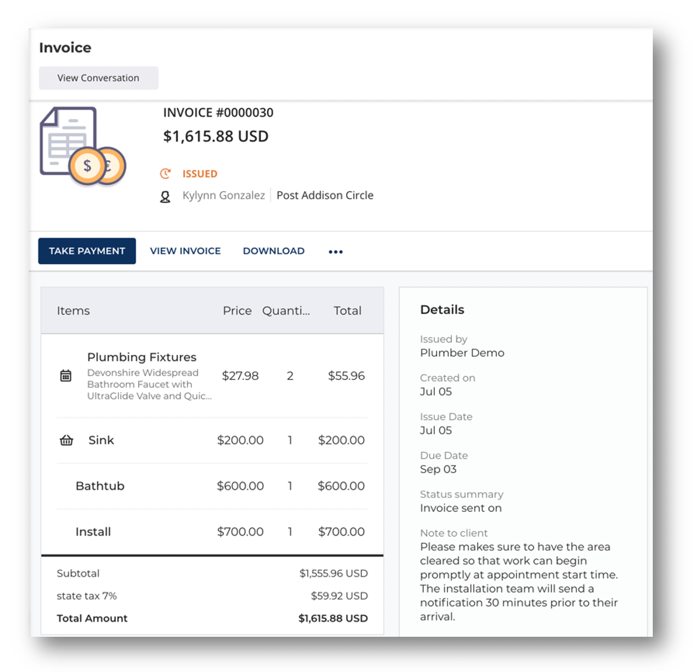 Client View of an Invoice
Once the invoice is sent, the contact will receive an email.
You can customize this email by going to Settings > Email Templates > Payments > New Invoice.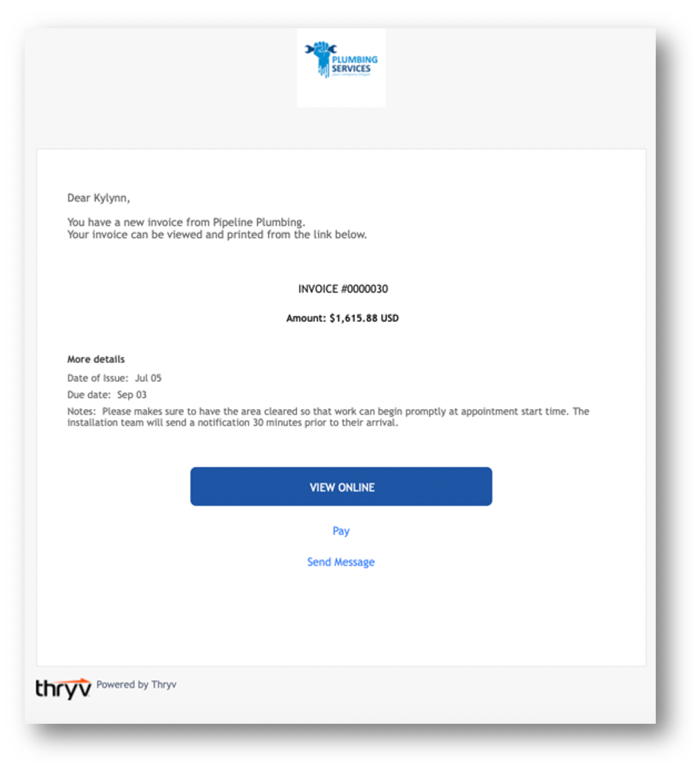 From the email, the contact can select 'view online' or pay to be taken to the client portal and view the details of the invoice.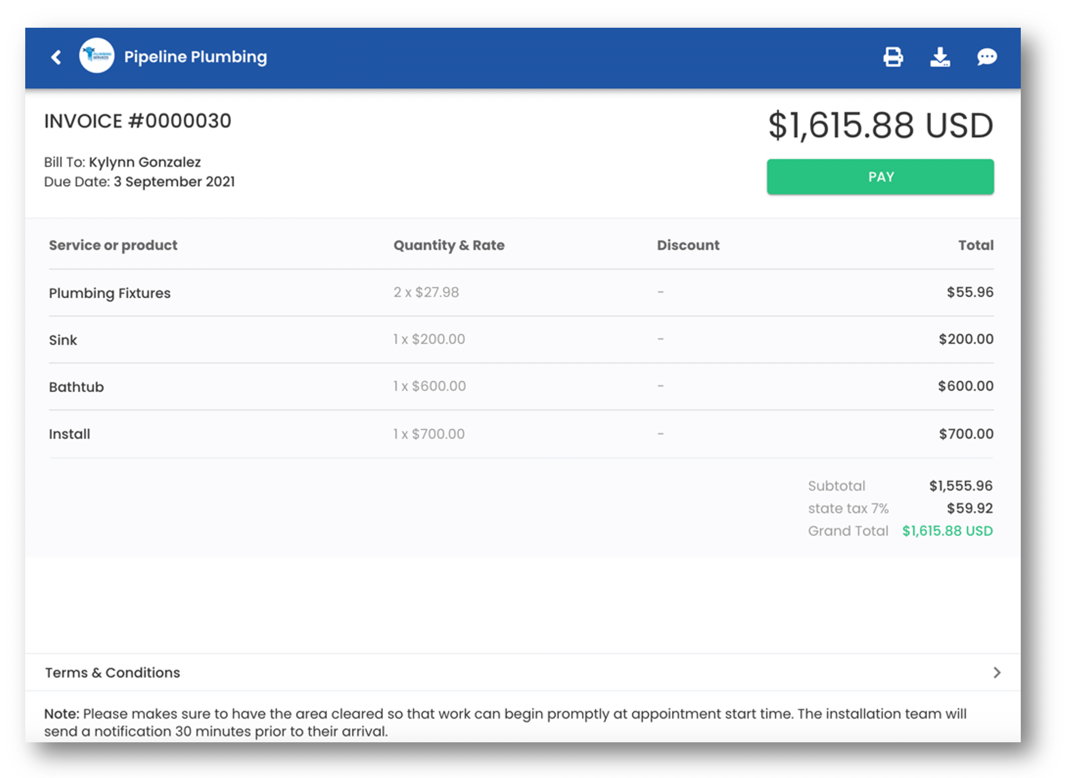 Note: The URL at the top of the page when viewing an invoice online can serve as a direct link to the invoice, which can be used even if the client is not logged into their client portal. This can be used to send the invoice to a different contact after it was initially sent, and they will be able to view it.
From the client portal, the contact can pay their invoice, message the business, or download a PDF version of the invoice.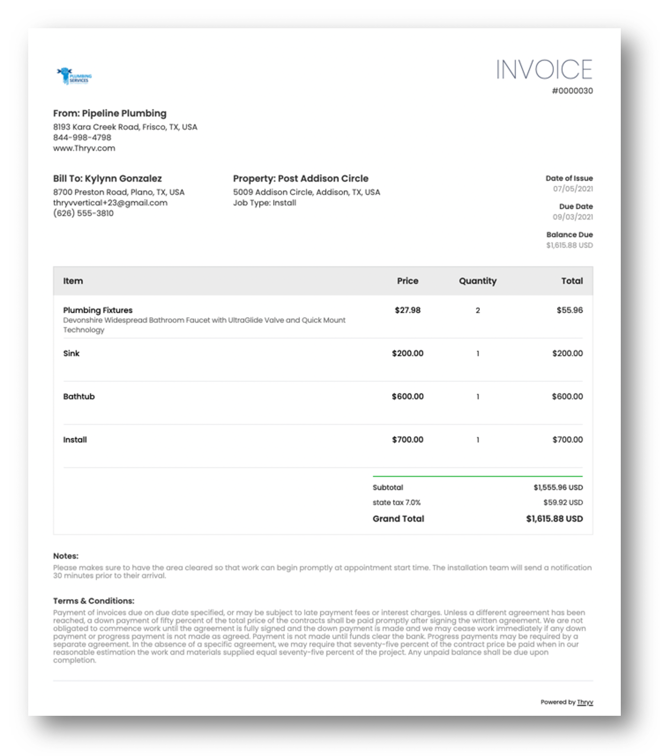 FAQ:
Is there a character limit to item descriptions or notes on invoices?
No! You can use as many characters as you need to describe your invoice services or products. The view may cut off in your Thryv software to save screen space, but your client will see the full description on their view of the item.
Can I edit an invoice after it has been sent?
As long as the invoice has not been paid, then yes you can make changes. After the invoice has been paid, a new invoice must be issued for additional items.
Does a client have to pay the full amount of an invoice, or can they make partial payments?
You can control this in your Invoice Settings. You can decide whether or not to allow partial payments and set a minimum percentage for partial payment.
Do I need to create an invoice to accept a payment?
No, you can take an unassociated payment without an invoice. Click Here for a guide on ways to take payments.