You are about to see how you can create a new invoice and get paid by your customers! You may also use your invoices separately from one another. You can also create invoices without having to connect a payment processor!
Article Content:
Check out our very easy to follow the steps below:
Start New Invoice
Navigate to Sales>Invoices & Bookings from the left navigation.
Once on the dashboard click on New and select Invoice.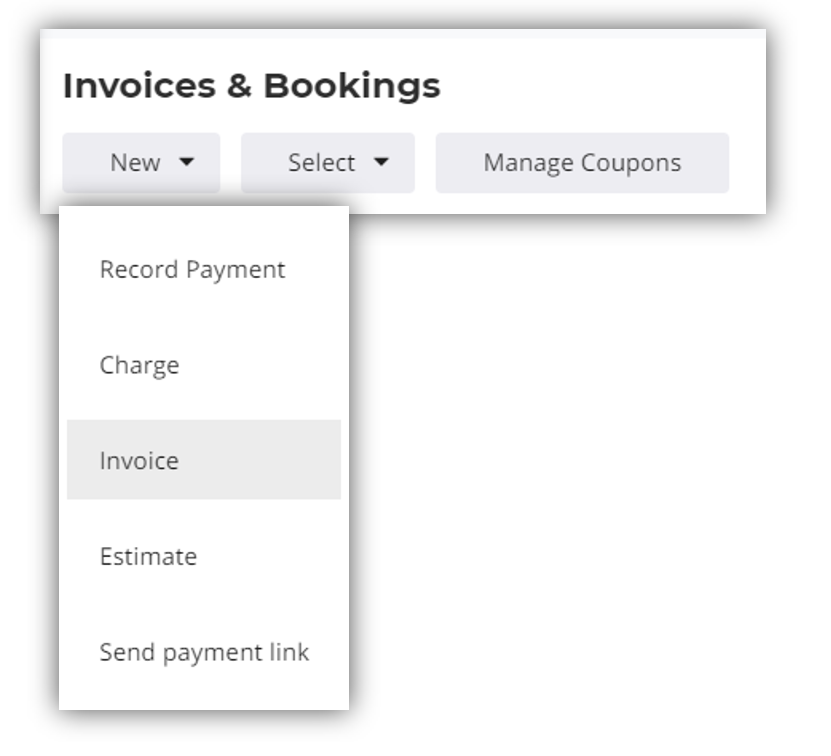 Select Client
In the next screen select a contact, individual (i.e. client, patient, student, or pet), or item (i.e. job, project, opportunity).

If the client is new, you can add them by selecting + New Client.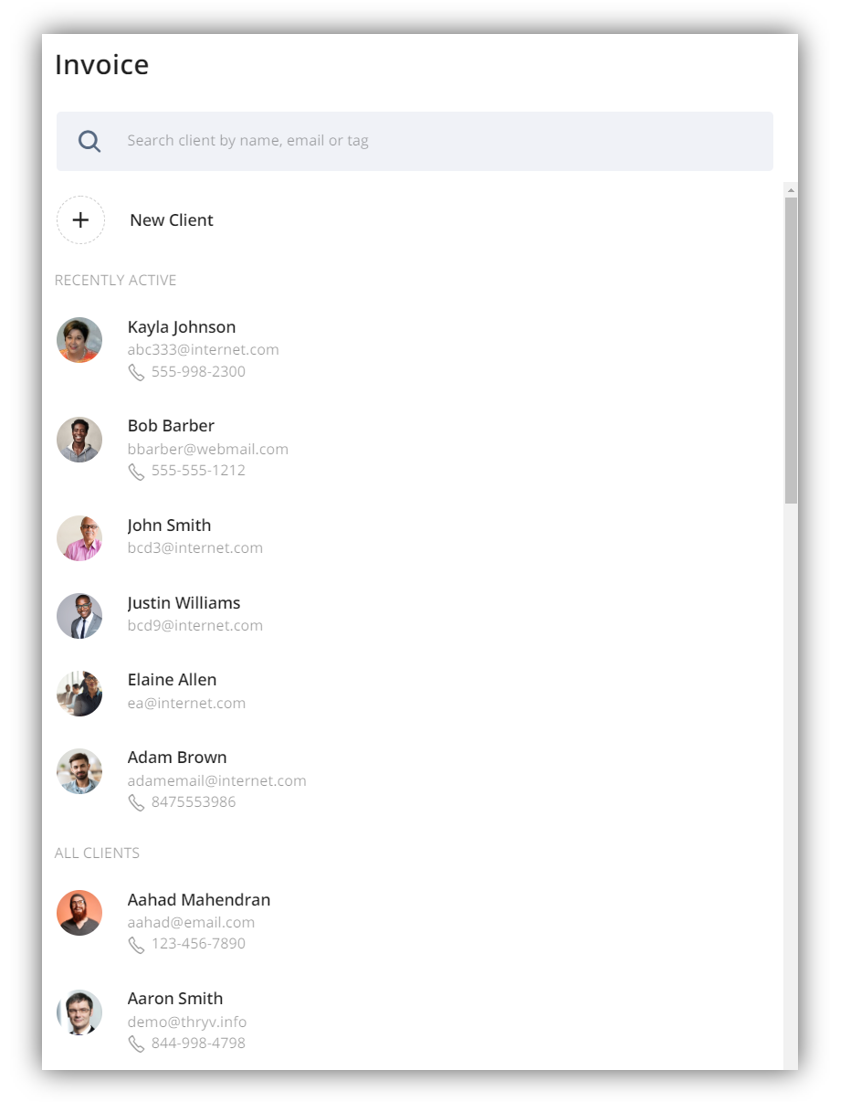 Edit Invoice
Editing options available:

Add additional recipients, if applicable.
Edit the business address and info that you want to be displayed on the Invoice
Modify the label of the Invoice depending on how you refer to Invoices in your business (i.e. bill, statement).

Start adding items to your invoice.

The items can be existing services, or you can create new items to add to the invoice.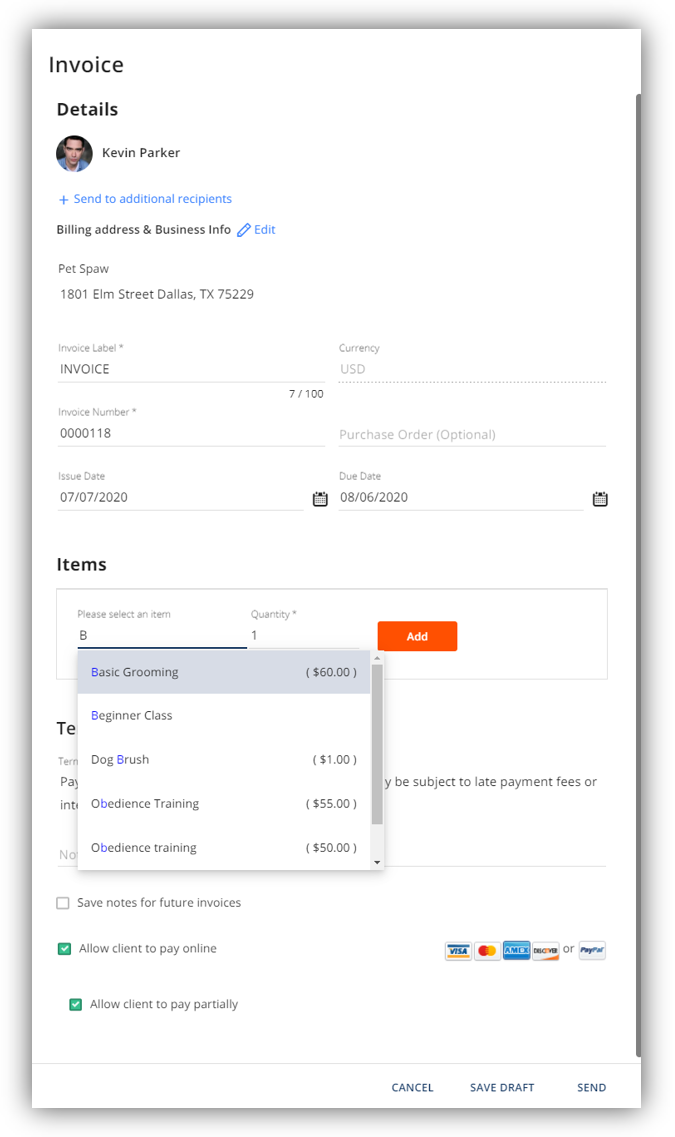 Edit Items
If you need to add discounts or taxes to a line item, you can click on the 3 dot on the right of the item and Edit.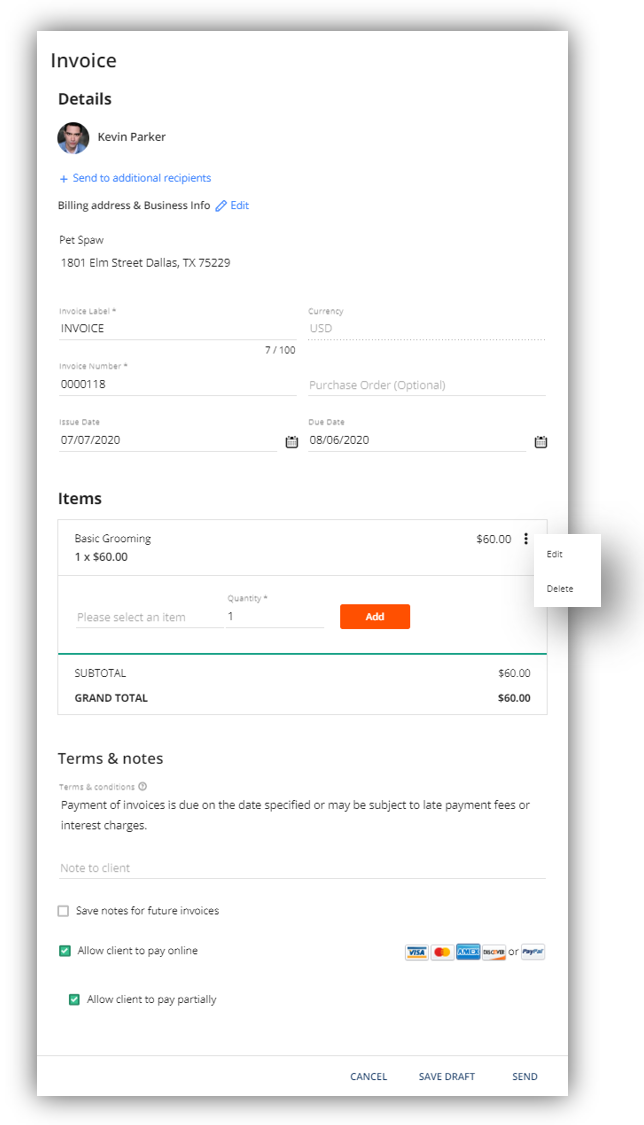 In the following screen, you can edit the item details, i.e.

name

of item,

description

,

quantity

and prices.

Discount

by % or $ can also be applied to the item along with multiple

taxes

if applicable.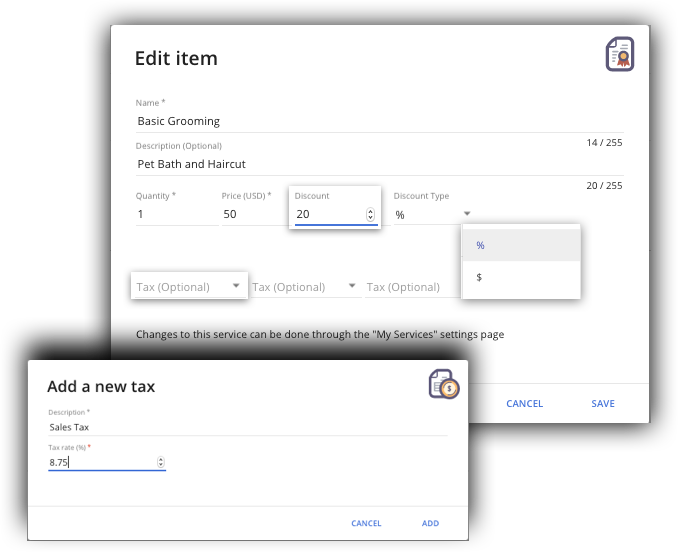 Add Terms & Conditions
Terms & Conditions

To add your terms & conditions navigate to

Settings

>

Payments

>

Invoice & Estimates

> Customize your invoice terms & conditions
Add Notes
Note to client

Any notes for the invoice can be added to this field.

If you have a general note that you would like to be sent on all your invoices, you can save a note by checking the checkbox

Save notes for future invoices.

That will carry the same note over to any new invoice.
You are able to remove or update your save note at any time.

To remove a 'saved note'

>

erase the note

in the field (make it blank) >

select the checkbox

to save notes for future invoices >

select save draft.

Reopen the draft, the

note to client field

will be blank.
Any new invoice

note to client

field will be blank.

To update a 'save note'

to a new saved note > delete the existing note > enter your new note, select the checkbox

to save notes for future invoices.

That new note will appear on all new invoices.
Select Payment Options
Allow client to pay online

Checking this checkbox will allow your clients to pay via credit card or PayPal if you have a payment gateway connected.

Allow client to pay parital

Checking this checkbox will allow your client to submit a partial payment on the invoice.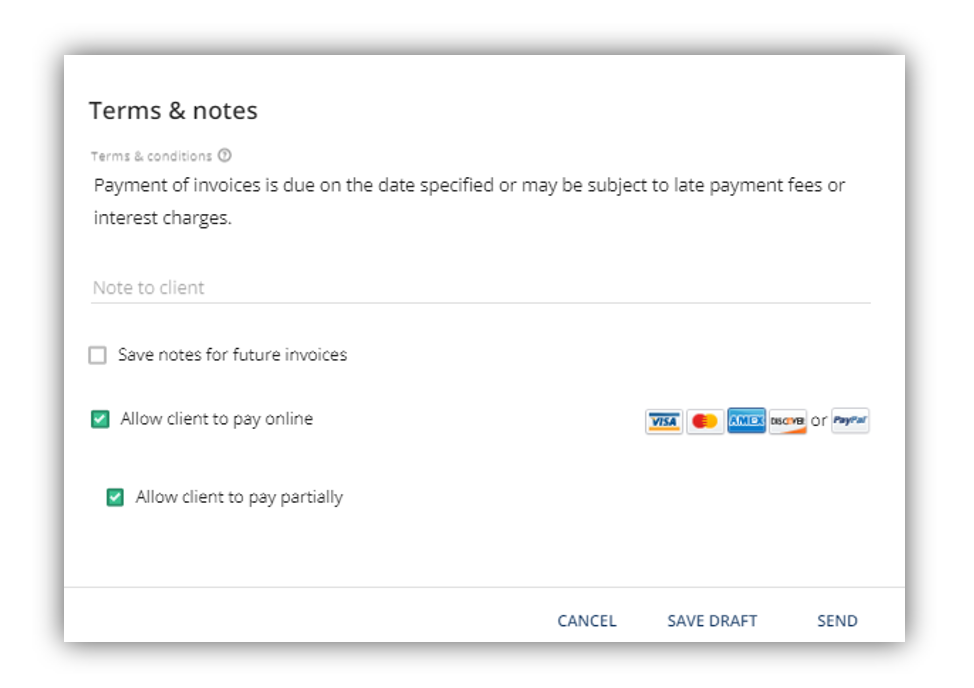 Review & Send
Review

Invoice > select

send,

once complete.