As a new Thryv or ThryvPay client in Australia, you may be provisionally approved. If you are provisionally approved, you will be limited to credit card transactions only. You will experience an initial funding deposit delay of 7 business days, starting after you process your first transaction. All transactions during this 7-day provisional window will be held and deposited on the 7th calendar business day. Bank transfer transactions will be restricted during this same period, so you will only be able to process credit card transactions. This is a standard process for all new merchants to a new payment processing service. It protects both your business and ThryvPay.
The fastest way to expedite the final approval process is to begin using ThryvPay to process your everyday business transactions!
Once the approval process is completed, credit card transactions will fund the next business day if the payment is completed by 8 PM that day. You will also be able to enable bank transfer payments, it's important to know that bank transfer transactions can take up to 7-10 business days to deposit in your account. This timing is related to standard banking transfer timelines.
There may be additional information required to verify your business. You will receive a notification to your Thryv inbox informing you if that is needed. To submit your documents to the ThryvPay team, you can go to the ThryvPay on the left hand navigation, then select Settings, then Identity Verification. This page has a portal where you can securely submit any additional documents or information to the ThryvPay team.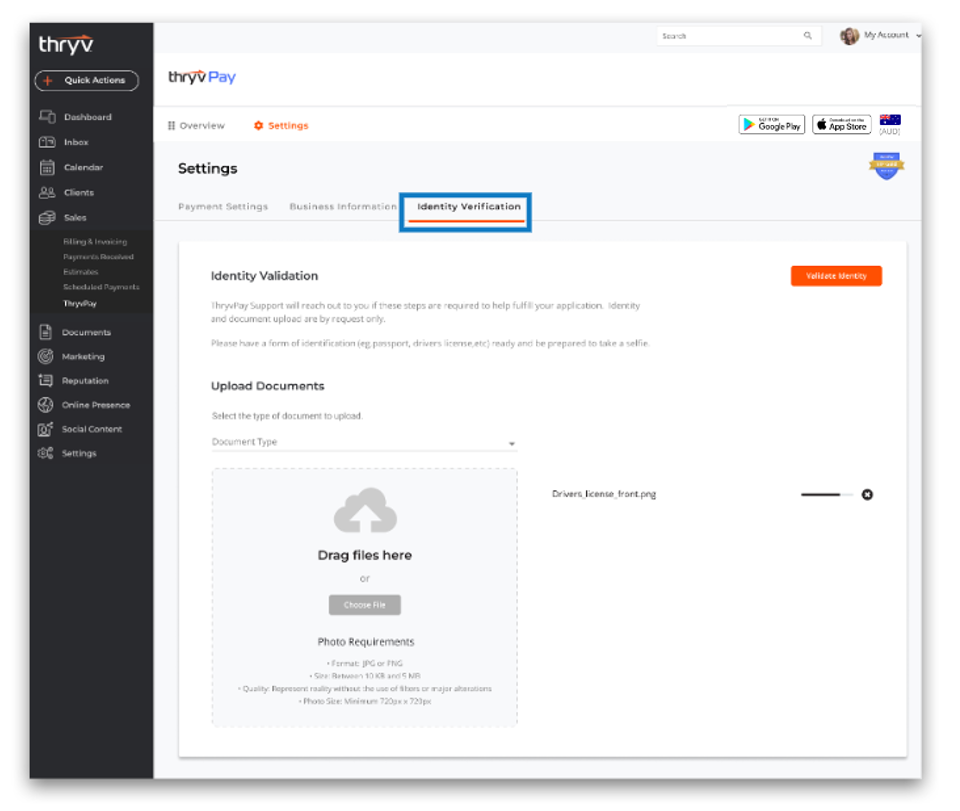 Have questions or need assistance? Give our ThryvPay AUS Team a call! The ThryvPay Australia Support team is available Monday - Friday 9 AM - 6 PM AEST.