HUB by Thryv is a software designed to link multiple business locations into one reporting software. With HUB, you can keep tabs on your entire business, and individual locations, all in one place.
Note: HUB is a separate software solution built on top of Thryv's end-to-end customer experience platform. HUB is designed for businesses with multiple locations. If you don't currently have HUB and are interested in purchasing it, follow this link for more information: https://www.thryv.com/features/franchises/
Dashboard
The Dashboard will show a summary of the activity in the individual Thryvs across your various locations.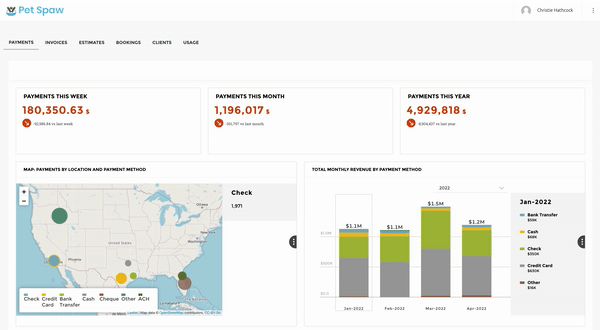 To navigate to the Dashboard, click on the

icon on the left hand navigation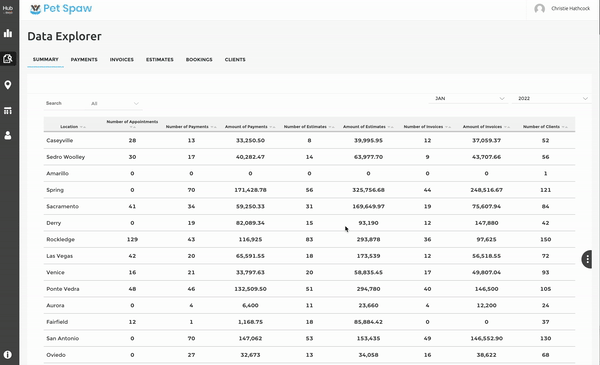 Across the top of the dashboard are the activities to view reporting for. You can view the total of all of your locations by clicking on that item:
Payments
Invoices
Estimates
Bookings
Clients
Usage (Logins and time spent on Thryv software)
HUB will display a weekly, monthly, and daily view of the selected activity, along with a comparison to the prior month or year (to date). This is the total across all of your locations. The panels below break down this data into more details.

Each panel's data can be exported using the tri-dots on the right. To export, click on the tri-dots, and a menu will pop out from the side. Select whether you want your data to export to a .csv or excel file, and the download will start.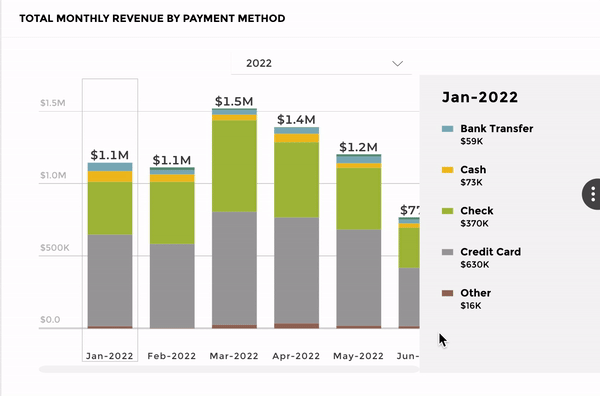 The map provides an at-a-glance look at which locations are performing well in the selected activity. A larger dot on a location indicates more activity, while a smaller one indicates less.
HUB will display the totals for the selected activity across all locations. Use the date drop-down to change the selected date range for the data you would like to see.

The Leaderboard shows which locations are performing the best. It will list the total by location in order for the selected activity, including gross results and the average for the selected date range.

Want to see your data sorted by individual locations? Click Here for a full guide to the HUB Data Explorer!