There are several tools available within Marketing Center to enhance your marketing efforts. This guide will serve as a directory of these tools and how to use them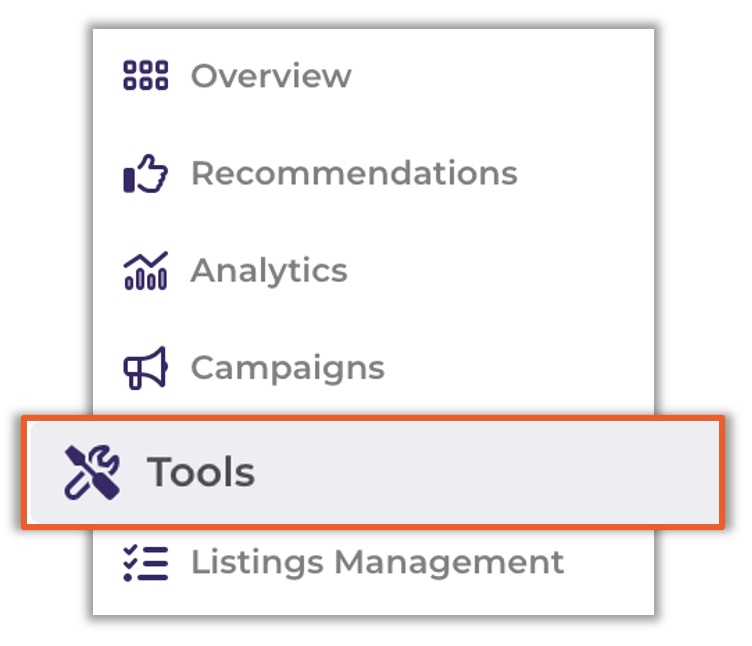 Article Contents:
Heatmap

A Heatmap is a visual representation of where specific users are clicking on your website. It is a great tool to see what region your customers are finding your business. 
If you have a Thryv Website, we automatically add tagging to give you deeper customer insights that record where visitors are coming from when they go to your site.
For non-Thryv sites, you can enable this feature by copying the code in the Connect Heatmap to Another website section, and pasting the code into the HTML of your website, just before the closing </body> tag.
You can click Copy, and Thryv will automatically copy the code to your clipboard.

To see your heatmap, click on View Heatmap

Competitor Tracking
You are also able to track your competitors' keywords to improve your own performance. Click on Add New, and enter several of your competitor website URLs you'd like to track, we'll identify which keywords overlap with your your competitors and how those keywords perform. To remove an unwanted site, click on x Remove. 
To see keyword research for that specific site, click on the arrow, and that site's keyword research will appear in the drop-down.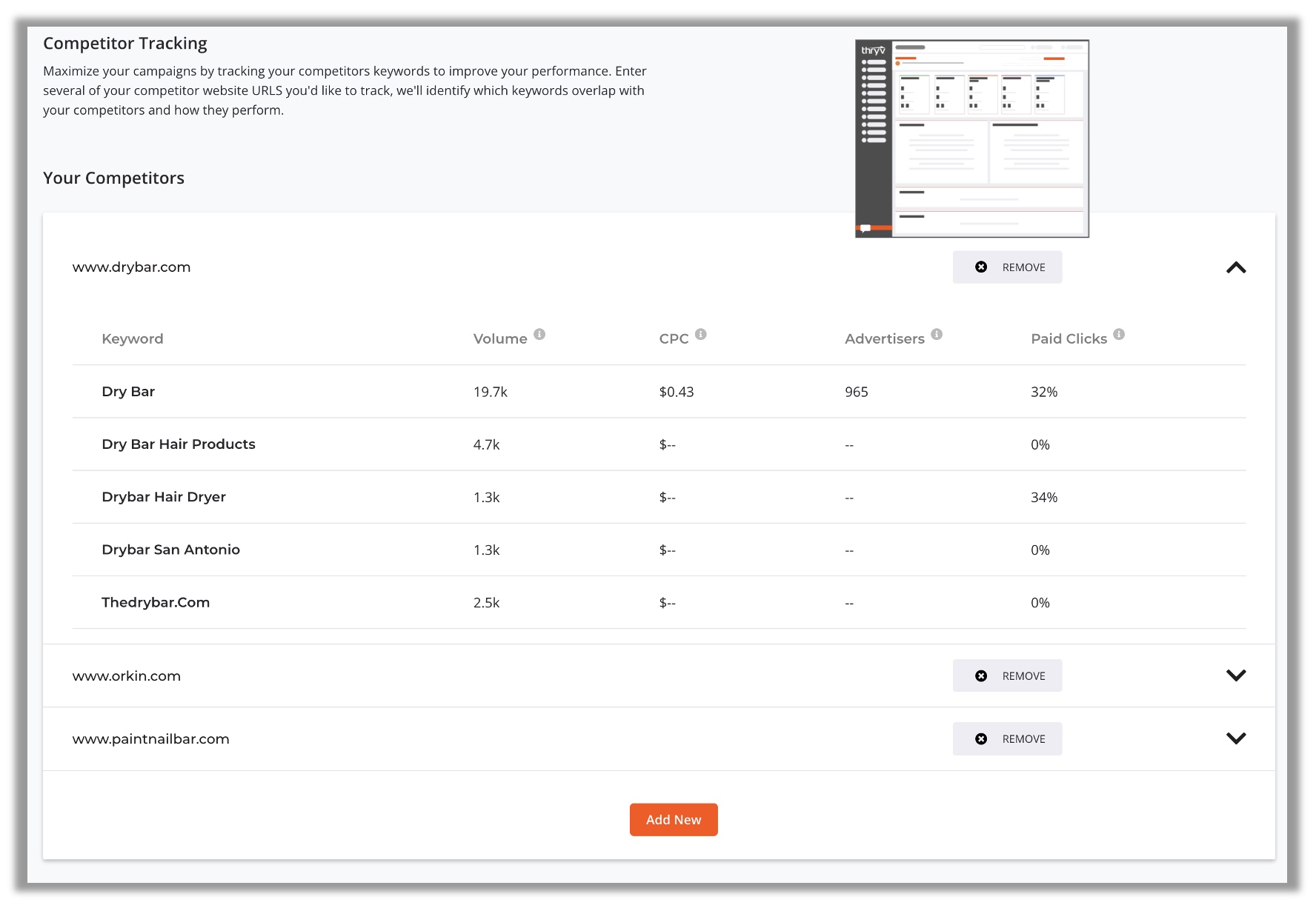 In the pane below, Marketing Center will display the top keywords that these sites advertise on, and display data for the following metrics:
Volume - total searches for this keyword in the past month
CPC (Cost Per Click) - the average price and advertiser pays per click in this keyword
Advertisers - the total number of business advertising in this keyword online in the last 6 months. This gives an idea of how competitive this keyword is
Paid Clicks - of all clicks made on this keyword's results page, the percentage of those clicks that went to paid ads
Keyword Market Intel is a summary of information about common keywords among both you and your competitors.
All Keywords - Keywords that any of these domains buy. Even if one domain in this list buys a keyword that others don't, that keyword will be added to this list. It's a way of seeing the entire keyword universe for this group.
Core Keywords - These are keywords that all of the listed domains buy. As you add more competitors, this category likely gets smaller, as there are fewer keywords that all domains would share.
Missing Keywords - These are keywords that the your domain does not rank for, but all other competitors do.
Potential Keywords - These are keywords that only the  your domain is buying, but none of these competitors are. Some of these might be branded terms or exclusive products. That's why we say these this is potential waste as opposed to certain waste. Review them carefully and consider setting some of the underperforming keywords to negative match.

Thryv Visitor Tagging

Use visitor tagging to get actionable insights that help you optimize how customers are interacting with your business including calls, campaigns, visits to your website and more. With Thryv's Auto ID, we identify the device to a person, which lets you know when they become a customer and notifies you of all future interactions with your business.
This feature is automatically enabled on a Thryv website. To add it to a non Thryv website, click Copy to copy the necessary code to your clipboard, and then paste into your HTML, just before the closing </body> tag.
A Call Tracking Number is a unique phone number that routes to your business phone. The only place this number is published is in your campaign. Each channel will have its own phone number assigned so that you can measure which channels are delivering the most calls. These numbers are unique to your campaigns, and are not published anywhere else. This allows you to know without a doubt that the call was delivered by your campaign.

To view the individual numbers for each channel within a campaign, click the drop-down for the campaign you wish to view.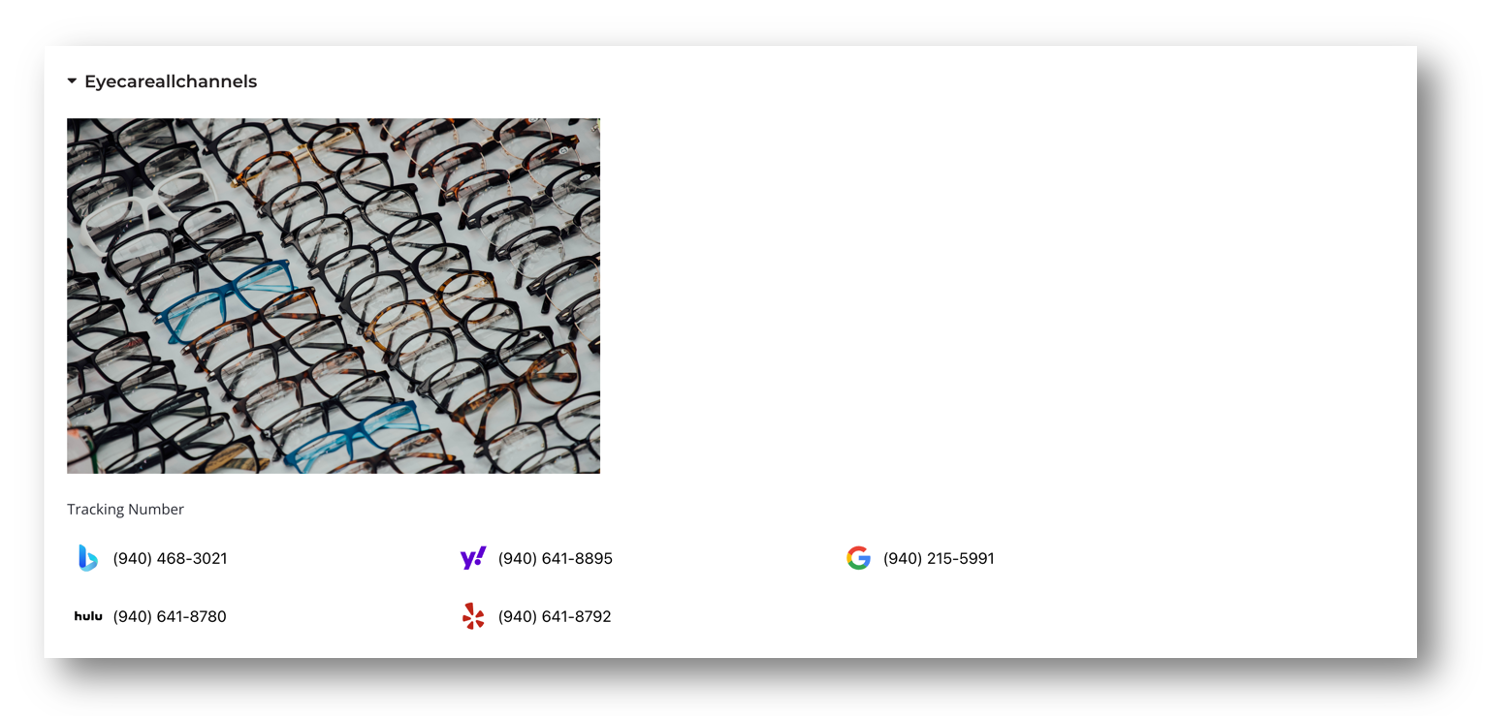 Trackable Phone Number

You can also create call tracking numbers for use in your marketing campaigns outside of Thryv. Use call tracking numbers to measure performance for advertisements in flyers, billboards, or even the side of your trucks! Thryv is able to provision up to 5 call tracking numbers for you, and allow you to refresh your numbers up to 2 times within 90 days.
To do this, enter a name for the campaign that the number will be used for. Then enter the destination number - the number for the original phone that you want this number to route to. 
Note: If the destination number is your business landline that is connected to your Thryv software for SMS messaging, then these calls will inject into your Thryv inbox 
Once this information is entered, click on Get Call Tracking Number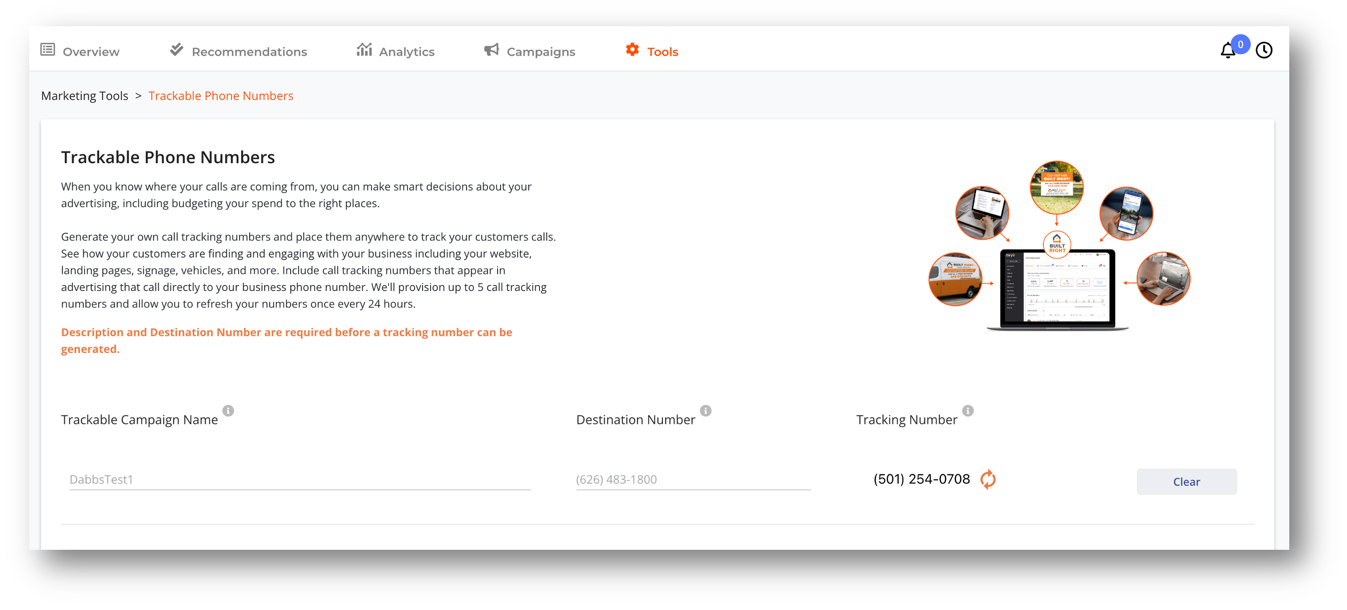 After just a moment, Thryv will provision a number for you to use. To refresh the number, click on the 

icon. If you decide you no longer want to use this number, click on Clear and the number will be deactivated.

The results of your call tracking numbers can be reviewed under Analytics>Call Activity