If you have more than one staff member that needs to be on an appointment, make sure to create the appointment with all necessary staff members. This guide will show you how to create an appointment with multiple staff on it. If you're looking for a complete guide to scheduling appointments, Click Here!

First, a High-Thryver Tip: Check the boxes of the staff members you want to include on the appointment, so you can see their availability. This will avoid double booking. A warning will also display in the appointment creation window if you attempt to schedule an appointment that might double book the other staff member.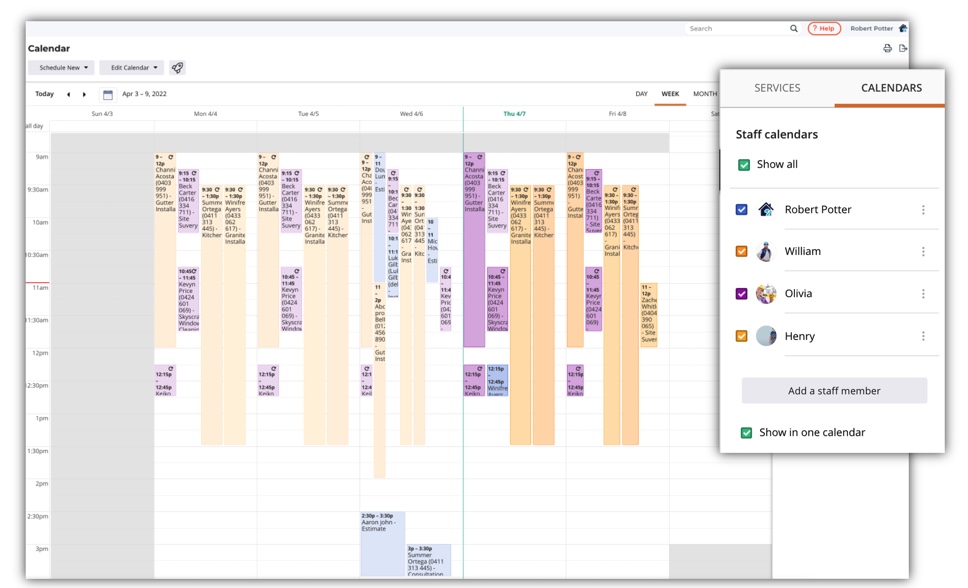 First, click on Schedule New>Appointment. Then select the client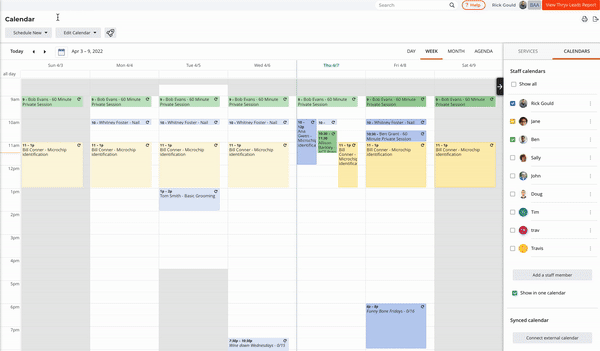 Next, select your service, time, and date as normal.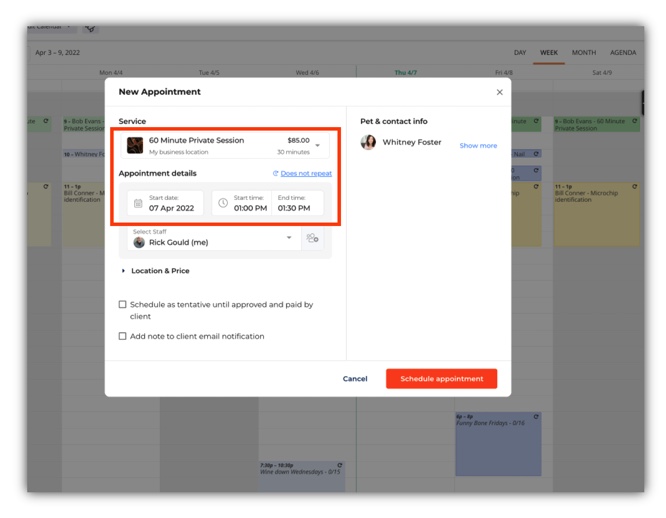 Click on the additional staff icon to add more staff members to the appointment.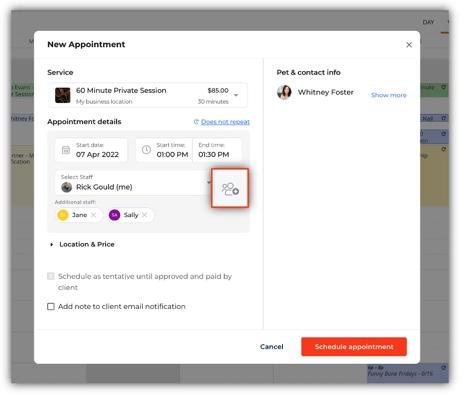 Select the additional staff you wish to add from the drop down.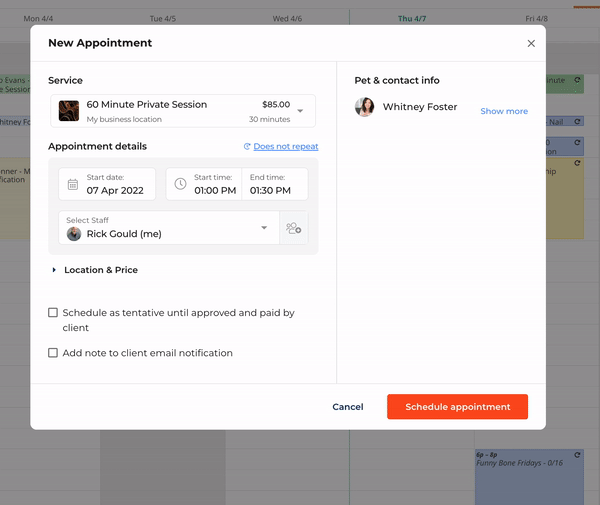 Click on Schedule Appointment as normal to complete the process.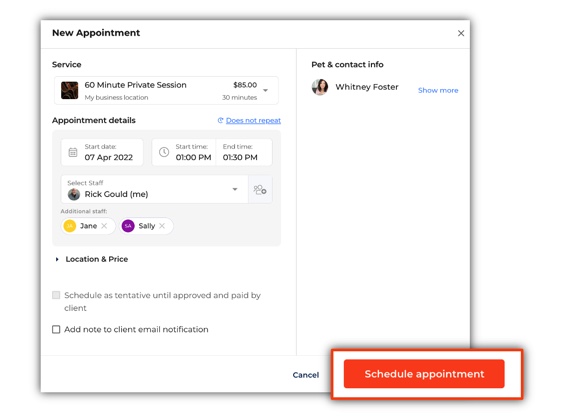 The appointment will show simultaneously on the calendars of each staff member. Also, each staff member will receive notifications and reminders about the appointment.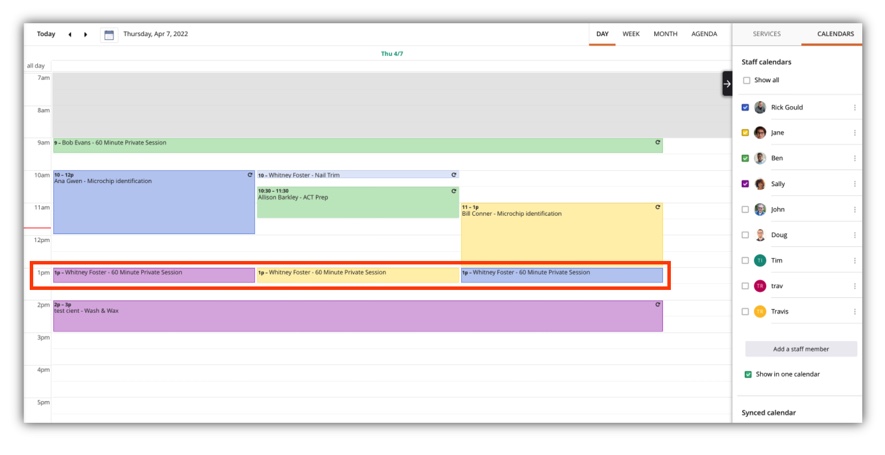 FAQ
Which staff member can edit or reschedule the appointment?
Only the primary staff member on the appointment can edit or reschedule. The appointment also can not be rescheduled by the client.
Will each staff member receive an .ics file for the appointment?
Yes! Each staff member will receive an .ics file and it will sync to their external calendars, if applicable. There is a setting to disable this
Can I add multiple staff to group events as well?
No, at this time multiple staff can only be added to 1:1 appointments
Will adding additional staff to the appointment also assign that staff member to the client card?
No, if you want the additional staff to be assigned to the client, you will still need to assign the staff on the client card as well. Click Here for a guide to this process
Can I remove only the additional staff without cancelling the appointment? Or add more?
Yes! To do so, click on the appointment, then, click on add/remove next to the additional staff. This will bring up a window where you can check or uncheck your additional staff members.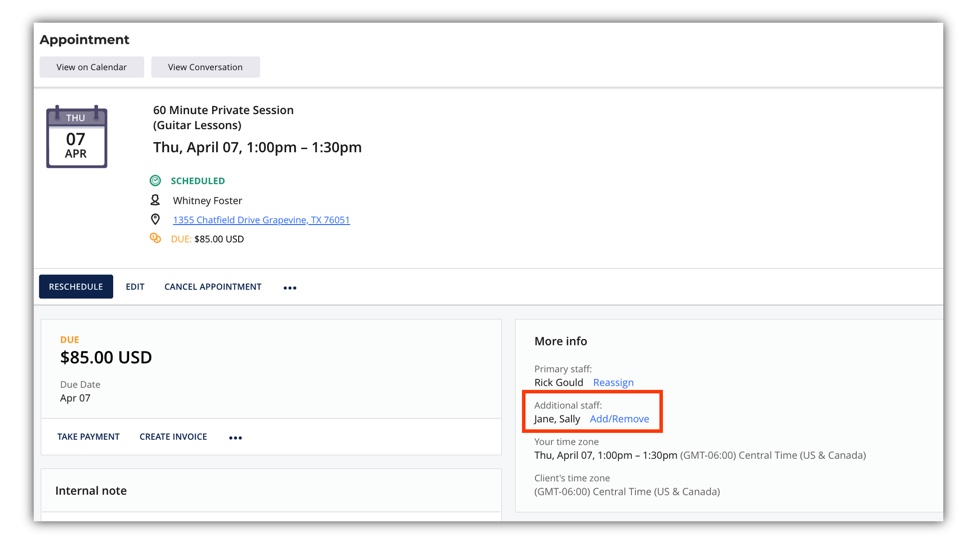 Keep in mind, if at this point the additional staff is already booked, a warning for double booking will not display here.
Do you need to add more staff members to Thryv to keep them informed of appointments? Click Here for a full guide to adding staff members!