In order to use Facebook Messenger, you will need to have a business page created on Facebook, and you will need the login credentials to a Facebook profile that is an Admin on that Facebook Business Page.
Article Contents:
Install Guide
To connect your Facebook Business Messenger to Thryv, navigate to the App Market, and select the Facebook Business Messenger app.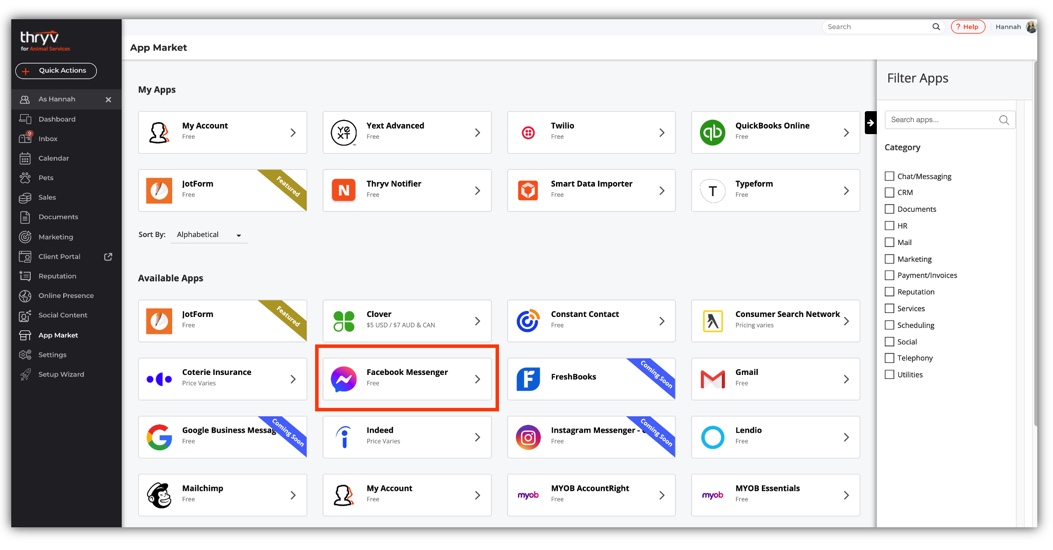 Next, click on Get This App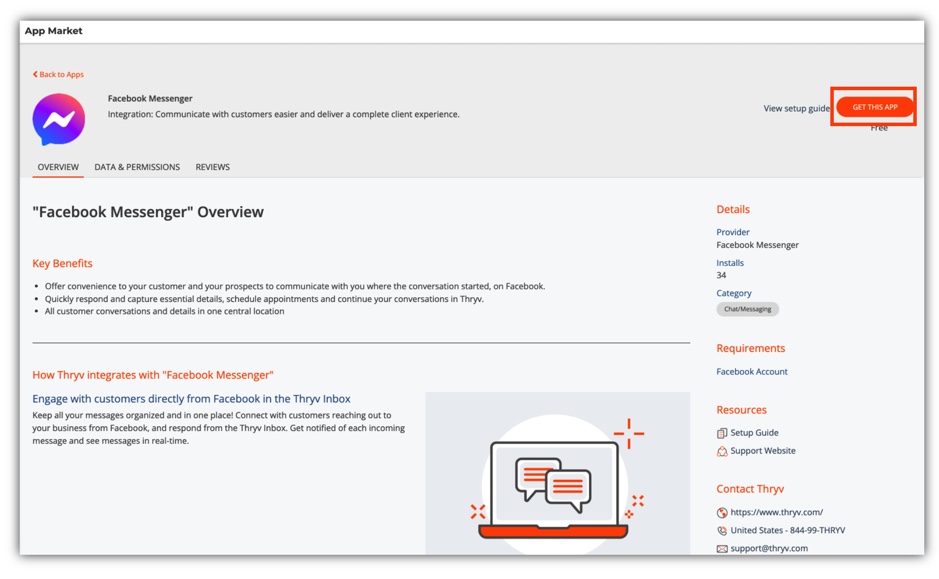 Next, review the permissions that Thryv will need to connect to Facebook, then check the box accepting the terms and conditions and click on Connect To Facebook Account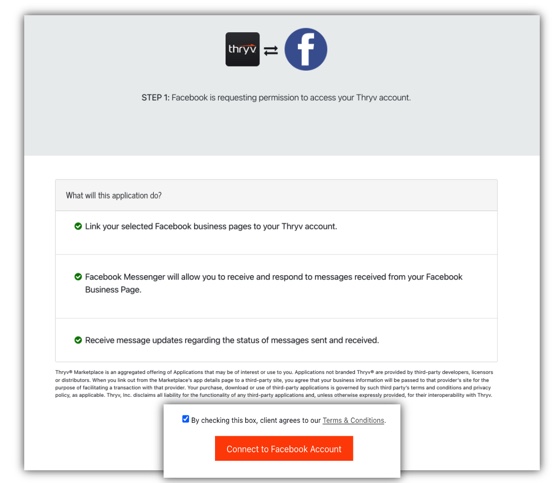 You will then be prompted to log in to your Facebook account, or "continue as" if you are already signed in. It will sign into your personal Facebook page only momentarily, and then will sign into your Business Page. Thryv will not gain access to your personal page in any way, except to log in to your Business Page.
Note: The Facebook profile signed into must be an Admin on the business page. A permission level any lower than Admin will result in an error and will not install the app.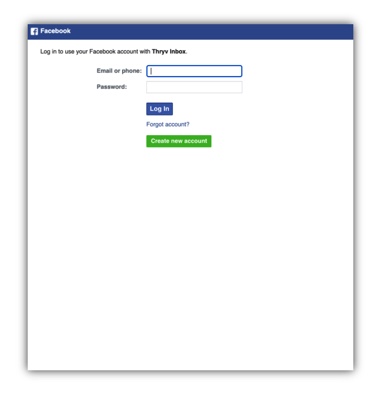 Confirm you are signed in to the correct Facebook account and click on "Continue As (Your Name)"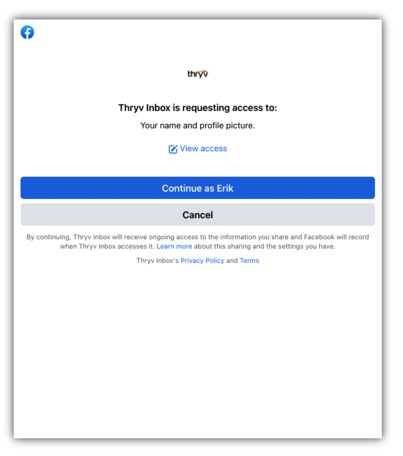 After logging in to Facebook, you will see all of the business pages connected to your Facebook account. Check the box for the one you want to connect, and click on Next.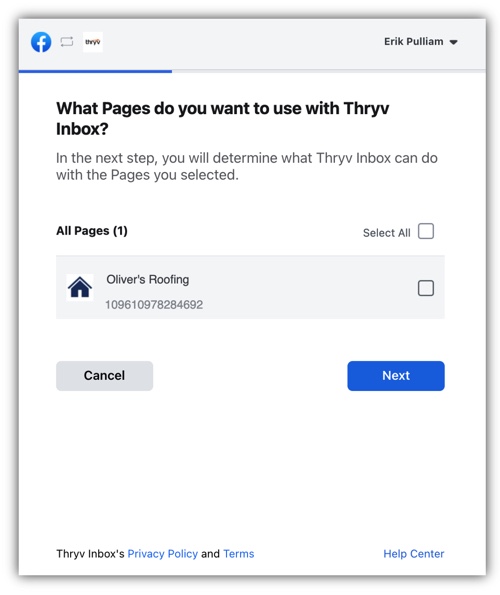 Next, review the permissions for connecting your Thryv inbox and Facebook Messenger. Keep in mind that turning off any of these permissions could affect the performance of your Inbox. Once you are finished click on Done.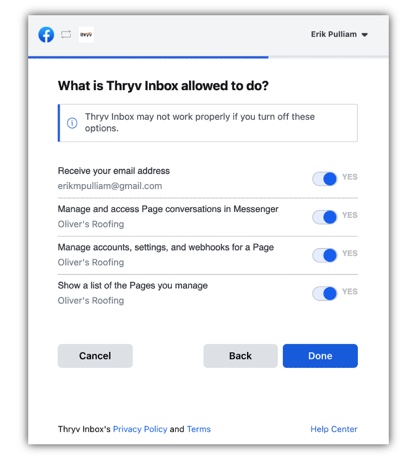 If your business page does not appear, or if you want to add more business pages (note that they must all be managed by the same Facebook profile), click on Add Pages to connect more. Once you are ready to install click on Install.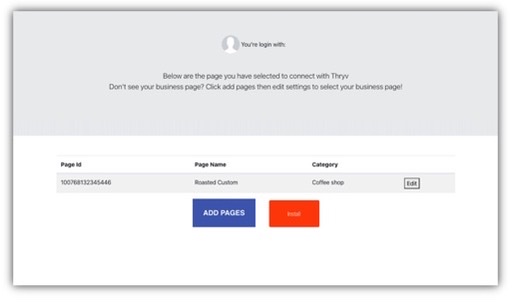 Once you are finished, you will see a confirmation screen. Click on OK and the pop-up window will close. The installation is complete at this point.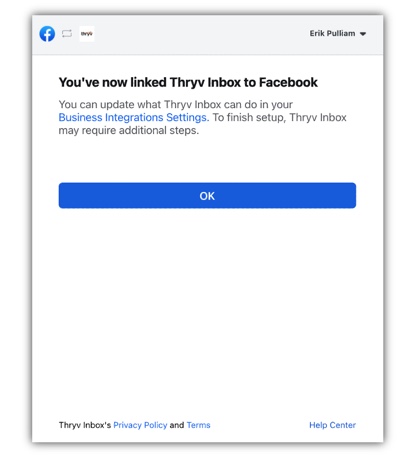 Troubleshooting
If any of the pop-ups in the installation process fail to appear, you may need to turn off your pop-up blocker, or any external privacy extensions you have on your browser. These extensions can affect the way Facebook accesses and shares information and disrupt the install process.
In the event your Facebook authentication is revoked, you may need to re-authenticate. You will receive an injected message in your Thryv inbox when this happens. To re-authenticate, navigate back to the app. Click on Re-Authorize to re-authenticate your account.
If the app fails to connect, it could be because of insufficient permissions on your Facebook Business Page. To verify you have the correct permissions, log into your Facebook account. Navigate to Pages on the left hand side.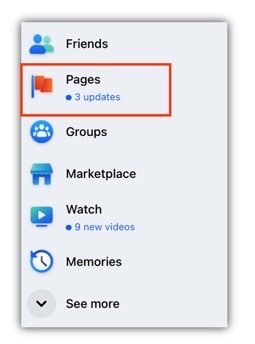 The pages you manage will be displayed. Click on the page you are trying to connect, and repeat this process if you are trying to connect multiple pages.
On the left side, scroll all the way down to Settings.

Within Settings, click on Page Roles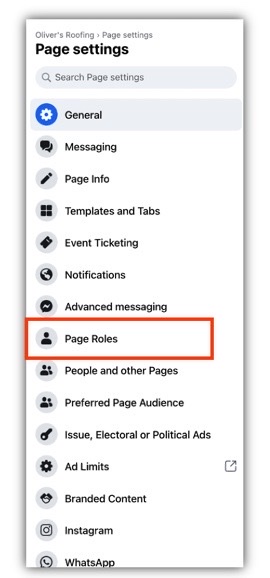 Beneath your profile picture your role on the business page will be displayed. The only role sufficient to connect the app is Admin. If you do not have the sufficient permission level, it will need to be granted to you by the admin on your page. You will need to consult with your admin on how to proceed from here.

Uninstall
To uninstall, navigate back to the app in the App Market.
Re-open the app, and the uninstall button will appear. Click Uninstall to remove the app. When you uninstall, you will no longer be able to use Thryv to communicate with clients through Facebook Messenger.

FAQ
Can I connect more than one Business Page to my Thryv inbox?
Yes! As long as all of the business pages are managed by the same personal profile (Permission level must be Admin) there is no limit to how many pages you can connect.
How long will a Facebook Messenger conversation stay active?
A conversation originating from Facebook Messenger will end 24 hours after no activity from the customer. After 24 hours the conversation can only continue on Facebook Messenger if it is initiated by the customer again. You can connect with the customer by selecting SMS or Email if the telephone number or email address is saved.
Want to finish connecting your other messaging platforms to your Thryv Inbox? Click Here for a full guide!