Is your Thryv software acting differently than normal? While we have great pride in our software and all of its functionality, unfortunately outages happen even to the most reliable softwares from time to time. To see if there is a global issue affecting all Thryv users, you can check the Thryv Status Page
Note: The status page is a part of the support center and therefore can only be accessed through Thryv on desktop. If you want to subscribe to status notifications on mobile Click Here.
Article Contents
Navigating to the Status Page
The Thryv Status Page is located within the support center in the lower left corner of your Thryv software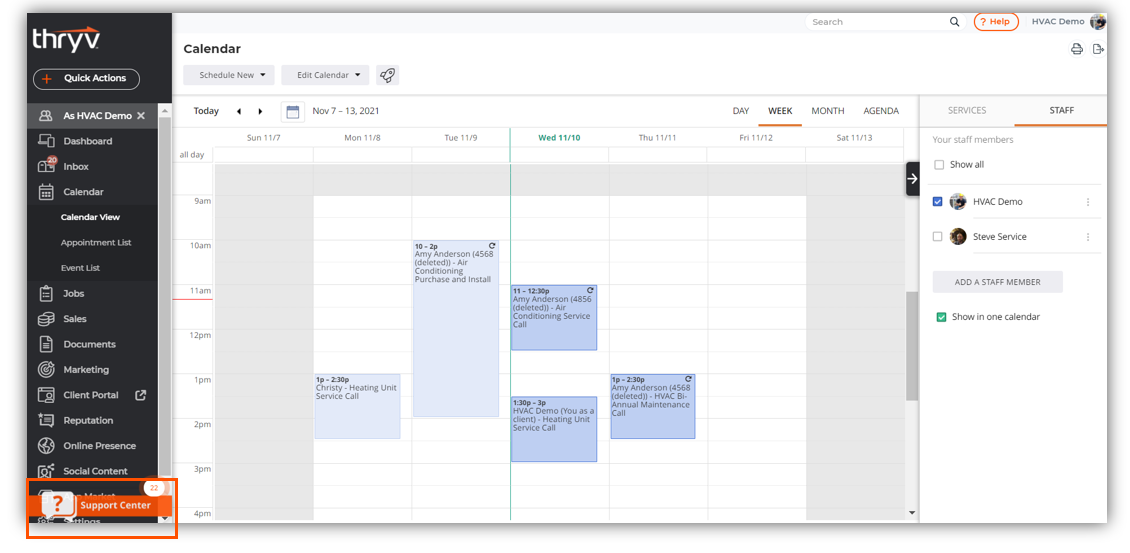 To open the Status Page, navigate to Support Center>Status Page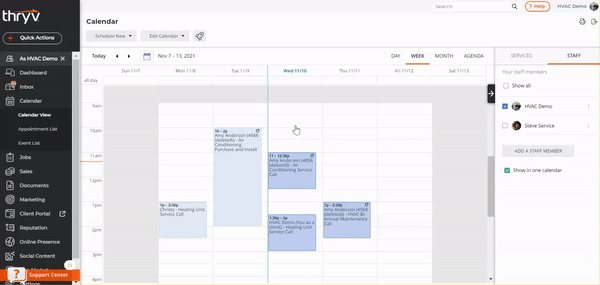 If there is a feature of Thryv currently experiencing an outage, the Status Page will show:
What the feature is
What is happening
What our team is doing about it
Any workarounds in the meantime if possible
The Status Page will also show the Uptime History, meaning it will show a history by feature of any outages over the past 30 days. A green bar indicates a full day with no outages. You also can view previous history by clicking on View Historical Uptime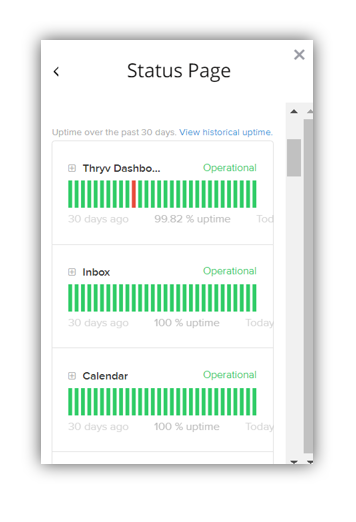 Also, you can click on a feature to see updates for individual items within that feature. For example, below the calendar breaks down into the calendar itself and online booking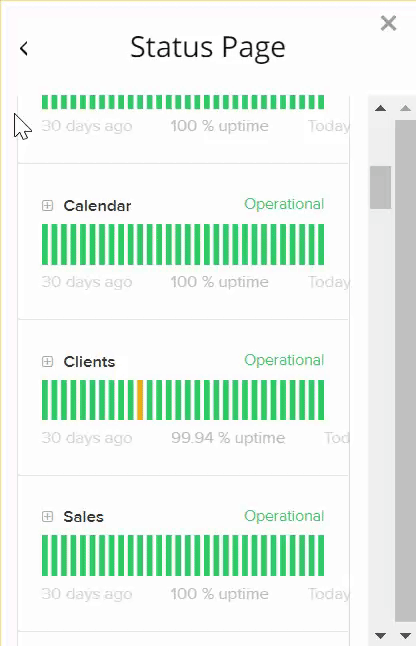 Subscribe To Updates
The fastest way to be notified of outages and resolutions to them is to subscribe to the status page for updates. To do so, navigate to the Status Page and click on Subscribe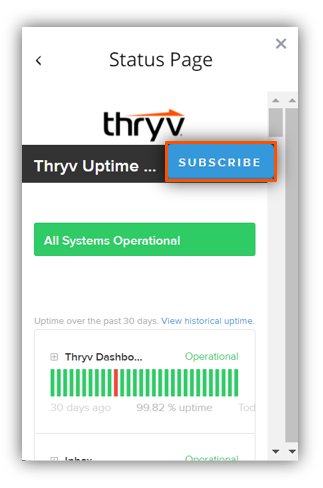 At the top, select the method by which you want to receive Thryv Status notifications. Email or SMS message will appear, and other communication apps may appear as options as well. Enter the email address or phone number where you want to receive notifications and click Subscribe.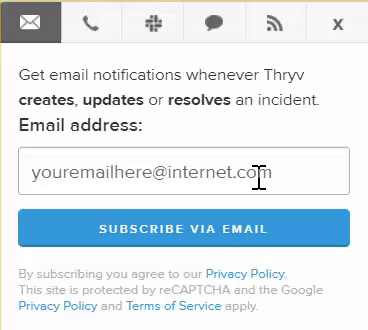 You will receive a confirmation message to confirm your subscription. You must confirm your subscription in order to receive status updates.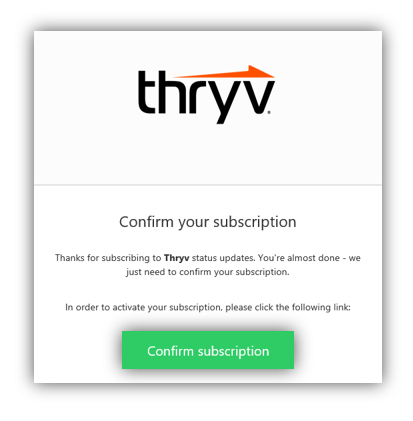 Once your subscription is confirmed, you will receive updates when a feature of Thryv has an outage, or when that outage is resolved.
What To Do If You Think You Are Experiencing An Outage
If you believe that you are experiencing an outage, and you have checked the Status Page in the support center, the fastest way to get help is to call support at 844-998-4798 (or 844-99-THRYV). Our support staff will determine if there is a global outage or if there is an issue with your account specifically.
For the best possible help, have the following information available:
Whether you are accessing Thryv from a desktop or mobile device
The type of computer or mobile device you are using (Mac or Windows for desktop, iPhone or Android for mobile)
The exact screen you were on when experiencing the issue (if you're able to take a screenshot that will help our support team)
Any information about what was happening prior to the issue, and any potential workarounds you have already tried
If you're not able to call, you can also send an email to support@thryv.com. If you are able, include the information above and any screenshots you can provide, and our team will assist you as soon as possible.