Stay in complete control of your online booking by setting restrictions for new clients. You can limit the services available for booking by new clients, or ensure that only current clients in your Thryv have access to online booking. This way, you can offer online booking for existing customers, but ensure that new potential customers will need to contact you for their initial service. For this function, an existing client is defined as a customer who is saved in your Thryv software, and will be able to sign in to their client portal. If a customer has done business with you in the past, but has not been added to Thryv, they will be treated in this case as a new client and will need to be added to your Thryv software.
Article Contents:
Restricting A Service For New Clients
If you are creating a new service, click on Advanced on the setup screen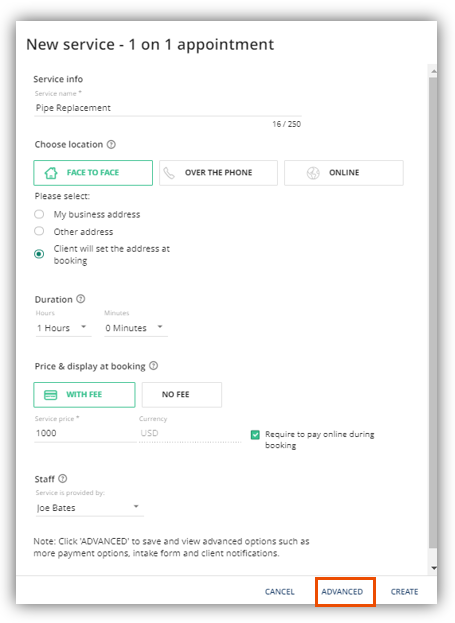 If you are trying to restrict an existing service, you can do so by editing it. Navigate to the service you would like to restrict and click on the Tri-Dots>Edit. This will bring you to the Advanced settings for that service.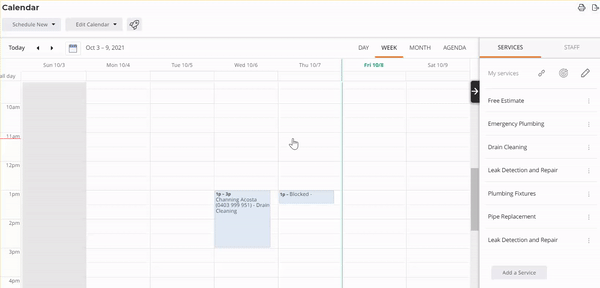 When editing the advanced settings for your service, there will be a checkbox to restrict this service from being booked by new clients. A confirmation window will pop up to explain how this function behaves. Click on Restrict Booking to confirm.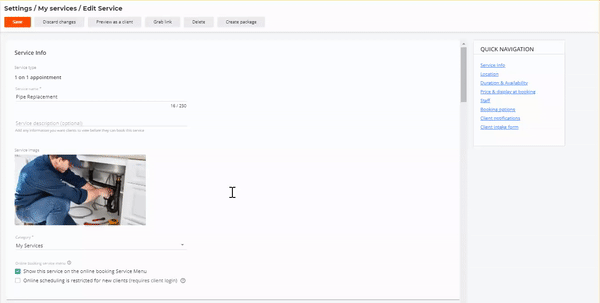 Now, this service specifically will not be available for new clients to book, and it will ask your existing Thryv clients to log in to their client portal in order to book it.
When viewed in Settings>Online Booking Options the box to restrict online scheduling for new clients needs to remain checked. If this box is unchecked, it will lift the restriction for all services.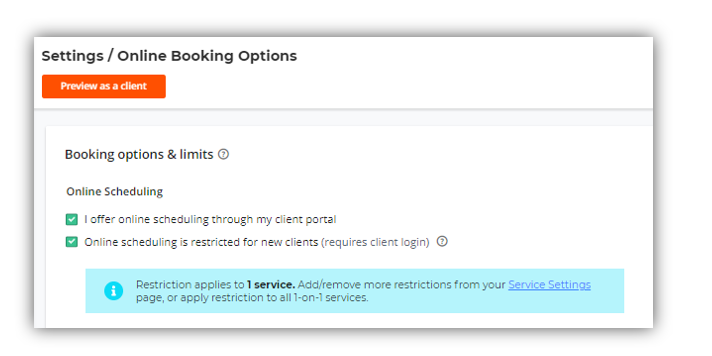 Restricting New Clients From Booking All 1:1 Services
To restrict All 1:1 services from being booked online by new clients, navigate to Settings>Online Booking Options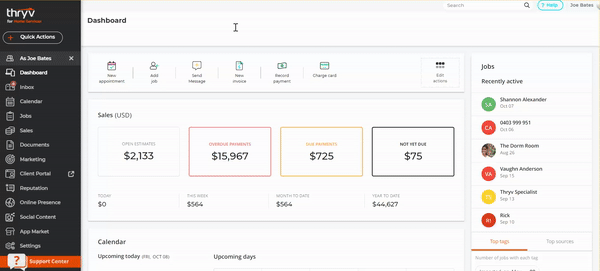 To restrict all new clients from booking services online, check the box that says: Online scheduling is restricted for new clients (requires client login). A confirmation window will pop up to explain how it behaves, and click on Restrict Scheduling to confirm.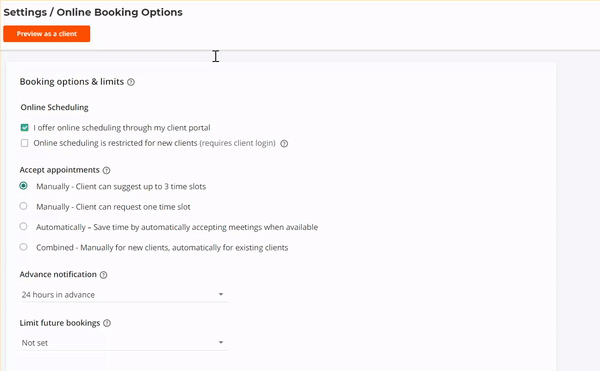 This will prevent anyone who is not already a client in your Thryv from booking an appointment online.
What Your Clients Will See
When viewing your online booking menu, if a specific service is restricted for new clients, it will display Existing Clients under that service.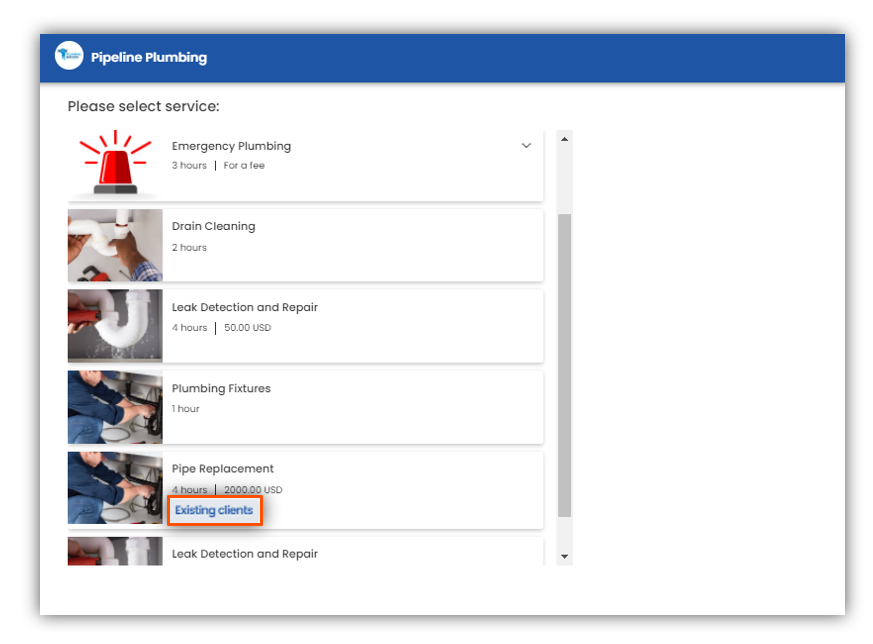 If a client who is not logged in clicks on that service, they will see a message indicating that the business is not currently accepting new clients and be prompted to log in to the client portal.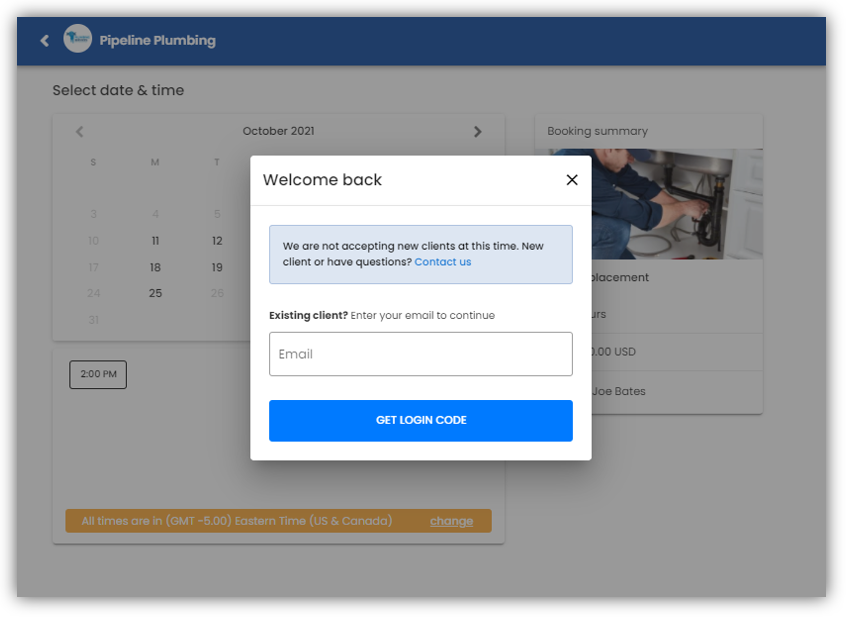 If All 1:1 services are set to restrict new clients, the message that the business is not accepting new clients will appear at the top of the entire menu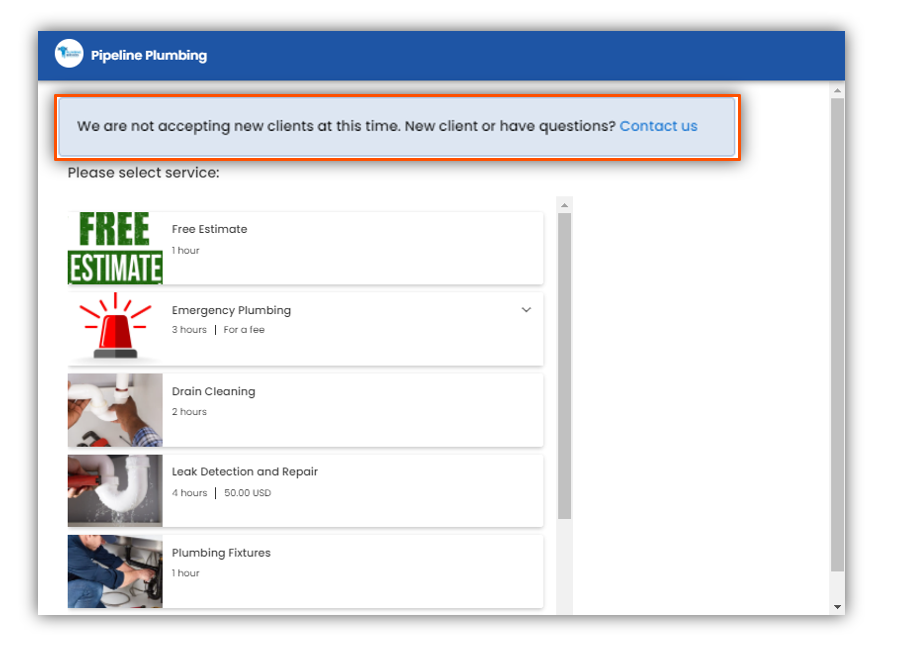 Any client who attempts to book any service will be prompted to sign in.
Want to take a deeper dive into online booking settings? Click Here for a full guide!