If you need to find an item within your Thryv, but aren't sure where to look, Global Search can be the fastest way to find it. At the top of every page in your Thryv software is one global search bar that simultaneously searches your:
Clients
Bookings
Payments
Estimates
Documents
Conversations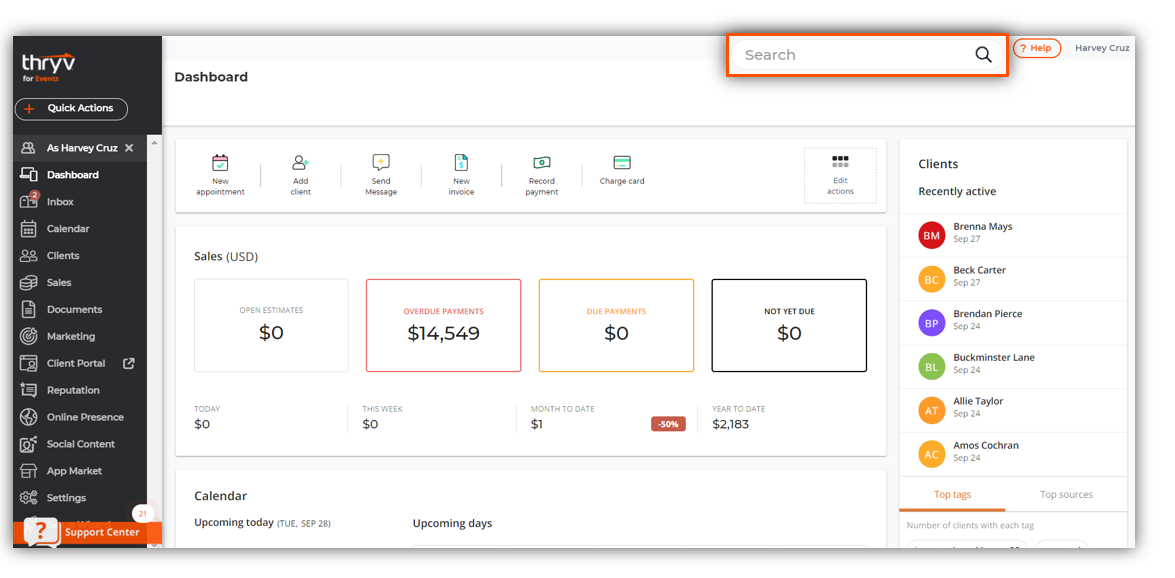 Article Contents:
Icons in Search Results
Thryv will display an icon by each search result to let you know what type of result is being shown. Here is a guide to what each icon represents.

Client - clicking on this result will take you to the client card for that result

Booking - This could be an appointment or a group event, clicking on this result will take you to that event

Estimate - Clicking on this result will take you to the Estimate

Payment - This icon could lead to a payment or an invoice. Invoices will be clearly marked in the results as they will say INVOICE before the number

Conversation - This will take you right to the part of a conversation where your search term was mentioned
Show All Results Page
Scroll down to the very bottom of your search results to reach the Show All Results Page. There you will see a detailed breakdown of each possible result for your search term. Across the top you can filter to any Clients, Bookings, Payments, Estimates, Documents, or Conversations associated with your search term.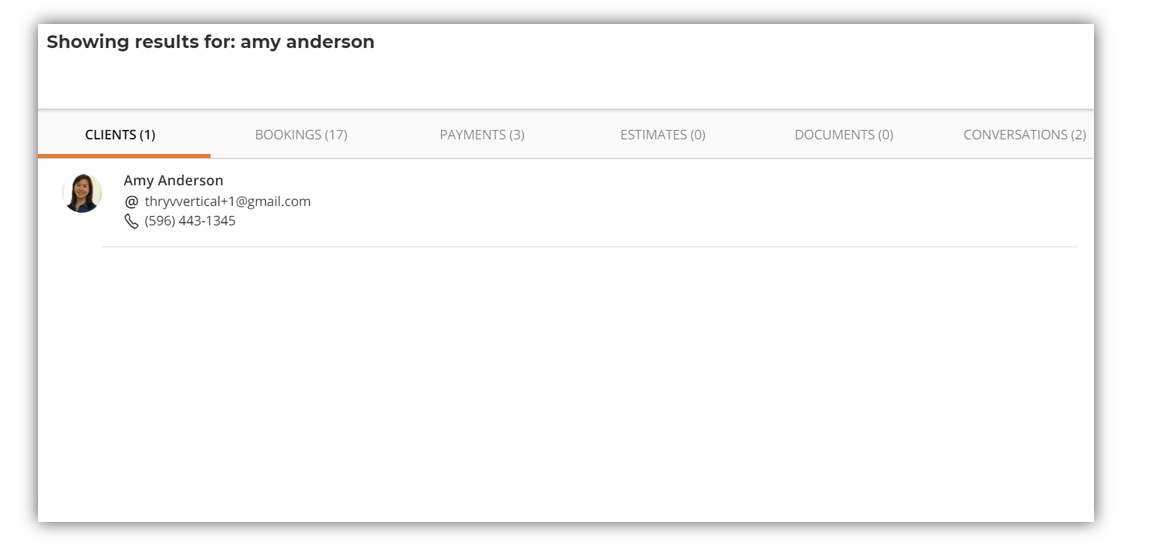 Search A Client
When you search a client's name in the global search, Thryv will display the following
Their client card
All bookings (including appointments and group events) with that client
All invoices, estimates, and payments for that client
Any documents sent to or from that client
A link to the conversation with that client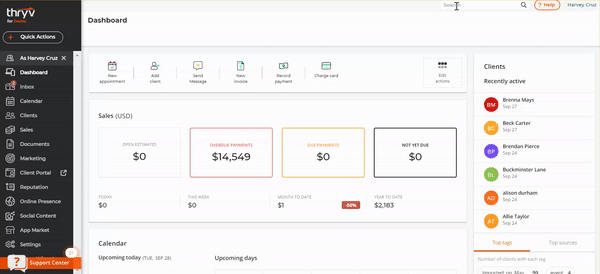 You can also search by email address or phone number, and these results will bring up the client card specifically. This may be a faster way to search if your intention is to find the client card.
Search an Estimate, Invoice, or Payment Number
When you search a number in the global search, the most common results will be Estimates, Invoices, or Payments, as those all have a number assigned. Keep in mind if you have a client with numbers in their email address those will appear as well. If you are searching for a specific invoice, this may be a faster way than going through the client card or within the Sales tab,
High Thryver Tip: If what you want to see isn't the Estimate, Invoice, or Payment itself, but rather the conversation surrounding it, scroll past the Estimate, Invoice, or Payment results, and you will find the place in your Conversation where that item was sent. This is the quickest way to see the conversation around sending that item.
Search an Appointment or Group Event
If you enter the name of a Service or Group Event into the global search, it will show all instances of that Service or Group Event. You can scroll down to the Show All Results Page for a list of all instances
High Thryver Tip: Just like with Estimates, Invoices, and Payments, you can scroll down to the Conversation results on these items as well to see the full context with your customer.
Search Documents
If you search the name of a document, Thryv will show a list of all customers that document was sent to.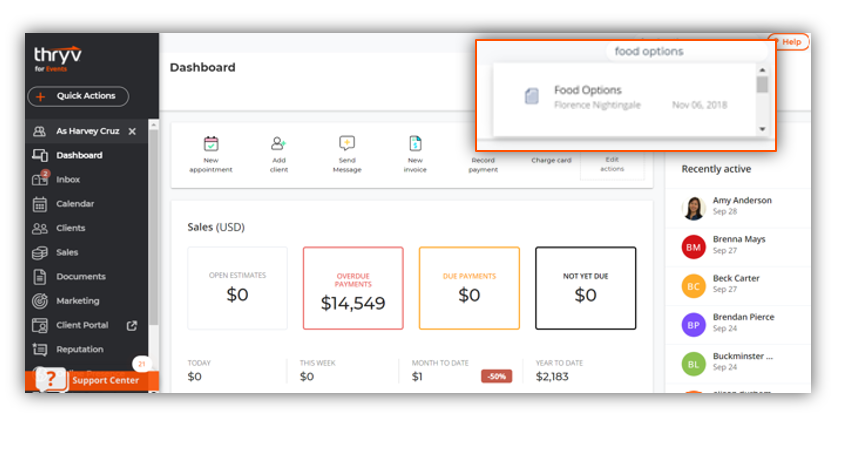 Thryv may be a powerful software that can tackle your day-to-day needs, but that doesn't mean it has to be hard to find things! Use the global search to find what you're looking for. Want to search in more detail on your client list specifically? Click Here for our guide to filtering your client list!