Do your clients need help redeeming the coupons you have created? This guide will provide a walkthrough. (For a guide on creating coupons, Click Here). For this guide we will assume the coupon is already set up.
Article Contents:
Send Coupon To Customers
First, navigate to Settings>Packages & Coupons>Coupons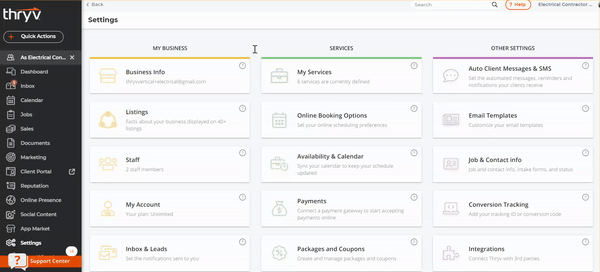 Next, select the coupon you wish to send to your client or clients by clicking directly on it.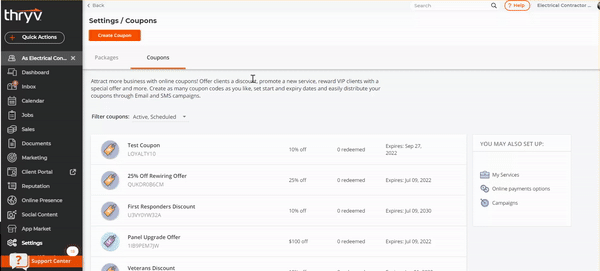 From here, there are two options to send the coupon to your clients. You can send a direct message to one or multiple clients, or you can create a campaign, which will take you to an Announcement in the Marketing tab. For a guide on creating an announcement, Click Here.
If Send A Direct Message is selected, you will be given the chance to select which client or clients will receive the coupon.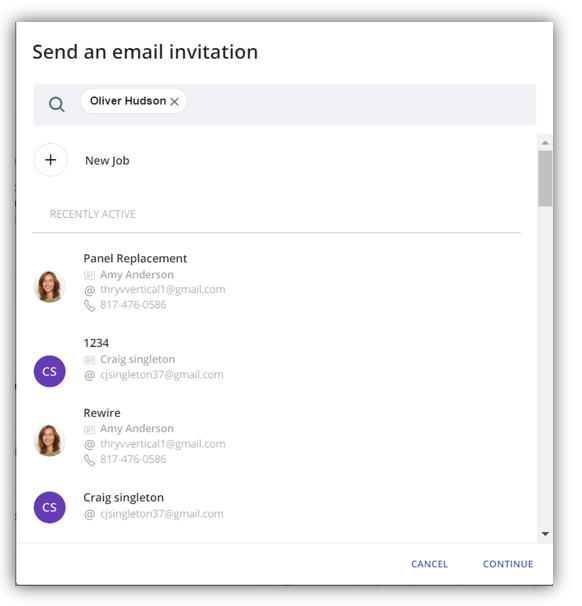 High-Thryver Tip: If the coupon is only for a specific service, make sure that the invitation sent to the client leads them directly to that service. This will avoid confusion from the client trying to apply a coupon to an invalid service.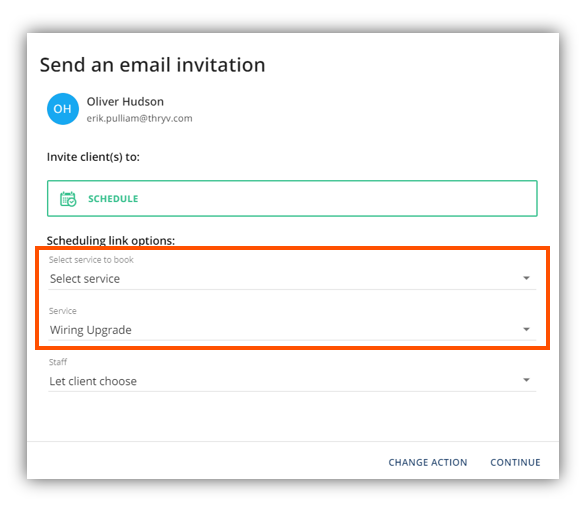 How Your Customers Redeem Coupons
From this point in the guide, we are going to switch roles, and now we will show what the client will see from here on out.
The client will receive your announcement or direct message according to the specifications made when it was sent.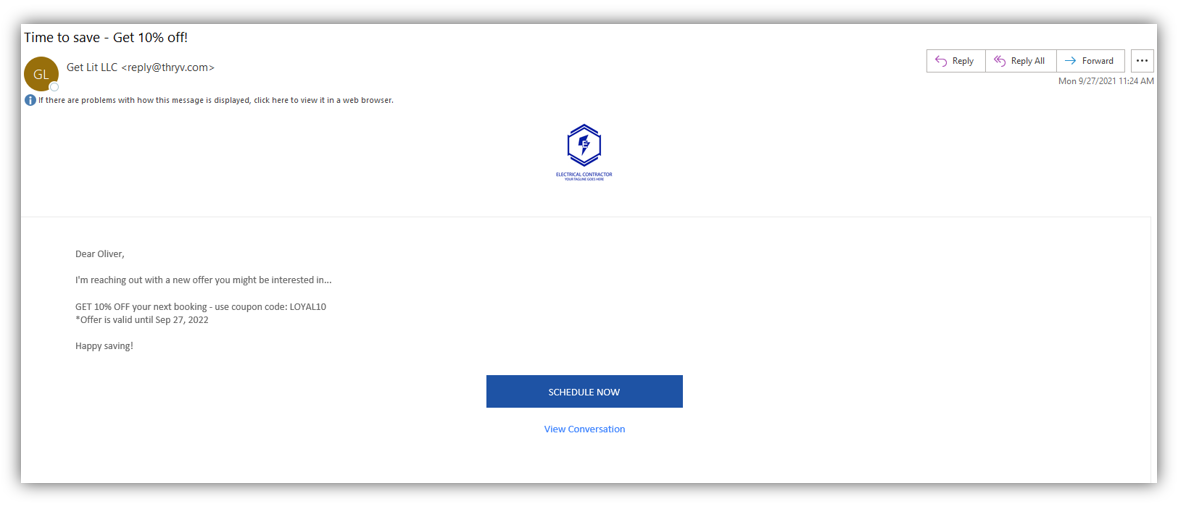 When the client clicks on Schedule Now, it will bring them to your online scheduler to book their appointment and use their coupon.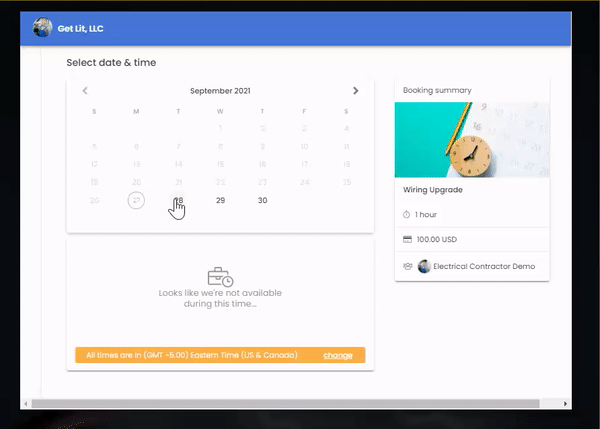 They will be prompted to enter any relevant information about their appointment, and then confirm their booking. After confirming, they will be prompted to pay. It is critical that the client click on Have A Coupon?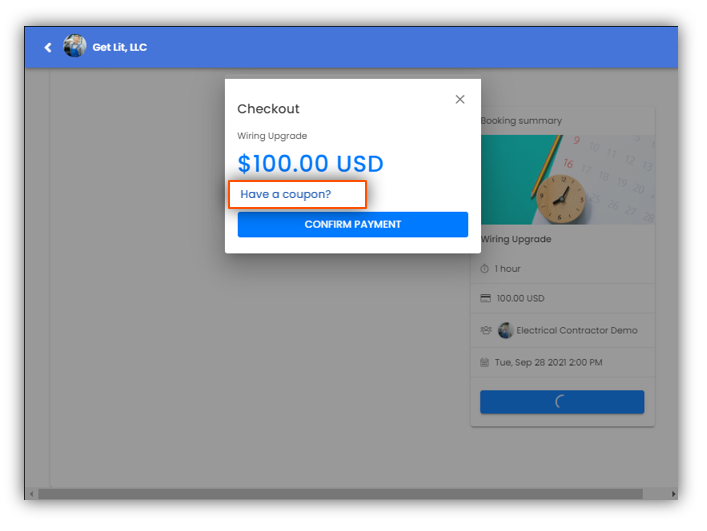 This button will then change into the space for the customer to Enter Their Coupon Code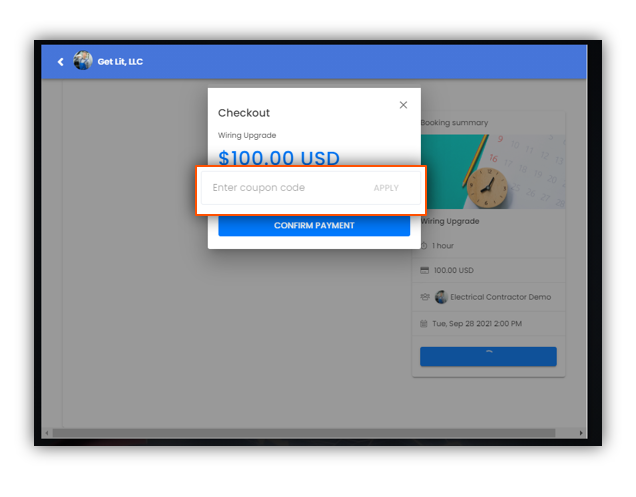 After entering the code, it is also important that the client click on Apply or else the coupon will not be applied. Once they click on Apply, the customer will see the price reduction and be able to click on Confirm Payment.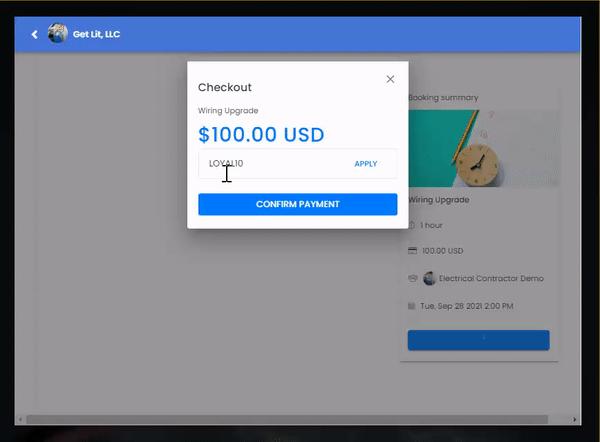 After clicking on Confirm Payment, the client will be able to make their payment as normal. Click Here for a customer's guide to making payments through their client portal.
Your customer has now taken advantage of savings through your coupon, and you have made their day, and made them a more loyal customer! Want to make sure this customer gets an automated follow-up after the appointment as well? Click Here for a guide to set up automated follow-ups!
FAQ
Do I need to be connected to a payment processor to use coupons?
Not necessarily. You can still generate coupon codes and send them to customers through campaigns and direct messages, but it will be up to you to apply the discount when you take payment through your usual method. If you want to use coupons that can be redeemed online through the Thryv client portal, then you will need to be connected to a payment processor.
What kind of products and services can I create coupons for?
At this time, coupons in Thryv can only be applied to services that can be scheduled online and require payment through the portal. You can add discounts to line items in invoices for products or services billed that way.
If a customer misses the "Have A Coupon?" button, is there a way to retroactively apply the coupon?
No, a refund will have to be created, and it will not apply the coupon redemption to that customer's remaining redemptions. If the coupon was a one time use for a specific customer, you will need to edit the coupon in Settings and manually expire it.