Consumer Search Network puts your business in the eyes of the internet's most ready-to-buy consumers. We'll show you how to become more accessible to your customers, and how to compete and win in online directory search.

Note: This item was formerly referred to as Extended Search Solutions (ESS). If you previously had ESS, Consumer Search Network is the new name.


Article Contents:
Initial Setup
To get this app, navigate to the App Market.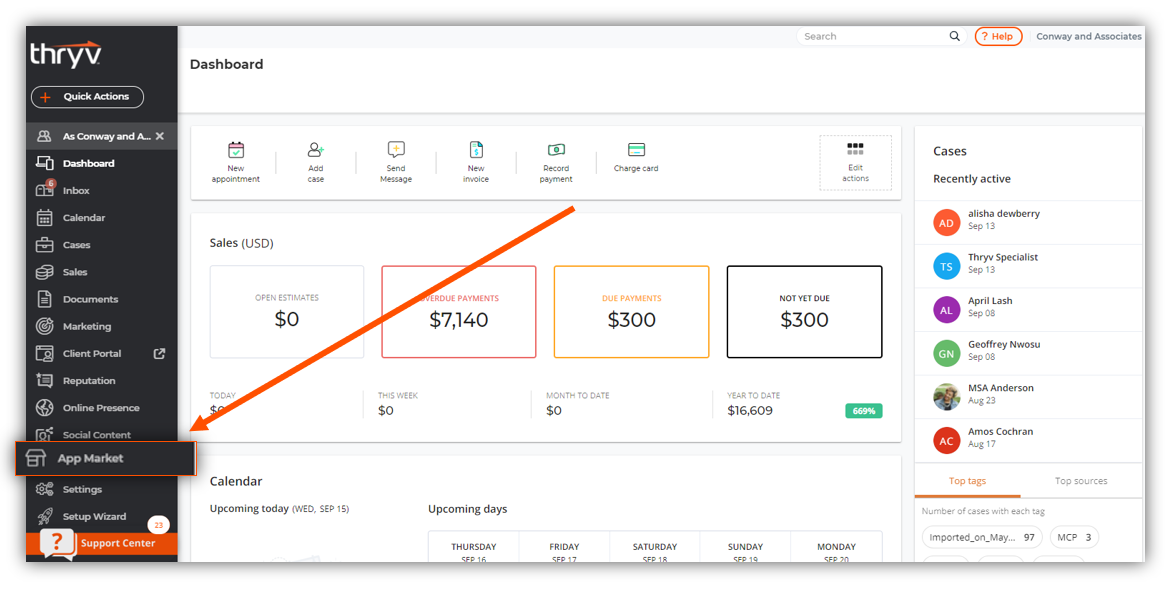 Click on the Consumer Search Network App.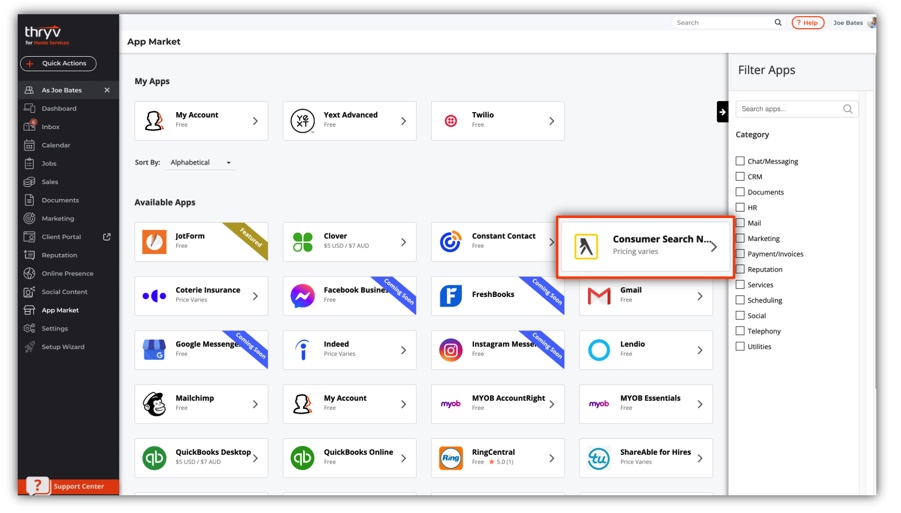 Click on Get This App in the orange button in the top right. NOTE: you may need to clear your cookies and cache in order to be redirected to the app.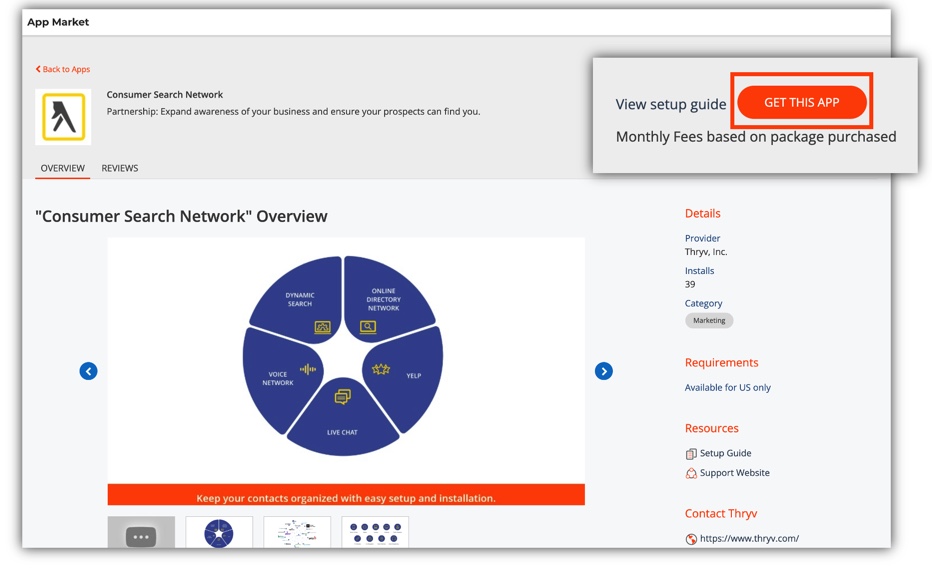 Next accept the terms and conditions for adding CSN to your account, with the understanding that the charges are accepted and will be added to your normal Thryv billing.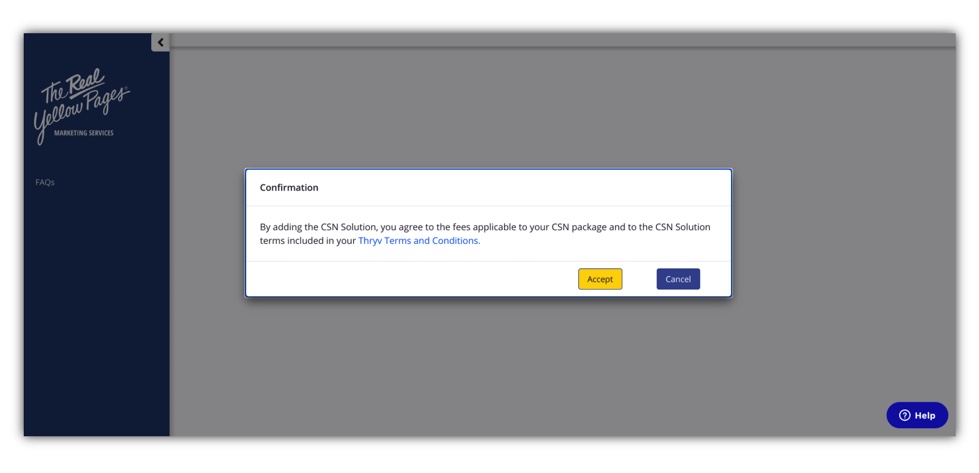 Choose Your Category, Geography, and Package Level
This is your chance to tell your customers as much as you can about your business. Fill in as many fields as possible as accurately as possible to get the most out of your Consumer Search Ads.
Start by defining your Categories. Select up to 5 categories that your business can be listed under. Remember that selecting more categories could lead to your business appearing in more searches, but keep in mind they still need to be relevant categories so your customers get a clear idea of what kind of business you are. A minimum of one category is required, and one must be selected as the main category. Once a main category is selected, the app will recommend additional categories based on the first one.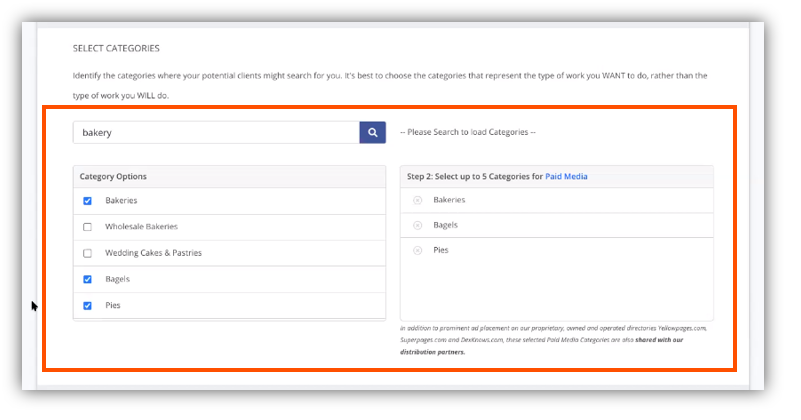 Next, select the geographical area you wish to target. Search by your ZIP code, and the app will populate a list of geographical areas you can select from. Once one is selected, it will show in the next column more detail of which specific cities are included in this geographical area.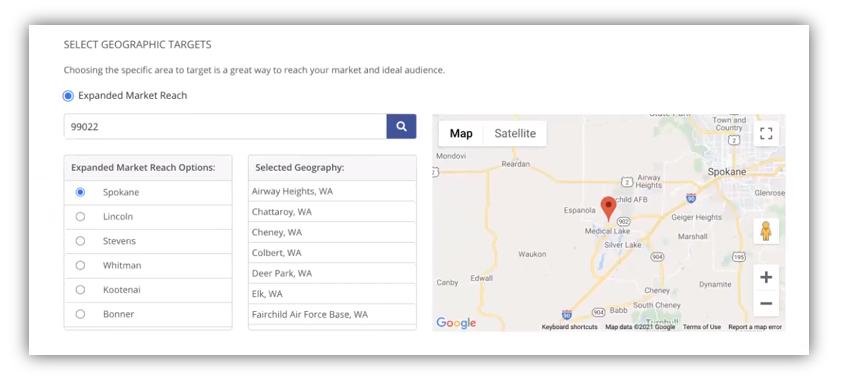 Next, select the package level between Premium, Plus, and Basic. A higher package level will place your ad on more sites, as well as place it higher on the page in the right rail section of the site.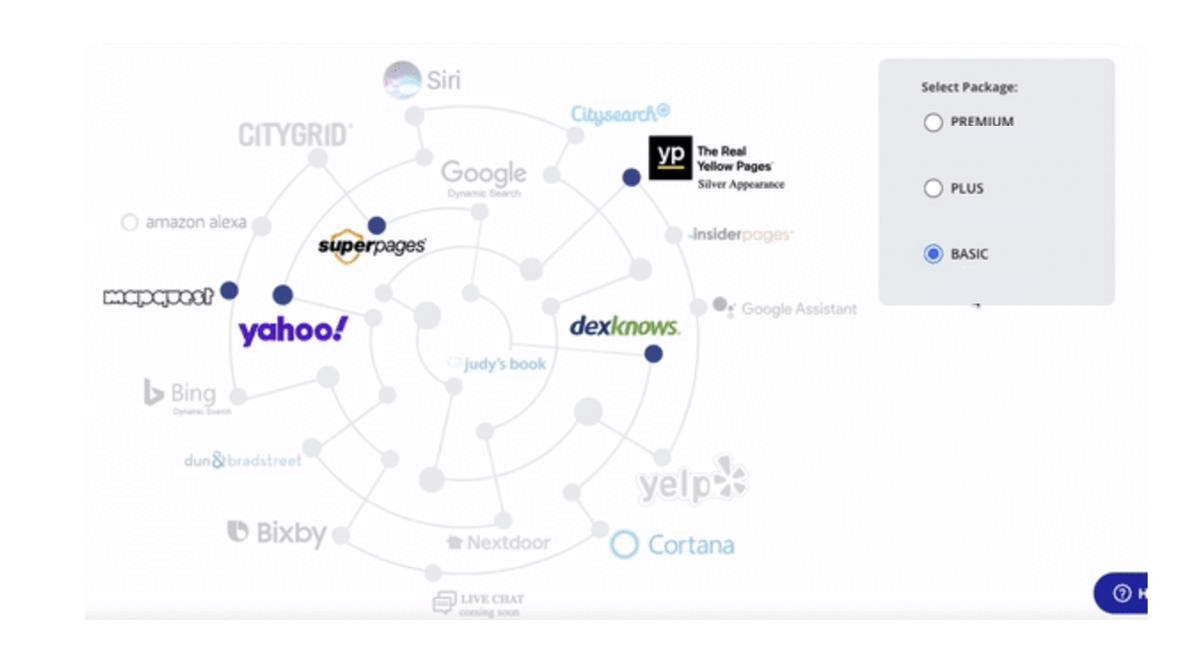 Once you have made all of your selections, click on Generate Proposal in the bottom right.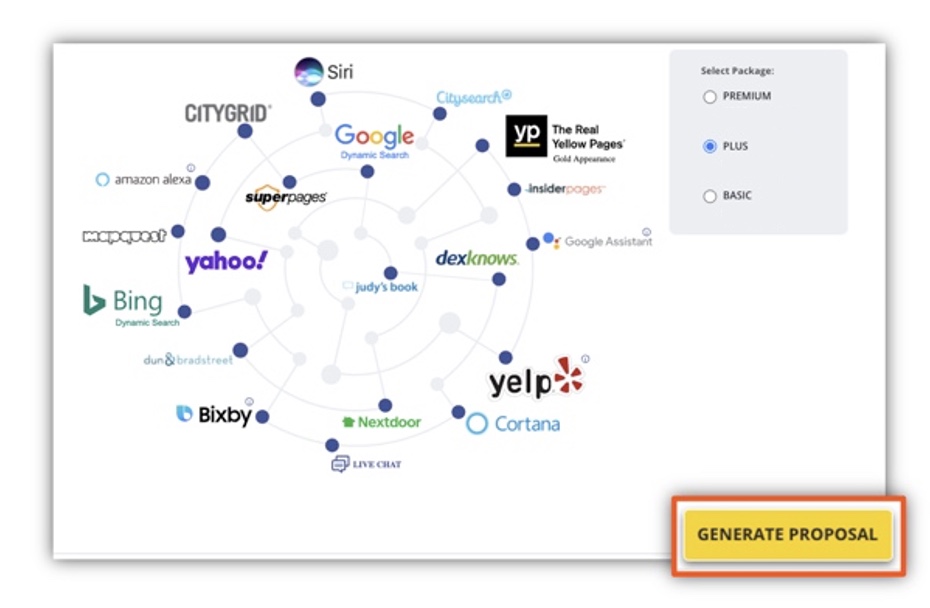 Next the app will scan voice assistant devices to make sure your business has an audio listing there as well.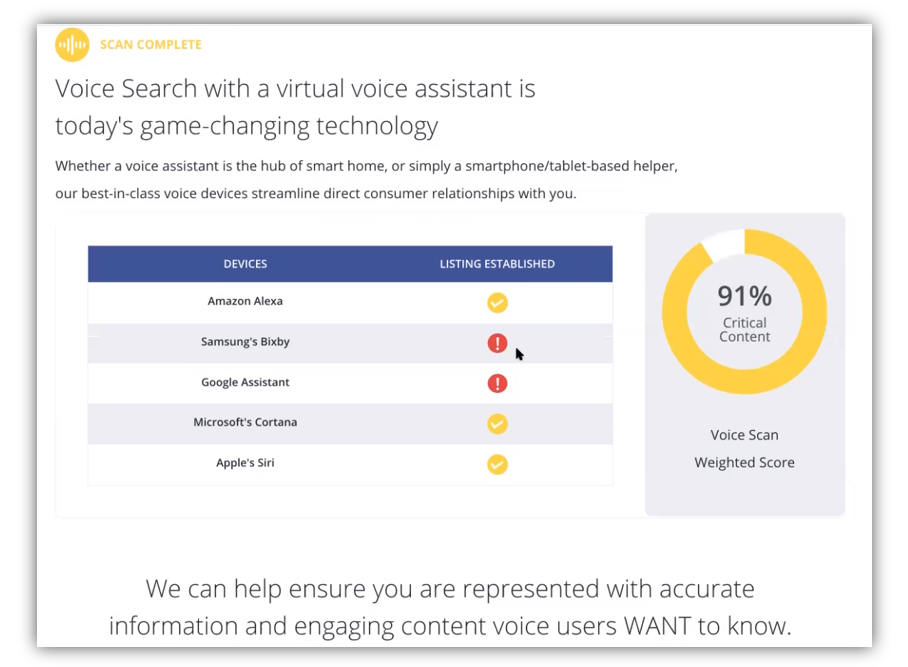 At the bottom of this page is a summary of the package selected, category or categories, and geography, as well as the agreement term length. Click on Accept Proposal to accept these options and move on to filling out your Business Profile.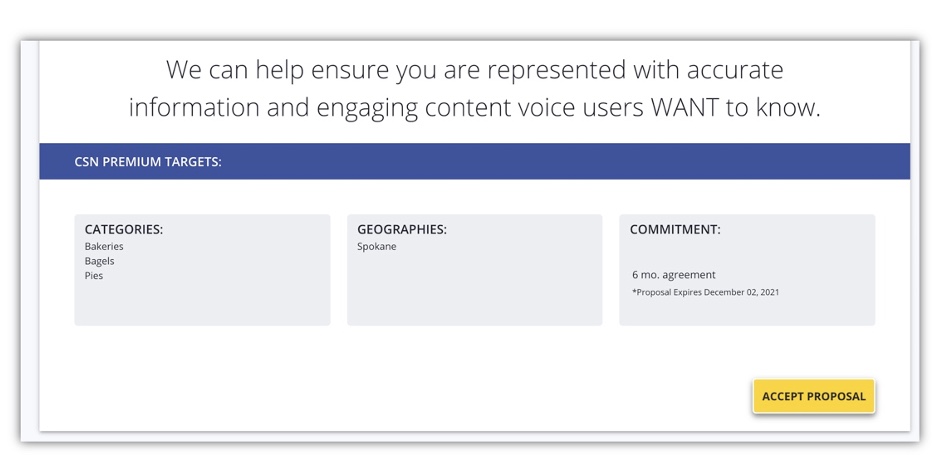 Fill Our Your Business Profile
The first screen is where you enter your Business Details. Enter your business information for each field. Remember, the more content entered here, the more complete your listing will be and this will increase the chances of your business being found and chosen! Pay special attention to the Business Description and Featured Message as these fields are critical for displaying information about your business that will make searchers want to choose you.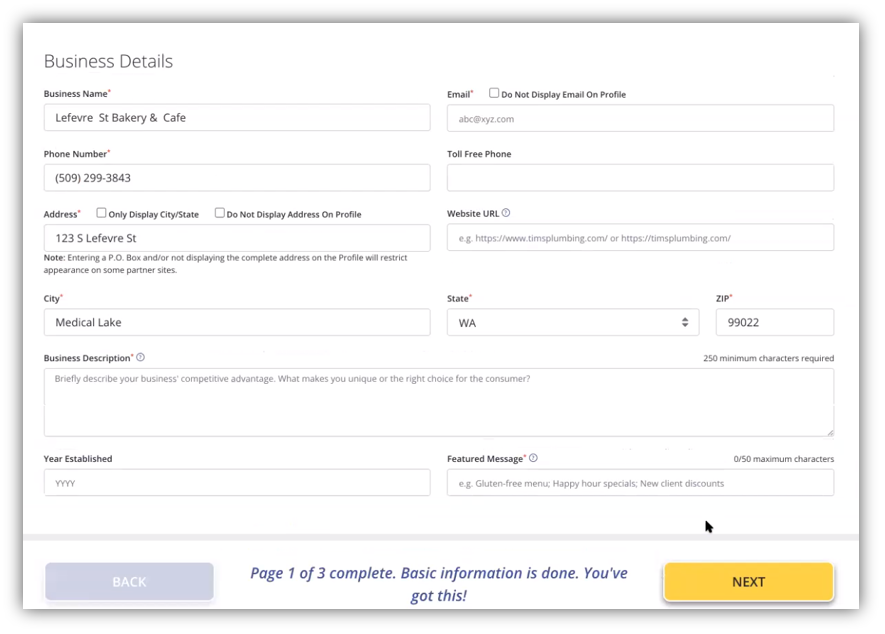 On the next screen, set the availability for your business, and upload images to enhance your advertisement.
First, enter your hours of operation, and if applicable, select any attributes such as specialty availability or ownership to be displayed as well.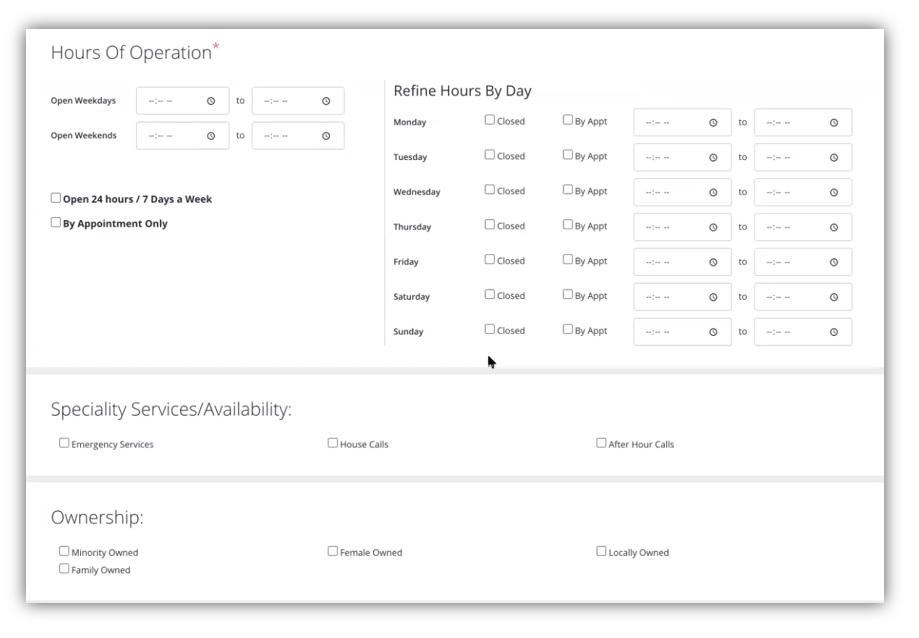 Next, upload a Logo, and a Photo Gallery to make your advertisement more visually appealing, and give customers a clear picture of your business. Some good examples of photos are a picture of your storefront (if applicable), menus or product lists, or samples of your product or service.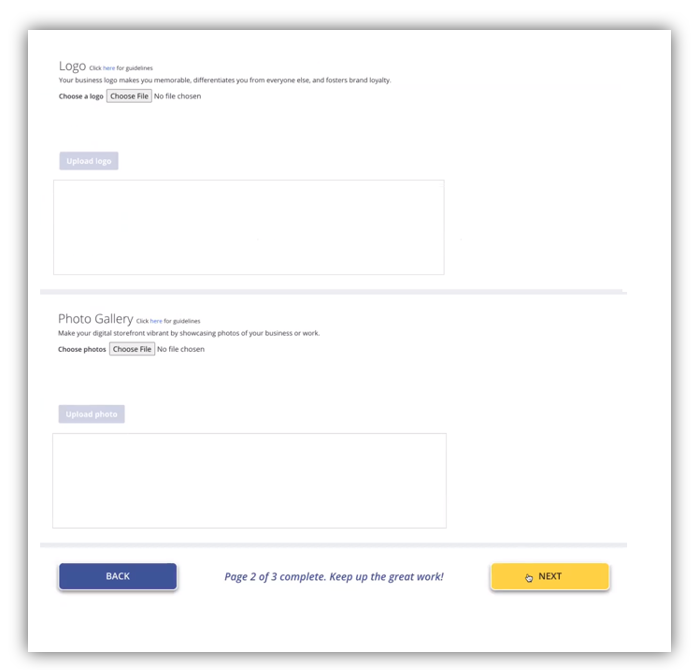 Choose whether to opt in to Request A Quote, where customers can submit a quote request, of which you will be notified by text message in real time, or Live Chat, in which customers can communicate with a service representative 24/7 who has been given the information provided in your Business Profile. The agent will collect the customer's name, phone number and email, and you will be notified in real time through text message.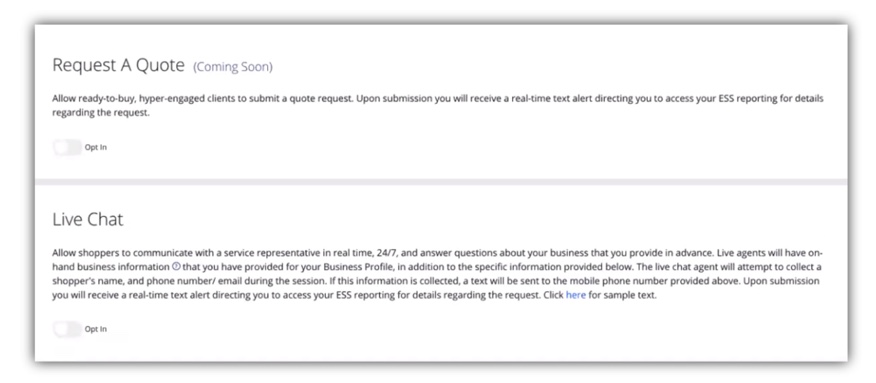 Next, generate your business's responses for Voice Networks. This means, when a customer performs a voice search, such as on Amazon Alexa, Google Home, or Siri, these messages will be read by the voice assistant in specific scenarios as outlined below.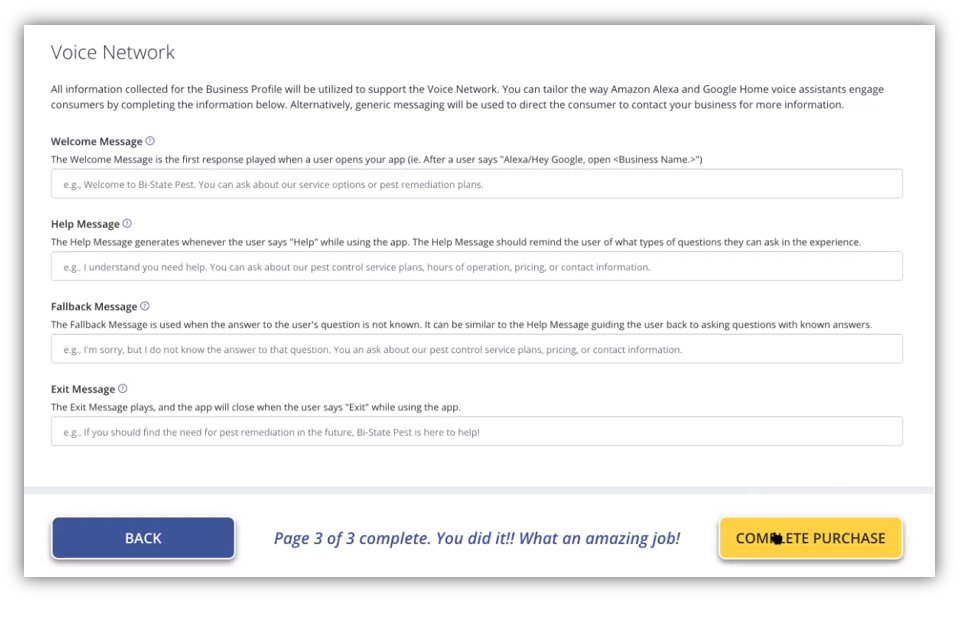 Finally, click on Complete Purchase to complete your order of this add-on. You will be taken to a confirmation screen to confirm that your order is complete.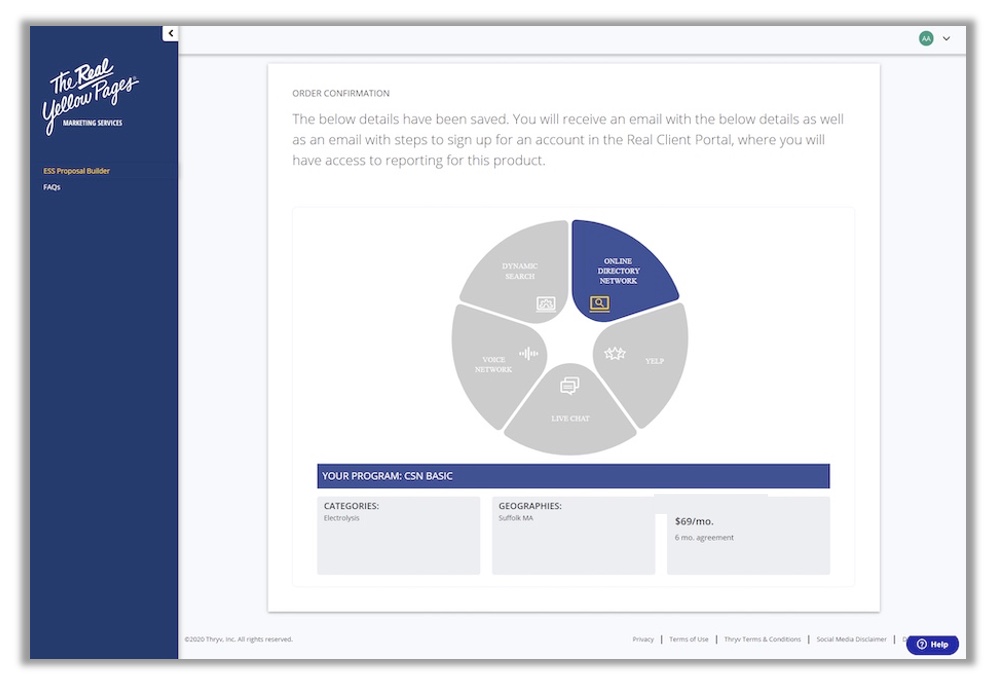 You will also receive 2 emails after your purchase is complete. One is a summary of your program and what it entails, and the other is a link to view reporting on performance for your program.
Uninstall
The CSN App must be uninstalled from within the client portal. Navigate to Uninstall CSN and click on OK. The app will be uninstalled.

FAQs
Why don't I recognize the telephone number publishing on my Consumer Search Network listing?
We utilize call tracking numbers to track the results and provide meaningful metrics for your Consumer Search Network program. These call tracking numbers terminate to your business line.
Why are consumers being asked to press "1" to be connected to my business?
To weed out many unwanted auto-dialers and robocalls, Call Intercept asks callers to press "1" to be connected to your business, ensuring it's actually a person making the call.
Can I change my category or geography during the program?
Categories can be changed, but never exceed 5. Geography is a commitment for the length of the program. To make changes, call support at 844-998-4798.
Can I purchase more than one geographical area?
At the time the CSN App can only purchase one geographical area. Please contact your Business Advisor if you wish to purchase a larger area.
Where can I view reporting for my program?
You will receive an email with a link to your reporting portal. You also can access it at leads.Thryv.com. If you have not created a login you will be directed to do so. Reporting for CSN is not contained within your Thryv software.
Who is eligible to purchase CSN?
At this time only US-based businesses are eligible to purchase. You also must be on the latest (4.0) version of Thryv to integrate this app. Clients who already have purchased CSN outside of Thryv or Thryv Leads are also not eligible.
When will I first be billed for this add-on?
You will be billed immediately for a prorated amount for the remainder of your current billing cycle. You will then be billed full price on your next scheduled Thryv billing date.