Manage your Client's Contact Information
Thryv allows you to view and manage all of your contacts, clients, and leads on a centralized page in your account. Review the entire communication history for each client at-a-glance using the Conversations, Notes, Bookings, Payments, and Documents tabs.
To get to a client's contact card, navigate the Clients tab from the left navigation pane. From the client list, find and select the desired client contact.
Client List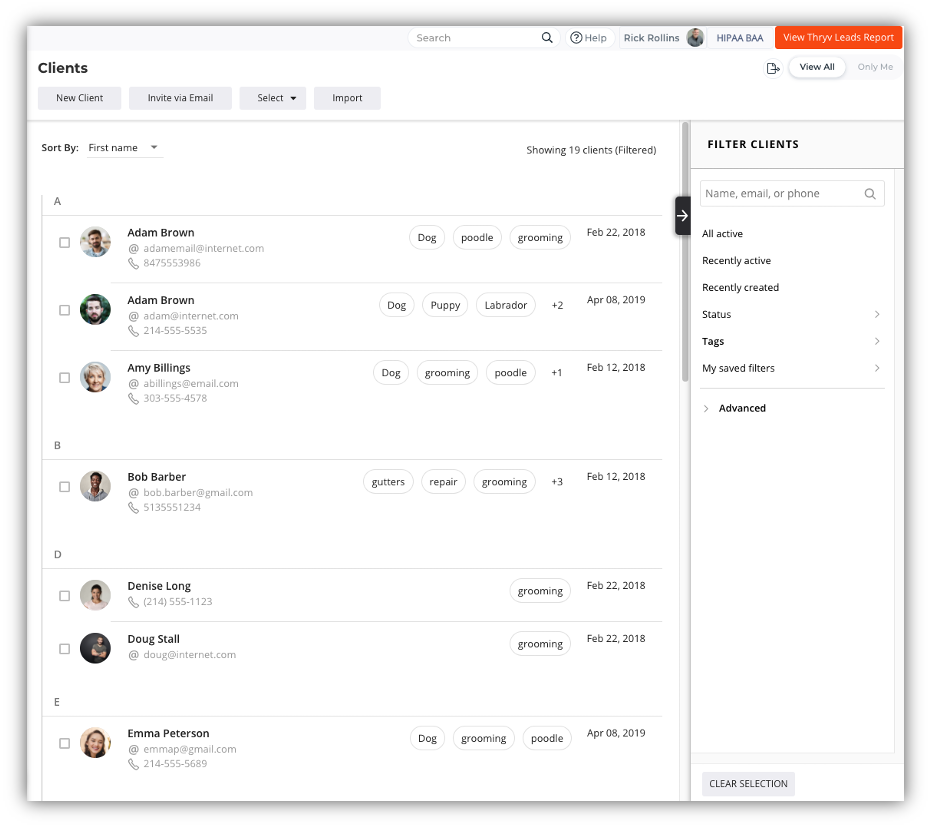 The client card is laid out with different sections to help organize the client's most important information and keep it within your view.
Client Contact View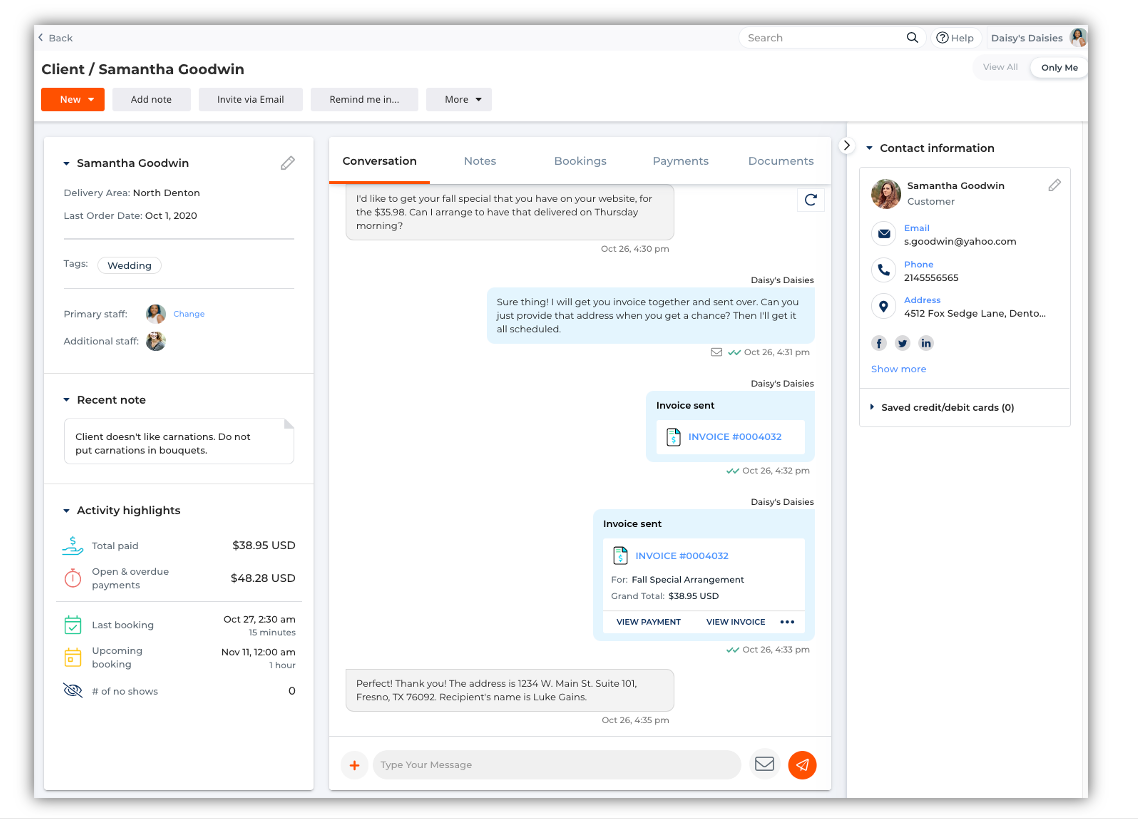 Below are summaries of the functions of each client section, along with how to utilize them.
Client Card Sections:
Client Card Actions
From the top menu you can take any of the following actions for a contact:

New - Create a New Message, Appointment, Document, Invoice or Record a Payment for each specific client.
Add note - Create an internal note that is related to the client contact.
Invite Via Email - Sends the specific client an invitation to connect with you.
Remind me in... - Set a reminder to follow up with the client. This option only appears when there are messages in the Conversation
More - Delete a client or Mark as Spam.
Client Contact Information
Basic client contact information including their, name, phone, and address is clearly displayed at the top, right of the client card.
Some of the information is provided by the client at the time they contact you through your Client Portal forms. Other information can be collected automatically based on their email address from their social media.
You can Edit existing information on the client card or add new information about the client as you learn it. To edit this information, select the pencil icon.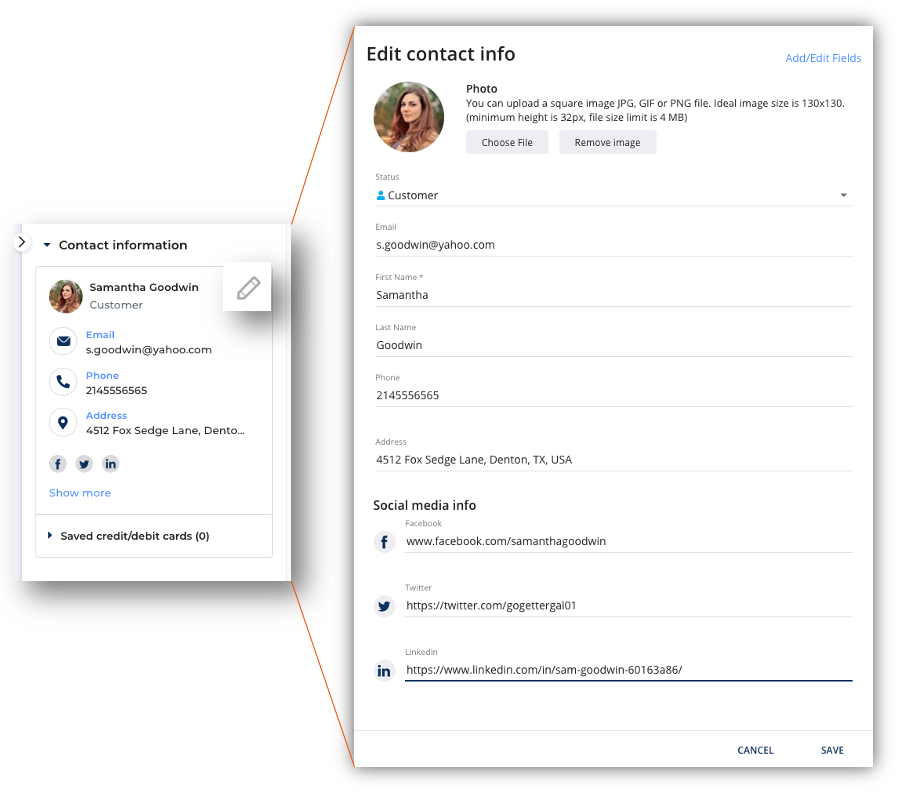 Upload a photo for your client by clicking the choose file.

Select remove image to remove a photo of the client.

Set customer status.
Add/edit contact information: Email, First Name, Last Name, Phone, or Address.
Review/update available public Social Media profiles - the system can collect public information available online based on the client's email address including their photo, social media information, and more. To enable this automatic option, navigate to Settings > Client & Contact Info> Turn on Enrich your contact info with Social Media info.
Client Account Balance
If your client has a balance on their account, a banner will display in the top left corner advising you of the balance.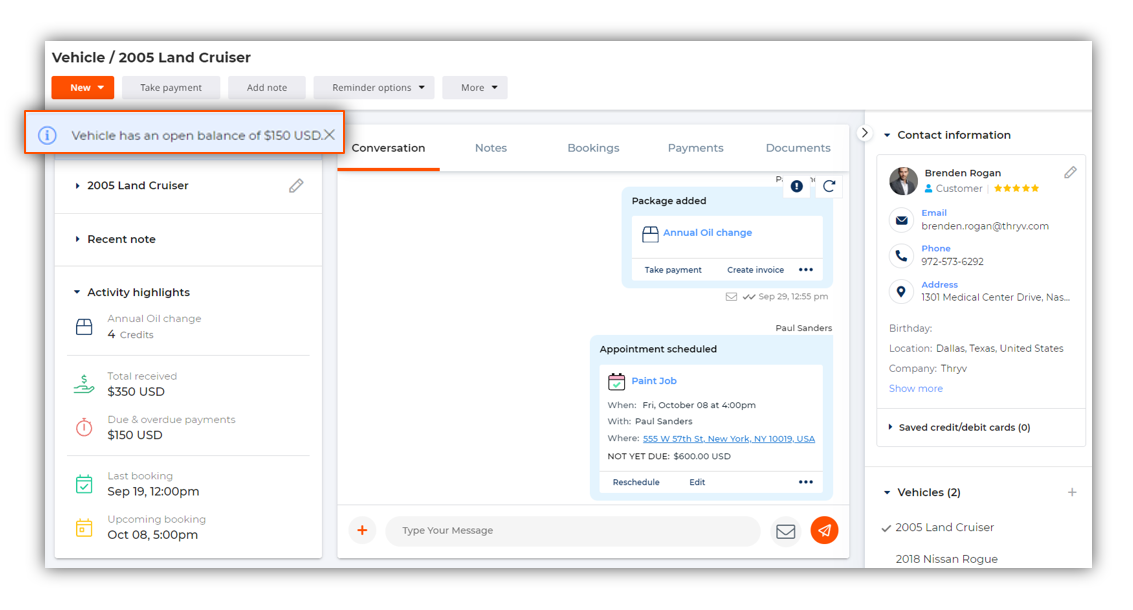 To clear this balance in one step, navigate to Payments, and click on Take Payment. This will generate an invoice or payment link containing all items on their account that are currently due.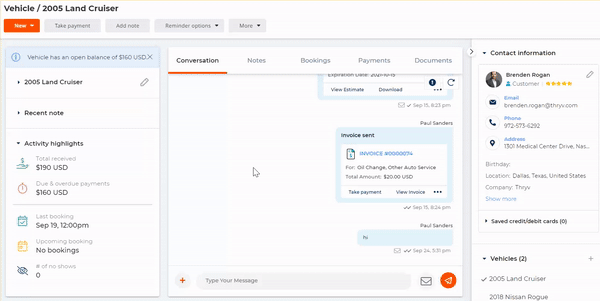 For a full guide to Client Account Balances, Click Here!
Custom Client Fields & Tags
Add information to custom client fields that you created in Settings > Client Card & Forms.
Select Add/Edit Fields to quickly navigate to this setting. This sets the available fields for all contacts.
Add tags to each client to categorize them. You can use this information to search for clients that match a specific category and send them a marketing message.
Identify which Staff Member is assigned to the client

Change or assign additional staff members.
Recent Notes & Activity
View a brief summary of the most recent note added to the client and the clients' most recent activity, including last paid invoice, open or overdue invoices, last booking, any upcoming booking, and total number of no shows to an appointment if any.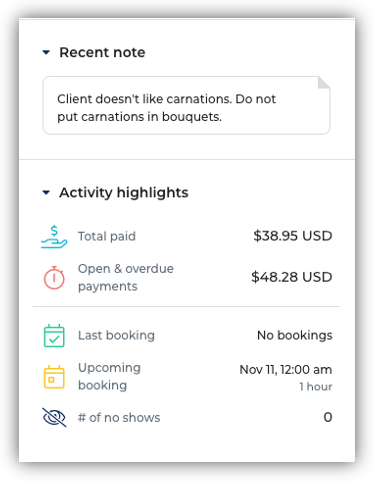 Conversation
This tab displays all the full communication you had with the client including messages sent via email or text, bookings, payments, and documents. There is no need to refresh the conversation as long as you are in the client card. That client's messages will appear automatically in real-time. (Inbox notifications still need to be refreshed).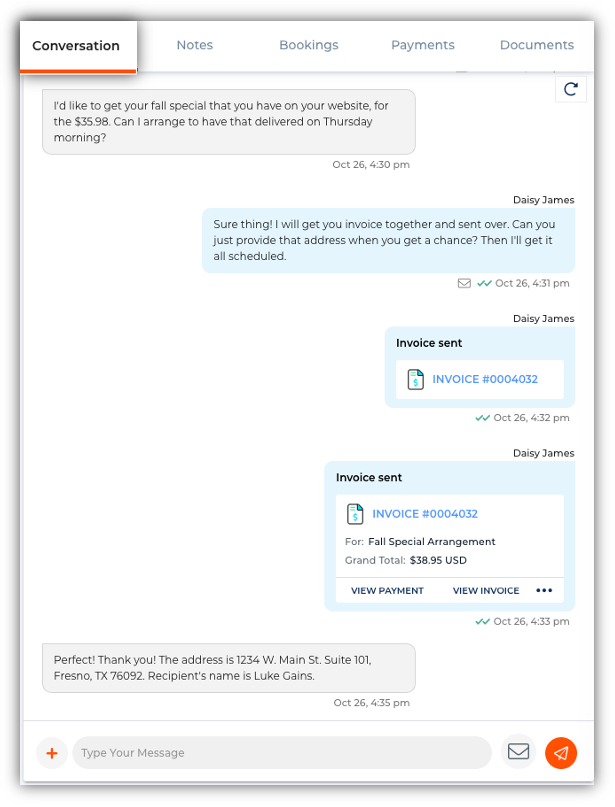 Notes
Add notes to self for a quick recap about your client, what you talked about or what are the next steps. Each note indicates the date it was added and the staff member who added it.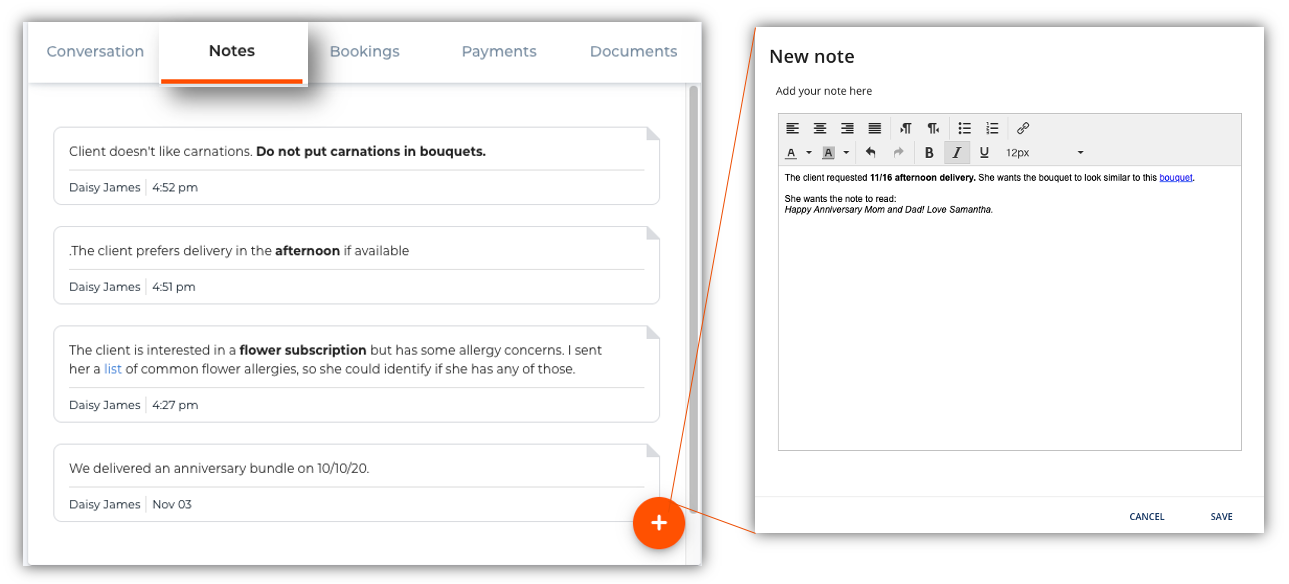 Bookings
This tab displays all the different scheduled services each client had with your business. You can click on each item to view the full communication and booking status.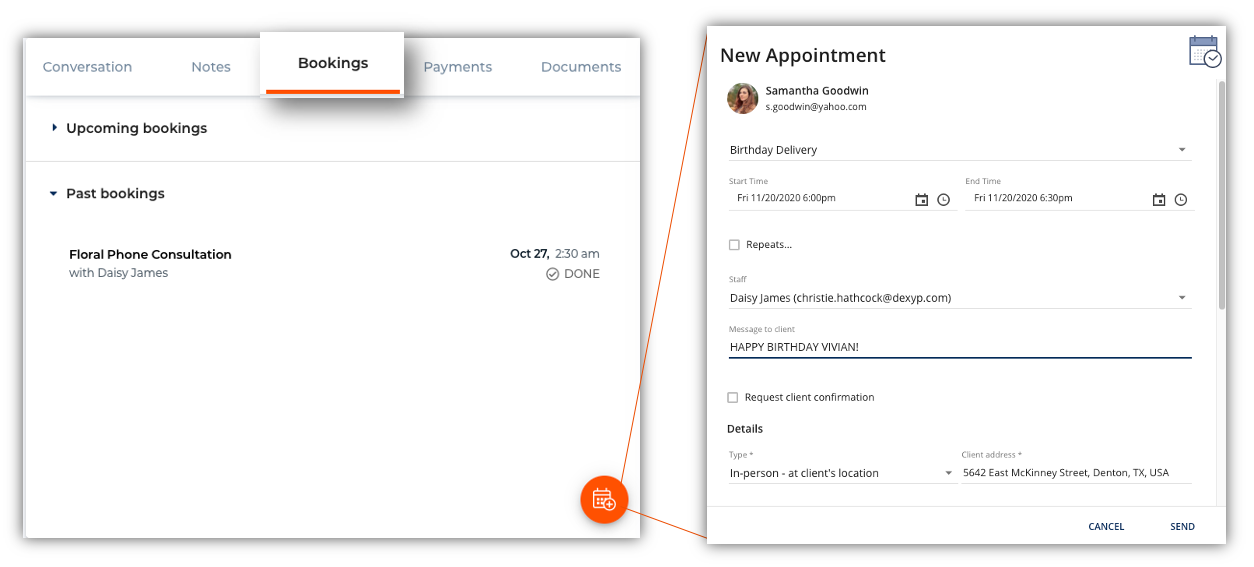 Payments
This tab displays all the different payments and invoices related to that specific client including a total of Due, Overdue, and Received payments.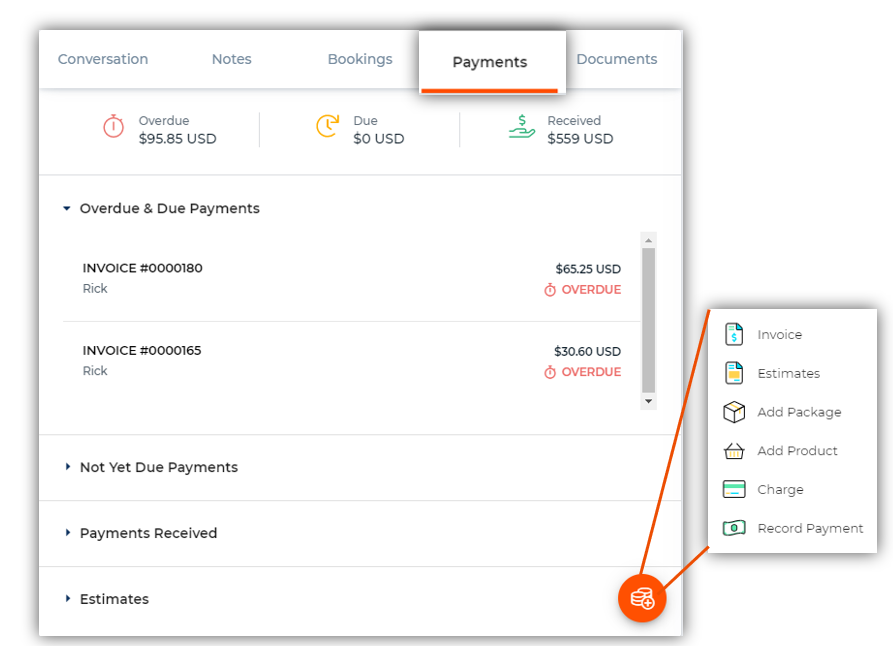 Documents
This tab displays all the different documents you and your client shared with each other.