Want to protect your profits and offset the cost of processing credit card payments? You can automate this process by enabling convenience fees on ThryvPay transactions. This guide will show you the one-time setup needed, and how to make changes if desired.
Article Contents:
Adding A Convenience Fee
First, navigate to ThryvPay, and then Settings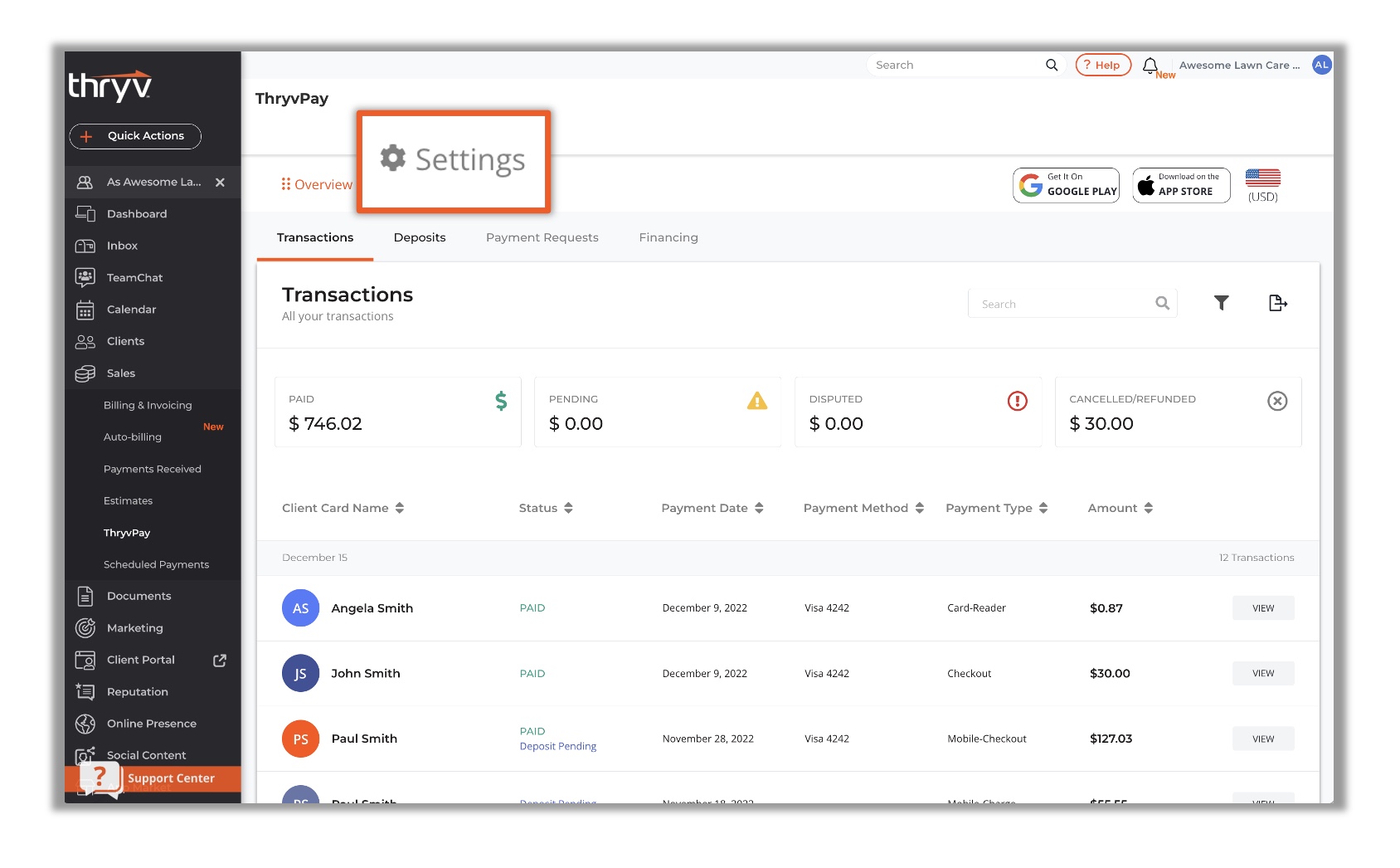 Scroll down to the section Offset Credit Card Fees. Here, you can select to enable either a Convenience Fee or a Surcharge
Note: Only one of these options can be selected at a time. You are not able to charge both a convenience fee and a surcharge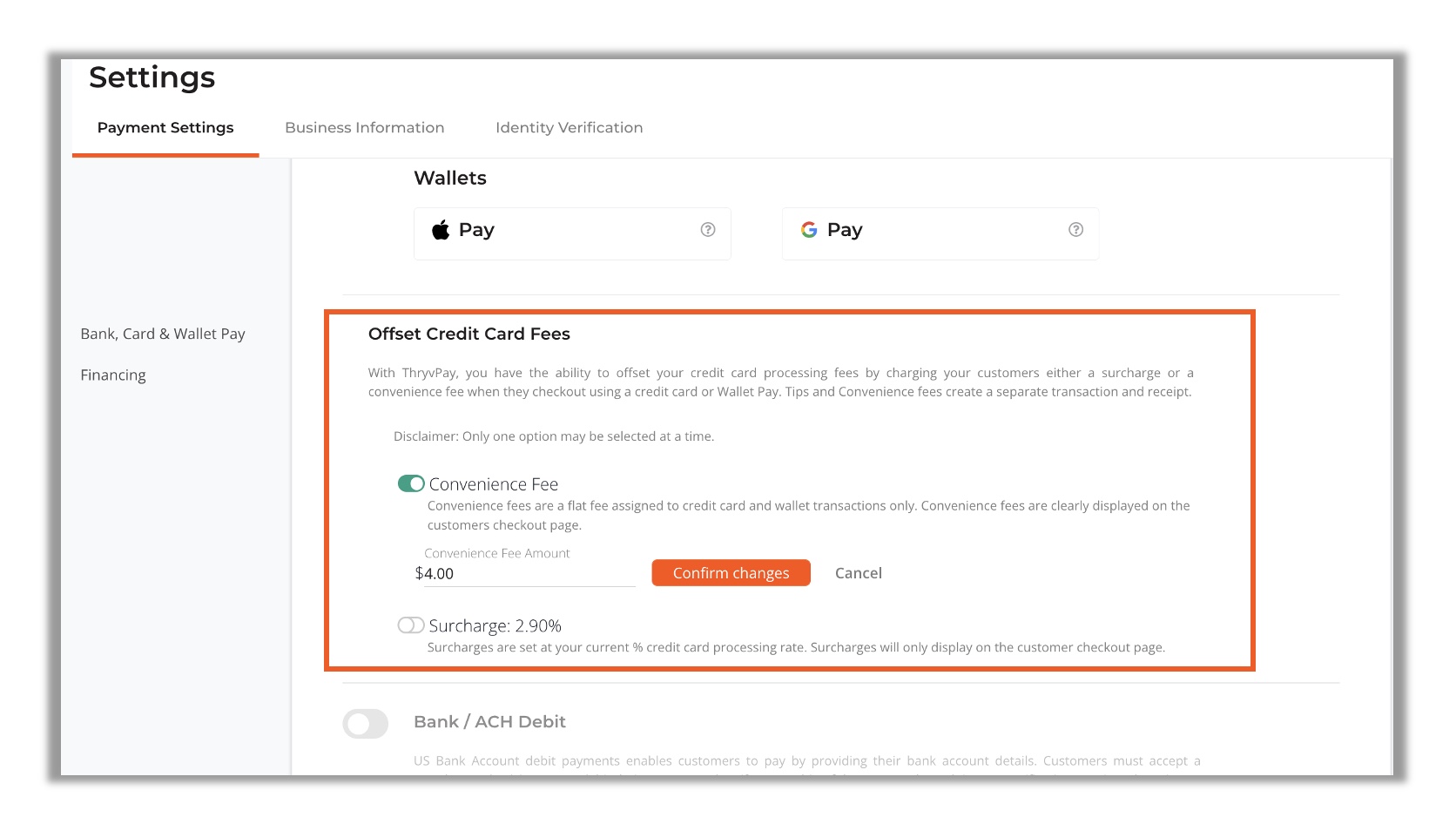 What is the difference between a convenience fee and a surcharge?
Convenience Fee - A flat dollar amount added to every eligible transaction (See the FAQ below for more on which transaction are eligible). These are available for all users
Surcharge - A percentage of the total cost of a payment charged to offset credit card fees. Note that in some areas surcharges are not legal to charge. Please ensure that surcharges are legal in your area before using.

Note: Surcharges are blocked for this reason in the following areas:

Massachusetts
Connecticut 
Puerto Rico
Once the convenience fee or surcharge is enabled, it will automatically be applied to all eligible transactions
Customer View Of Convenience Fee
When your clients receives your invoice or payment link, they can select to pay from that mesage. They will be directed to a ThryvPay screen that will display the invoice total, along with the convenience fee.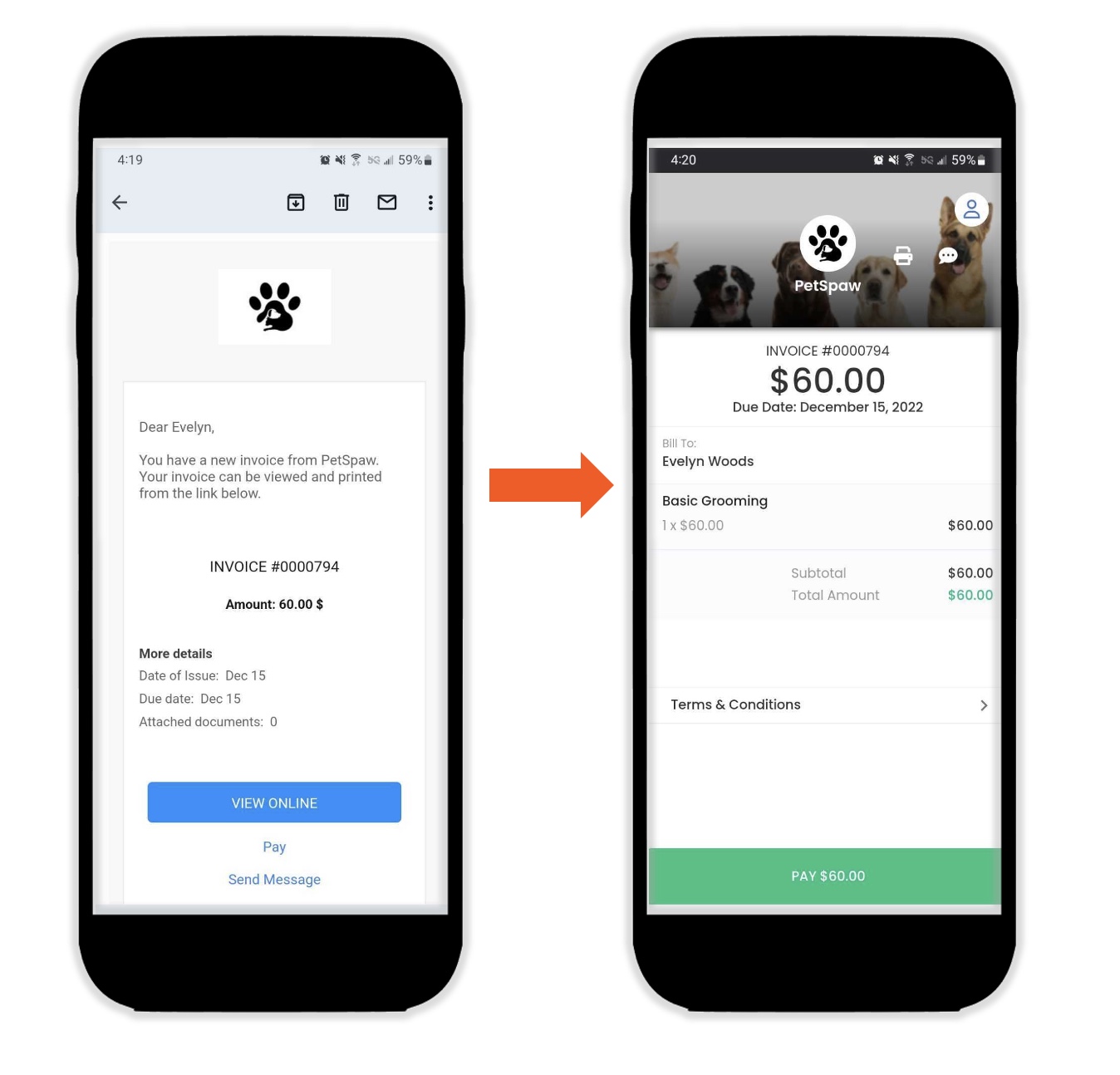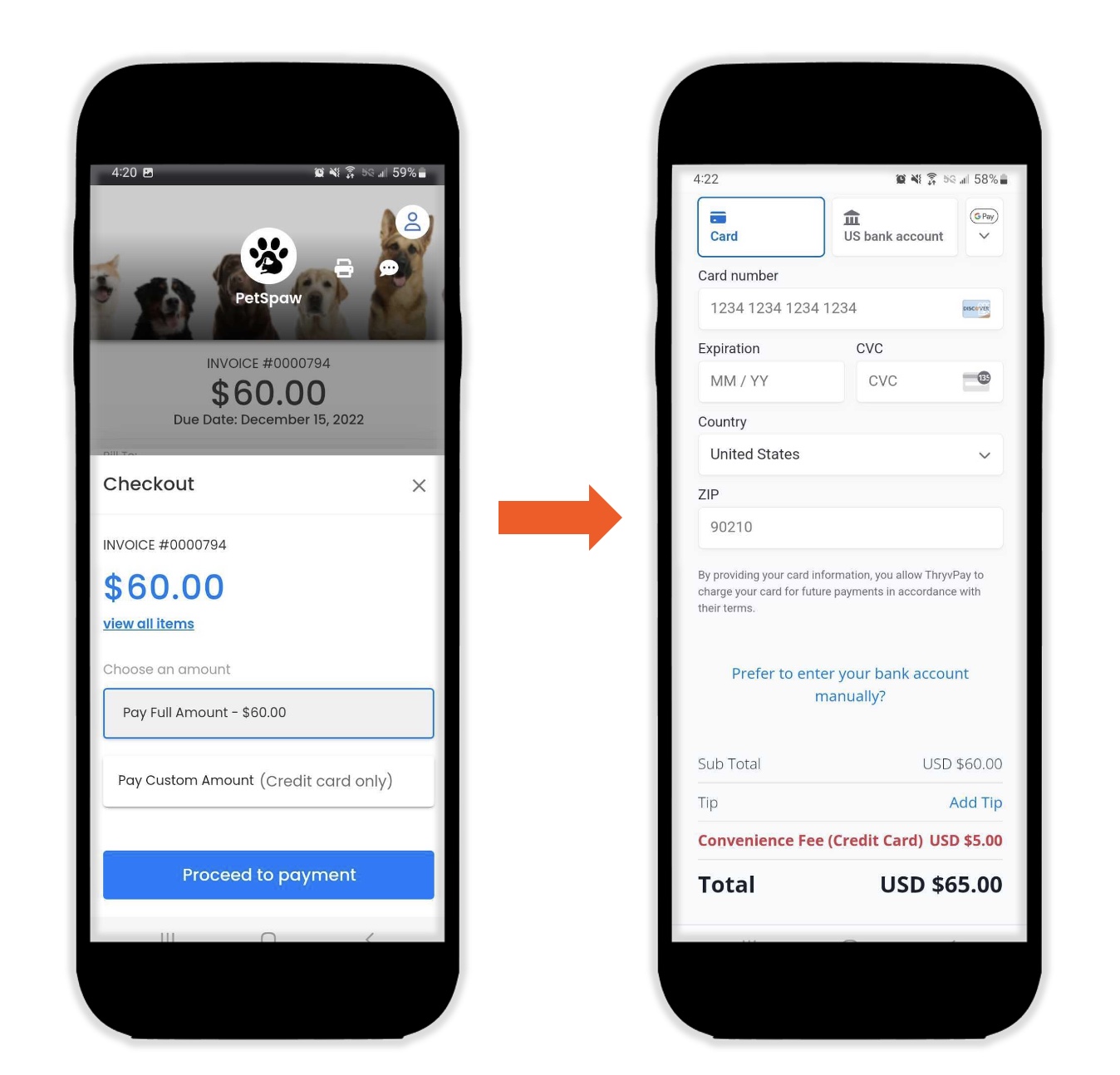 The convenience fee will not display until the final payment screen, after they select to pay by credit card. 
At this point, your client will be able to back out of the payment and pay a different way if they choose to. They will not be shown the convenience fee until the payment screen.
FAQ
What is the purpose of a convenience fee? 
Convenience fees are for brick & mortar merchants who choose to charge their customer's a fee for the convenience to pay for goods and services with an alternate payment channel. 
What is an alternative payment channel? 
Alternative payment channels consist of mail, telephone, mobile, eCommerce/online, text, invoices, and estimates.  
What payment methods are applicable for charging a convenience fee? 
Credit-Cards, Debit-Cards, Prepaid-Cards are all applicable forms of payment methods. 
Are there any restricted types of transactions that cannot have a convenience fee? 
Yes, recurring transactions cannot have a convenience fee; nor can ACH transactions.
Are there any considerations a merchant needs to take into account? 
Yes, before the completion of the transaction, the cardholder must be given the opportunity to cancel or have the ability to pay by other methods such as ACH, check, cash, etc. 
Does a convenience fee have a limit on how much can be charged? 
No, any flat fee or percentage can be selected, and this fee applies to all credit card transactions online once it has been activated.  Convenience fees can be enabled under ThryvPay settings.  
How does a convenience fee payment appear to me and my customers? 
Convenience fees and tips create a secondary payment transaction, one in addition to the original sale transaction. Not only will you see this reflected in ThryvPay Transactions but your customers will see two payments from you. One for your original sale transaction amount and another for the sum of the convenience fee and any tips.  
EX: A customer wants to purchase a basketball for $100 and thanks to your great customer service, the customer is tipping you $10. In ThryvPay settings, you enabled convenience fees which charges a fee to customers $5 for online purchases. You initiate the payment over the phone resulting in two charges.  The customer will see two charges, one for $100 for the basketball and another for $15 due to the Tip and Convenience fee. In ThryvPay Transactions, you will see two transactions as well, one for $100 and another for $15. 
Can convenience fees be used with other payment gateways, i.e. Square, Stripe, or PayPal? 
Convenience fees are only available with ThryvPay.
*A Convenience fee is currently only offered by the ThryvPay payment gateway. 
Click here to see the full ThryvPay Fee Schedule