Thryv can help you create more repeat business and generate repeat customers by setting up packages. Adding service packages, allows you to sell services in bulk to customers and secure up-front appointments and revenue. Packages also make it easy to offer up-front discounts, gift cards, and generate customer loyalty.
Article Content: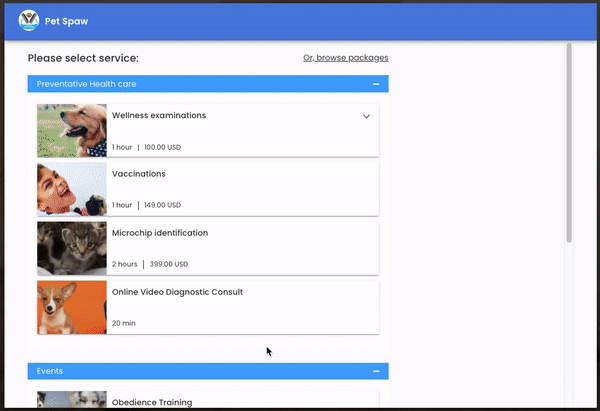 Get Started
Login to Thryv and navigate to Settings > Coupons and Packages > Packages > New package.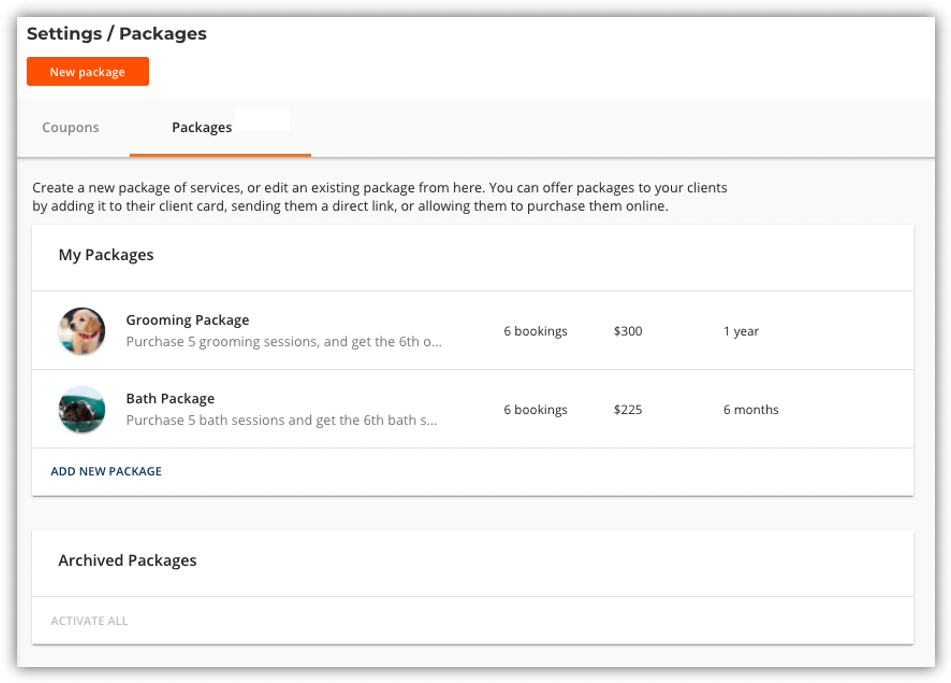 Enter your package details
Package name

Package description

The description will display on the online service menu and in communications to your client to explain the details of the package offering.

Package expiration date

The amount of time from purchase after which the package is valid for use.

Package image
| | |
| --- | --- |
| Adding package details: | Client view of the package: |
Add Services to your package
Choose the Type of Package
Choose the bundle of services that the package will be valid for and set a price for your package. For a service to be eligible to be bundled in a package, the service must be a paid service.
There are 3 different ways to bundle your services:
Specific Service
The package only applies to one of your services and can be used to book that service a certain number of times.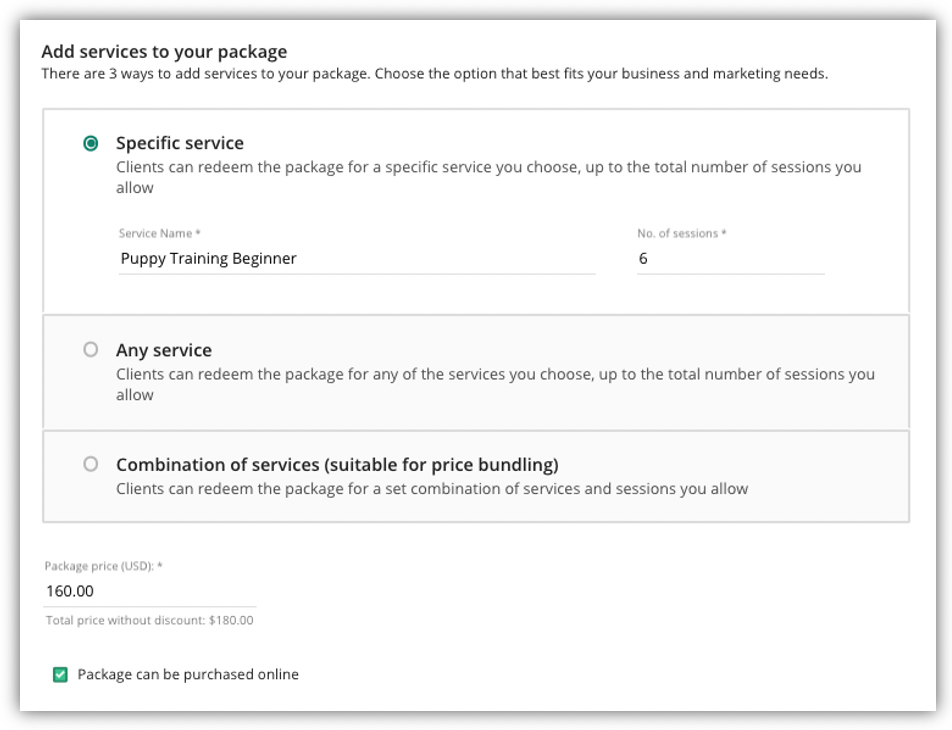 Any Service
You can choose different services to package together, or allow the package credits to be used toward any of your services available The package can be applied toward a number of services you offer. The client can book appointments for any of these services in any proportion they choose.
When set to Any Service, set you total number of available package credits. The customer can then book this number of services, from any service available.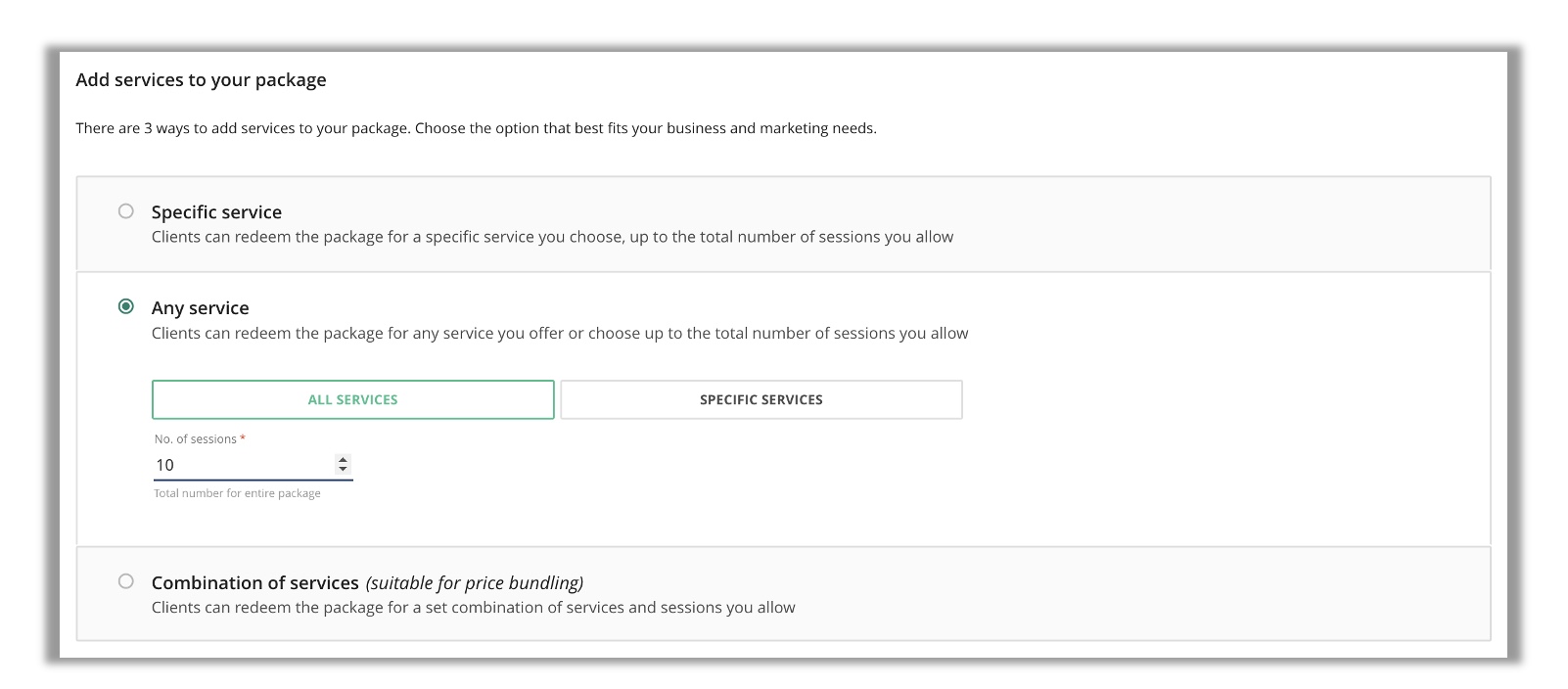 When set to Specific Services, first define the services available in the field that appears. Then, set the number of package credits. Your customer will be able to book this many appointments of services defined in any order or combination.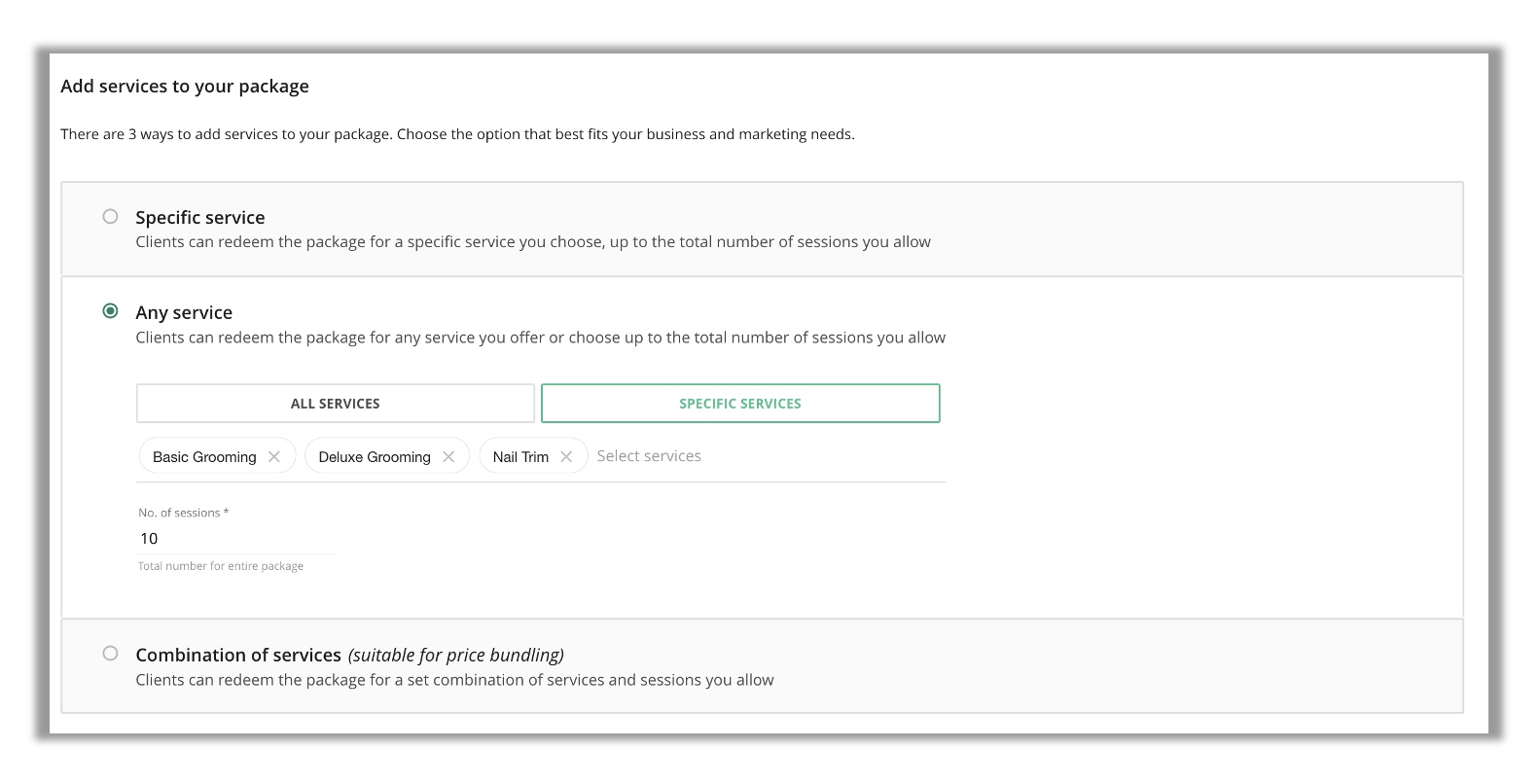 Combination of Services
Like the previous option, the package can be applied toward a number of services, however, this option lets you choose how many appointments of each service can be booked. Bundle several services and determine how many sessions for each service.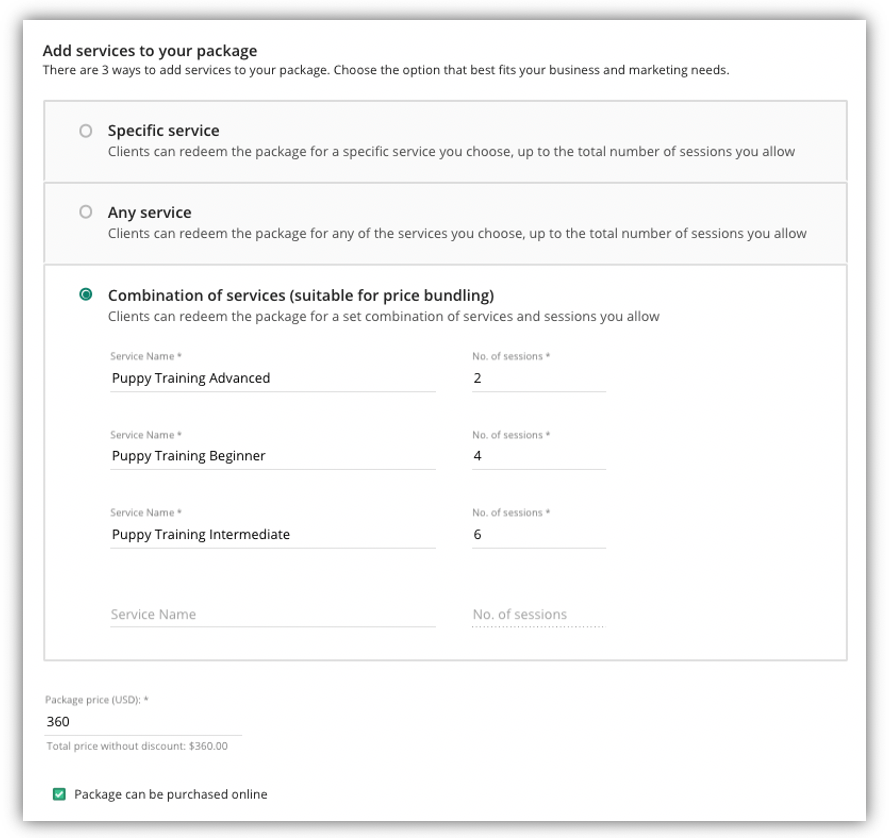 Set the Price for the package
Check the checkbox to enable clients to be able to purchase the package online.
If you do not have this option enabled, you can still add packages to clients on a case by case basis in the Payments tab of the client card.
Select Save at the top of the page to save your changes.
Packages Menu: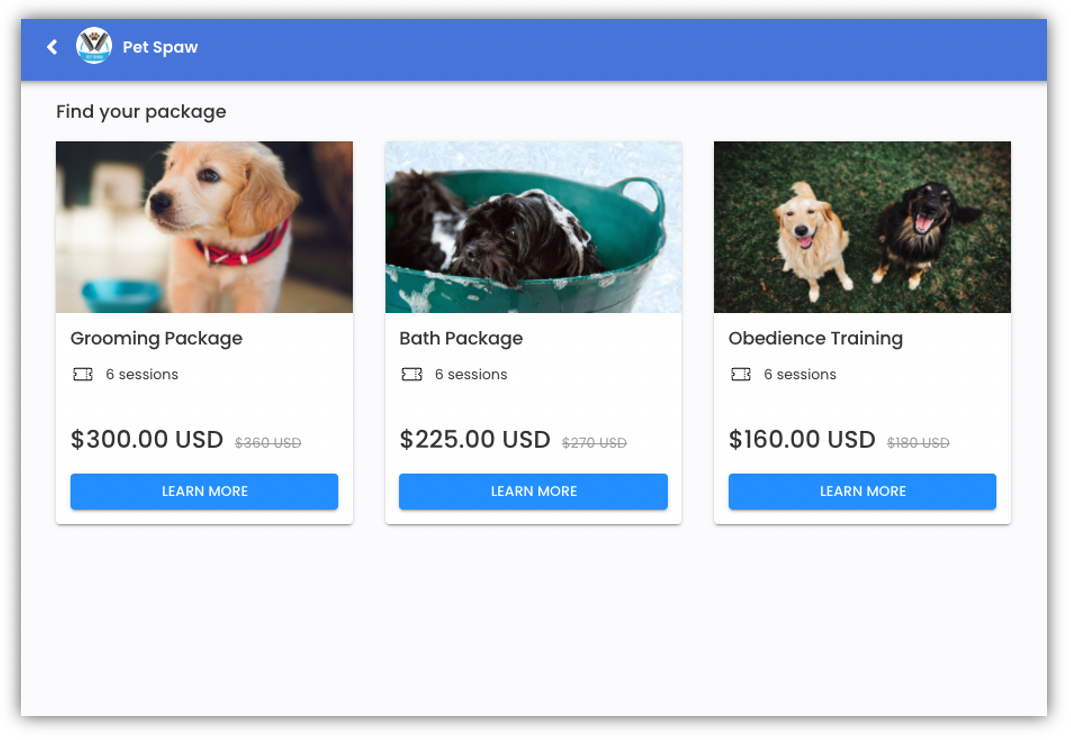 Include Your Products
With packages, products can be bundled together with services. This is a great way to increase the value of your package offerings. Including products is easy, just check the button to add products to your package. Then, type the name of the product under Select Product (your existing products will auto-fill as you type). Set a quantity, and then you're done!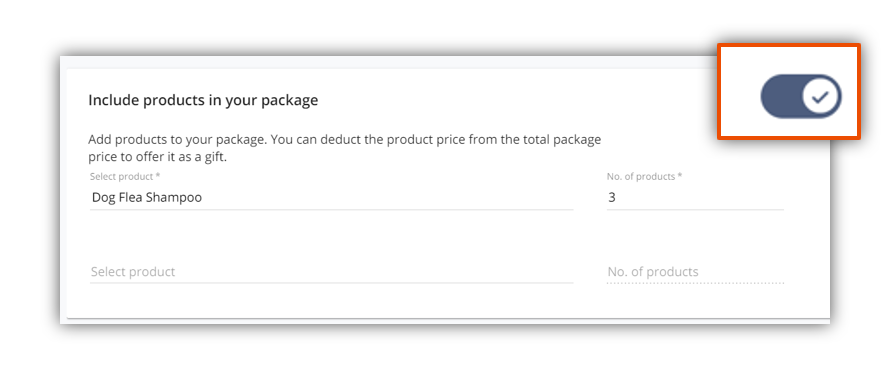 Package Examples:
Specific Service
| | |
| --- | --- |
| Package Settings: | |
| Client View of Package from Service Menu: | View of Package from Client Card: |
Any Service
| | |
| --- | --- |
| Package Settings: | |
| Client View of Package from Service Menu: | View of Package from Client Card: |
Combination of Services
| | |
| --- | --- |
| Package Settings: | |
| Client View of Package from Service Menu: | View of Package from Client Card: |