Once the service has been completed and it's time to get paid! With Thryv requesting payment from your clients is simple, safe, and secure!
You can request payment from an appointment or from an invoice by sending a text message or an email to your client.
Request Payment from an Appointment
From the Calendar or Appointment view select the appointment that you would like to request payment for.
Select Take Payment
Select the option Sent payment link
Confirm the amount is correct

For partial payments, select the amount field, to change the amount.

Select how you would like to send your request, via SMS/text or email.

For sending via SMS/text the contact's phone number will appear by default, but you can change it to a different phone number if needed.

If you choose to send to an alternative number, you can check the box to update the client's phone number for SMS notification as well.

Select Send
A note that the payment request link will appear with a timestamp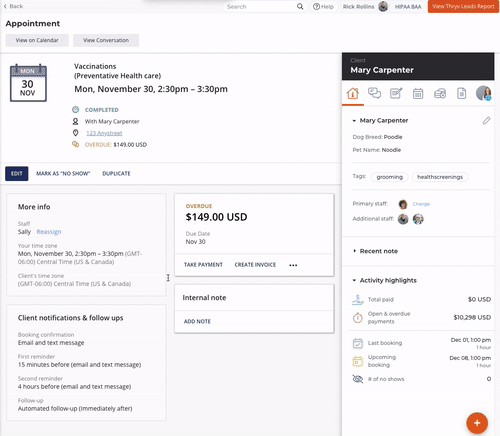 Request Payment from an Invoice
From the Billings & Invoice tab in the lefthand navigation, select the invoice you would like to request payment for.
Select Take Payment
Select the option Sent payment link
Confirm the amount is correct

For partial payments, select the amount field, to change the amount.

Select how you would like to send your request, via SMS/text or email.

For sending via SMS/text the contact's phone number will appear by default, but you can change it to a different phone number if needed.

If you choose to send to an alternative number, you can check the box to update the client's phone number for SMS notification as well.

Select Send
A note that the payment request link will appear with a timestamp