Where can I find what packages have been purchased by a customer?
Purchased packages can be found under "Activity Highlights" on the left had side, or on the "Payments" tab of the client card
Can I mix and match services when creating my packages?
Yes. A package can be created with multiple services that can be the same or different. They can also create packages with a combination of services the customer can choose from.
How do I track services that have been used in a package?
From the client card > Payments tab shows which services a customer has used and which are remaining in their purchased package(s).
Will packages allow for auto-renew options on selected packages?
Currently auto-renew is not available as an option with any package. Once the customer has completed the services within a purchased package or the date has expired, the customer will need to purchase another package.
Can limitations be put into place for specific services, such as only specific services can be purchased and scheduled for a membership?
Yes, you can define and limit what services can be scheduled in a package and sold as a membership.
What happens when a change to an existing package is made, will it change any of the previously purchased packages?
No. Once a package is purchased it can only be changed within the Client Card section. Any changes made to a package in settings will only show on future purchases of that package.
Is it possible to mark "used" for a service within a package?
Packages must be redeemed from a scheduled appointment. From the appointment screen under payment pending, select "redeem package".
If a customer redeems a credit within a package for a scheduled appointment that is canceled, can the credit be refunded?
If an appointment is cancelled where a package credit was applied to it, the credit will be refunded. A refund action will also be available for package credits in the event of a regular refund.
How can customers view their purchased packages and available credits?
Customers' available package credits will display on the dashboard of their client portal. They can click on this item to view which packages they have purchased, details about the remaining credits, and schedule an appointment to redeem credits.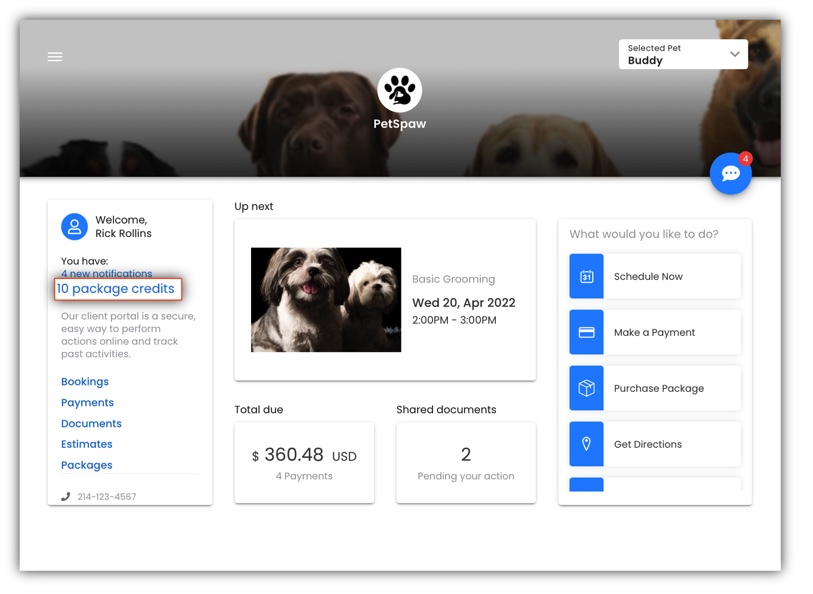 Why is the "apply package" option not available for the customer while scheduling an appointment even though the customer has purchased a package?
There are 2 reasons why the "apply package" may not show for a customer when they schedule an appointment for a purchased package:
To use their prepaid package credit at time of scheduling, the customer must be logged into the Client Portal using the same email address associated with the client card with which the package was purchased.
The selected service must be set to require payment when booking for customers to utilize the "apply package" during scheduling.
Can a customer opt-out of using a package credit?
Yes. After scheduling, a customer is given the option to "apply package" or "I prefer to pay". They can select the latter and pay directly for the service instead of using a package credit.
Why is it that only some services appear when creating a package in settings?
Only services created with a fee can be added to a package.
Can a package be redeemed without scheduling an appointment?
Currently a package credit can only be redeemed from the appointment screen or by the customer while scheduling the appointment.
Why is the "Browse Packages" option not showing on my online booking options?
When creating a package in settings you must select "Package can be purchased online" In order for the packages link to appear in the online booking options. You must also ensure at least 1 or more of the services in a package are available to book online.
Are there any limitations on packages based on the payment provider connected?
Yes, only accounts connected to ThryvPay, Square, or Stripe can create packages. Braintree is unavailable.
Is there a way to remove packages from being purchased online without deleting the package?
Yes, deselect the option in the settings of your package "Package can be purchased online" or you can move the package to the archive section in settings.
Can a client book a service with a date after the package's expiration date and use the package credit to pay for it?
No. If a client books a service past the package's expiration date, then the option to apply the package to the fee for the service will not be available for the client.
Can terms and conditions be included with packages at time of booking?
In settings, you can create a booking policy and include it to your terms of service for packages. In the package description, you can also include a specific you may want your customers to know.