| | |
| --- | --- |
| | Estimated reading time: 1 minute |
Offering a tip option during payment is a great way to let your clients show their appreciation for your service.
What is the tip option?
The tip option in ThryvPay adds a final step to the checkout process that offers your clients the opportunity to leave you a tip (gratuity) for your services.
What payment methods are applicable for offering a tip option?
Credit-Cards, Debit-Cards, Prepaid-Cards are all applicable forms of payment methods.
Are there any restricted types of transactions that cannot offer a tip option?
Yes, recurring transactions cannot have a tip option; nor can ACH transactions.
How does a tip appear to me and my customers?
Tips create a secondary payment transaction, one in addition to the original sale transaction. Not only will you see this reflected in ThryvPay Transactions but your customers will see two payments from you. One for your original sale transaction amount and another for the sum of the convenience fee and any tips.
EX: A customer wants to purchase a basketball for $100 and thanks to your great customer service, the customer is tipping you $10. In ThryvPay settings, you enabled convenience fees which charges a fee to customers $5 for online purchases. You initiate the payment over the phone resulting in two charges. The customer will see two charges, one for $100 for the basketball and another for $15 due to the Tip and Convenience fee. In ThryvPay Transactions, you will see two transactions as well, one for $100 and another for $15.
Example of customer view of submitting payment with a tip: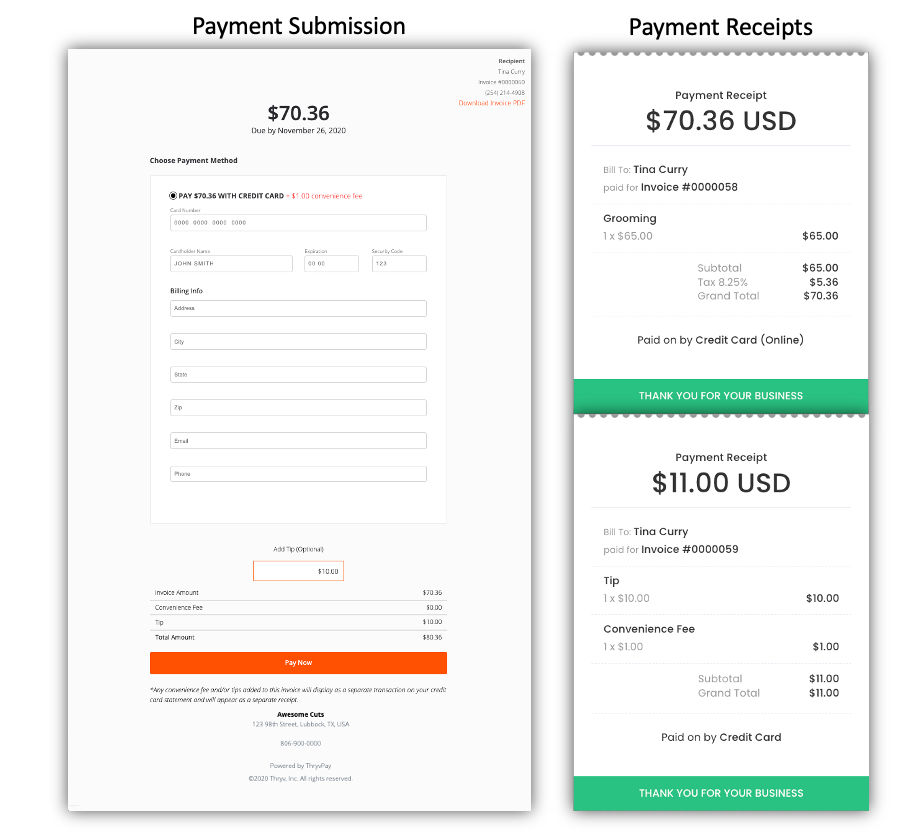 ThryvPay tab view of payment submitted with a tip:
Can the tip option be used with other payment gateways, i.e. Square, Stripe, or PayPal?
The tip option is only available with ThryvPay.
How do I add a Tip option?
Navigate to ThryvPay Settings by selecting Settings > Payments
Select

Click here

to update your payment settings
Scroll down to Tips
Toggle Tips to on

Set default tip percentages you want your customers to see