Share the workload with your staff by adding them to Thryv. Each staff member can have their own account set up with their profile, services, and calendar under your company's brand. This article lays out all the business settings that apply to a staff member and what settings a staff member can customize. You will also learn how to change your view to see all actions by employees or only your own. Learn how to 'work as' other staff members to create a seamless client experience for your customers.
Article content: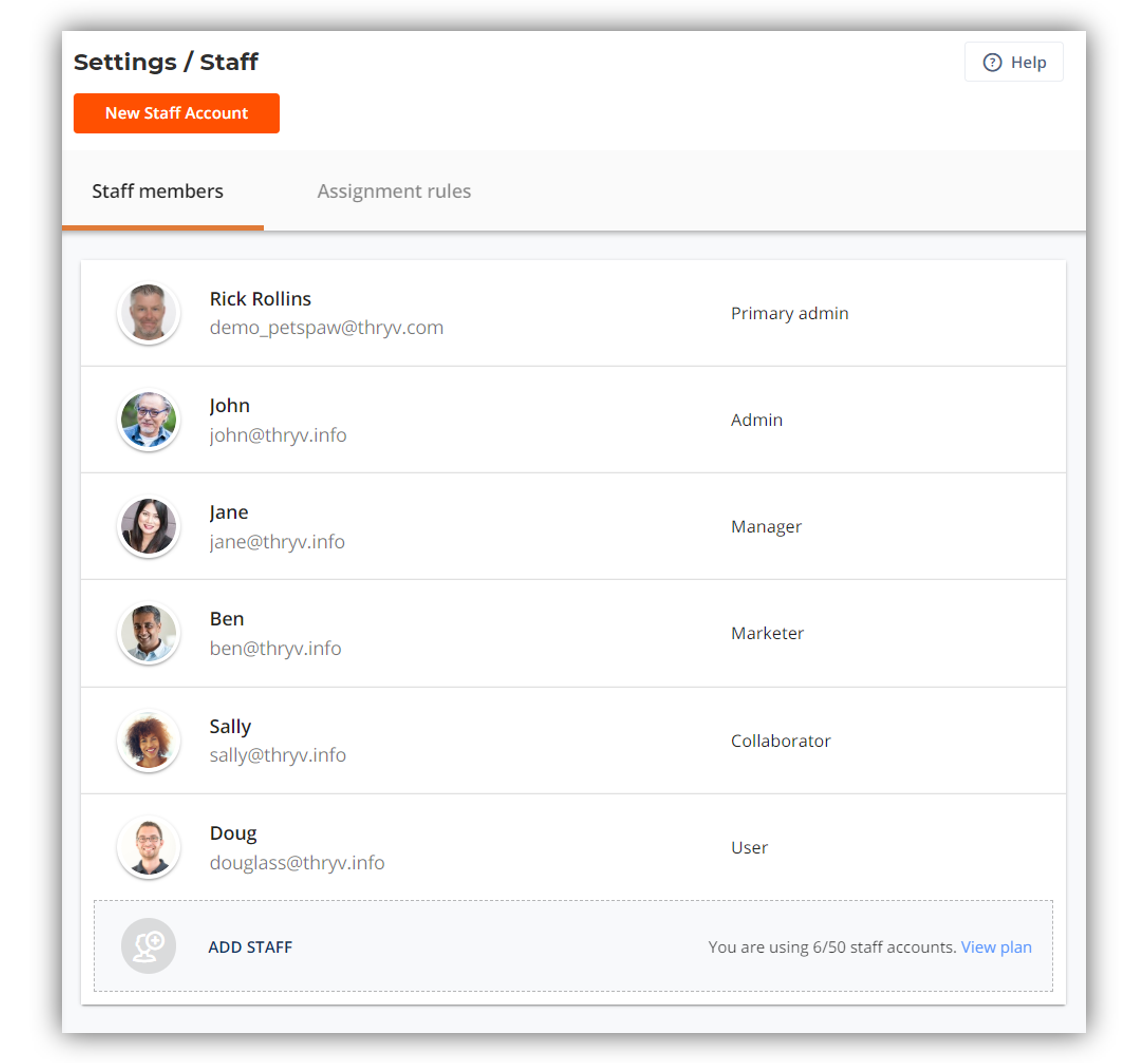 Account settings that will apply to all staff members
The Primary Admin account holds the company information and basic settings which will be shared and applied for the staff accounts.
Business Information - Company name, phone, and address
Services or appointment options (each staff member can pick and choose the services they will provide)
General calendar and online scheduler display
Reminders and confirmation notifications
Automatic email notifications
Payments information, merchant account, and invoices
Logo and branding settings
Client card settings - the information you wish to save about your clients
Client Portal page and widgets will display the company profile and branding, and allow clients to choose the desired service and the team member to provide it
Admin can also set roles and permissions per staff member
Settings that can be defined separately for each staff member
A staff member can change their login email, display name, and profile image in their individual settings, along with the following settings:
Define the services they provide
Add and Modify their availability for services
Sync a personal calendar to show timeslot as busy on Thryv calendar
Add email signature
Add a mobile phone number to receive text/SMS notifications
To learn more about individual staff settings, refer to the Individual Staff Settings article.
'View All' vs 'Only Me' Setting
Allows you to change the focus from your tasks in Thryv to all staff members' tasks in Thryv.
Staff members with higher permissions can change their view in Thryv (i.e. Admins, Managers, Collaborators) to view actions by all staff or only view their own actions. The view is available in the inbox, calendar, sales, and documents tabs.
This setting allows you to change the focus from your tasks in Thryv to all staff members' tasks in Thryv.
Inbox: 'View All' vs. 'Only Me'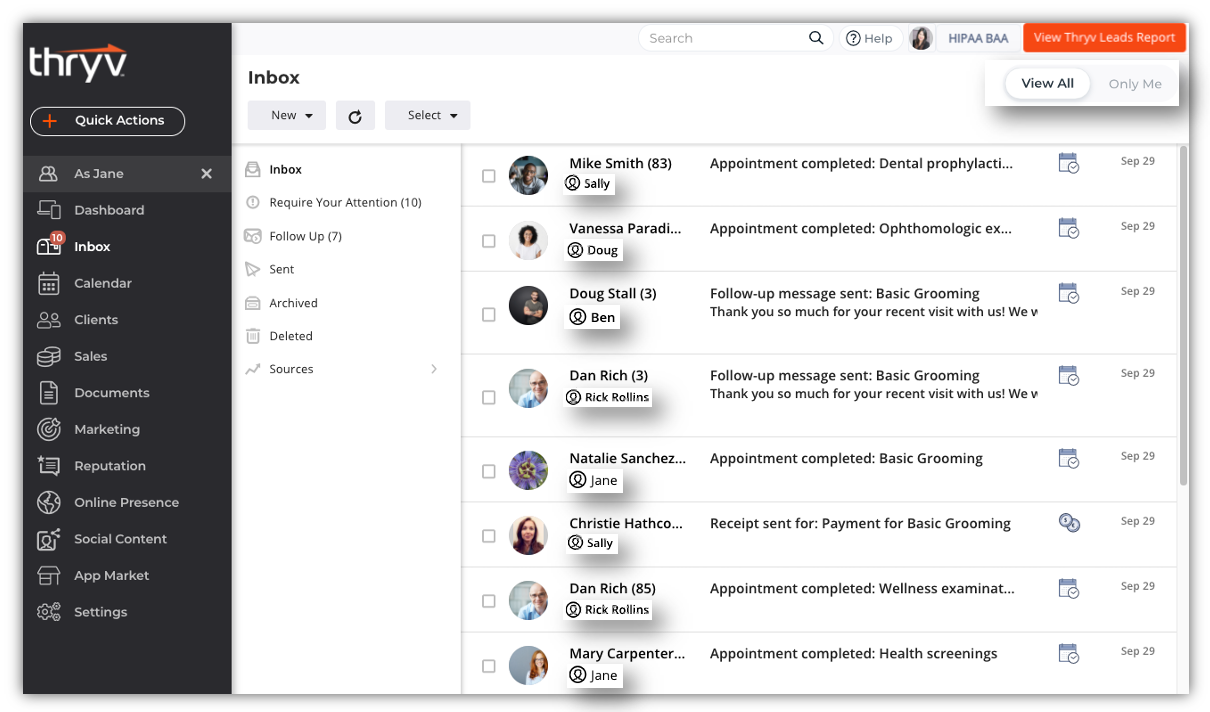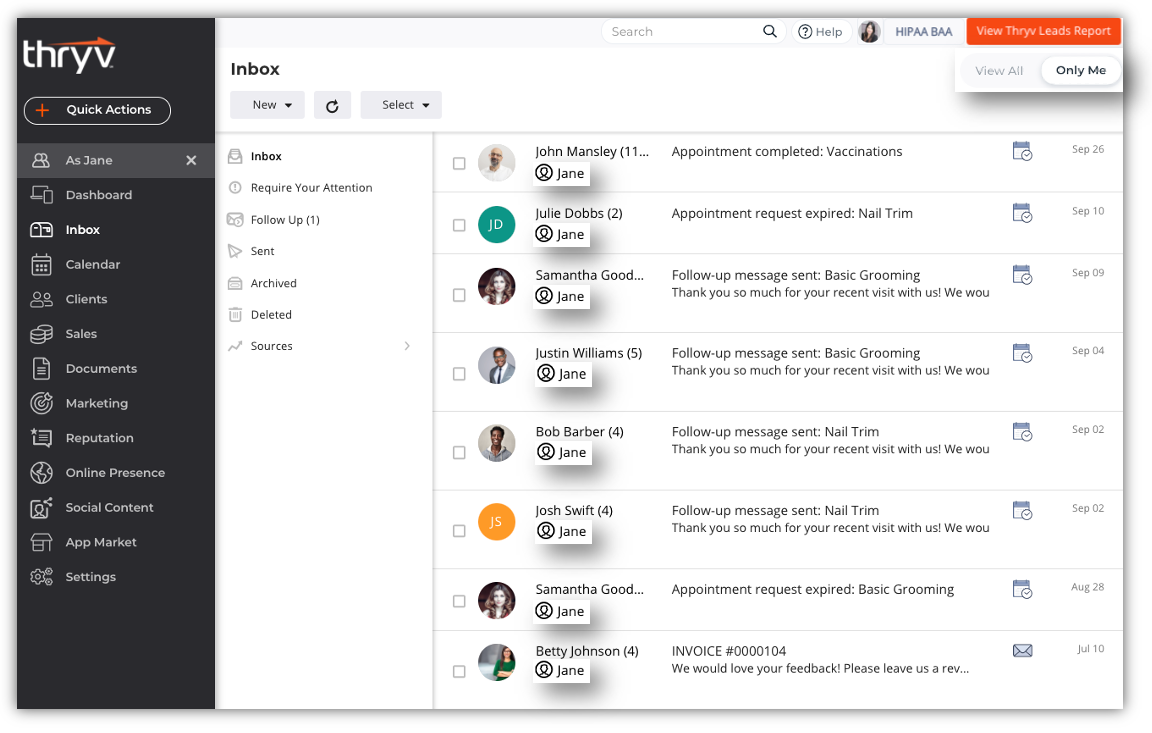 'Work As'
Admins, Managers, & Collaborators staff roles can log in and 'work as' other staff members. They can send inbox messages, invoices/estimates, documents, and calendar appointments. *Staff members using 'work as' cannot access tabs not allowed by their role and cannot change other staff members' individual settings.
To use 'work as':
Select the profile icon of the logged-in staff member at the top right.
(This example shows a collaborator role impersonating the primary admin)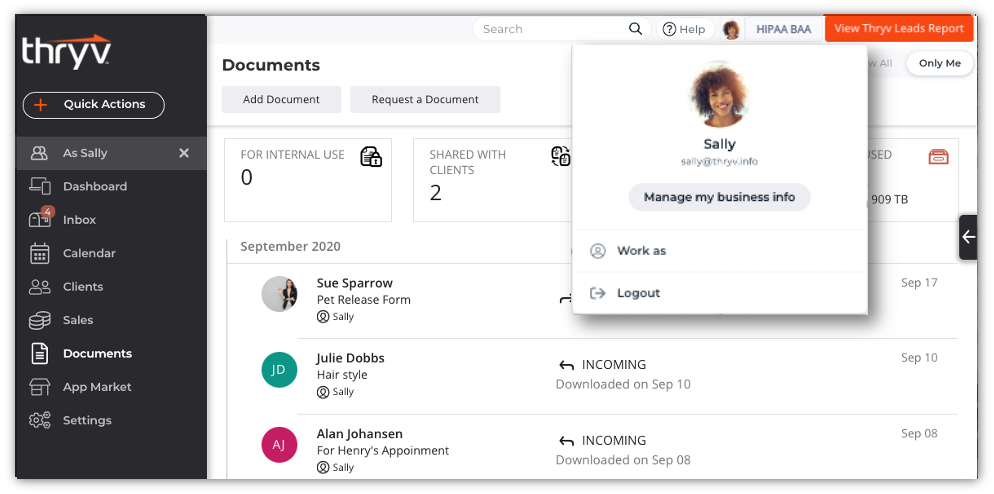 Select the team member you'd like to 'work as' from the dropdown.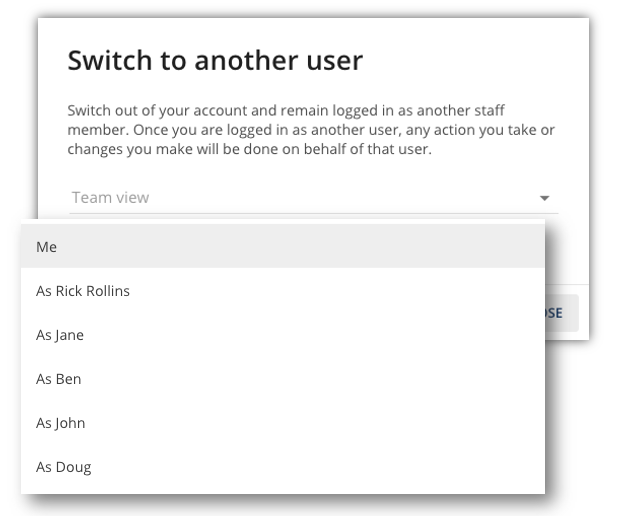 You can now 'Work as [Staff Name]'.

All actions that you perform will be under that staff member's name.
A small box will display 'Working as [staff name]' at the top of the menu
When you are done, you can stop working as a staff member by selecting 'stop'.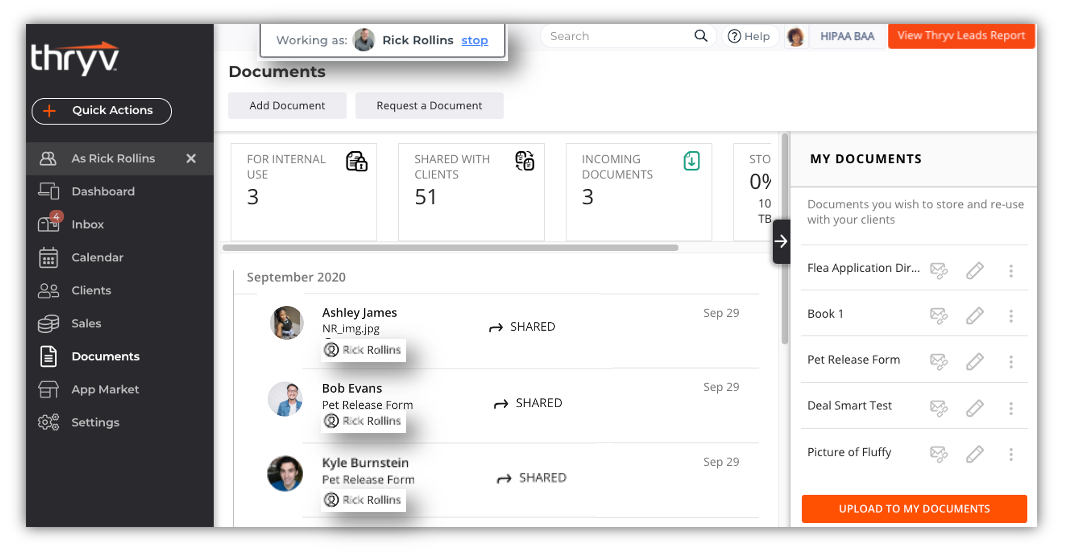 Note: The collaborator 'working as' the primary admin does not grant access to marketing or main settings as pictured above.