Client Portal Service Menu

What is a Service Menu?
The Client Portal service menu is the list of services or events that you'd like to allow your clients to schedule online.
Clients can schedule an appointment (service or event) on their own directly from your website, email, or social media. You also have an option to schedule appointments with your clients, right from your Thryv dashboard or calendar.
You have access to a variety of appointment types - from phone calls to online video conference meetings.
Your service menu can be set with a combination of one-on-one appointments and/or group events.
One-on-one appointment: These usually include you (or a member of your team) and the client. You can list different appointment options and let clients choose which appointment they wish to schedule at their convenience and based on your current availability.
Group event: This service type is used to set up a multi-participant meeting, class, workshop or any other desired event. Clients can sign up on their own online until all the available spots are taken. Once you add a group event to your service menu, you can set the time the event will take place. It can be a single instance, or you can open the event to a new registration at specific times on a daily, weekly or monthly basis.
For each service, you can determine different attributes like how/where it will take place, duration, specific availability, payments and more.

Customer Portal service menu example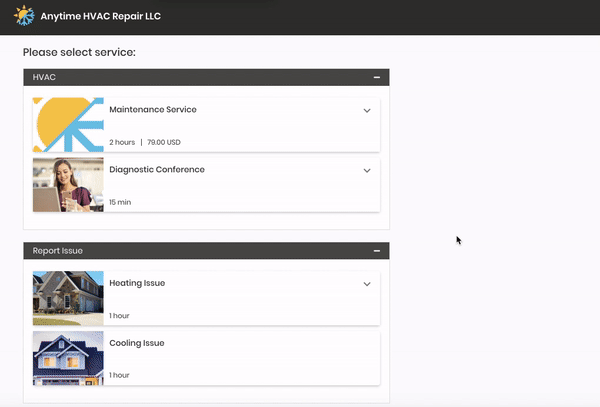 Updating your Service Menu
To set up your service menu, navigate to Settings >My Services from your account dashboard. Each new account is already set up with some suggested services for the service menu.
You can click on the Pen icon or the Tri-dot icon to Edit and customize existing service, Hide from service menu (will still be available for your internal use or to clients with the link to the schedule the service) or Grab a link to the specific service online scheduler or Delete any service that may not be relevant to your business, and Add new ones based on your needs. (Boy, that was a mouthful!)
You can also rearrange the services display order by using the 'drag and drop' function on each service, to move it to the desired location.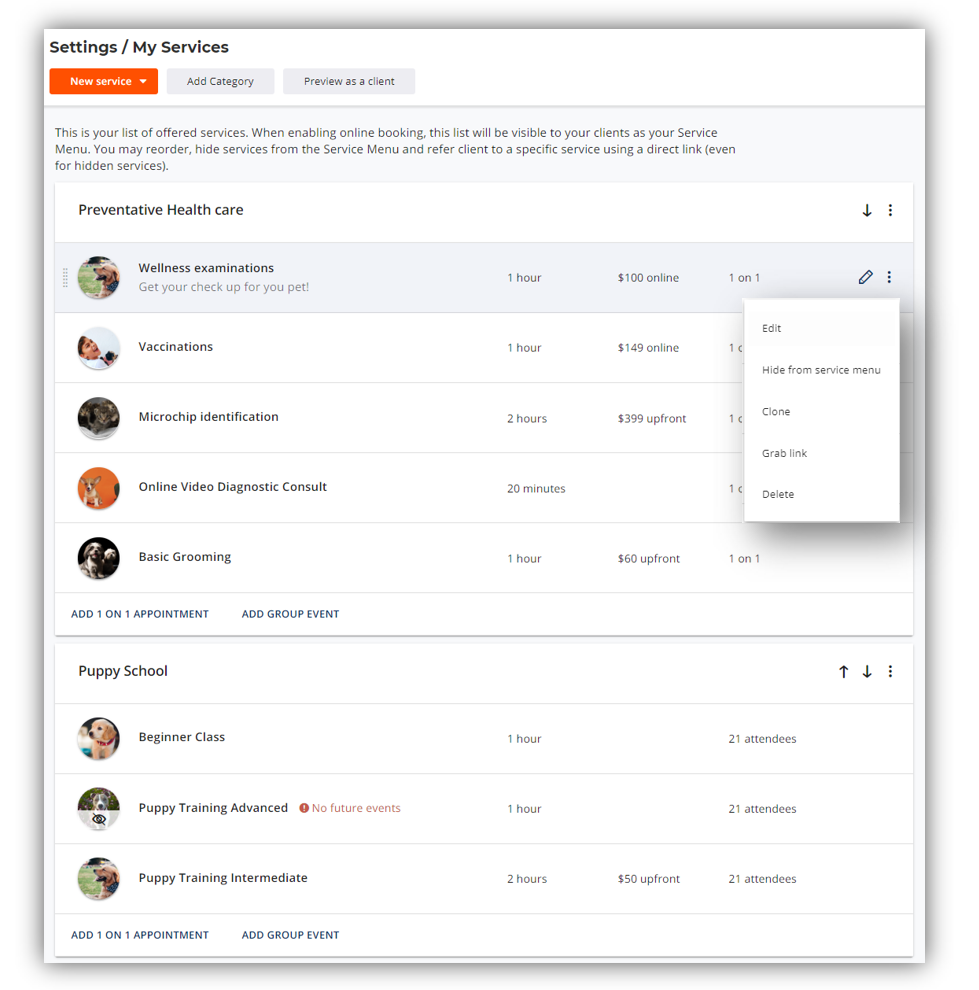 Below are scheduling scenarios almost any business can benefit from to help you get started:
Skip the phone tag! Allow clients and prospects to schedule a callback. Replace the standard contact form on your website with the Client Portal Widget to get maximum results. This will ensure that you will contact the prospect at their most convenient time and that you will not lose any opportunities.
Offering clients a Free Introductory Call can be a great way to engage prospects, and an opportunity for you turn them into paying clients!
Public and Private Services
When you set up your service menu, services that you create will be publicly displayed to the general public on your Client Portal Service Menu, on your website and social media by default. All services on the Services Setting page will be displayed publicly on the Client Portal service menu.

However in some cases, you may have a service that you would like to offer to some clients, but you don't want it to be publicly available on your menu.
To hide that service from the public and make it private, just click on the More icon next to the specific service and select Hide from the service menu.
To allow clients to schedule the specific service online, whether it is available on the service menu or not, just click on Grab Link and share the link with your clients. Read this article to learn more about direct calls to action.