Do you currently subscribe to Mailchimp and would like to share contacts between Thryv and Mailchimp? Perfect! The Mailchimp app will seamlessly connect your Mailchimp Audience with Thryv for a one-time or ongoing sync. You set your preference! This integration enables the seamless transfer of all of your client information between Business Center and Mailchimp.
Here is a breakdown of what data will sync between Mailchimp and Business Center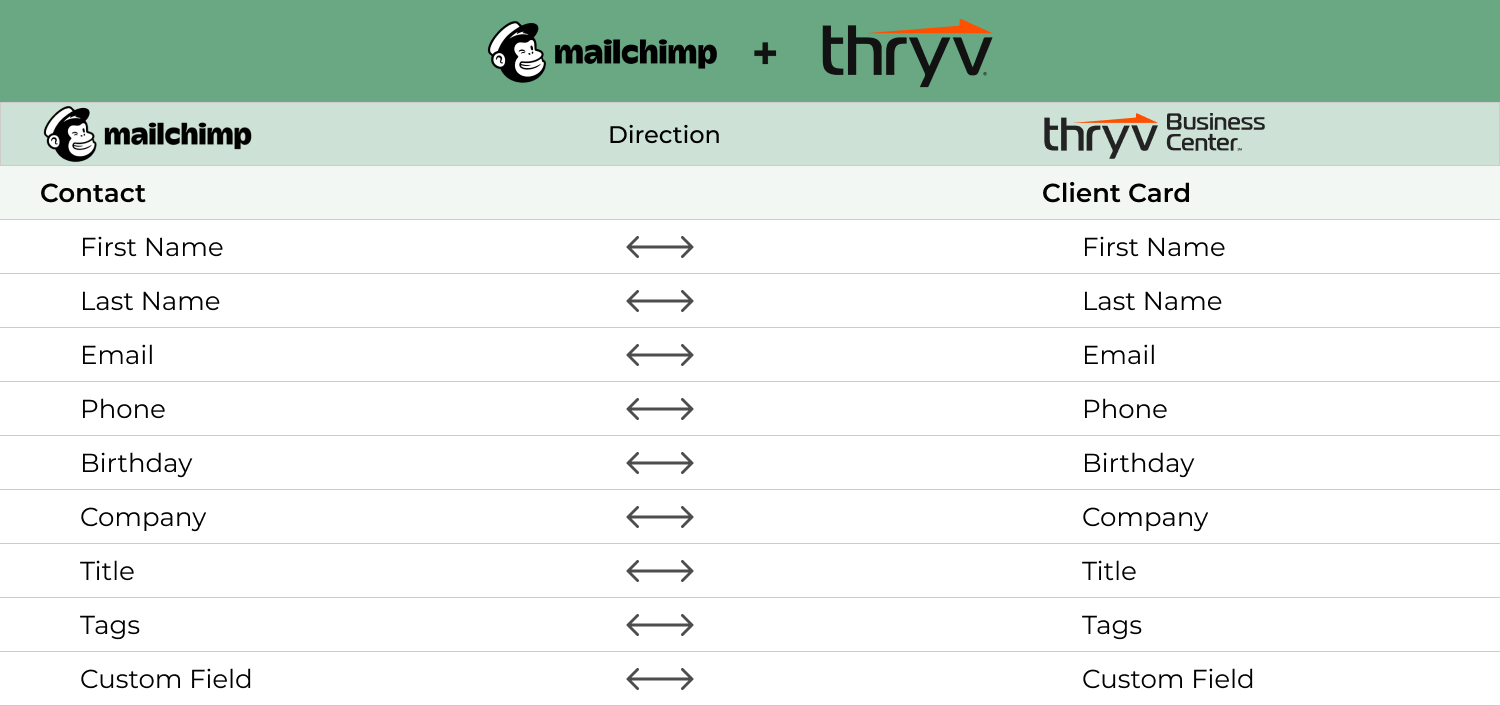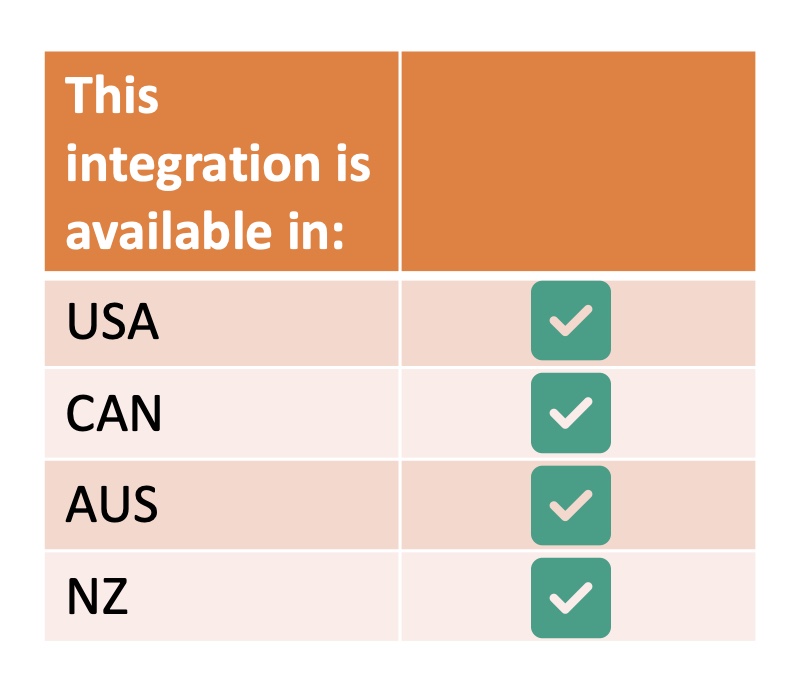 To get started. Select the Mailchimp App > Select Use This App
Once selected, you'll be brought to a permissions window. You will need to select the checkbox to Agree to the Terms and Conditions and select Connect to Mailchimp to proceed.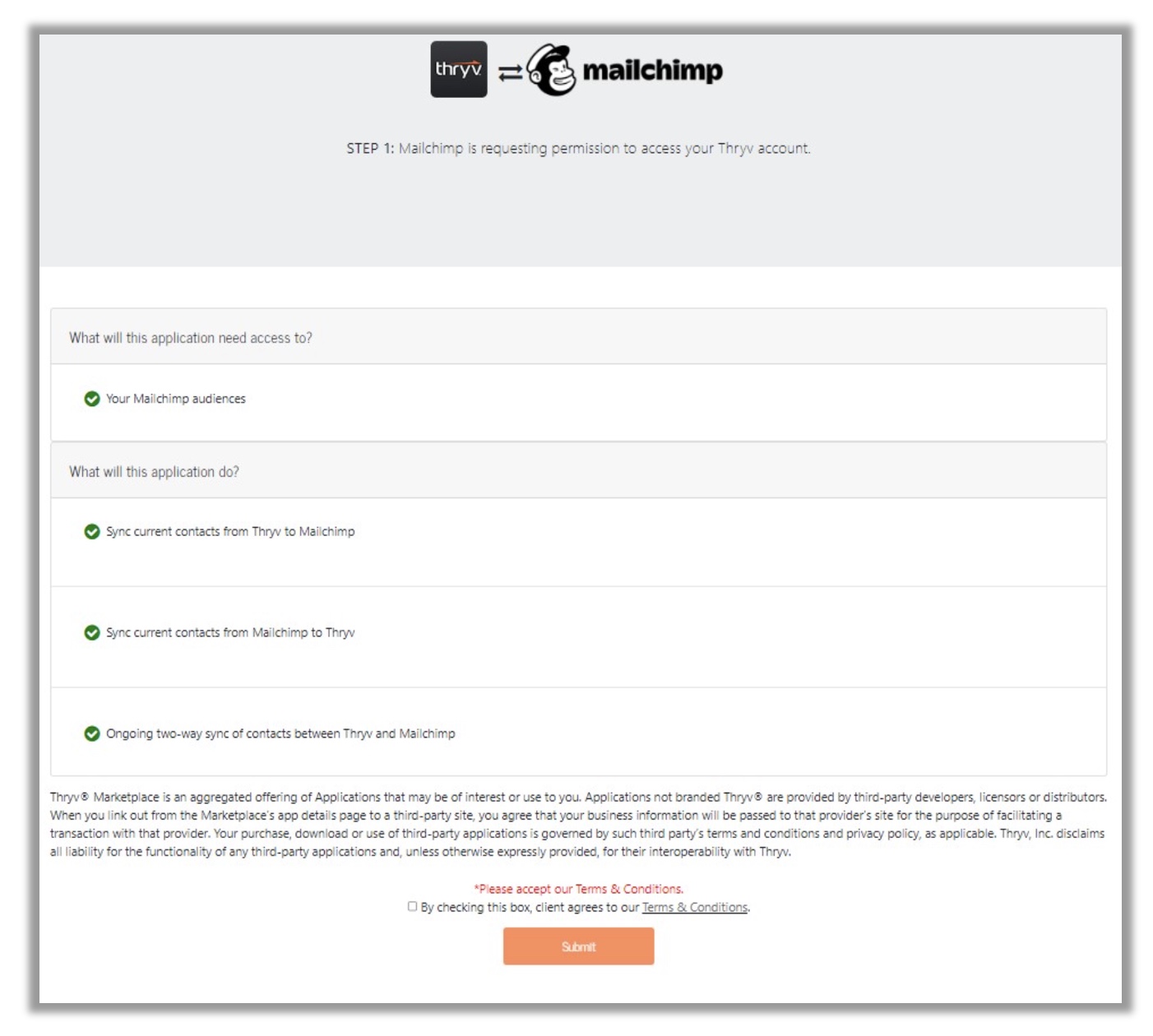 Next, a pop-up will appear, enter your credentials to Mailchimp to sign in. If you do not have a Mailchimp account already, click on Create An Account to make one from here. You will be taken to Mailchimp's account creation page.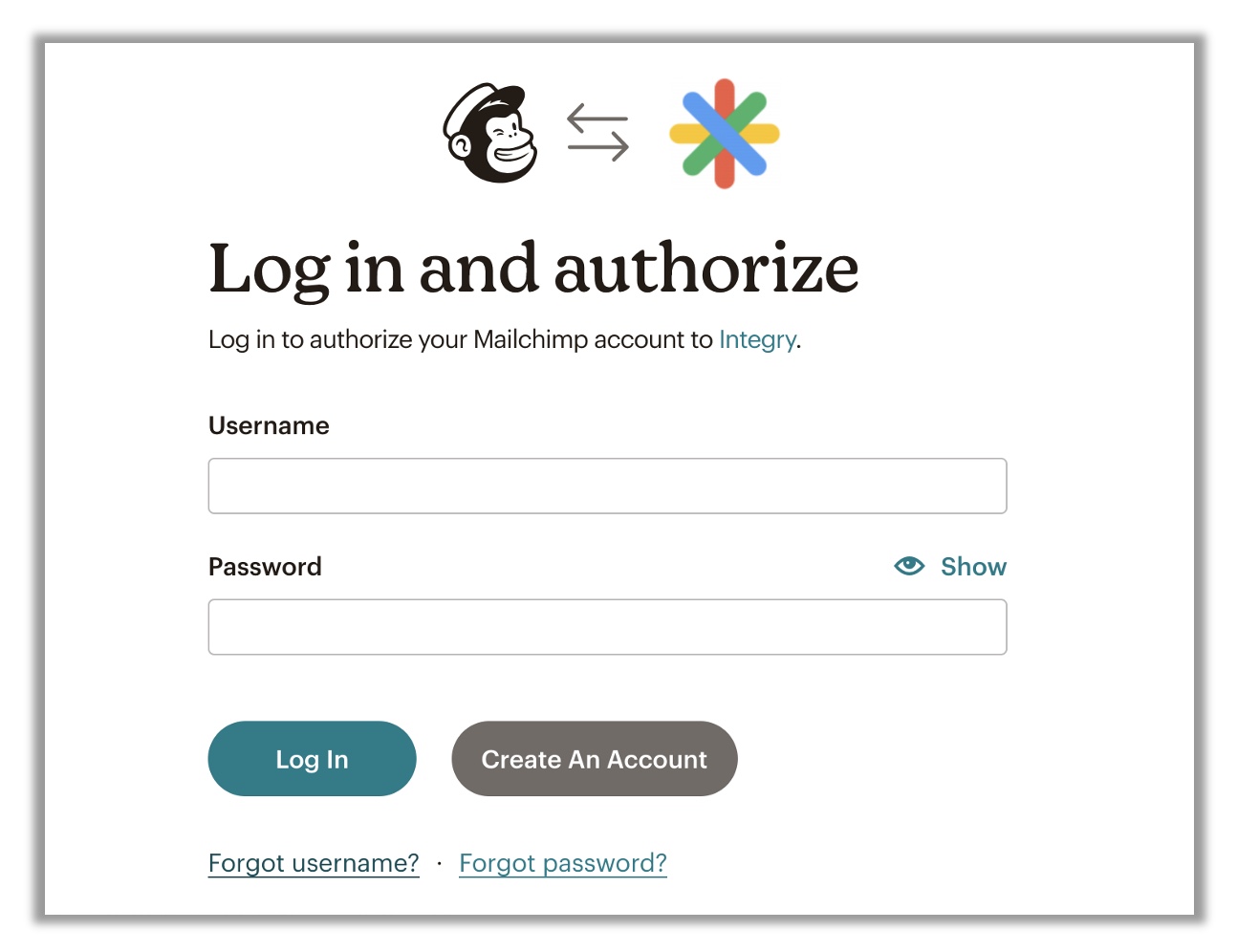 On the next page, authorize Thryv to Connect to Mailchimp account via Integry.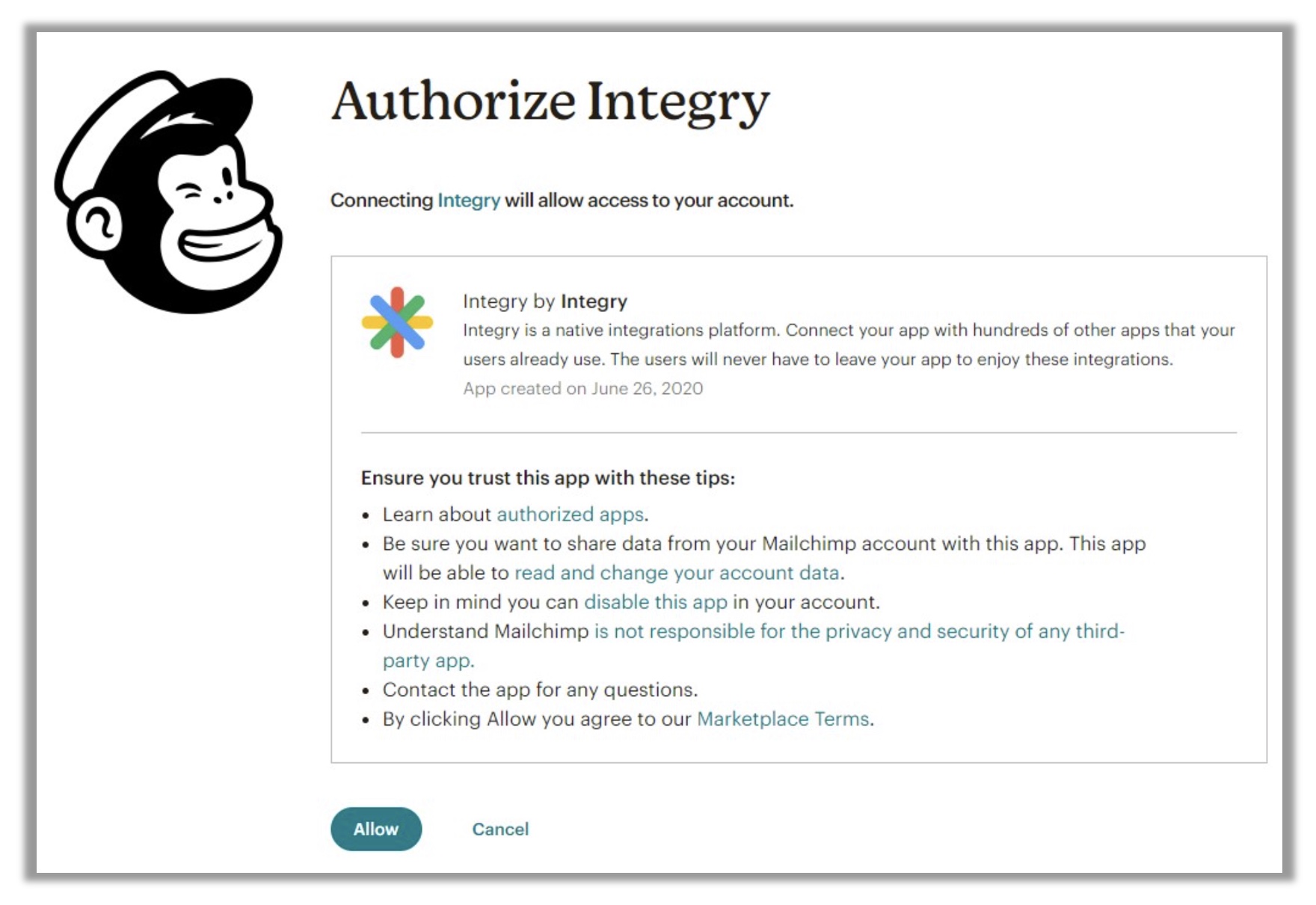 Once you are connected, you will need to set up the kind of sync(s) you want to enable.
The available sync options for Mailchimp are:
Ongoing sync of contacts between Thryv and Mailchimp - available for one Mailchimp audience only

Note that this does not include current contacts. If you want to complete a 2-way sync of current contacts you would need to complete all 3 options

One time sync of contacts from Thryv to Mailchimp

If you have multiple Mailchimp audiences you wish to sync to, the sync will need to be initiated for each audience 

One time sync of contacts from Mailchimp to Thryv

Note that this sync will need to be initiated for each individual Mailchimp audience you wish to sync
Note: Once you select the type of sync, the process to setup and enable is identical for all three.
Setup and Enable
To enable your selected sync between Business Center and your Mailchimp audience, click on Setup and Enable for an ongoing sync or Setup and Run for a one-time sync.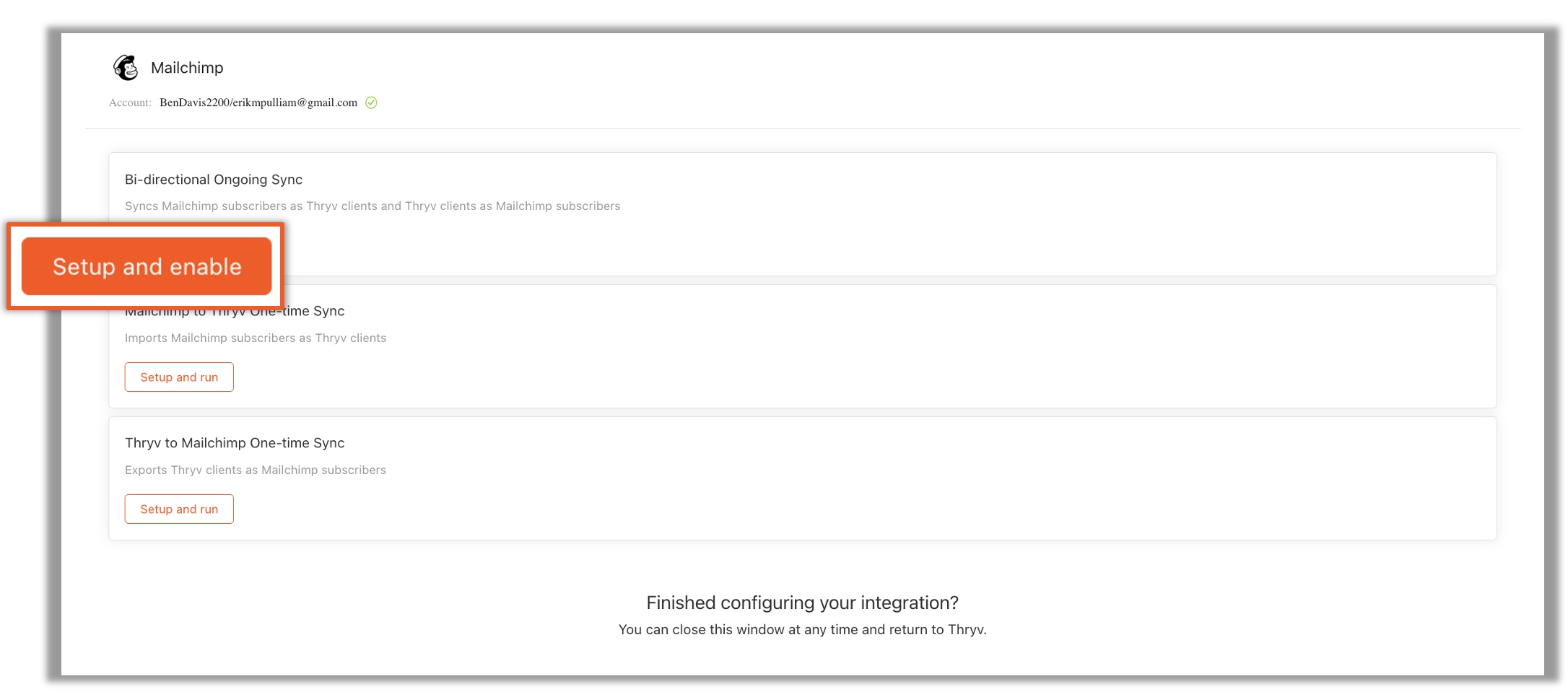 To setup your chosen sync, first choose your Mailchimp audience from the drop-down. Note that this sync is only available for one audience.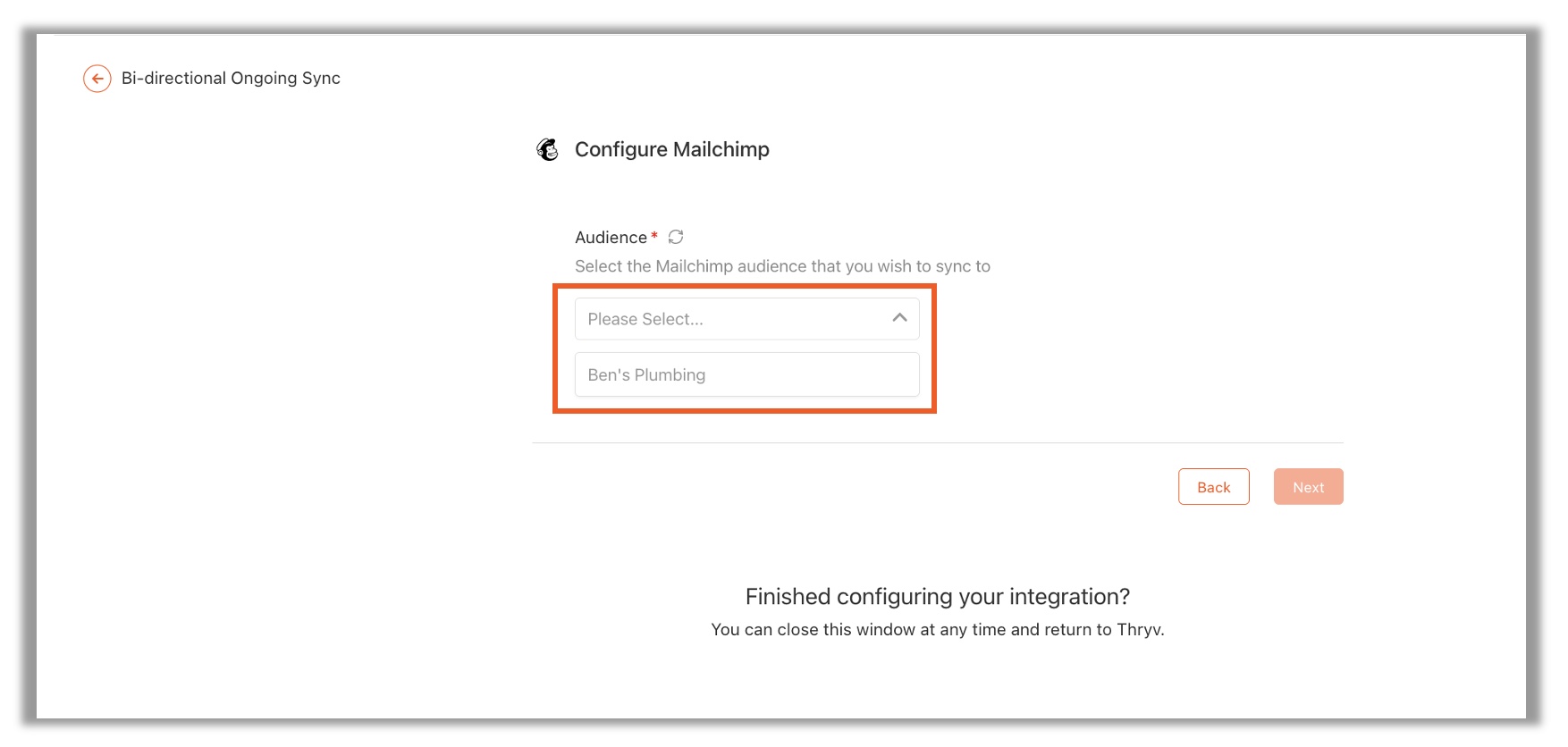 Next, you'll need to map the fields for the sync from one app to the other. This means, you are ensuring that the information from one app ends up in the correct place in the other. Your Mailchimp fields will appear in the left-hand column. Use the drop-down on the right to select a column in Business Center for that information to map to. 
If you do not want a field to sync, select Skip. Once you have mapped all desired fields, click on Next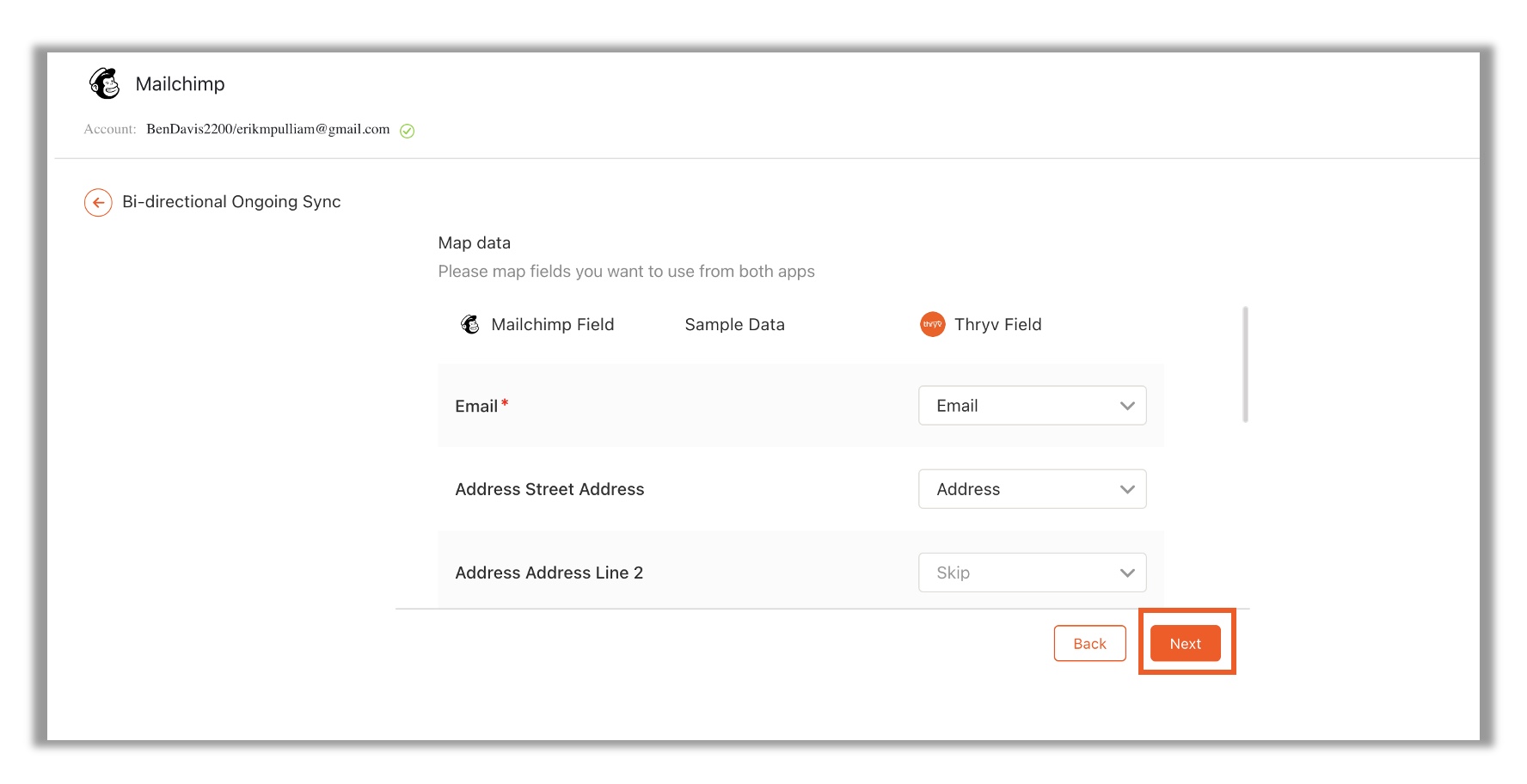 You will see a success screen indicating the setup is complete. Click on Save to initiate the sync.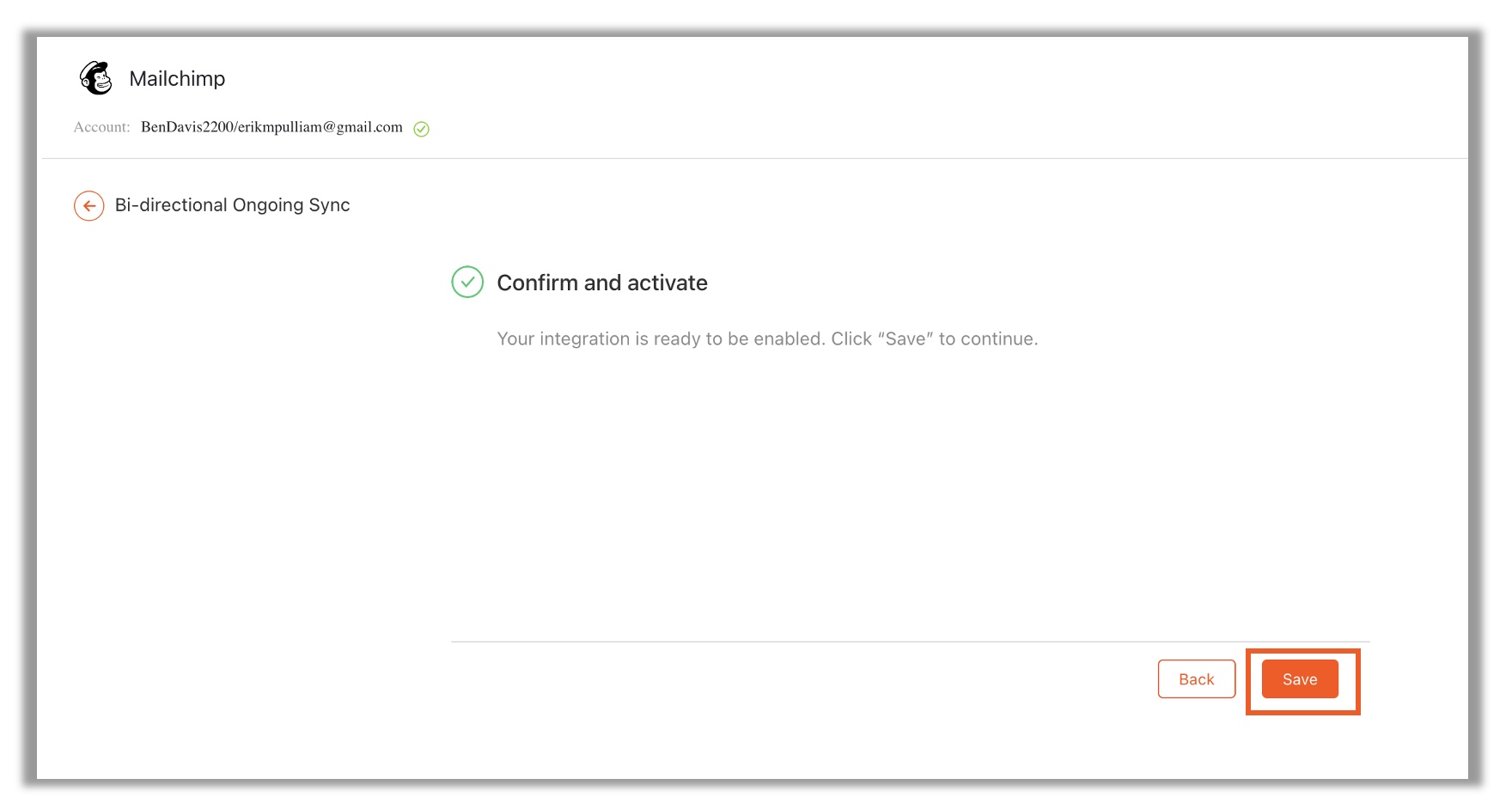 You will be taken back to the main screen for the integration. The sync will show as Completed. Use the toggle turn the sync on and off. Or, click on the tri-dots to edit the sync.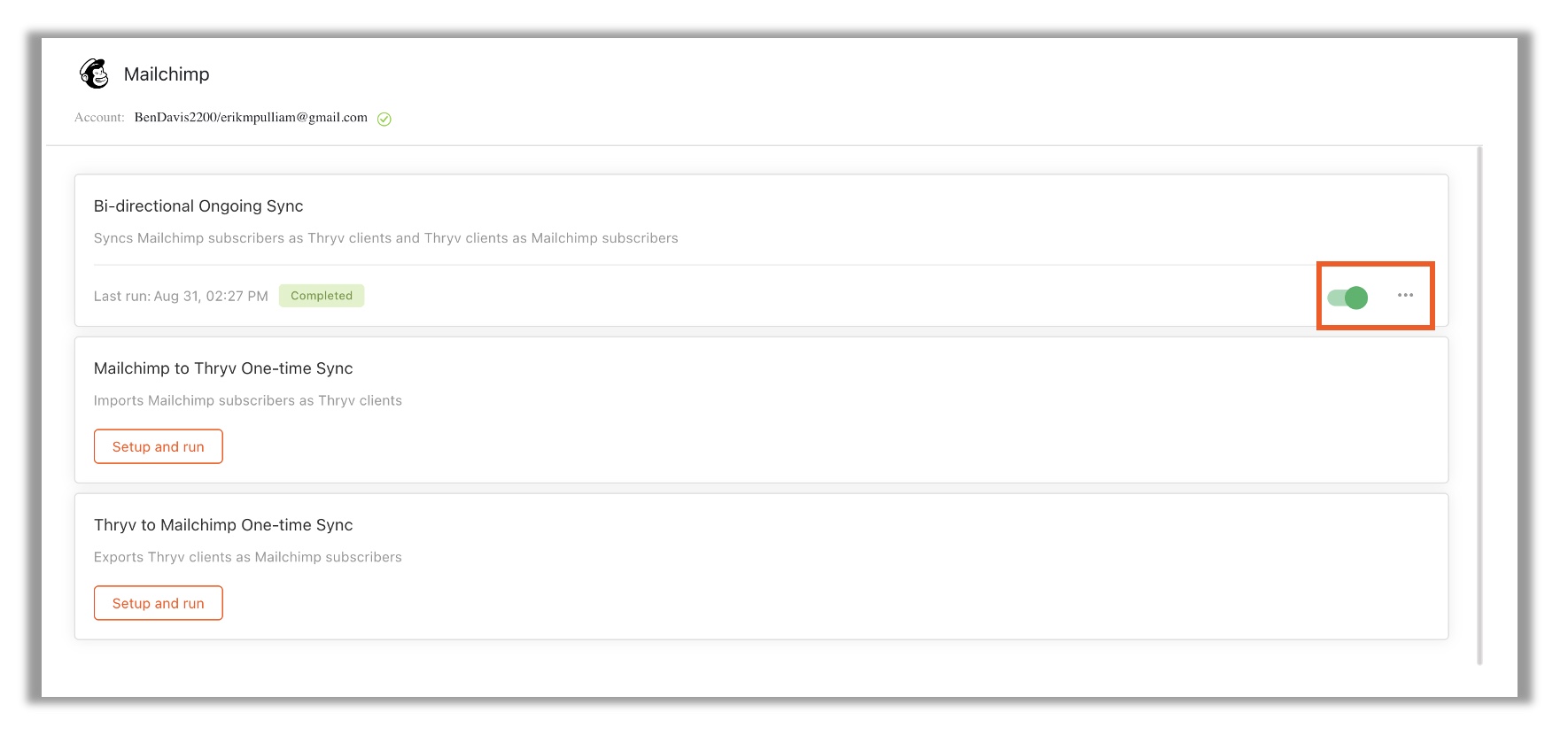 Once these clients are moved from Business Center to Mailchimp each client will receive an automated email to confirm their opt-in for marketing messages from Mailchimp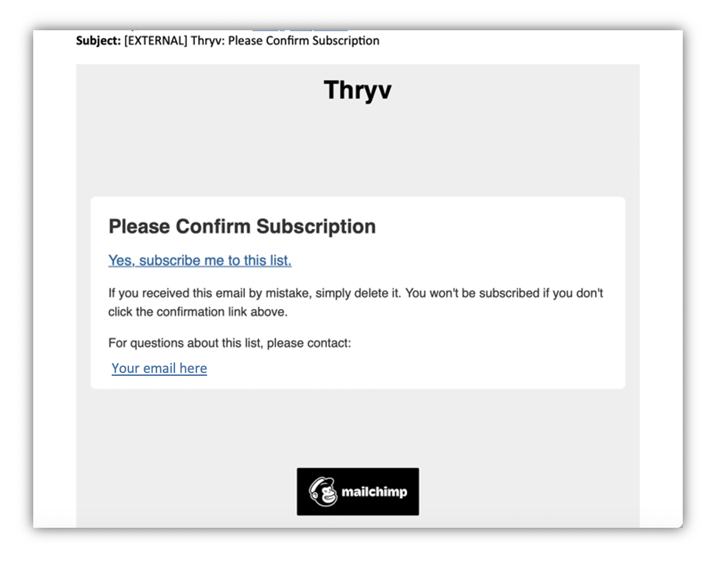 Unsubscribe
To unsubscribe from the Mailchimp app, navigate back to the app to the Configure screen. Click on Unsubscribe in the top right. You will be asked one more time to confirm, and then the app will be uninstalled.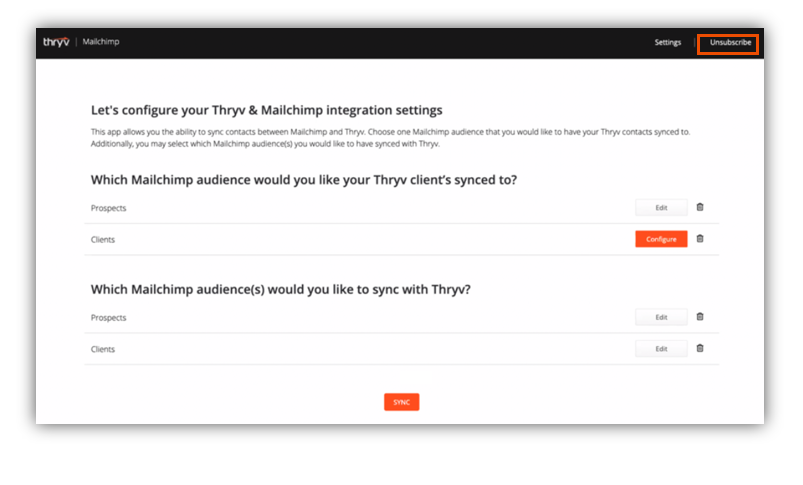 FAQ
I just received my confirmation email after configuring the integration, why aren't my contacts synced?
This email only serves to confirm that the sync is initiated. It can still take some time for the sync to complete depending on the amount of data transferred.
Do my contacts sync instantaneously?
No, the sync will occur once per day for all contacts added in that 24-hour period.
Is there a limit to the number of contacts I can sync?
No! All of your contacts in the selected Mailchimp audience will sync, there is not a limit!
Will syncing with Mailchimp create duplicate contacts?
In Business Center, email address is the unique identifier for a client. As such, if a contact in Mailchimp has the same email as a contact in Thryv, it will be treated as an existing contact. It will never create a 2nd contact with the same email address. If a contact has a different email address, it will be added as a 2nd contact in Thryv. For help with merging contacts, Click Here