As more and more businesses engage in text message marketing, rules and regulations have been put into place to protect consumers from unwanted solicitations. All consumers have the right to opt-in to receive marketing material or to opt-out.
What that means for you as a business owner/Thryv user is that you need to obtain permission from your clients in order to send SMS (Short Message Service) or text message marketing announcements to them. Obtaining your client's permission is a federally mandated rule detailed in the Telephone Consumer Protection Act (TCPA), which stipulates that businesses and or organizations must receive consent from individuals prior to sending any SMS/text messages to them.
To send SMS/text message marketing there is a Double-Opt-In process that is required by law before you can send messages to those clients. This article goes over those options in Thryv.
Option #1 - Claim a Keyword and have clients text that Keyword to 85100 to Opt-In.
This is simple to set up. To start, you will need to claim a unique keyword in Thryv.
Navigate to settings. Select campaigns. Enter your keyword. Select claim.
*Note:
Some keywords may already be taken. If your initial keyword idea is taken, try other keywords until 'available' appears to the right in green.
You can only claim a keyword for your business once, so make sure it is the one that you want to keep. It cannot be changed later.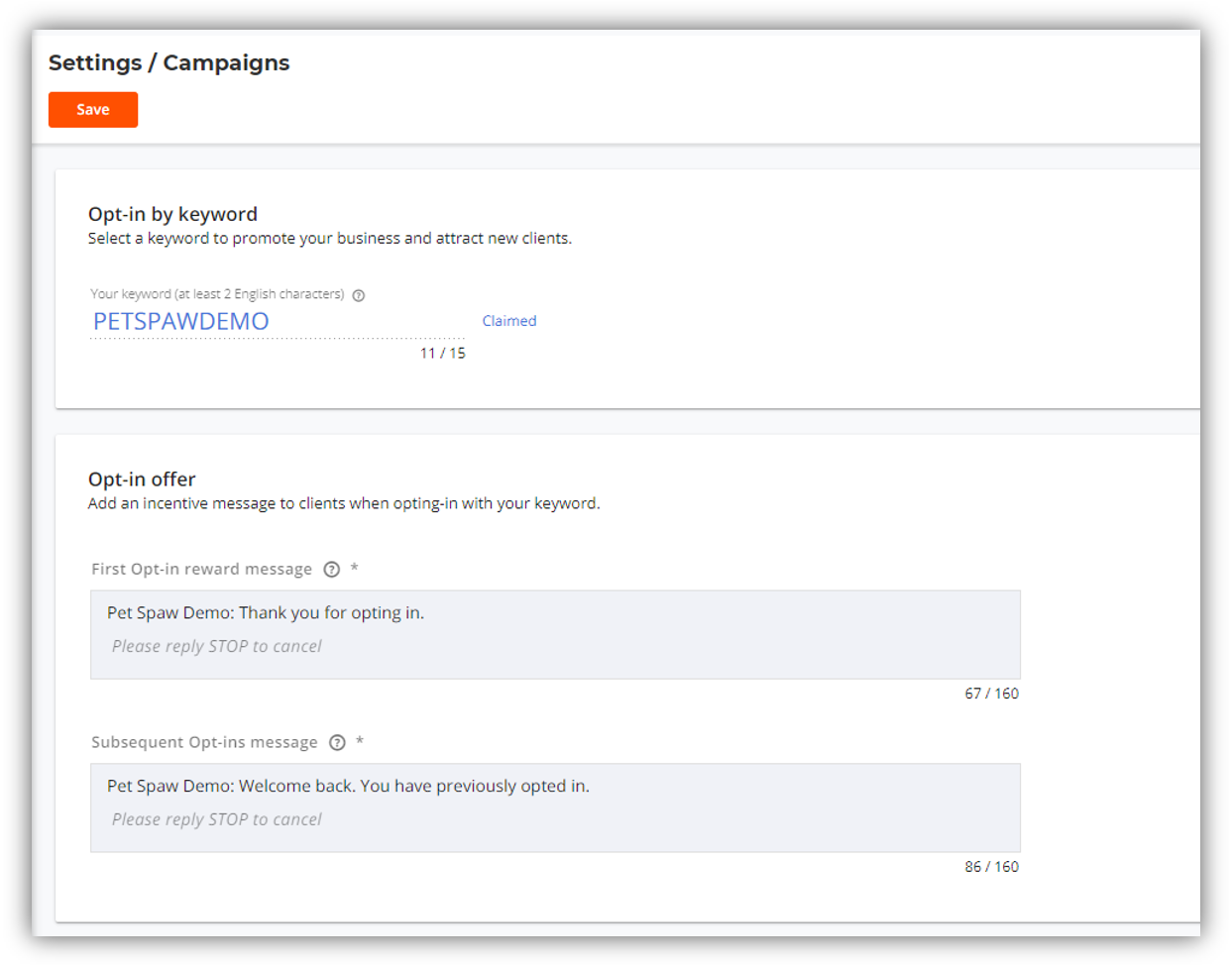 Once your keyword is claimed you can promote it in email announcements to your clients, on social media, and on your website. You can post signage in your location inviting clients to opt-in. You can also add an incentive to really drive participation from your clients. ( An incentive can be added to first opt-in reward message.)
Example of an invite to opt-In signage: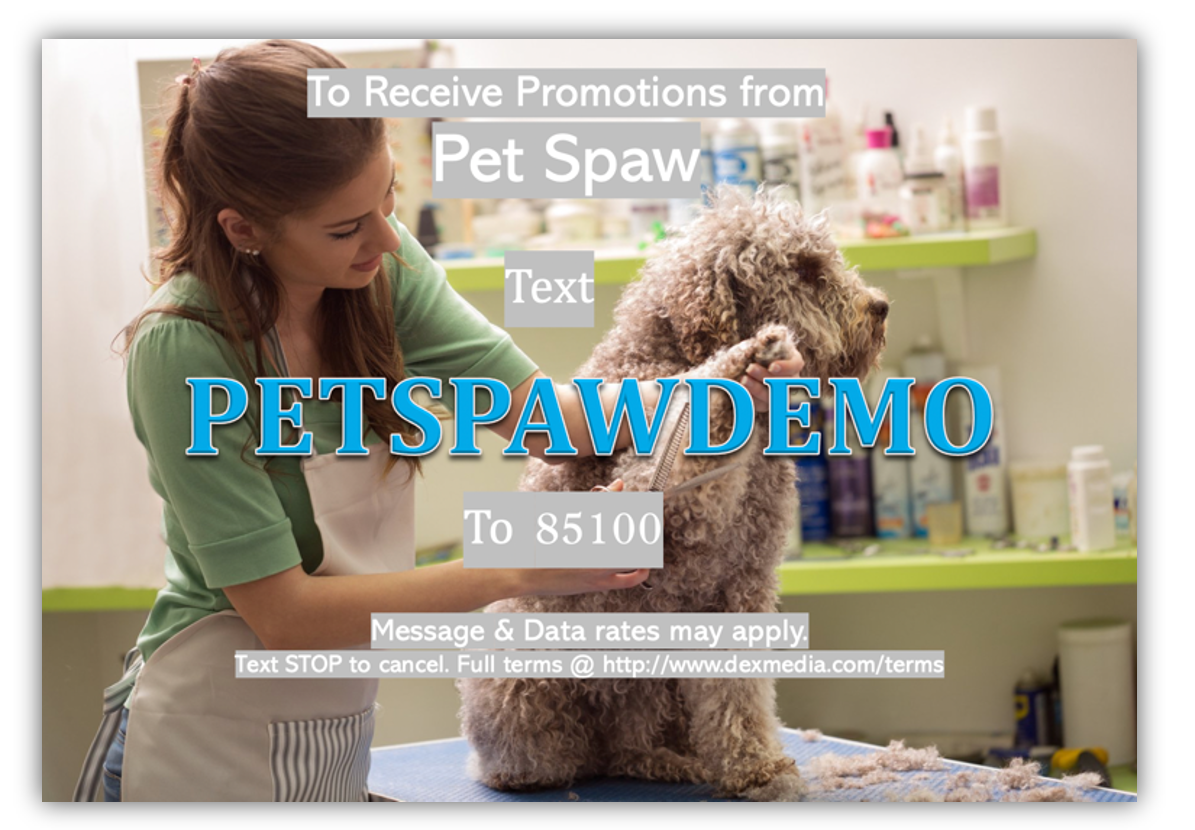 Option #2 - Invite the client to opt-in to receive text message announcements by prompting Thryv to invite that client.
Go to the Clients tab. Select the client you'd like to invite.
Make sure the client's cell phone is in the Phone field.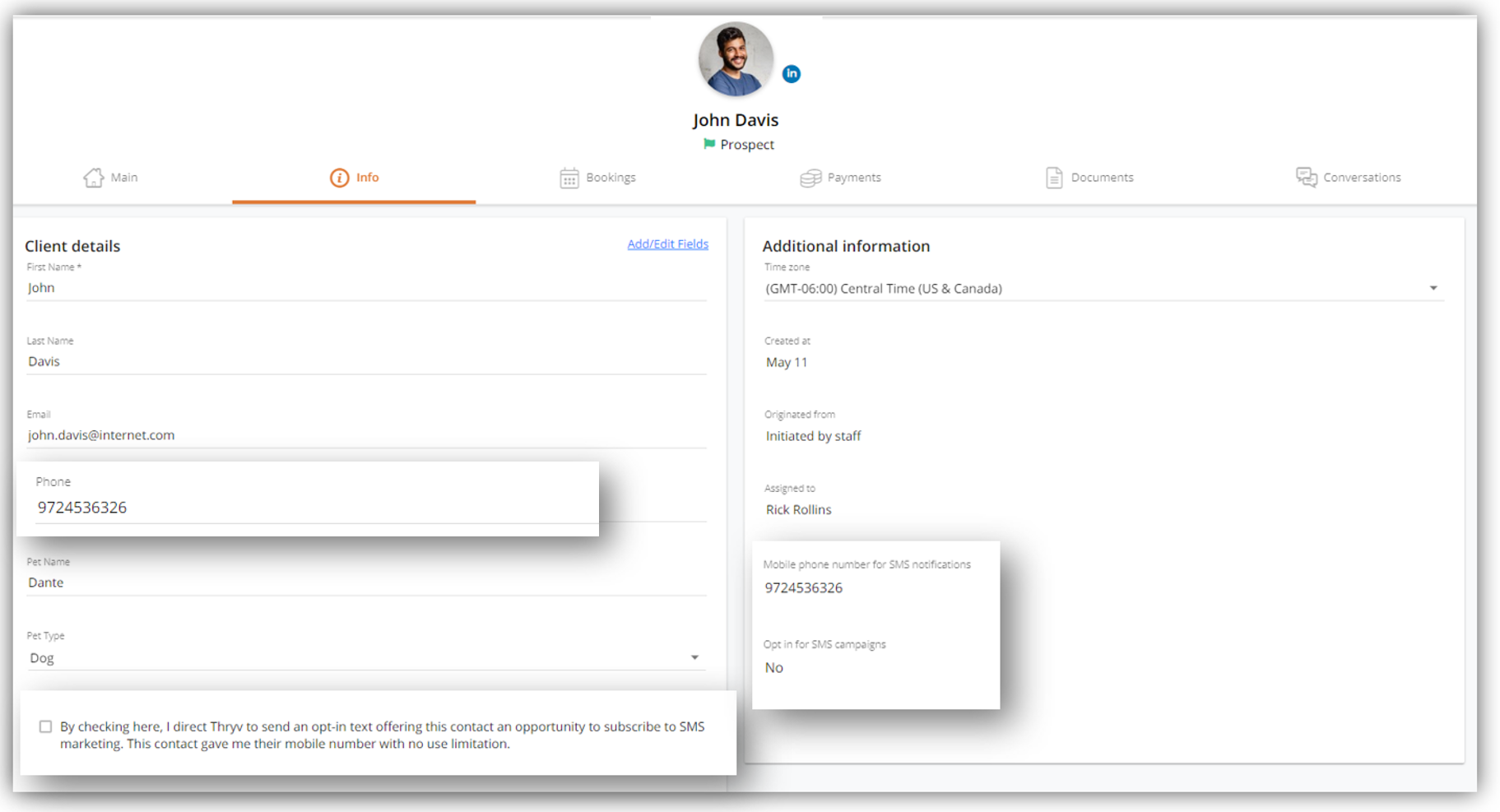 Check the box next to By checking here, I direct Thryv to send an opt-in text offering this contact an opportunity to subscribe to SMS marketing. This contact gave me their mobile number with no use limitation.
This signifies to the software that you have gotten permission to send marketing messages to this client.

After the checkbox is checked, another option will appear under opt-in for SMS campaigns field.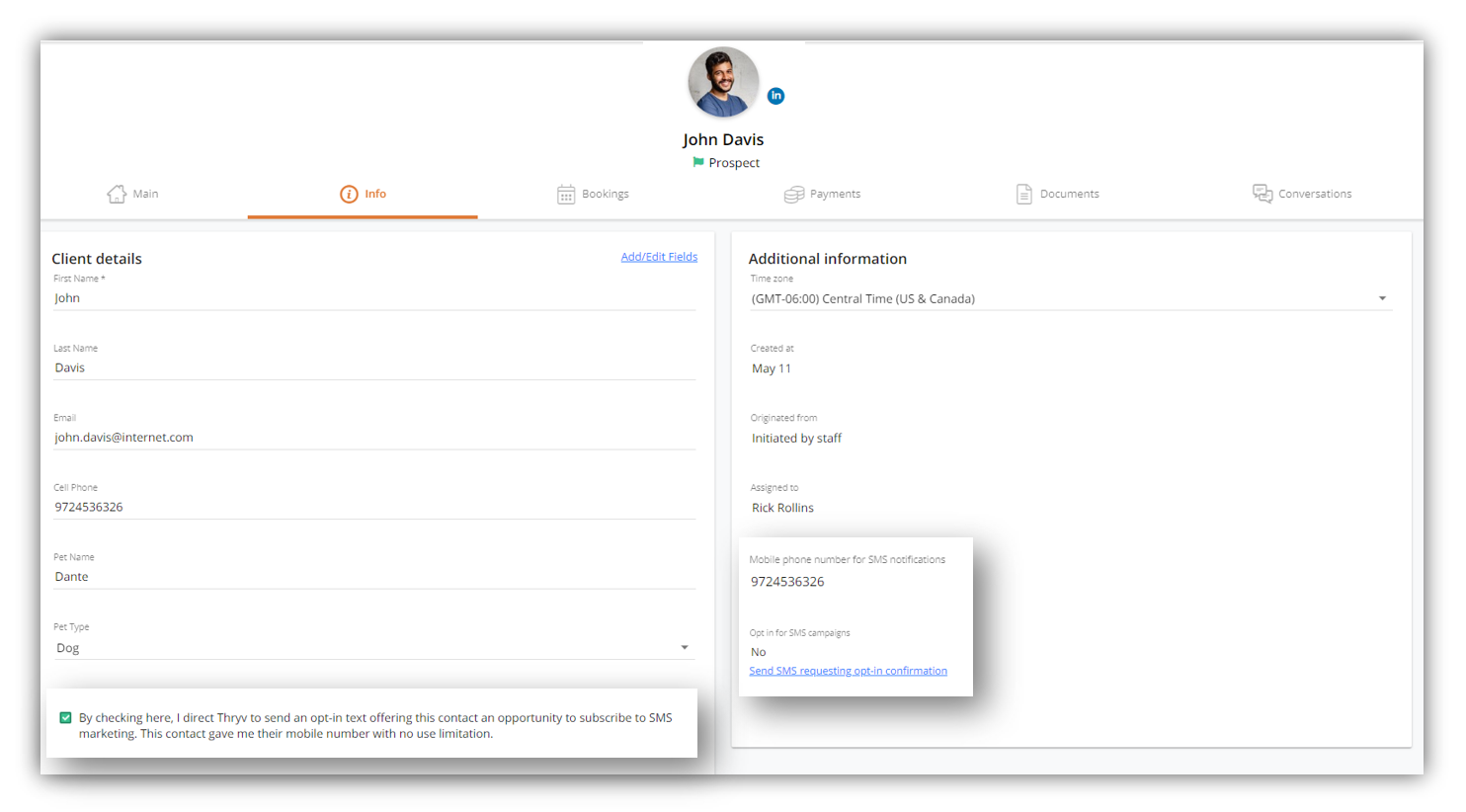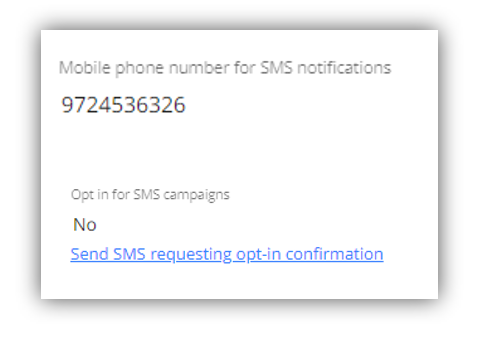 Select send SMS requesting opt-in confirmation.
You will receive this pop up: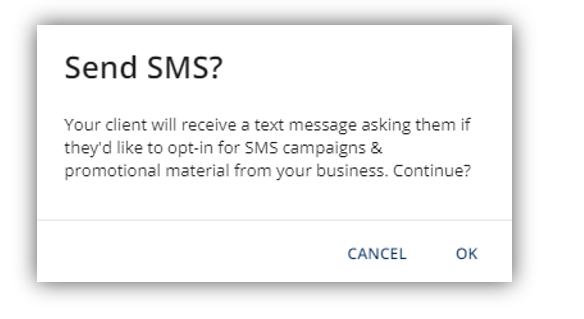 Select OK to continue.
This will send a text message to your client asking them to opt in to receive text message marketing from you. See example: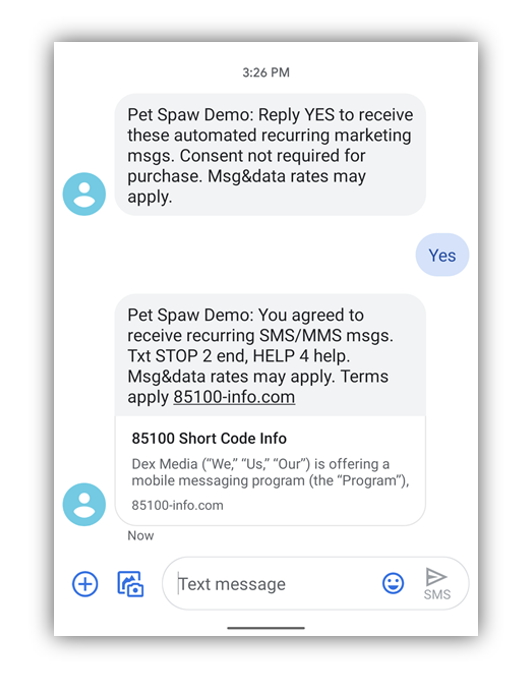 Note: The requesting opt-in confirmation message cannot be altered. This is a standardized message. Once the client opts-in you can send them announcements and let them know about your events and offerings.
If your client replies Yes, they are then subscribed to receive SMS/text message marketing from you. The contact will then show YES under the opt-in to SMS campaigns field.
The client can opt-out at any time by replying STOP in the message thread. (That will update in the Thryv and show NO under the opt-in to SMS campaigns field.)
Now you are ready to send an SMS/Text message Announcement!
How to send an SMS/Text Announcement:
Navigate to Marketing>Announcements.
Click Send on the Campaign.
Input your text message.
Under If the client's phone number is not available > Select Don't send or select Send via email.
*If you select Send via email you can adjust the Email subject line.
Click Continue.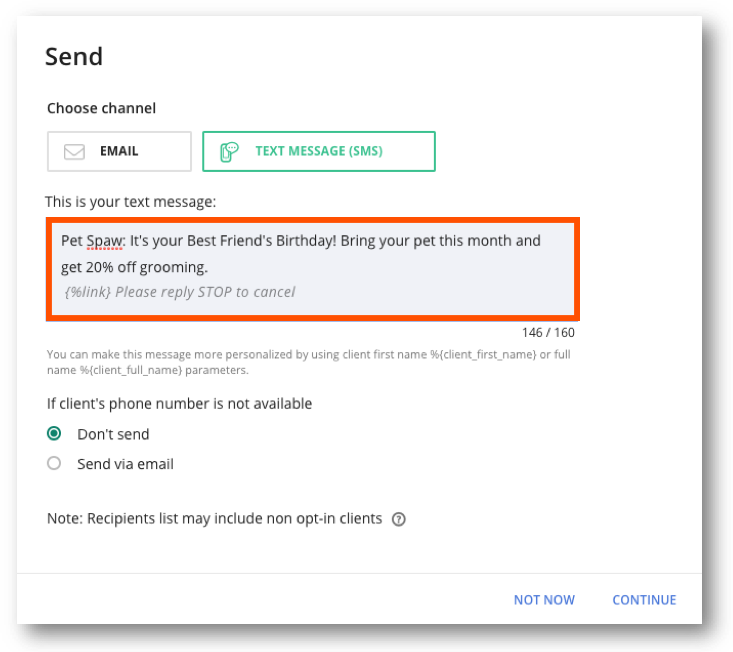 Select the Tags or the Clients that you want to receive the announcement.
Click Continue.
Click on Send now for the immediate delivery of your campaign.