Updating your Business Center CRM with detailed customer information from your Jotform custom forms just got easier with this integration! Business Center works with Jotform to provide a simple way to add leads and contacts to your Business Center CRM. With Jotform, you can create custom forms to collect detailed user information and automatically send the data to the client CRM field you choose.
This app integration is free in the Thryv App Market. You will need to sign in or create a Jotform account. Jotform offers multiple packages you can choose from, free and paid! Visit the Jotform website to see what option best fits your business.
*Note if you need HIPAA Compliant forms, Jotform has package options available. Thryv's HIPAA Compliance does not extend to other 3rd party software programs. 

Article Content:
What to Expect from this Integration
When a configured Jotform is completed and submitted by an existing client, the form details will inject into the mapped client fields will update on that customer's CRM in Business Center.  When a configured form is completed by a potential customer (not in the CRM), a new customer CRM record will be created within Business Center with the mapped fields from the Jotform.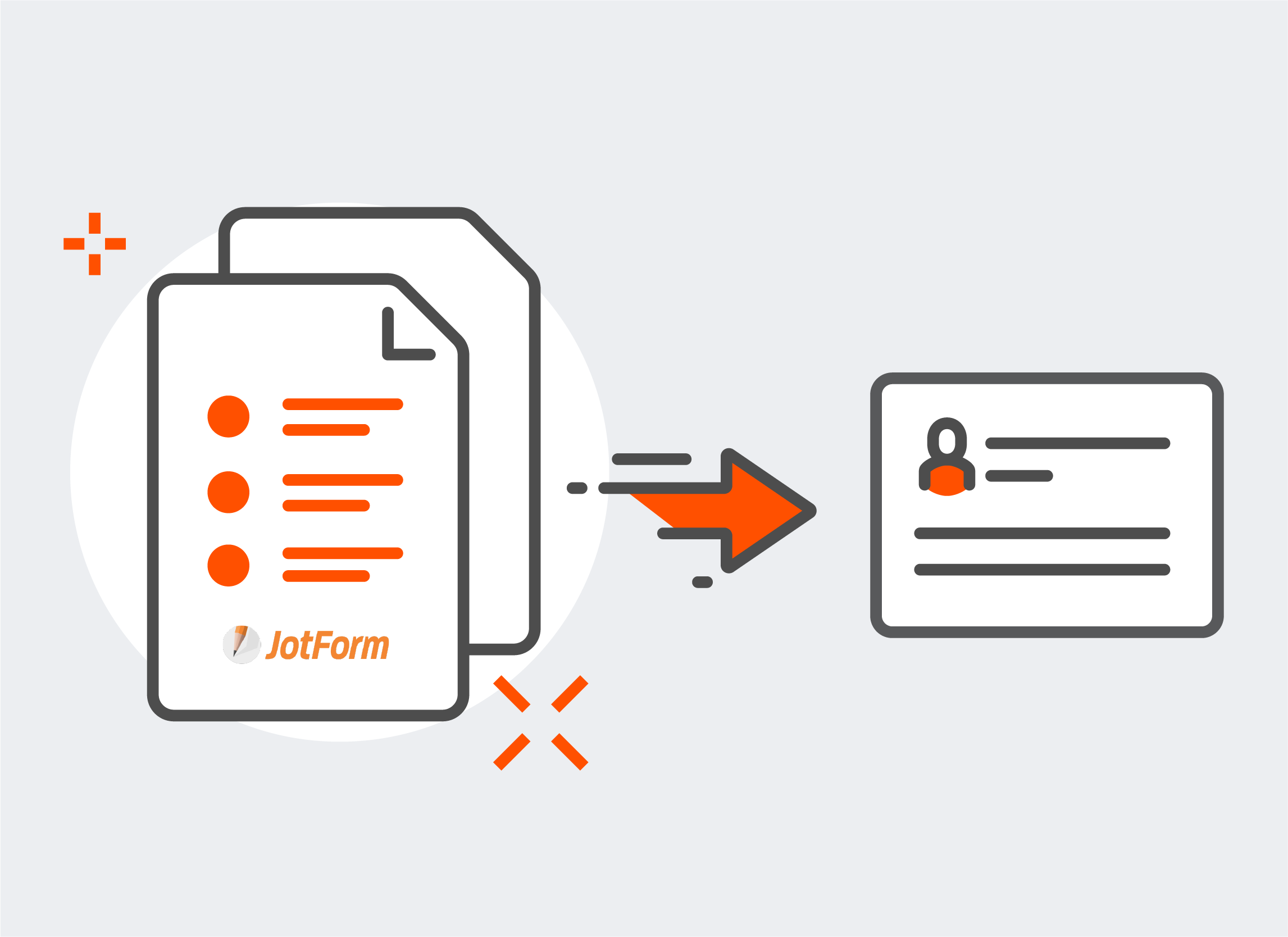 Before Install
Create the Jotform form that you'd like to integrate with Thryv
Create the contact fields in Thryv that you would like to map to the client card
Create the Jotform Form
Here is an example from Jotform: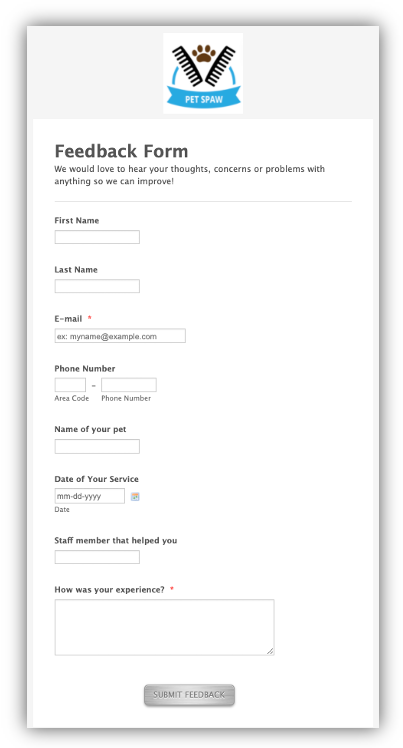 Create the contact fields in Thryv that you would like to map to the client CRM
You can decide which fields from the form, you'd like to come over when it is injected into Thryv.
Update the client CRM fields in Thryv with the fields you want to pull from Jotform. The fields must be added as contact fields. Client fields will not map.
First Name, Last Name, Email, and Phone will be available by default.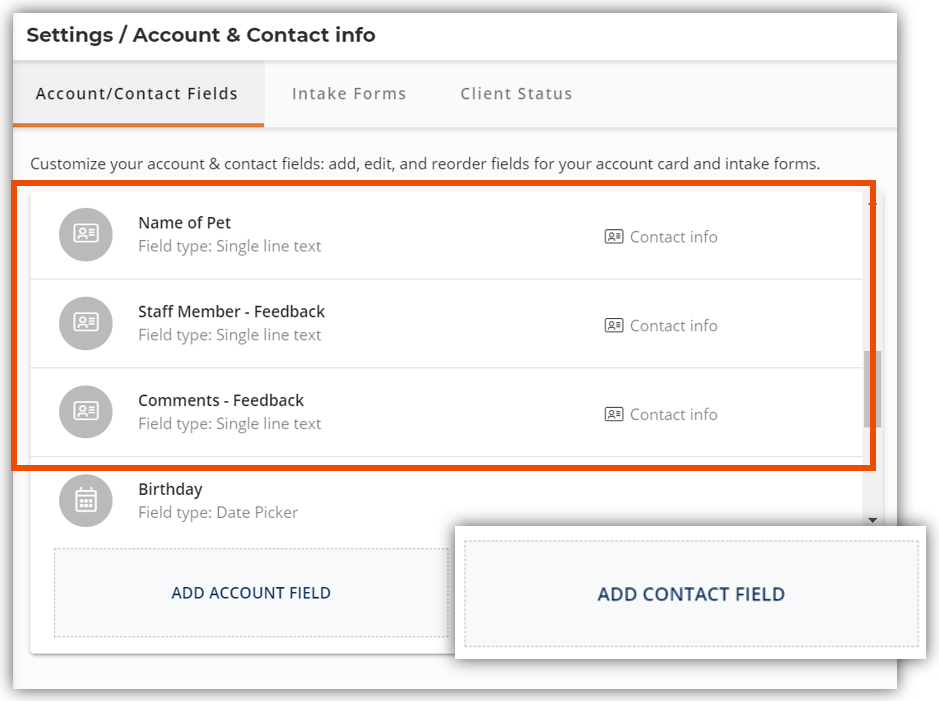 *Unsure how to add client card fields in Thryv? Check out this article. 
*Note: 
To successfully map fields, Jotform fields must also be added to the Thryv client CRM AND the form in Jotform before configuration.
Installation Guide
From App Market, Choose Jotform: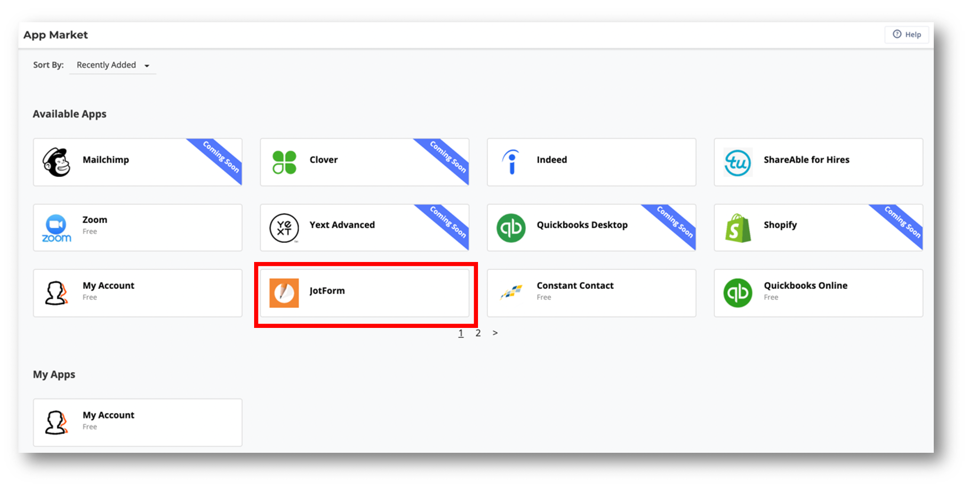 Select "Get this App". 
Next, you will be brought to the permissions screen, where you will be asked to give permissions to connect Thryv and Jotform. You will need to check the box to agree to the terms and conditions, then click on Submit.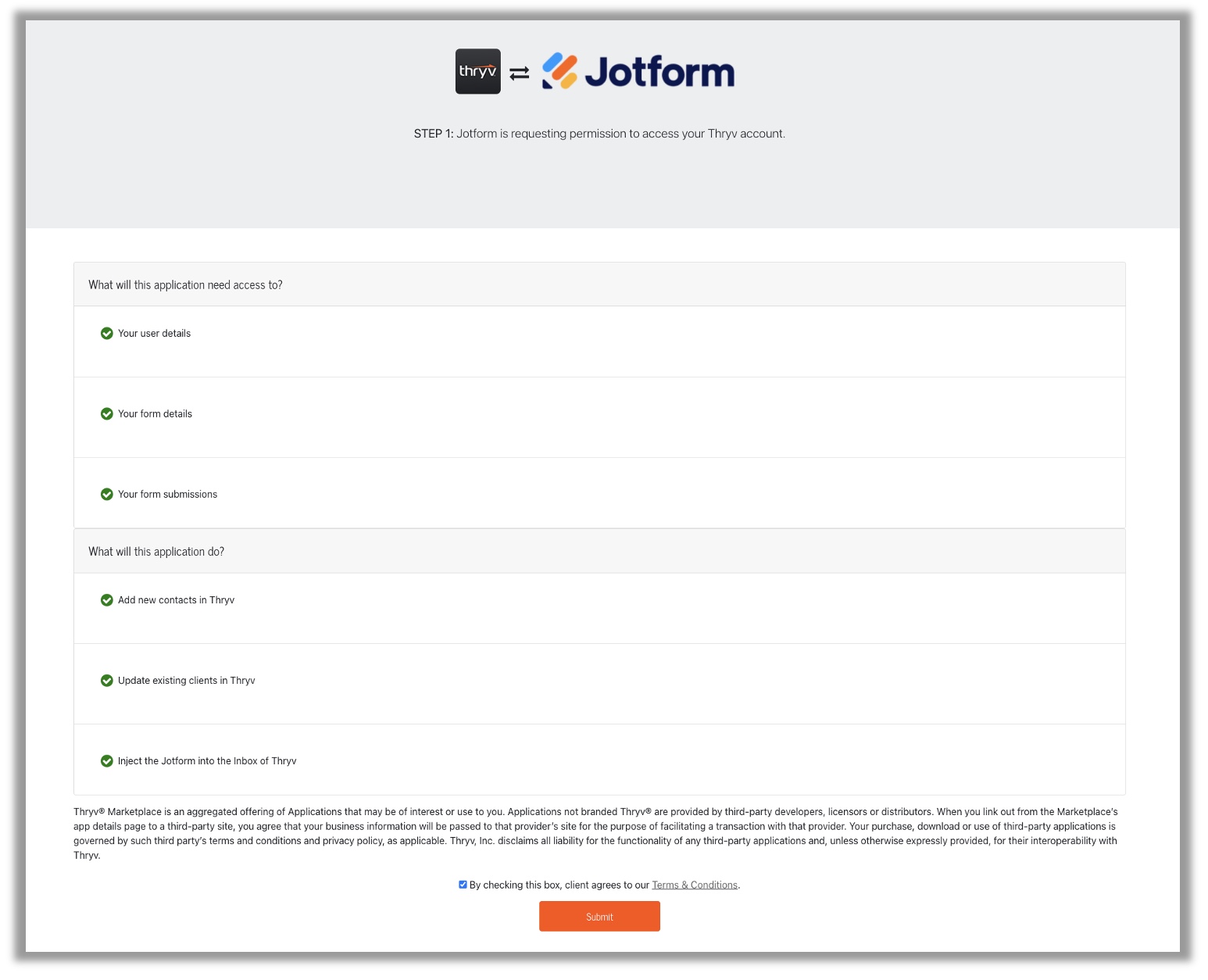 Next you will be required to paste the API Key from your Jotform account. In order to retrieve your API Key, you will need to sign into your Jotform account, and follow these steps (for best results, open a new tab so that you can continue installing the app).
First click on your profile photo in the top right, and then click on Settings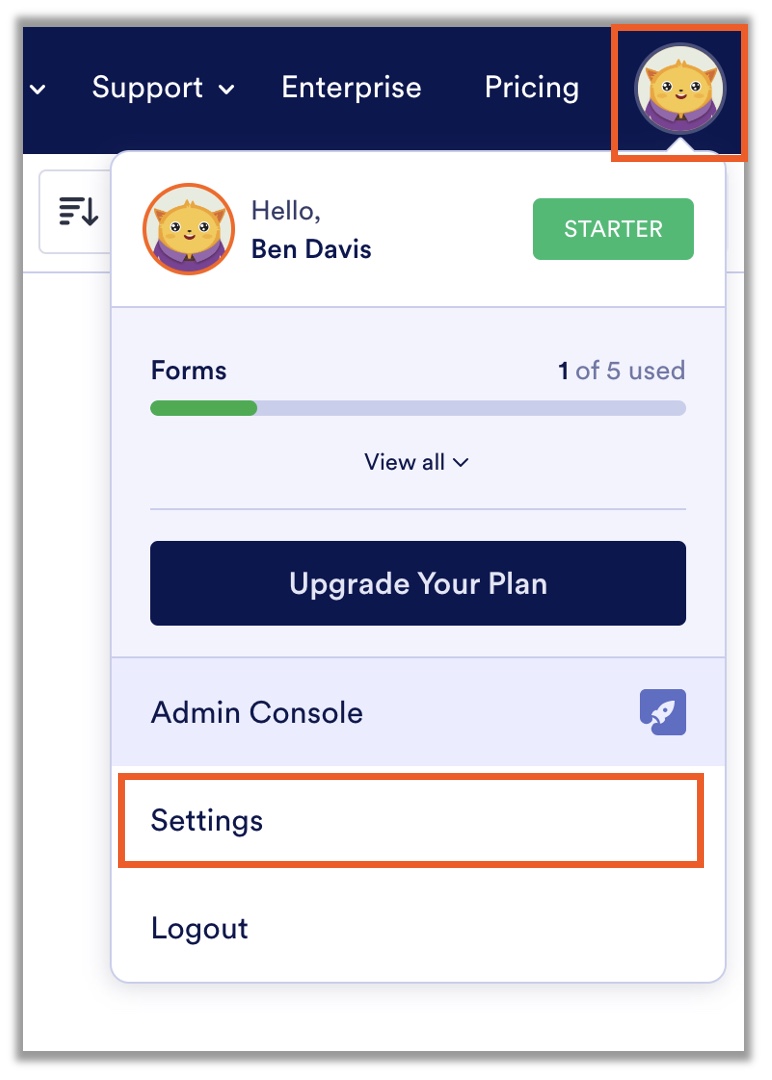 Then, in the left-hand menu, click on API 

If you don't currently have an API key, you'll need to create one. If you already have an API key, you can skip this step. Otherwise, click on Create New Key. All you need to do is click the button, and a code will be inserted into the field. If you wish to change the name of this API key, click on the Name field and edit the text.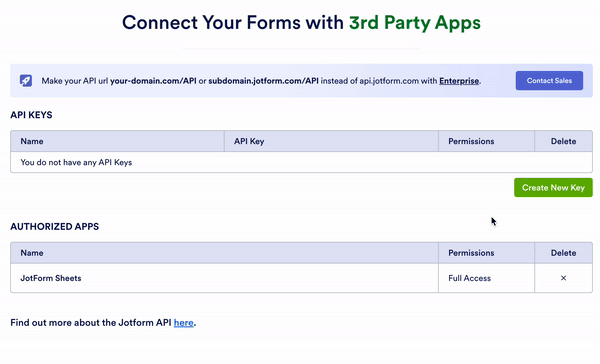 Next, change the Permissions field to Full Access. Note: This step can not be skipped. If the permissions for this API key are not set to Full Access, the app Will Not function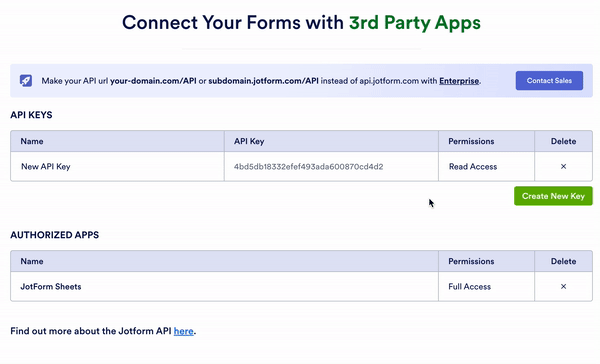 Now that you have your API Key with full access, copy and paste the full API Key into the Jotform App in Thryv. Once you have done so, click on Proceed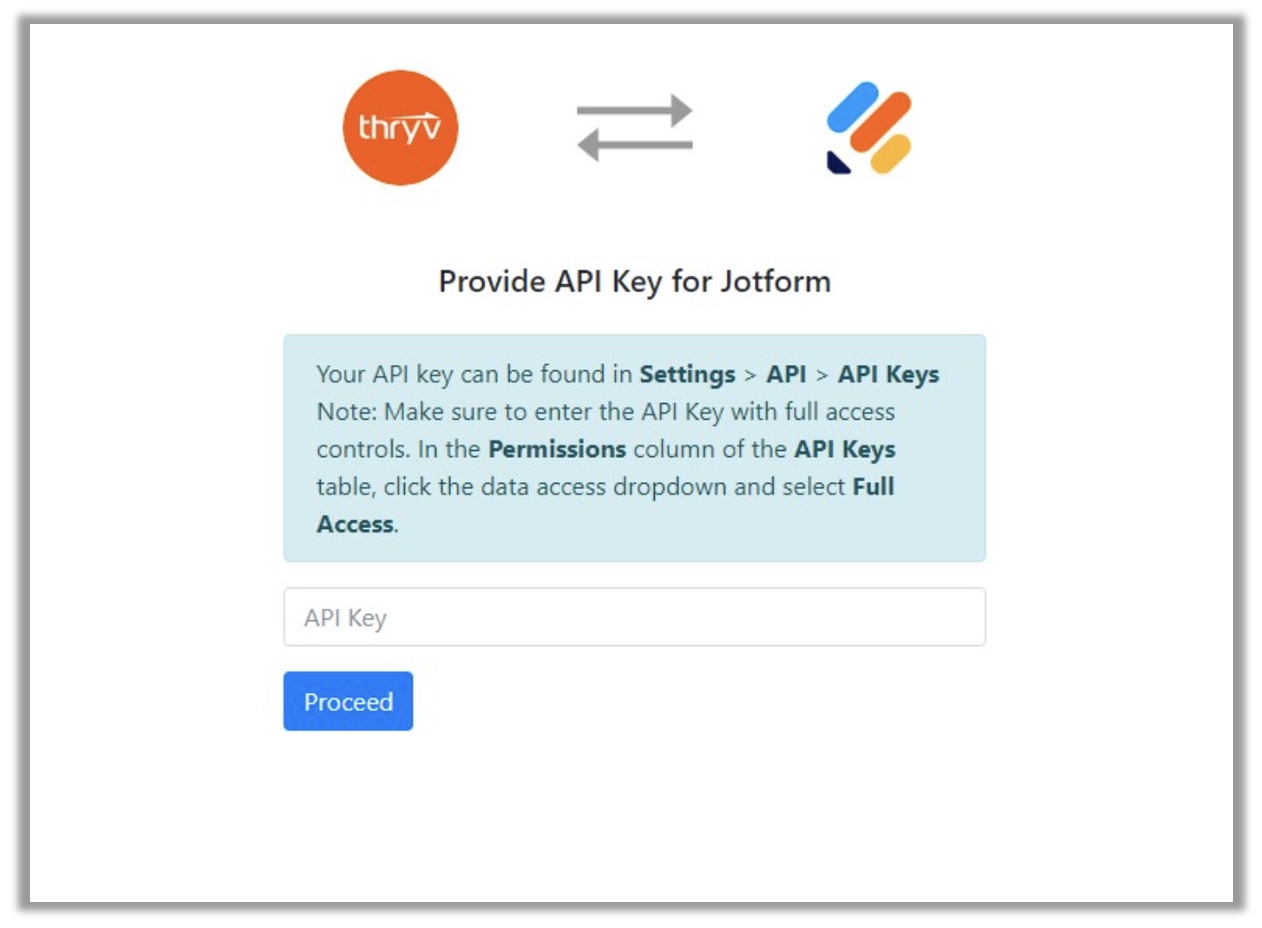 Once logged in you are able to configure your sync. Click Setup & Enable to get started

From here, use the drop-down to select which form you want to sync. Note: If you want to sync multiple forms, each one will need to be configured separately.
Once you've selected your form, click on Next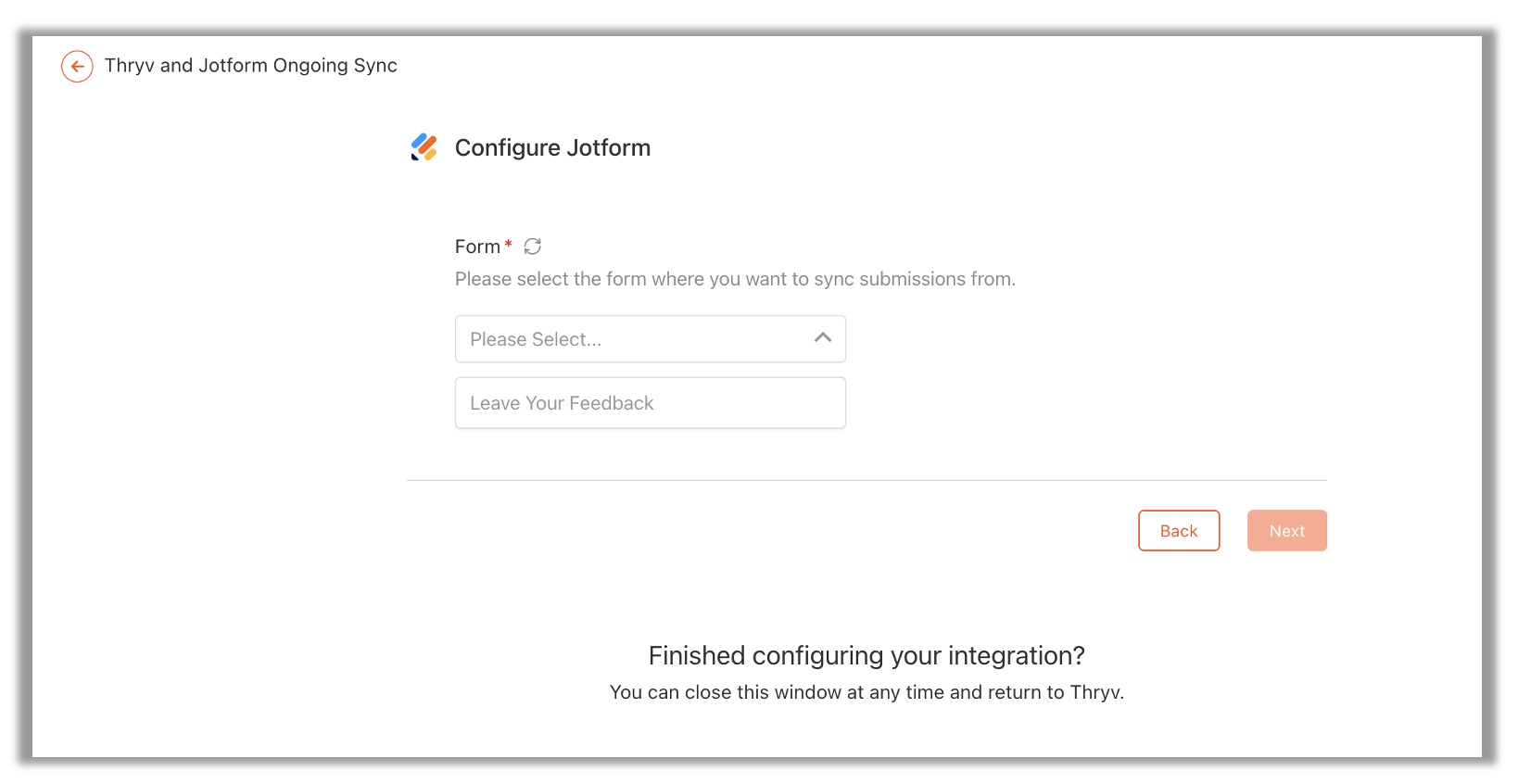 Your Business Center fields will appear in the left-hand column. The fields from your form will appear on the right. Use each drop-down to match the fields from your form to the field in which you want the data to appear in Business Center. If there is a field that you do not want to map, you can leave it blank.
Note: The Business Center fields "Email" and "First Name" are a requirement. If these fields are not mapped, Business Center will not be able to create or associate a contact for the form entry.
Once you have finished mapping your fields, click on Next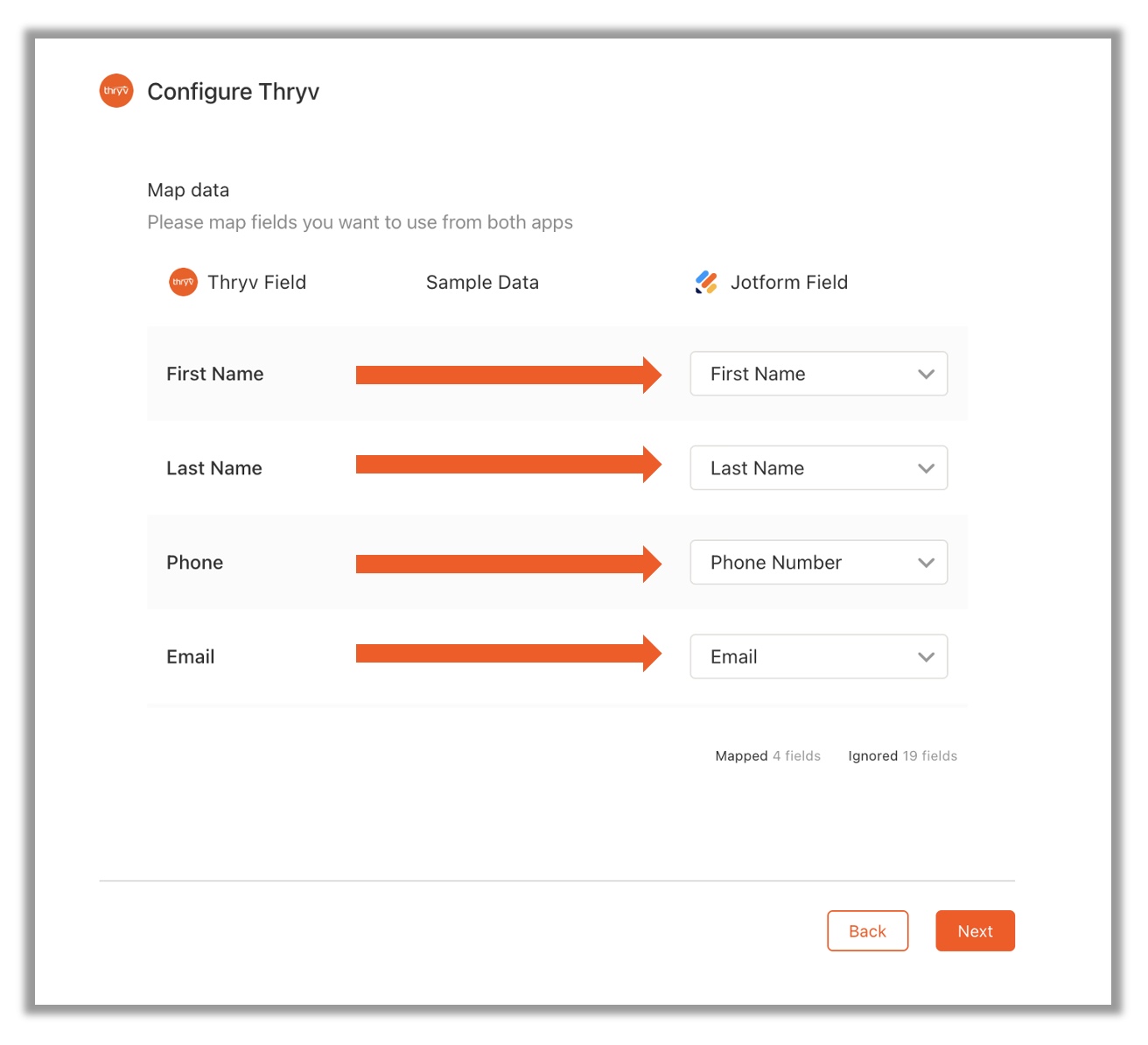 You will see a confirmation screen. To confirm your installation, click on Save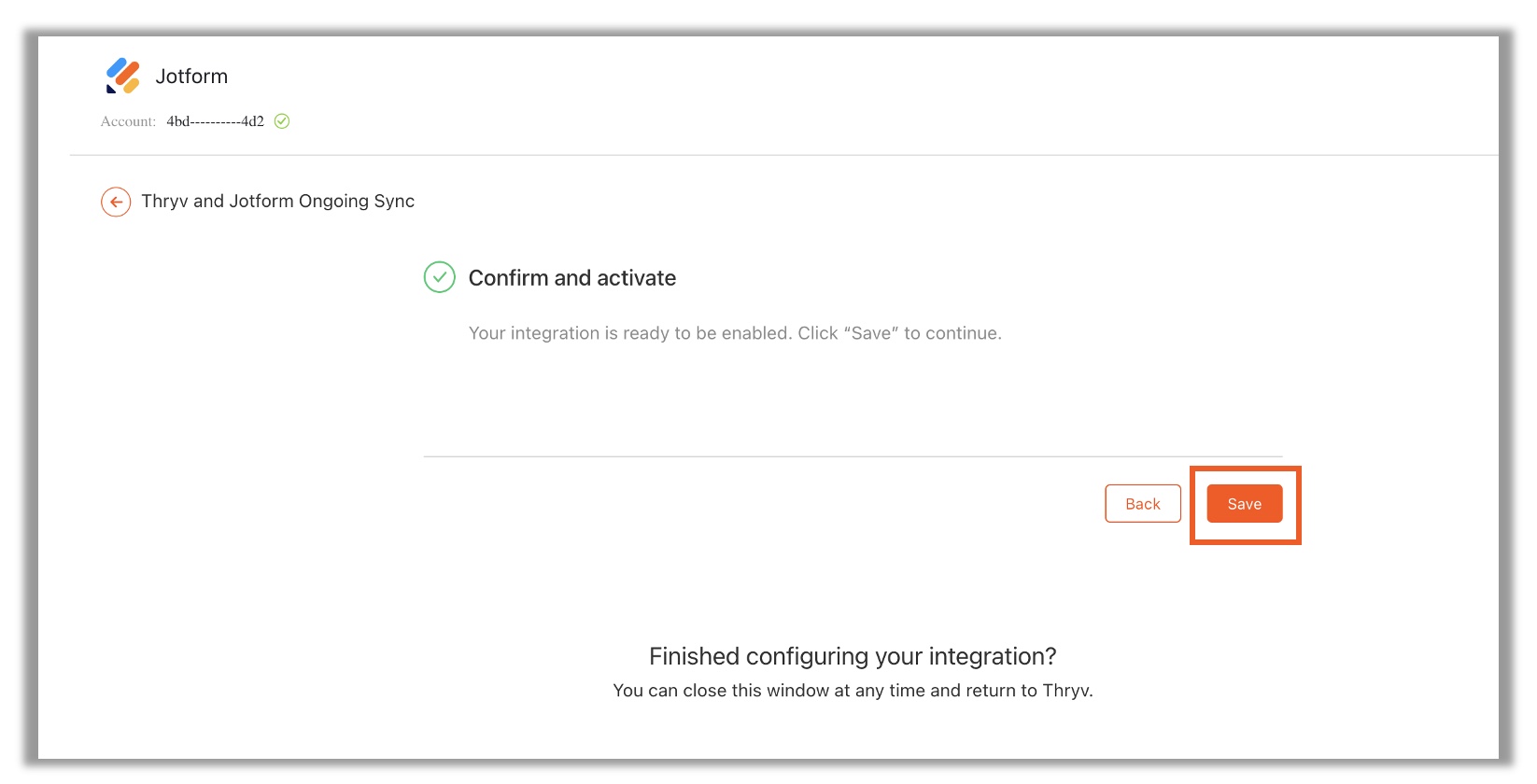 Your newly set up form will appear as an Instance. You will be able to see when the sync was last run, and use the Toggle to turn the sync on or off. To edit the sync, click on the Tri-Dots
If you would like to sync another form, click on Setup Another. The process will be identical each time.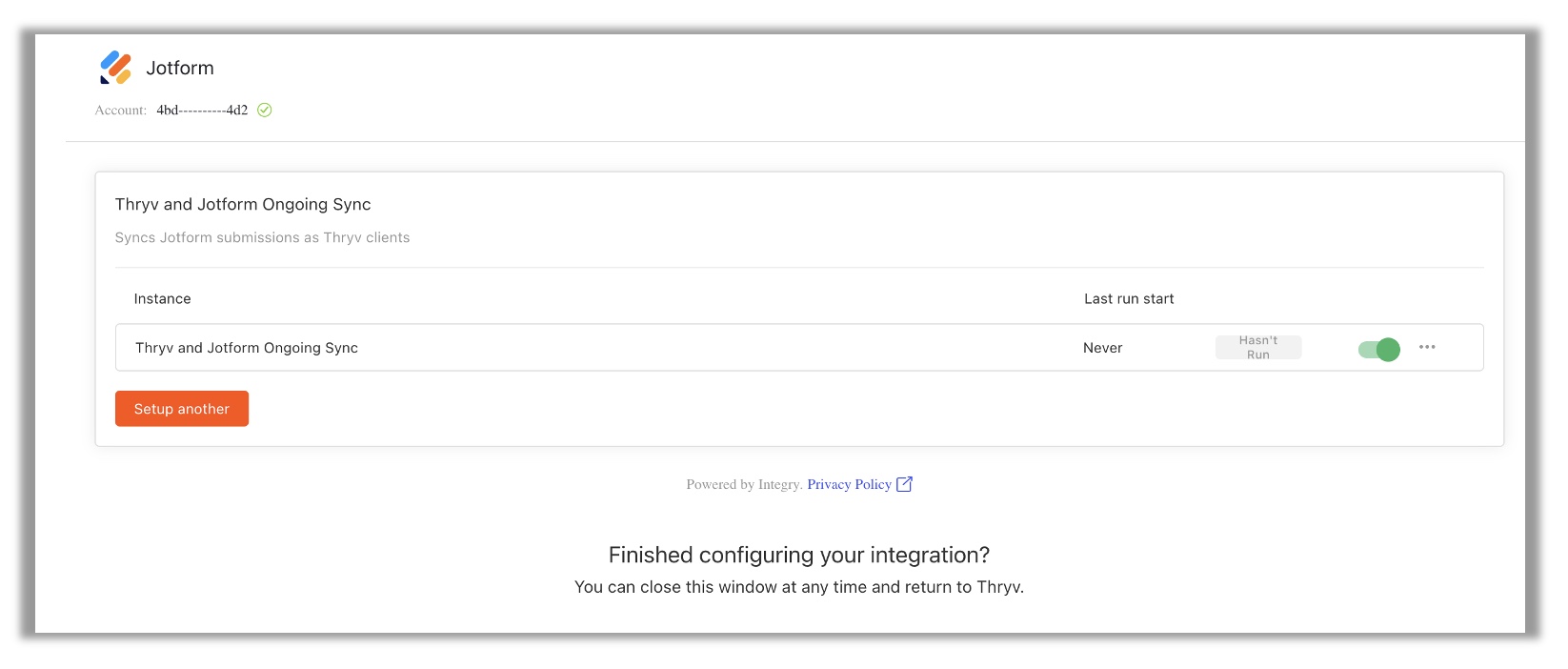 How the integration looks in Thryv
 Example conversation in Thryv of form submission:
Example email from Jotform of form submission: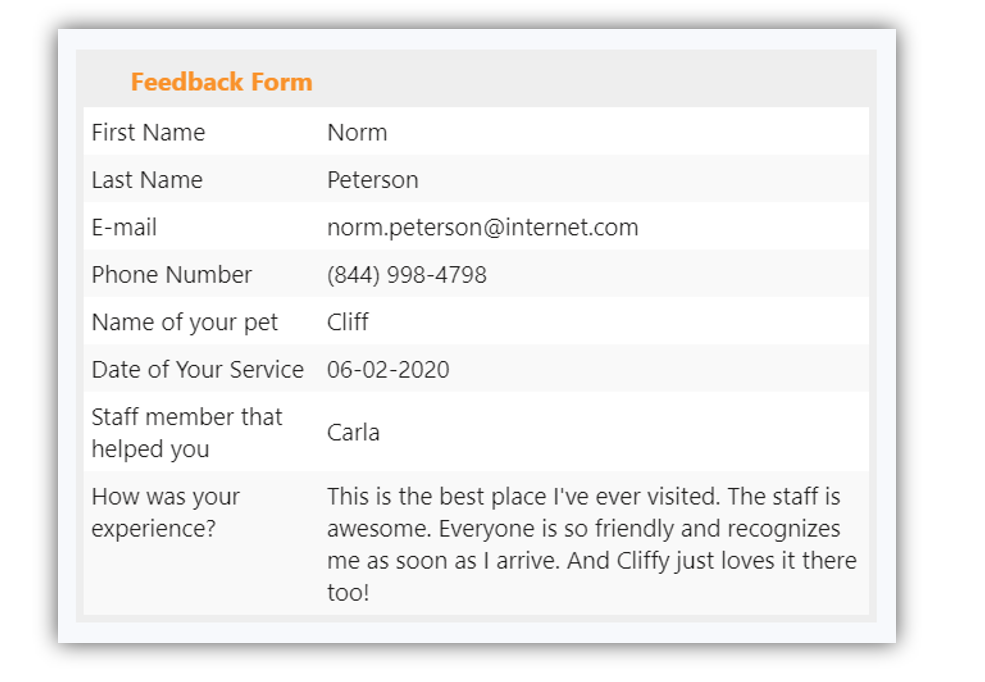 Example of how the Jotform fields copy to the client card fields in Thryv: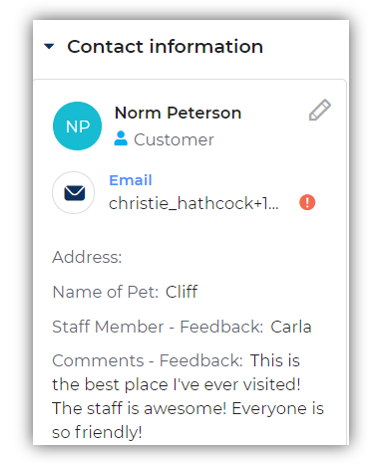 Uninstall
If you decide that you are no longer interested in this integration, you can uninstall it at any time. 
Just return back to the App Market, select Jotform. At the top right corner of your screen, select Uninstall.