Overview
Want to share downloadable content with your website visitors? Use the file widget to upload a file that your website visitors can download with the click of a button. Share flyers, ebooks, and other documents by having them available for download.
Guide
Add the Upload a File widget onto your responsive website. To learn more about adding widgets to your website, see Adding Widgets.
Once the file widget is placed, the Content Editor will appear. Here, you can change the text on the button and add files. To add files, click the + File button.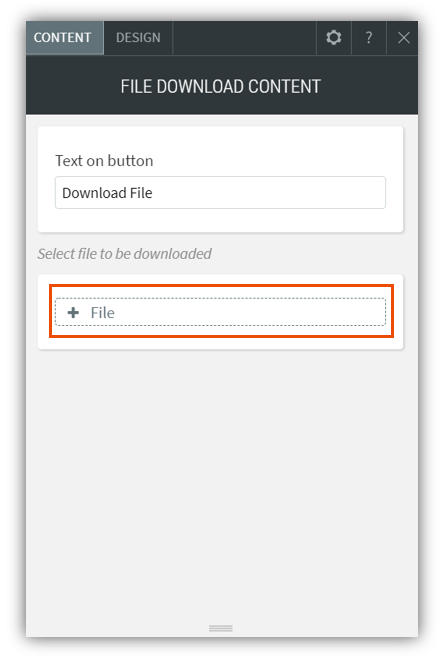 The Uploaded Files window will appear. To add files, click on Upload New File. You can add multiple files to upload simultaneously.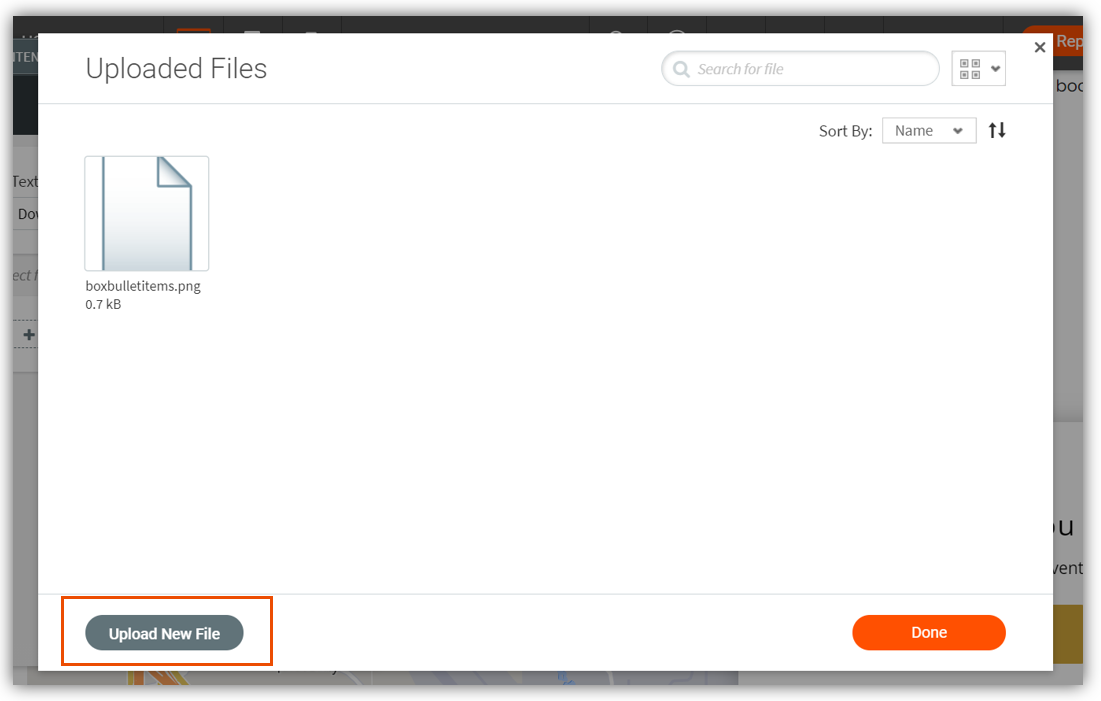 Drag your files or click the 'Choose files' button to add files or folders. Files can also be downloaded from Dropbox, Google Drive, a link, or Gmail.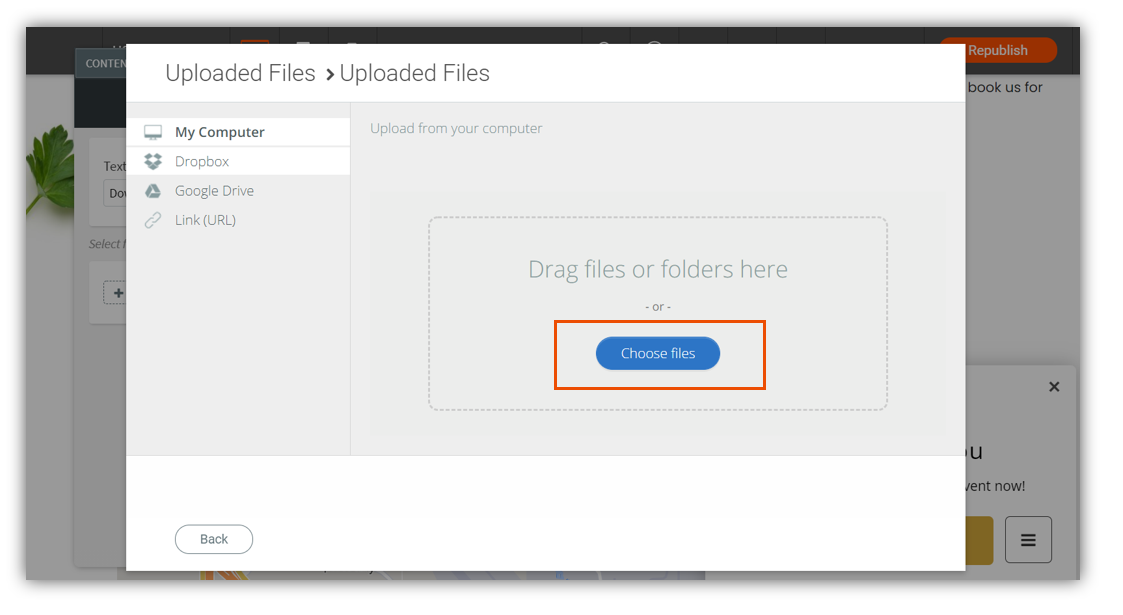 When the files have been selected, click Upload.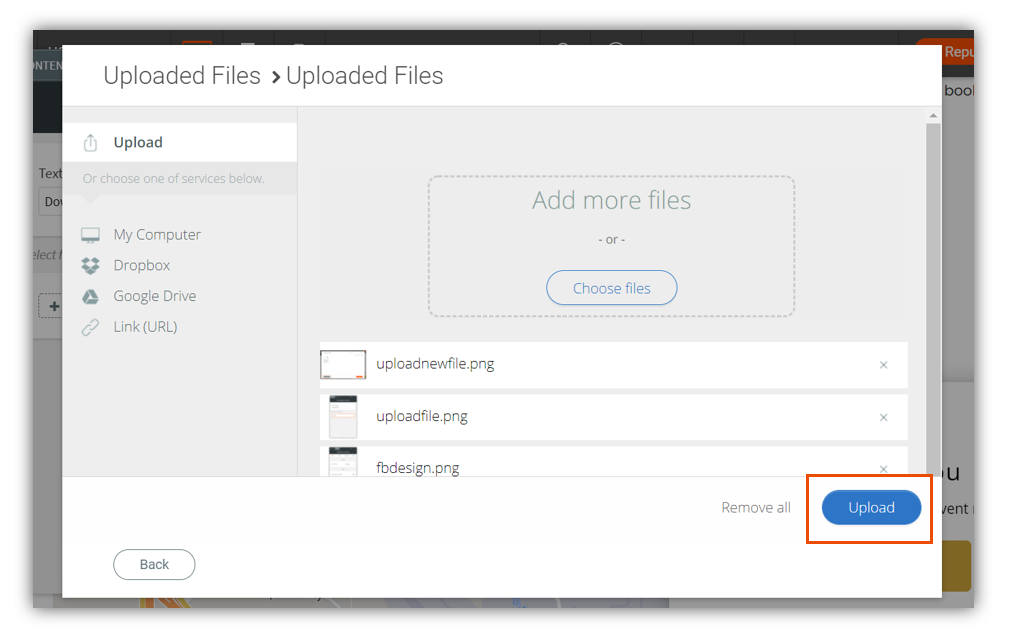 You will be notified when the upload is complete. The downloadable file can now be seen on the Content Editor. The file is ready for visitors to download.
Open the Design Editor by clicking the design tab on the top left corner to change the layout, style, and spacing. Edit the button design that appears on your website using the layout section. Make changes to the width and height as well as change border styles in the style section. Customize the padding and margins (spacing around the widget) in the spacing section.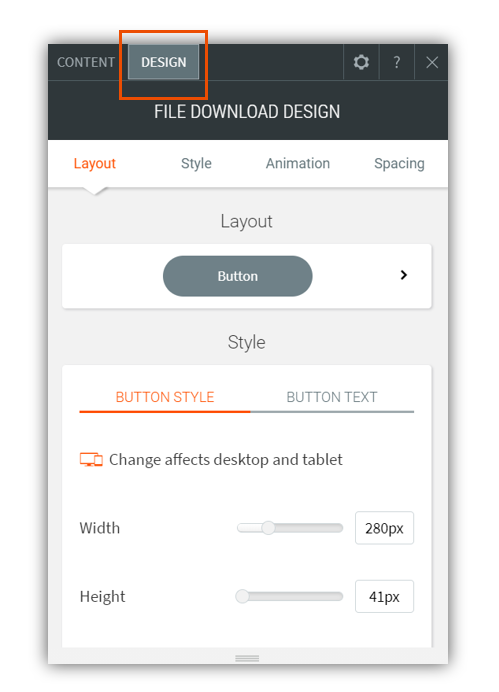 Considerations
File names must use standardized characters (a-z and 1-9), or they will not be recognized by the editor.
File formats with can be uploaded: .pdf, .xls, .xlsx, .doc, .docx, .zip, .ppt, .pptx, .psd, .txt, .xml, .mp3, .ttf, .otf, .woff, .eot, .svg, .odt, .ott, .js, .css, .png, .jpg, .gif, .jpeg, .rar, .PDF, .XLS, .XLSX, .DOC, .DOCX, .ZIP, .PPT, .PPTX, .PSD, .TXT, .XML, .MP3, .TTF, .OTF, .WOFF, .EOT, .SVG, .ODT, .OTT, .JS, .CSS, .PNG, .JPG, .GIF, .JPEG, .RAR
Only upload media or files that you have created or have permission to use; never violate copyright protections.
Your site visitors can share your download links easily through other sources, such as email and social media. Before offering content to download, make sure that you understand that your content could be spread without your knowledge. For documents that are sensitive or personal, think twice before sharing these documents via download.