We offer multiple ways for you to get the help and support you need with Thryv. Here, we walk you through those options.
Below is a list of some things our Thryv Support Teams can assist you with:
Specific Features
Billing Questions (Like updating your credit card information!)
How to Upgrade
Difference between Thryv packages
Domain Based Email Questions
Website Questions
Best Practices & more!
From either your Mobile App or Desktop, you'll have an orange bar in the bottom left corner that says "Support Center":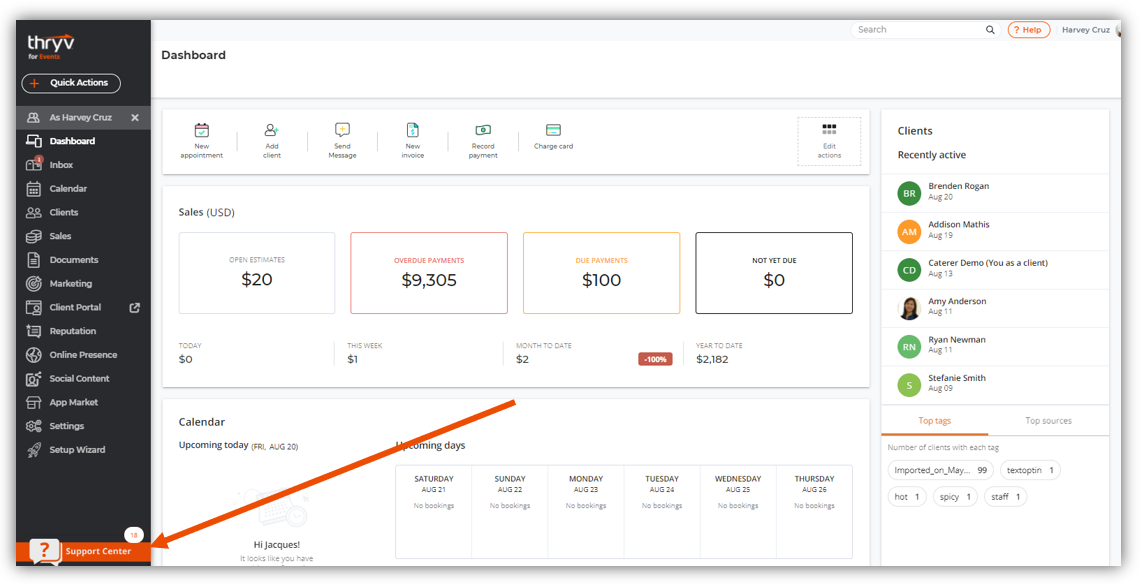 When you click on this bubble, the following options will appear: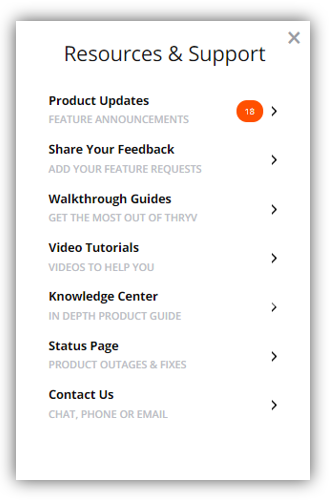 Product Updates: This will show you anything that we have recently released in Thryv that is either a feature enhancement, or a new feature since your last login.
Share Your Feedback: A place for you to suggest new features for Thryv as well as vote on the suggestions made by other Thryv users.
Walkthrough Guides: These Guides are designed with you in mind, helping you with every feature and detailed aspect of Thryv, and how to use your software.
Video Tutorials: Do you hate to read articles? (It's ok, we won't tell!) This section will provide you with countless videos that go over every feature in detail.
Knowledge Center: Well, this takes you...here!
Contact Us: Here is where you can chat with us via Live Chat, Phone or Email 24/7!
Contact Us
Clicking on "Contact Us" will open the box below, providing you with a variety of options to get the support you need - when you need it most.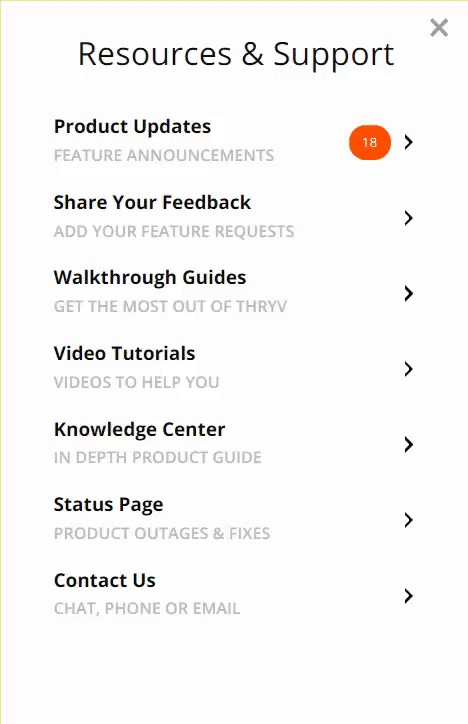 Our phone number is available to be called 24/7 so that you can spend the time you need running your business.
Do you hate phone calls? That's ok! Click on "Send us a Message" to start a live chat with one of our Thryv Service Specialists.
Lastly, if you would like to schedule an appointment, at your convenience, where a Thryv Service Specialist will walk you through any features you want to go over, and answer all your questions while doing a screen share, this is the option for you!
Click on Schedule an Appointment, and then Thryv Support call. Pick a day and time that works for you and leave your information. (Note: If there is any information you don't have available, like Business Advisor or Thryv ID, you can leave it blank and we can find the rest). High-Thryver Tip: Use the notes section to leave as much information as possible about what you need. This enables the services specialist to help you as much as possible!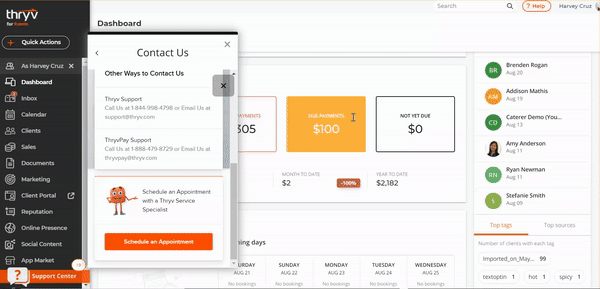 You can also email us at support@thryv.com or join in on the conversation in our Community!
High-Thryv!