You can offer your clients a fee-based service and require them to complete the payment upfront when the service is scheduled. How cool is that?!
Your clients can pay online using credit cards once you are connected to one of the following payment processors: Braintree, Stripe, Square, or ThryvPay.
The payments are immediately transferred to your Braintree, Stripe, Square, or ThryvPay account or your bank account once the client pays.
To set up your Payment preferences, go to Settings> Payments.
To set a service or appointment with an upfront payment request, go to Settings> My Services.
1. Click to Edit any of the default options or click Add Service
2. Edit the Fee section
3. From the Fee display drop-down list you can select between 2 upfront payment options:
Suggest to pay at booking - In this case, the business will be notified about the meeting request and can decide to accept it, even if the client didn't complete the payment while scheduling. With this option, you can allow your clients to choose to either pay online at the time of booking or to pay cash or check at the office. It is also a good option for the business to capture all leads.
Require to pay at the time of booking - In this case, if the client will not complete the payment at the time of bookings, the appointment time will not be confirmed.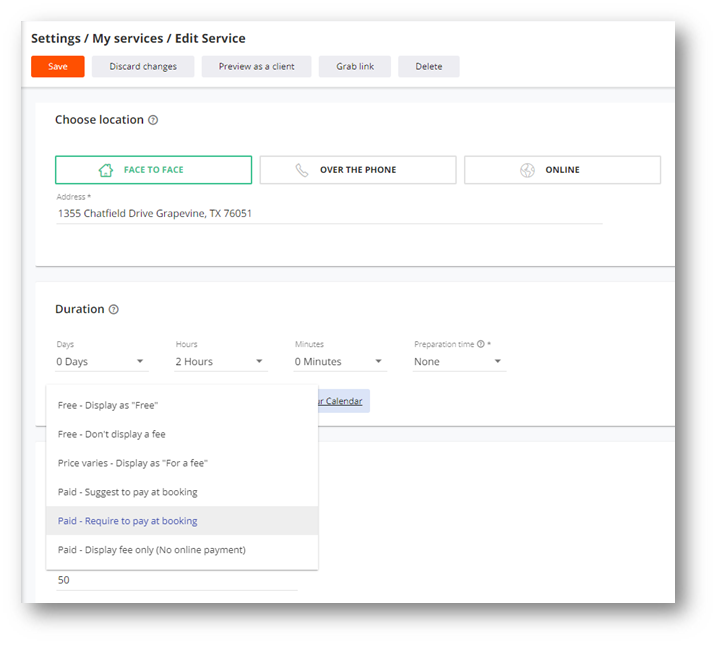 Still have questions about payments? Join us in the Community & get in on the conversation!