Collaborate with your team, track and manage your team communication with clients in one place!
Each staff member can have their own account set up with their profile, services, and calendar under your company's brand.
Clients have the option to schedule services and appointments with your staff based on each staff member's availability.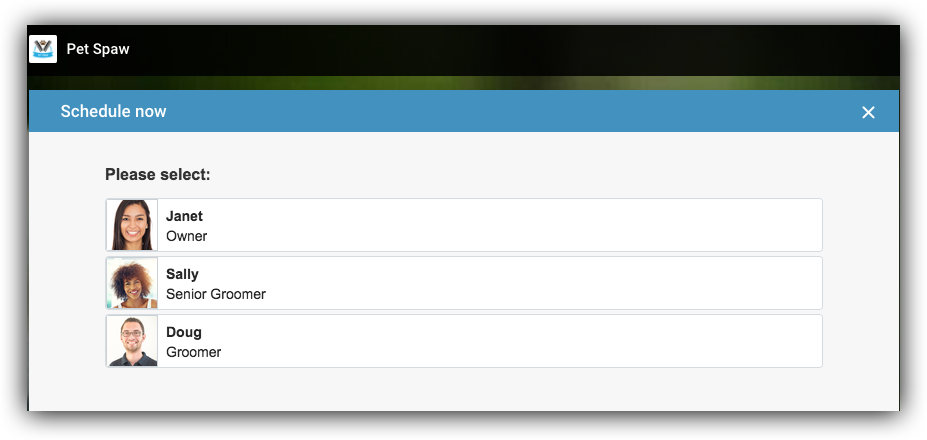 You can view and manage all your staff activities, appointments, and correspondence from your Admin dashboard.
The Admin account holds the company information and basic settings which will be shared and applied for the staff accounts.
Account settings that will apply to all staff members:
Business Information - Company name, phone, and address
Services or appointment options (each staff member can pick and choose the services they will provide)
General calendar and online scheduler display
Reminders and confirmation notifications
Automatic email notifications
Payments information, merchant account, and invoices
Logo and branding settings
Client card settings - the information you wish to save about your clients
Client Portal page and widgets will display the company profile and branding, and allow clients to choose the desired service and the team member to provide it
Admin can also set roles and permissions per staff member
Settings that can be defined separately for each staff member:
Email, Name and Profile image
Services
Business hours, timezone and calendar sync
Email signature
Mobile phone number for SMS notifications
How to add or remove team members
To add staff members to your account, navigate to Settings>Staff.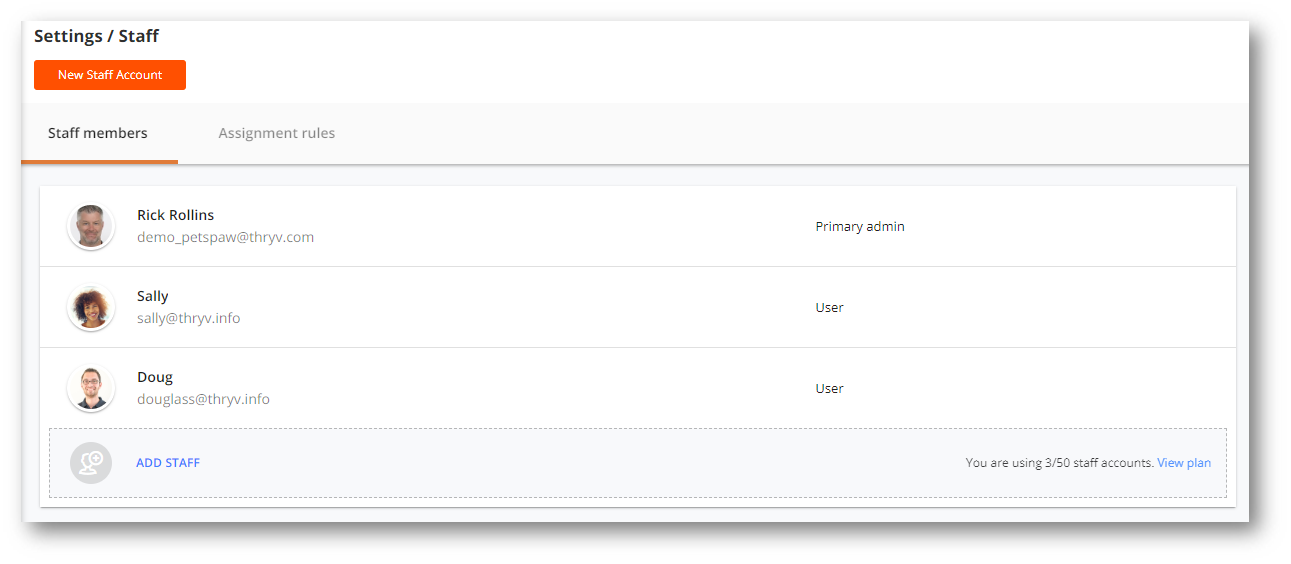 From the dashboard you can perform the following functions:
Create Staff Member - Add new staff members, upload their photos, set up their login credentials and select what appointment types they are assigned to.
Keep track of how many staff members you have left in your Thryv package.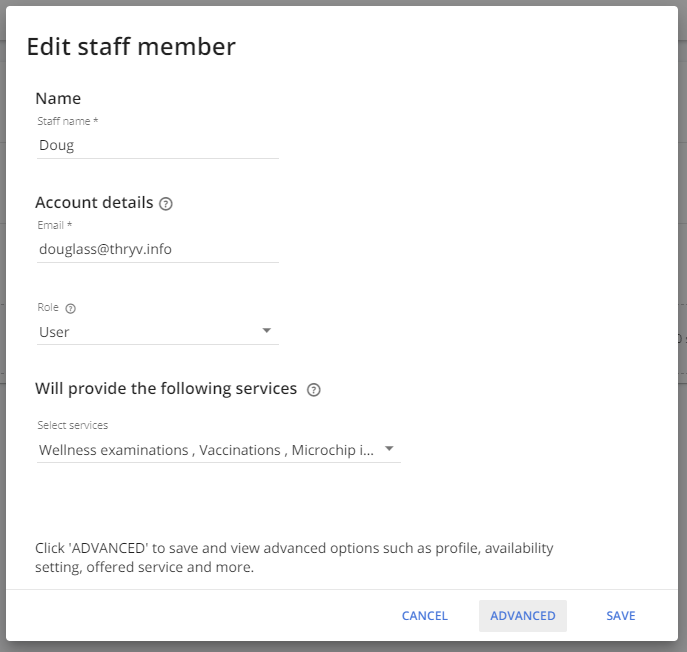 For advanced settings click on ADVANCED
From the Advanced Settings screen, you can update the following.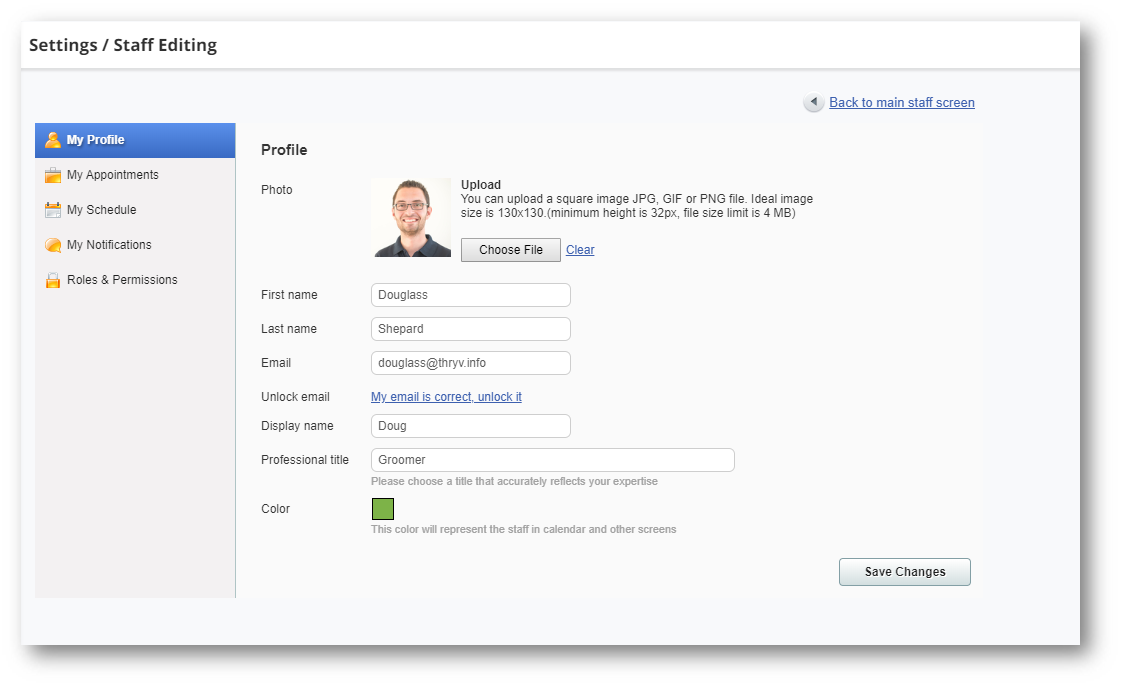 My Profile - Make updates to your staff name, image, display name, title, email and calendar color
Don't forget to click Save Change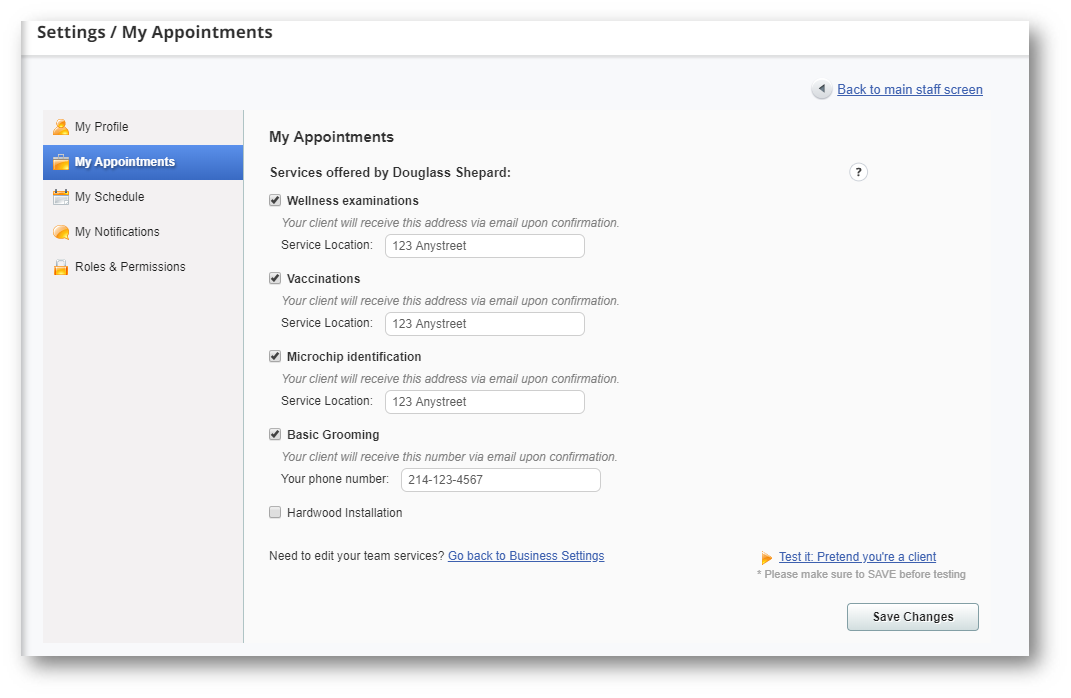 My Appointments - Select which appointments each staff member can perform. Note: If you have not set up your Settings>Services yet, note that this section will include some general service types. These types may or may not make sense for your business and can be updated anytime under Settings>Services. Once you have set up your services correctly you may select the Staff assigned to that service directly from the Settings>Services>Advanced section, or you may update it from this section as well
Don't forget to click Save Changes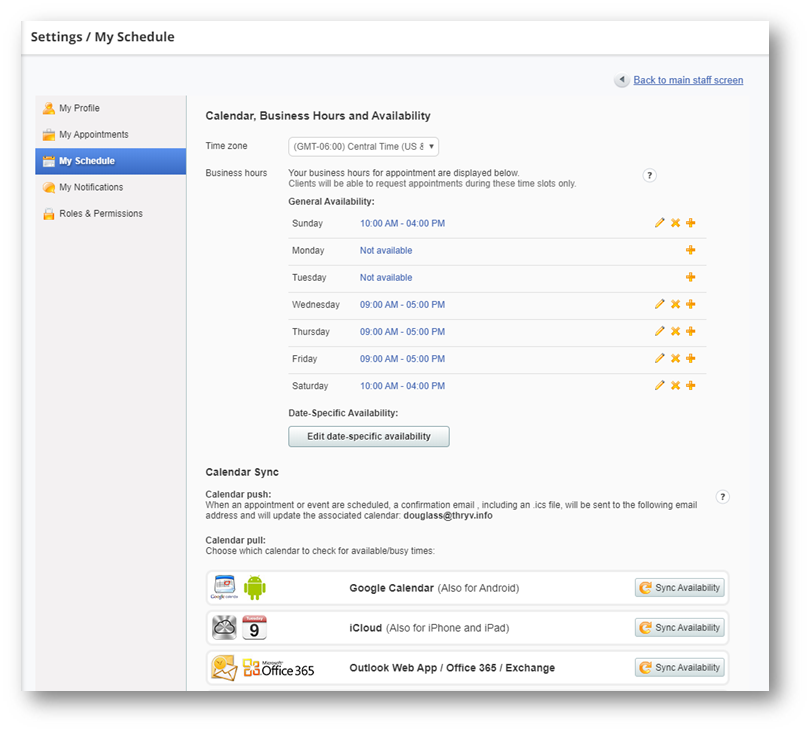 My Schedule - You will manage your staff schedules from this section. If your staff member has a set schedule that doesn't rotate or change, you can set it once and it will always be set correctly. If you have staff that has rotating schedules please remember to update this section weekly.
You may also update specific date availability like for holidays or vacations.
Don't forget to click Save Changes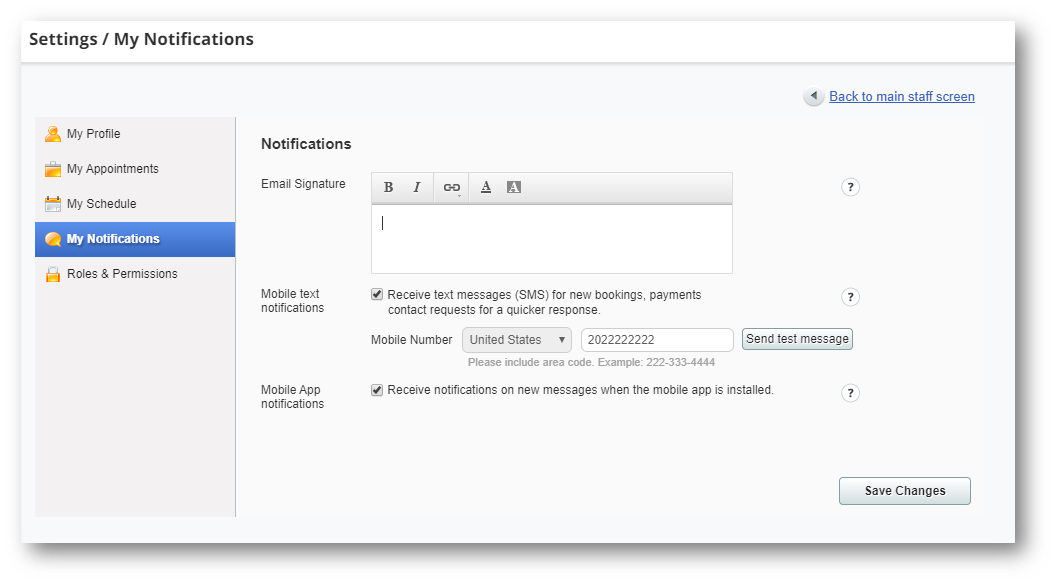 My Notifications - My notifications allow your staff members to receive text and email messages when customers assigned to them, book an appointment or make a payment. Please ensure to click the Mobile text notifications box and fill in their cell phone number if they wish to receive text notifications in addition to email.
Don't forget to click Save Changes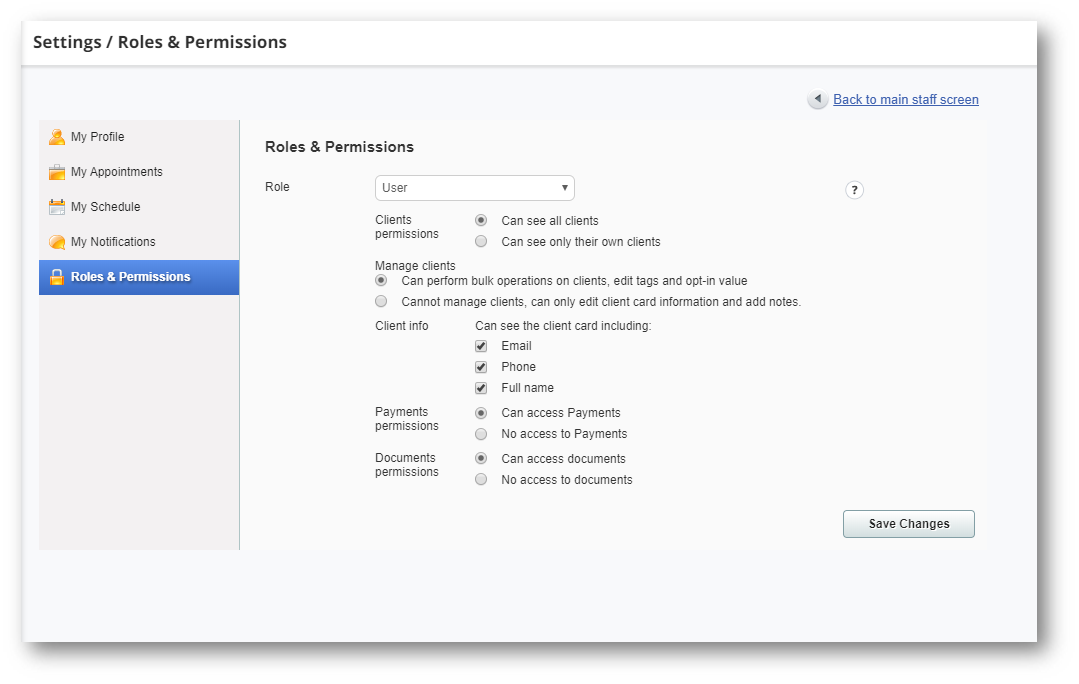 Rules and Permissions - Allows you to determine the level of access each staff member is allowed.
Primary Admin: Main business – all access
Admin: This level has full access to the account, except the primary Admin login information.
Manager: This level has administrator rights except for access to Staff settings or the ability to edit the account plan (package level).
Marketing: This level can access settings, campaigns, view all clients and perform bulk client operations. They cannot access payments and can view only their own conversations, appointments, and documents.
Collaborator: This level may view and edit clients and activities. Cannot access account settings, online presence or campaigns.
User: Can manage only their conversations, clients, appointments, payments and documents that are assigned to them, Cannot access account settings, online presence or campaigns.
For a video how-to on your Staff Overview, see below:
We also have an additional video tutorial on how you can properly assign a client or appointment to a staff member! Check it out below: