One of the best things about Business Center is that we keep everything in one place so you don't have to jump from tool to tool, or system to system. Your meeting requests, contact requests, payments and shared documents all route directly to your Inbox! (That one, central location we talked about.) From here you can respond to incoming requests, create new client-facing requests or client records, and more.
Content in this article:
Connect Your Messaging Platforms
In addition to communication through your client portal and email, your Business Center inbox can also connect to:
Reading Pane
The reading pane is used to quickly read and respond to messages, without having to leave your Business Center inbox! To activate the reading pane, click on it in the top right, and then click Show. To deactivate it, click on Hide.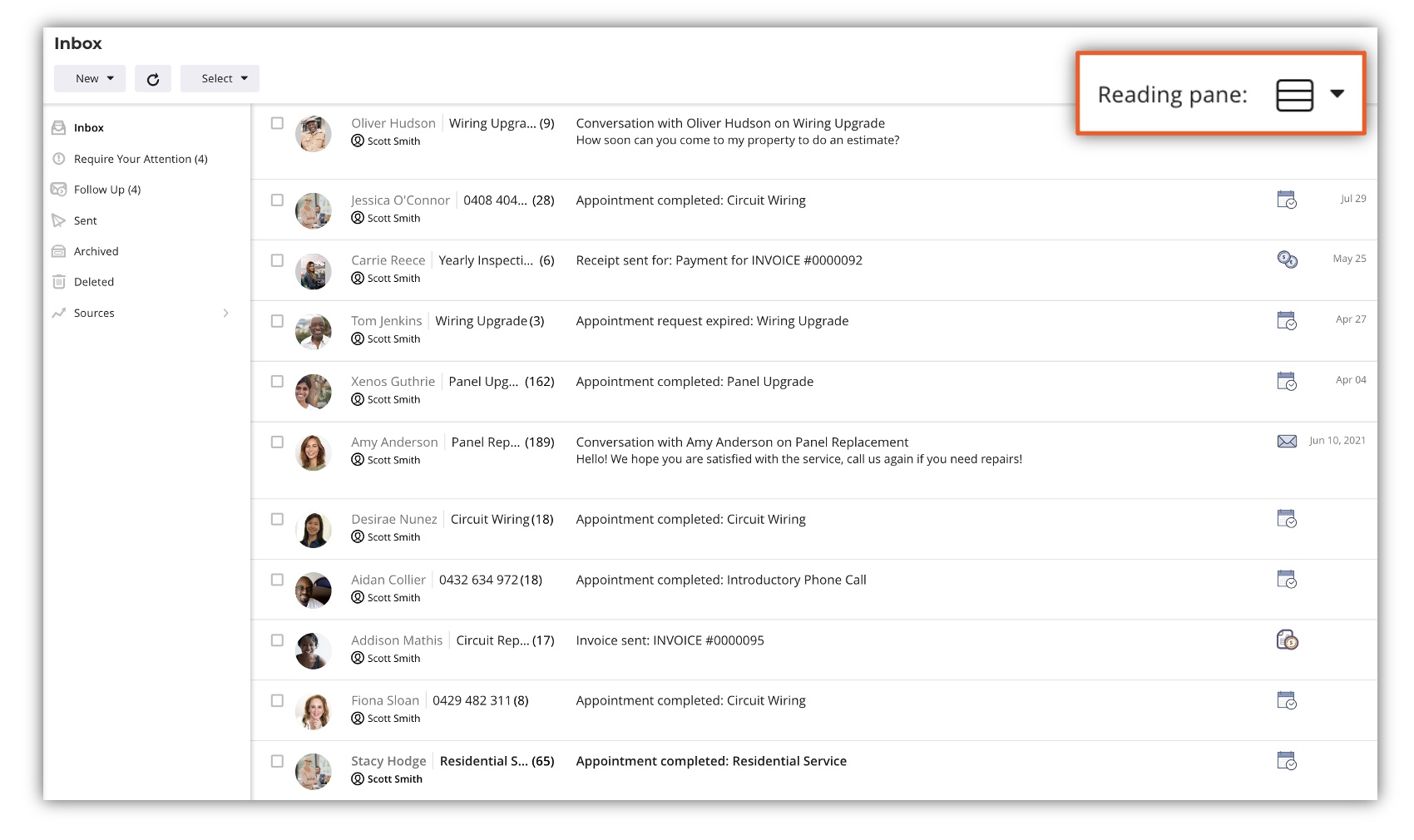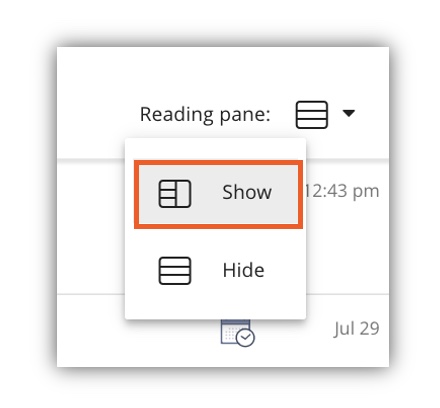 When activated, the reading pane will show a condensed version of the client card on the right side of the inbox. From this pane, you can view all tabs of the client card and take all actions available there, including sending appointments, estimates, invoices and more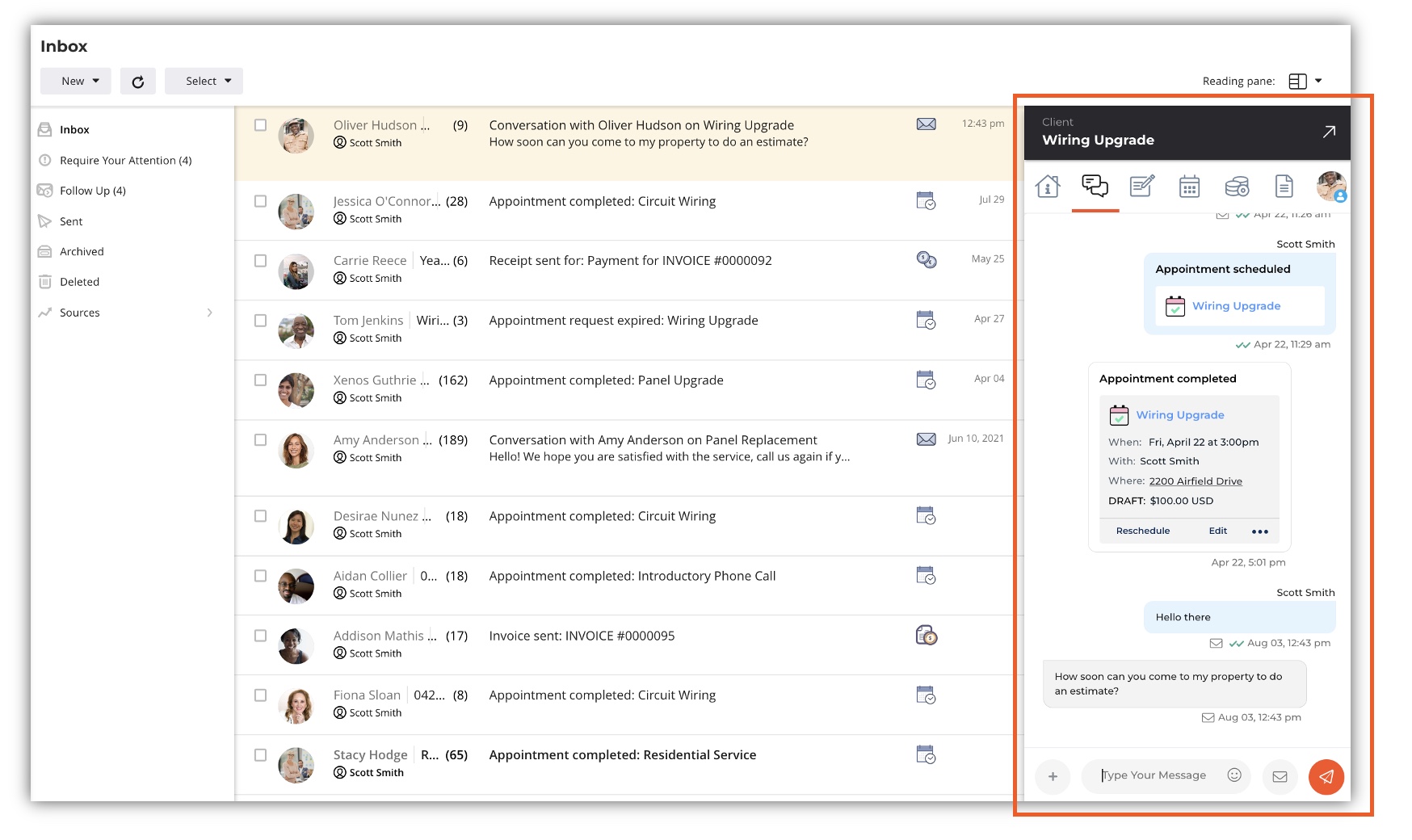 To be taken to the full client card, click on the

icon in the top right corner of the reading pane.
When a client sends a long message, a condensed version will appear on the client card. Click on Show More to display the full message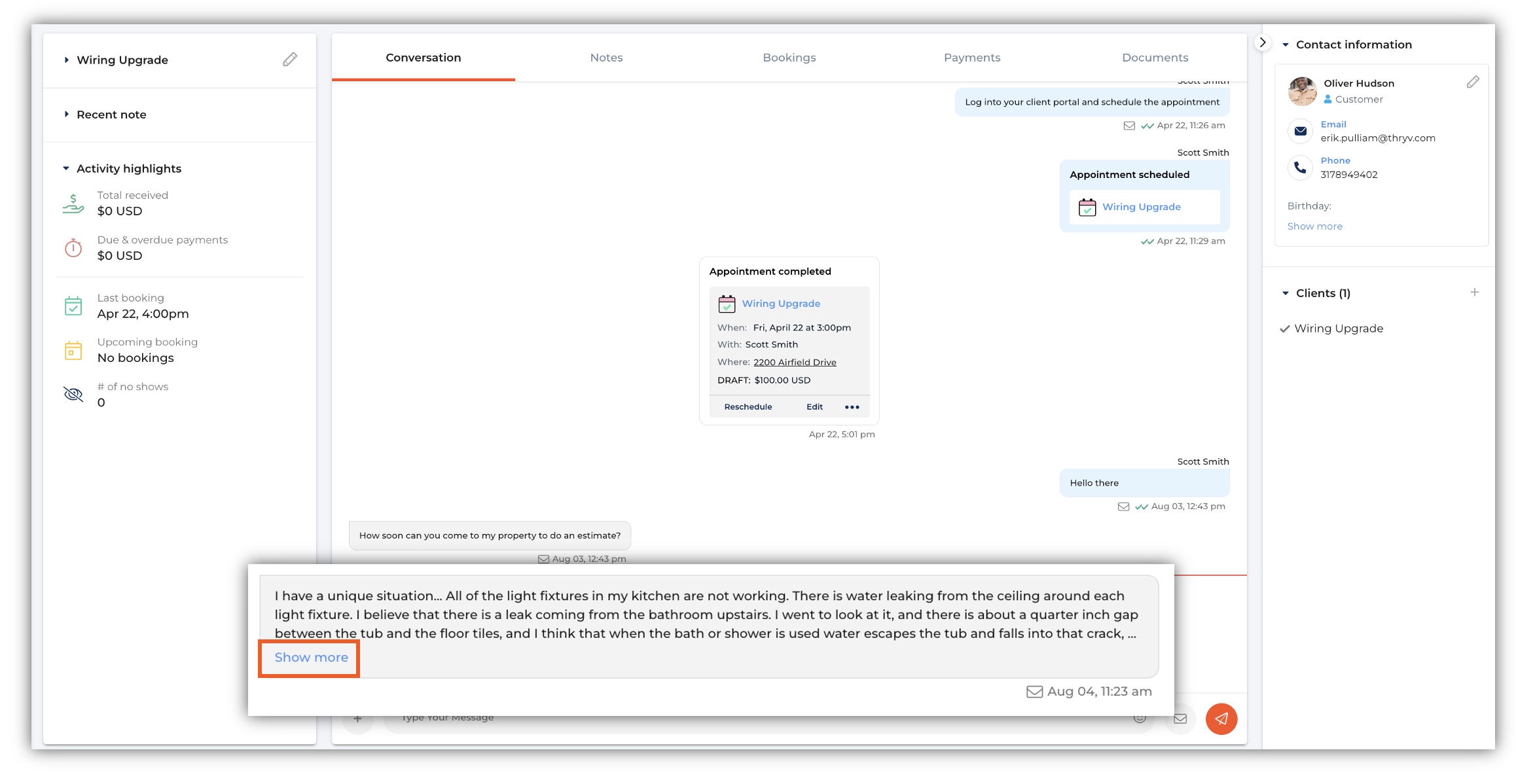 Emoji Selector
You can also add emojis to your messages with the emoji selector

Click on the emoji selector to bring up the menu of emojis. Just click on the emoji you want to use and it will be added to your message, it's that easy!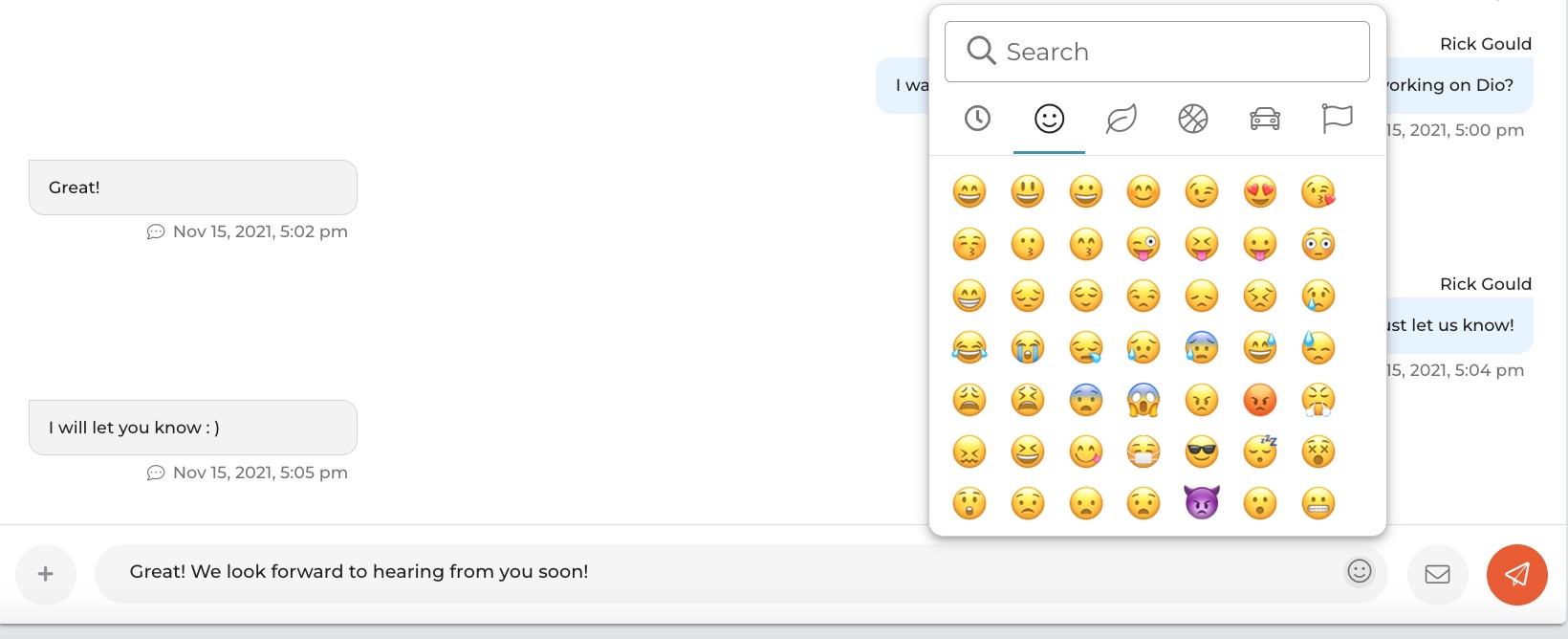 You also can use the search bar to find the perfect emoji for any situation!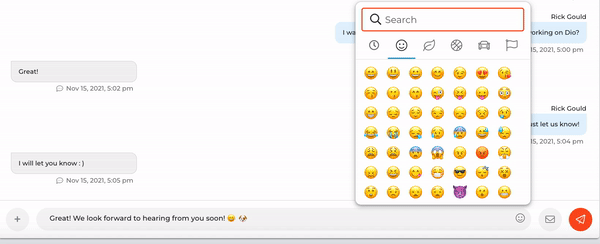 Inbox Folders
The Business Center Inbox contains four (4) folders to assist you with organizing your requests:
Main Inbox: Includes all requests that aren't already marked for follow up, archived, assigned (requires multi-staff subscription), or deleted. 
Require Your Attention: Includes all requests that have yet to get a response from you.
Follow Up: Includes all requests that have been marked for follow up.
Archived: Includes all archived requests.
Deleted: Includes all deleted requests. Please note that if you choose "Delete Forever" once an item is in the Deleted folder, it will be gone forever. (Think the ring when it was tossed into the pits of Mordor...it's not coming back!)
Sources: Shows where your leads have come from. 
Set a Reminder to Follow Up
You are able to set yourself a reminder to follow up with a client, and the system will send you (the business) an email at the designated time. 
Navigate to your Inbox 
Tick the check-box for the desired client request, or click Select if you wish to 'select all'.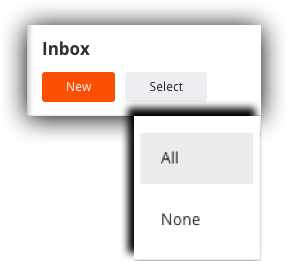 Then, click Remind Me In button from the top of the screen.
This will open a new screen that allows you to choose your desired follow up time, or you may simply choose to mark it as a follow up with no reminder to be sent. 
You can also add a note to yourself for a quick recap.
Lastly, click Save to set the follow up.
You will then receive an email at the designated time as a reminder to follow up with your client.

Initiate a New Request
The New button in your Inbox, allows you to create the following:
New Invoice
New Estimate
Record Payment
New Client
New Message
New Appointment
New Document
Once clicked, you will be taken to a client selection screen. Upon choosing your desired client (or creating a new one on-the-fly), you are able to configure the details of the item you are creating. 
Inbox Functions
Once you select an engagement in your Inbox by ticking the associated check-box or the aforementioned Select button, additional options will display.
Aside from setting a follow up or creating a new item, your inbox also allows the following options:

Archive: Moves a request to the Archived folder.
Delete: Moves a request to the deleted folder. 
Please note if you delete all requests associated to a client, it will also delete their overall client card. 
Mark as Read: Marks the request as read.
Mark as Unread: Marks the request as unread.
Mark as Spam: Marks the request as spam and removes it from your Inbox. It will also block new requests from the same blocked email address.
View all Staff Data - pictured below: Allows the staff member of the account to toggle between viewing the communication of all the staff members or only the admin's communication.

Only Collaborators, Managers, and Admins have access to this function. 
View All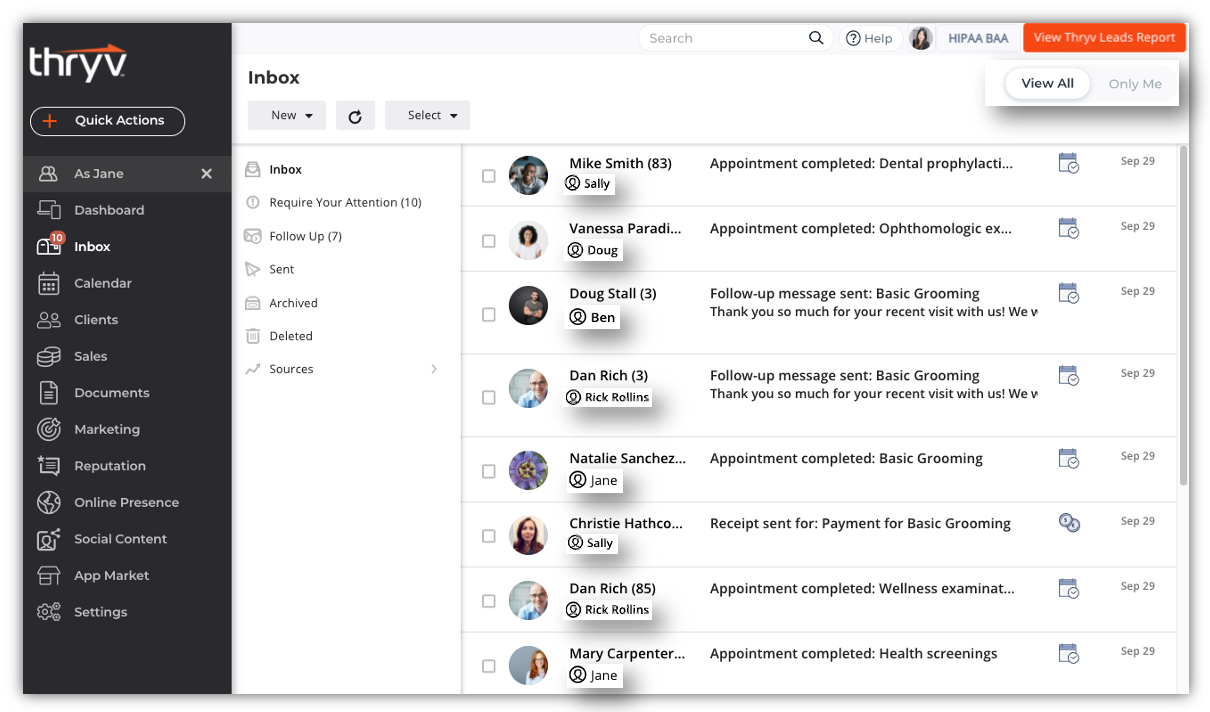 Only Me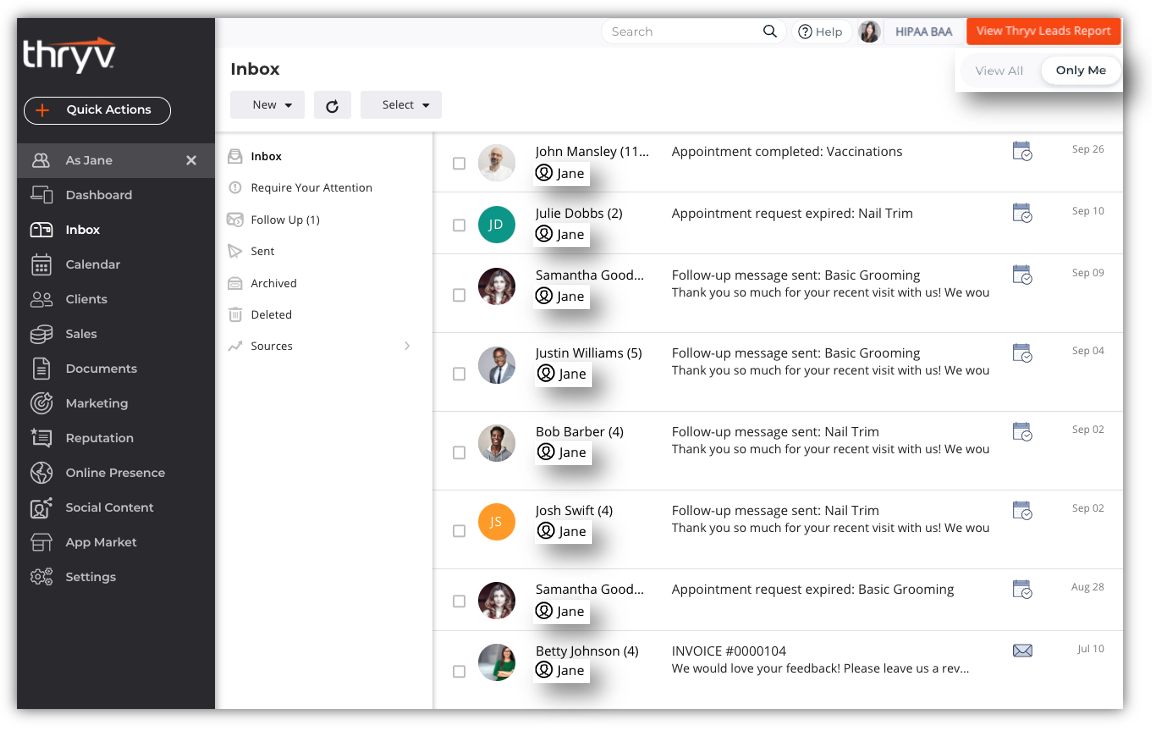 Looking for a video on how to Manage your Messages? See below: