Managing Your Online Service Menu
Save time on client coordination, reminders, follow-ups, reschedules billing, and secured payments with the online scheduling solution.
Give your clients and prospects an easy and friendly way to book a service or an appointment 24/7 from any device, directly from your website, client portal, emails, or social media pages.
Fully customize the scheduling request form
Delegate specific staff members to services or let the client choose
Fully customize the display of your service info
Allow booking of your services directly from your client portal 
Article Content
Adding Online Scheduling
To allow clients and prospects to schedule online services and events directly from your website, your Client Portal, emails, or social media pages, make sure online scheduling option is enabled:
Navigate to Settings> Online Booking Options
Check the box next to I offer online scheduling as shown below:
Setting and Updating your Services
When your account was created, it was configured with a few default services which you can customize according to your needs.
When you set up your service menu, services that you create will be publicly displayed to the general public on your client portal, your website, and social media by default, unless you choose to HIDE them from the Services Menu.
Setting your Services Menu
Your service menu can be set with a combination of 1 on 1 appointments or group events that can be dragged and dropped to be displayed in your desired order.
1 on 1 appointment- Usually includes you (or a member of your team) and the client. You can list different appointment options and let the clients choose which appointment they wish to schedule at their convenience based on your current availability. 
Group event- This service type is used to set up a meeting, class, workshop or any other desired event with more than one participant. Clients can sign up online until all of the available spots are taken. Once you add a group event to your service menu, you can set a time the event will take place. It can be a single instance, or you can open the event to a new registration at specific times on a daily, weekly or monthly basis. 
Updating your Services Menu
Navigate to Settings>My Services
Choose the service or event you wish to edit.
Service example
Click on the More  icon you'll see when hovering with your mouse to the right of the service type - A drop-down menu will open with the option to:

Edit the service/event.
Hide it from your menu's display (If you have a service that you would like to offer to some clients, but you don't want it to be publicly available on your online service menu or if you're going to disable it temporarily). 
Grab a link directing to the service (to be used in emails, social media, etc).
Delete it from your services menu.

Click on the Edit  icon to edit a specific Service. 
Drag & drop the services to reorder them according to your needs, with the left click of your mouse.
Back to This Article's Content Menu
. 
Online Services Menu Settings Options
Service Info
Name your service and customize the default image attributed to each service, define if the service should be displayed or hidden from your Services Menu.
Location
Define where or how the service will take place (For example, video, Skype, system conference bridge, your place of business, your client's location).
Duration & Availability
Define the duration of each service and the times the clients will be able to schedule it. Make the most of your time and customize each service by selecting the option suiting your need:
Duration
This will set the length of the service.
Preparation time- Add a certain amount of time to block off before each appointment.
When is it useful? Blocking time for traveling, time-off between client meetings or phone calls. Preparation time helps to avoid appointment fatigue and overlap and ensures that you will not have back-to-back bookings.
Online booking calendar Intervals - Determine the minimum gap between the services time slots starting times (the default calendar interval is set to the service's length).
When is it useful? When you'd like to set the time slots for a given service to begin every selected minute or hour. For example, you can configure time slots for a given service to start every 4 hours.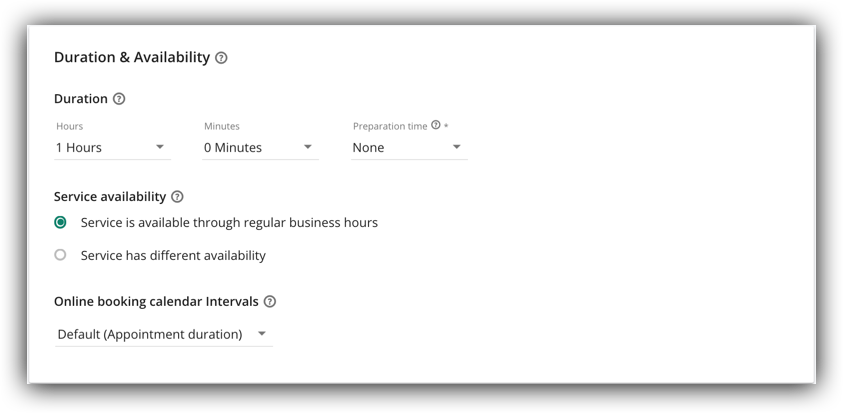 Regular Business Hours VS Service Specific Availability 
By default, clients will be able to schedule all services during your regular business hours. The regular business hours can be configured on Settings> Availability & calendar.
Or, you can set specific availability to some or each of your services. Once you select Service has different availability, you will have an option to determine the time's clients can schedule the service for each day of the week.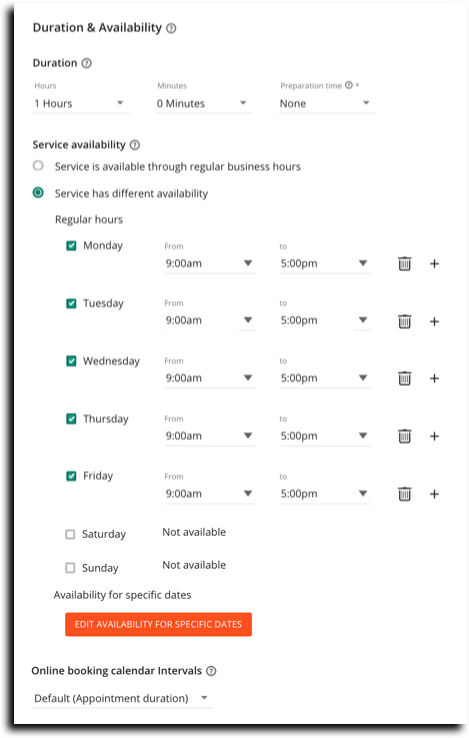 Back to This Article's Content Menu
Price
Choose if you'd like to display an associated fee for a service or not, the way the payment is presented to your clients, and the way you wish to get paid for your service: online, in person or upfront.

Free Services
Offering a free service is excellent for capturing new leads and business opportunities. When you set a free service, you can define how it is shown to clients and prospects during online booking and in notifications and reminders:
Free - Display a Fee- Selecting this option will display the service as "Free" in the service menu
Free - Don't show a fee- No fees will be mentioned when selecting this option. 

Paid Services
The system allows you to collect payments for scheduled services, issue invoices for the services you provide and update the payment status if paid in person.
Note: To successfully request payment up-front, you will need to also configure your payment gateway under Settings > Payments. Click here to learn more about getting started with online payments.
For each service you can determine how the payment will be handled:
Paid - Suggest to pay at time of booking - The fee will be displayed to your clients, and they will be asked to pay online during booking. If the client decides not to pay online, the service will still be booked but marked as "not paid" on your calendar.
If you would like to be notified about the scheduling request but not to accept it automatically in case the client didn't pay, you can change the settings under Settings>Online Scheduling Options>Accept Appointments> Manually.
Paid - Require to pay at time of booking - The fee will be displayed to your clients, and they will have to pay online during booking. The booking process will not be completed unless the payment is made. The payment will automatically be marked as confirmed once it is processed.
Paid - Display fee only (no upfront payment) - When selecting this option, the fee will be displayed to clients, and the booking will be completed without asking the client to make an online payment. Once the scheduling request is confirmed, you can issue an invoice for the service and offer the client to pay online or record a payment if you collect your fees offline.
Price Variety - Display as "For a fee" - If the price for your service can vary and you don't want to state a fixed price, use this option. The service will be displayed "For a fee" when the client books it. The fees can be discussed with the client, and you can issue an invoice or record the payment later on.
Back to This Article's Content Menu
Staff
You can determine which of your staff members will be providing each service.
When is this useful? When each of your staff members specializes in a particular service or if you want to allow clients to choose their preferred staff member.
If you select multiple staff members to provide a specific service you'll have the option to decide if you would like to display an opportunity for the clients to choose a staff member or allow clients to select a time, and the staff member will be assigned automatically based on their availability.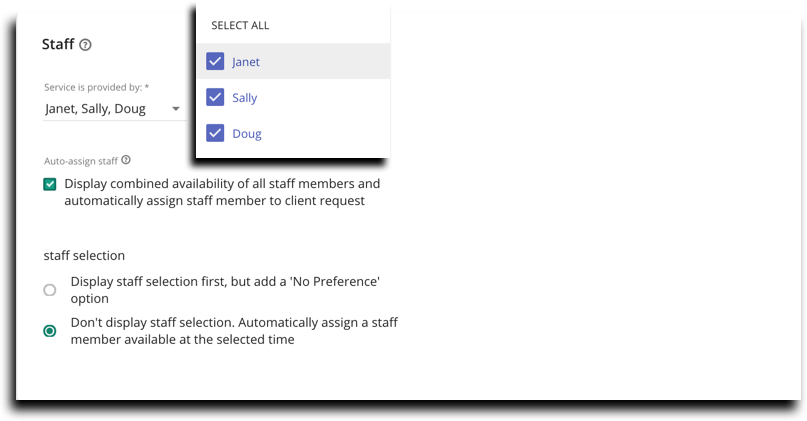 Auto Assign Staff
Checking the Display Combined Availability option will open the following options:
Display staff selection first, then add the 'No Preference' option - Clients could choose to schedule with a specific staff member from the list or select 'No Preference'. 
If the client selects a specific staff member, they will be presented with the staff member's availability and could pick the date and time for the scheduled service.
If they do not want to select a specific staff member, they could click on the No preference option. In this case, the client will be displayed with the joint availability of all staff members, and they can select the preferred time. The system will then auto assign the booking to the available staff member.
Don't display staff selection- Services will be presented with the joint availability of all staff members, and they can select the preferred time. The system will then auto assign the booking to the available staff member. No staff member selection will be displayed.
When is this useful? When you have many staff members and all of them are equally able to provide the chosen service and the selection of time is more important than the choice of a specific staff member.

Back to This Article's Content Menu
Booking Options
You can also control and automate your online booking availability by determining the minimum and maximum scheduling window for each service.
Accept appointments - If set to Manual, your clients will be able to propose up to three-time slots, and you will need to accept the appointment to confirm it. 
Please note: If your customer is on a mobile device, only one time-slot can be selected at this time.
Automatically- Your clients can select an available time, and the appointment will be automatically confirmed. 
Please note: If you request payment up-front for a service, you will still need to accept those specific requests manually.
Advance notification - To avoid clients scheduling in short notice, you can determine the minimal time from the current moment till the earliest appointment can be scheduled. 
For example: If you set the advance notification to be 3 hours in advance, and now the time is 1pm, the earliest appointment could be scheduled to 4pm. This 3-hour buffer will be kept at all times.
Limit future bookings - Set a limit to how far in the future a client can set an appointment with you. Choosing 'Not Set' means there's no limit.
For example: If you set the future booking limit to be 1 week, your clients could schedule based on your availability in the next 7 days.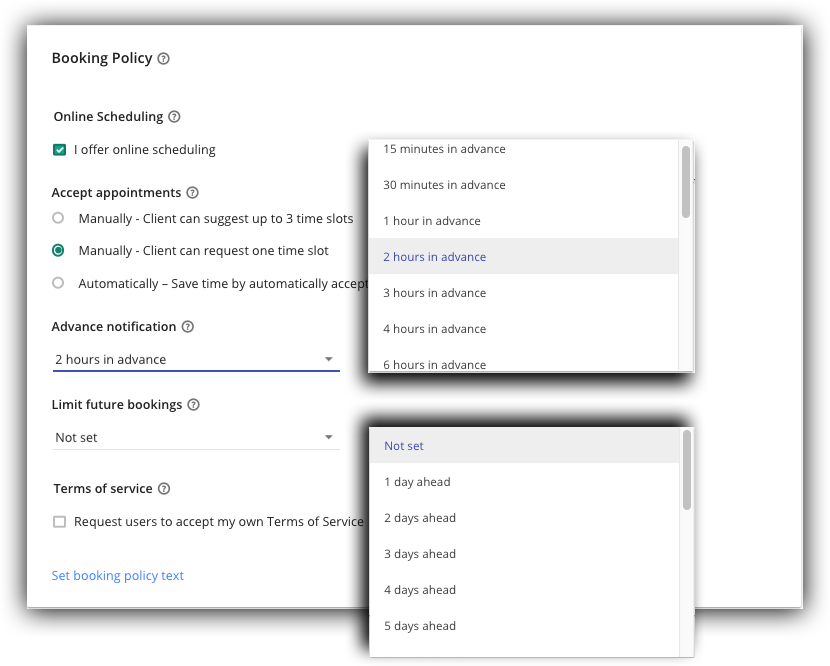 Scheduling Request Form
Customize the form clients are either asked or required to complete while scheduling the specific service. Each service can have its own customized form.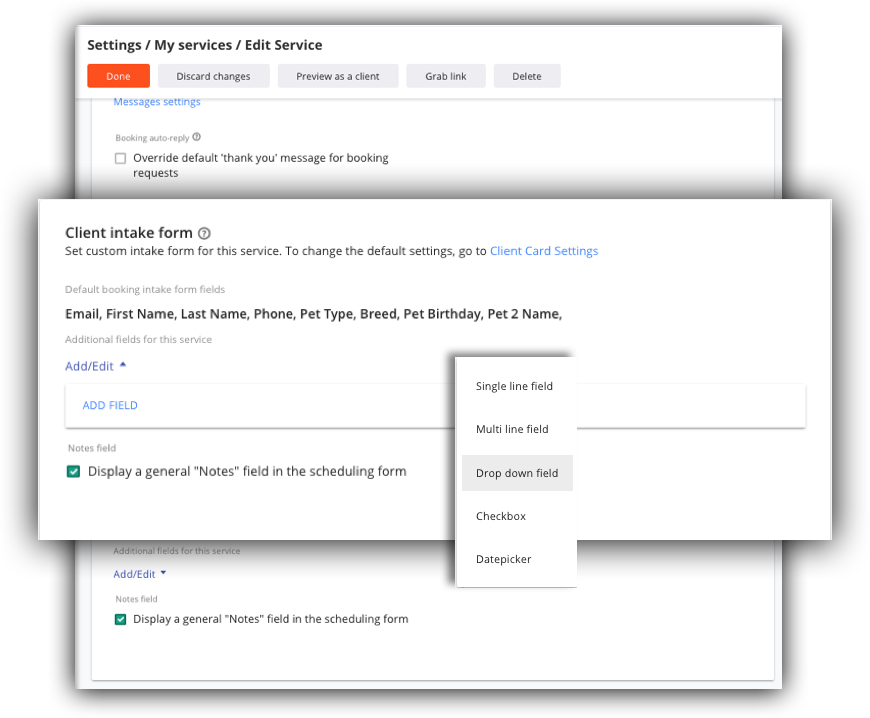 Under Fields available in all scheduling request forms section, you will see all the fields you have defined under Settings> Client Card. These fields will be displayed for every new scheduling request. (Returning clients will be recognized automatically based on their email address and will not be required to provide the client card information again.)
Under Additional fields for this service, you can add fields that you would like clients to complete every time they schedule a specific service. 
When is this useful? You can add different fields in the scheduling request form and use them to collect information regarding the client or the client's preferences for the selected service or any additional information that will help you to provide them with a better service.
Note - The service-specific fields will be displayed for both returning and new clients.
Adding a field
If you wish to add more fields to the scheduling form request, click on Add/Edit followed by Add Field then choose from the drop-down menu the field type that should be added. These are the options:
Single Line Field - The text box with the client's answer can contain one line of text.
Multi-Line Field - The text box displayed to the client will be more prominent to contain the number of lines of text you will set.
Drop Down Field - The client will be shown a drop-down menu from which they'll have to choose from.
Checkbox - Allows checkbox fields and whether it needs to be checked by default
Datepicker - Used for adding date fields where you can pick a date from a calendar.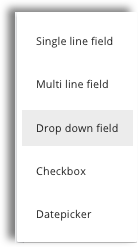 Once you selected the field type you can set it with:
Label - Title of the field as it will be displayed to the clients.
Required - Check this box if the field must be filled by the clients to send the schedule request.