Group events are a great way to get your customers together for classes or other get-togethers you may host at your business. Maybe your business is welding, and you want to host a class for people to learn how to weld. Or, maybe you are running an art studio, and you host regular painting classes. With Thryv, you can easily put these events together and provide these services to your clientele.
This article includes the following sections:
Add a Group Event to your Service Menu
The Client Portal service menu is the list of appointments or events that you'd like to allow your clients to schedule online or for your internal use. This article will focus on creating a Group Event for your clients to schedule with you online.
Group events include you or your staff and an X amount of clients, as determined by you.
To set up your service menu, select Settings>Services from the left navigation bar.
To add a new service click the Create New Service button and select Group Event from the drop-down menu.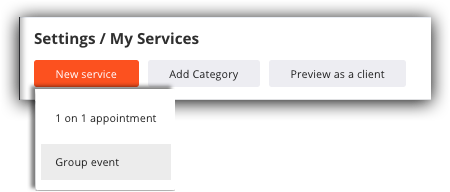 You will then see the service configuration page.
You are able to configure the following options on a per-service basis:
General Info
Service Name - Set a name for your service. For example: "Weekly Webinar" or "Drop-in Yoga class."
Service Details - Add any additional information about the service so your clients will know what to expert and what the service includes. The service details will display directly below the service name on your menu.
Max attendees - The maximum number of clients that can register online for the event.
You have an option to edit this when you set up time for the event later on, or while editing the event.
Show on menu: Enabling this option will add the event to your service menu, and your clients will be able to schedule it themselves online.

In other cases, you may have a service that you would like to offer to individual clients, but you don't want it to be publicly available on your menu. Deselect this option for the service to be displayed on your Client Portal service menu.
For each of your services, including those that are not displayed on your service menu, you can find the associated Scheduling Link under My Client Portal> Create Direct Links.
Image - Upload a photo to represent the service on the service menu.
Location - Here you will set how or where the service will take place.
Your available choices are: Phone call, On Location, Skype call, or Online
For each location option, you will be able to specify an address, phone number or URL to your preferred video conference/webinar platform.
Duration - This controls the length of the service. Clients will not have the option to randomly block your schedule or choose their own appointment length.
Preparation Time - This allows you to add a certain amount of time before each service to allow for preparation. This feature is also known as "padding"; the time you set here will be added before the event starts.
Please note: The preparation time is not calculated for the first available time of the day.
Price - You may choose if you'd like to display an associated fee for a service (or not). If you decide to set a fee, you may also request payment up-front for a service.
Note: To successfully request payment up-front, you will need to also configure your payment gateway under Settings > Payments. Click here to learn more about getting started with online payments.
Free - Display a Fee- Selecting this option will display the service as "Free" in the service menu.
Free - Don't display a fee- No fees will be mentioned when selecting this option.
Paid - Suggest to pay at booking - The fee will be displayed to your clients, and they will be asked to pay online during booking. If the client decides not to pay online, the service will still be booked but marked as "not paid" on your calendar.
Paid - Require to pay at booking - The fee will be displayed to your clients, and they will have to pay online during booking. The booking process will not be completed unless the payment is made. The payment will automatically be marked as confirmed once it is processed.
Paid - Display fee only (no upfront payment) - When selecting this option, the price will be displayed to clients, and the booking will be completed without asking the client to make an online payment. Once the scheduling request is confirmed, you can issue an invoice for the service and offer the client to pay online or record a payment if you collect your fees offline.
Price varies - Display as "For a fee" - If the price for your service can vary and you don't want to state a fixed fee, use this option. The service will be displayed "For a fee" when the client books it. The fees can be discussed with the client, and you can issue an invoice or record the payment at a later date.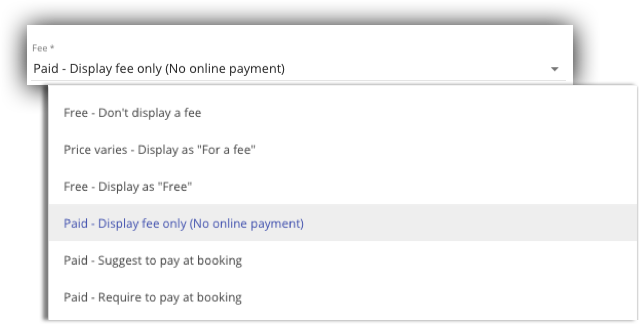 Staff - You may select which staff member should provide the service by default. You may change this on a per-occurrence basis.
Set occurrences: For each event, you can determine the specific time which it will take place.
Before you click on Go to calendar to schedule times for the event, you should first save the updates for the service.
An event can be set with one single occurrence, or you can allow registration for this event on a daily/weekly/monthly basis.
Client scheduling form - Customize the form clients are either asked or required to complete while scheduling the specific service. Each service can have its own customized form: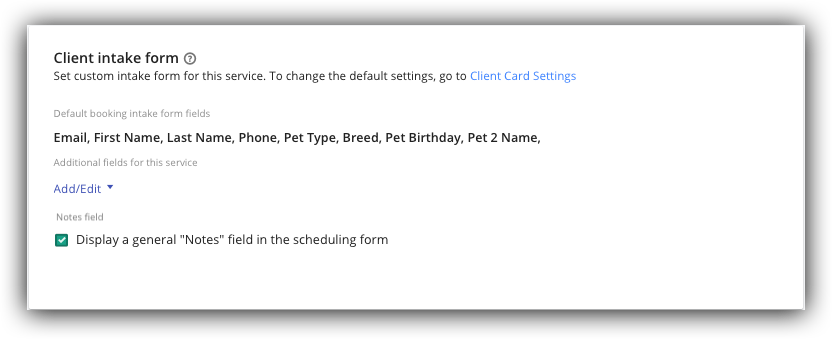 Under Fields available in all scheduling request forms section, you will see all the fields you have defined under Settings> Client Card. These fields will be displayed for every new scheduling request. (Returning clients will be recognized automatically based on their email address and will not be required to provide client card information again.)
Under Additional fields for this service, you can add fields that you would like clients to complete every time they schedule a specific service.
When is this useful? You can add different fields in the scheduling request form and use them to collect information regarding the client or the client's preferences for the selected service or any additional information that will help you to provide them with a better service.
Note - The service-specific fields will be displayed for both returning and new clients.
Adding a field
If you wish to add more fields to the scheduling form request, click on Add/Edit followed by Add Field then choose from the drop-down menu the field type that should be added. These are the options:
Single Line Field - The text box with the client's answer can contain one line of text.
Multi-Line Field - The text box displayed to the client will allow for more room to contain the number of lines of text you will set.
Drop Down Field - The client will be shown a drop-down menu from which they'll have to choose from.
Checkbox - Ability to set up a field which is filled as a checkbox and whether the checkbox defaults as selected
Datepicker - Used for adding date fields where the client is to pick a date out of a calendar.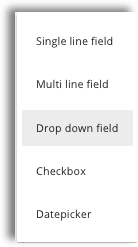 Once you selected the field type you can set it with:
Label - Title of the field as it will be displayed to the clients.
Required - Check this box if the field must be filled by the clients to send the schedule request.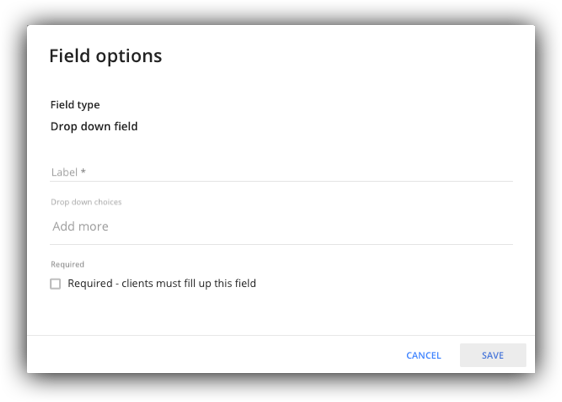 Set Time for the New Event
After you created and saved the new Group Event, the system will prompt you to continue to the Calendar to set the time the event will take place and its occurrence.
Note - Clients will be able to see the event on your Client Portal service menu if you allowed it, but available times will be offered to the client only after you have added the event to your calendar.
Set time for the event-
From the left navigation bar, select Calendar.
On the calendar select the date for the first occurrence and select box for the start time slot (or the appropriate hour's slots) and choose Group Event from the drop down menu.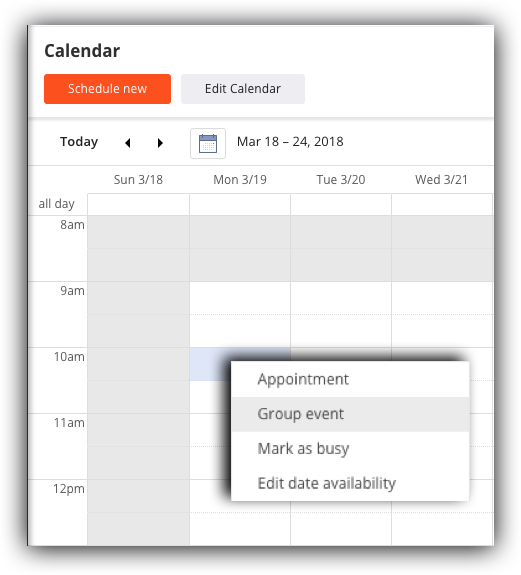 Select the desired Event from the Services list.
Adjust the Start Time and End Time if needed.
Repeats - An event can be opened for registration on a daily/weekly/monthly basis. You can set it to terminate on a particular date or after a specific amount of occurrences. Note - Even if you set an event to repeat, it will not automatically add each client to each occurrence if the client is requesting the event. The client will need to sign up for each particular occurrence separately. However, the business owner/organizer may manually choose to invite a client to all events by editing a specific scheduled event set on the calendar.
Invitation-only event - Upon checking this option, only clients with the unique registration link will be able to register for the event. This link will provide a sign-up for that specific time/date occurrence.
Note - Each occurrence will have its own unique link that you can share with your clients (even if the invitation-only option was not checked). The link will be created after the Schedule Event setting is saved. Just click on the specific occurrence to view the Invitation link.
Edit Event info - The event fee, attendees, and type are taken from the event settings on the service menu. However, if needed, you can adjust it per occurrence.
Click on Create to save changes.
Edit an Event Occurrence
Once you have added an event to the calendar, you have an option to edit and manage each specific occurrence.
To view an event, find it on your Calendar and click on it. You will be able to see the current event settings including the number of clients that have registered, and the unique event invitation link.
Select Edit to make changes to the event. As in the Schedule Event page, you will be able to change the event date and time, communication type, fees, attendees, and mark the event as invitation only.
Making changes to an event occurrence will send an email notification to the clients that are already registered.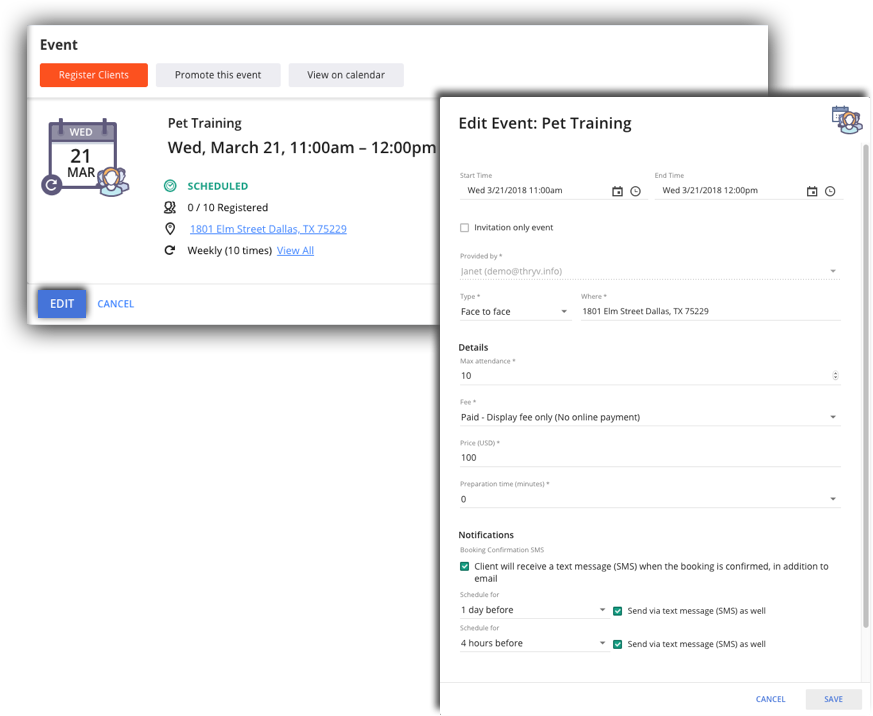 Reassign an Event
Navigate to the event you'd like to reassign and select it. Under More info, you can view the staff member currently assigned. Select Reassign to assign the event to a different staff member.
If it is a repeat event, you can decide whether to reassign only this event or all future events in the series.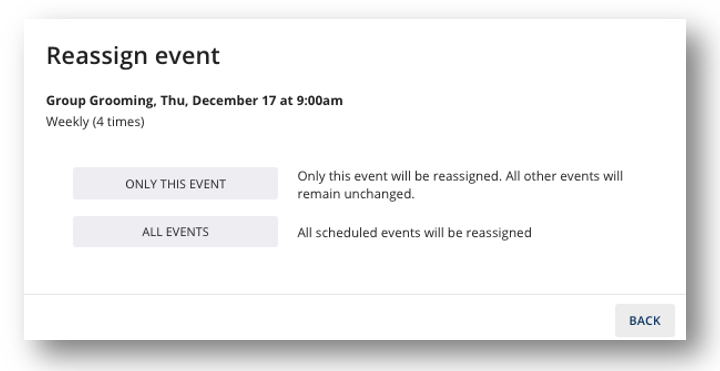 Select the staff member to assign from the dropdown and include an optional message.
The note is internal and not visible to the registrants of the event.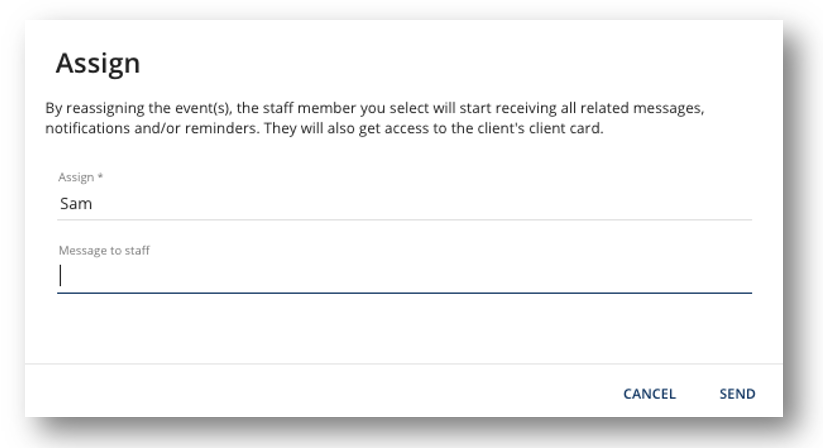 Managing Attendees
For each event occurrence, you can view how many people already registered.
If you requested a payment upfront, you can see the payment status of each attendee. You also have an option to cancel the registration of a specific attendee by selecting their name from the list on the right.
How to Manually Register Clients
If you wish to register attendees yourself, select the Register Clients button.
You can then choose if you'd like to invite the client to the specific occurrence, or all occurrences in the event series.




You will then see the client-selection screen, which will allow you to choose multiple clients at one time.


Click Continue to add a note with your invitation, and then choose Send.


Once you make your selections and click Send, the client(s) will be automatically registered and receive the appropriate notification email.


Invite Clients to Register
You have two options for inviting a client to register themselves to an event (aside from displaying the option on your Client Portal Service Menu): Your Unique Invitation Link as well as the Event Action Link.
To get the Unique Invitation Link, navigate to Calendar and click on the desired event. The unique link will be listed under the event details. This will allow the client to register for that specific occurrence.

To get the Event Action Link, navigate to My Client Portal > Create Direct Links.
Under Choose an Action section, select Schedule Appointment. You can then choose the Event from the service drop-down displayed there. This will allow the client to select from any occurrence that you have configured.
Canceling an Event
When canceling an event, you can select if you would like to cancel only a specific occurrence, or the whole series (which will remove all future occurrences for that event).
If you cancel an event, an automatic cancellation email will be sent to the clients that have registered. You have an option to type in a customized cancellation message that will be sent.
Need some additional help? Check out the video below on how to Promote a Group Event: