Welcome to ThryvPay! We are so excited to get you set up and accepting payments from your customers. Follow along with the guide to set up your new ThryvPay account. 
Before you sign up, you'll need the following information for the business:
Business Entity Type
Legal business name
NZBN Tax ID number/GST Tax ID number
Business category or MCC Code
Average transaction amount AVO 
Annual credit card transaction amount
Note: For your security, you will not be able to save and return to your ThryvPay application, it must be completed in its entirety. If you do not have all the above information, you should wait until you have it available before you start the application.
Signing up for ThryvPay
Signing up for ThryvPay is easy, the sign-up screen can be found in two areas of Thryv.
Option 1: Simply click on the Settings tab at the bottom left corner of the left-hand navigation. Then select Payments. From Settings > Payment screen click connect.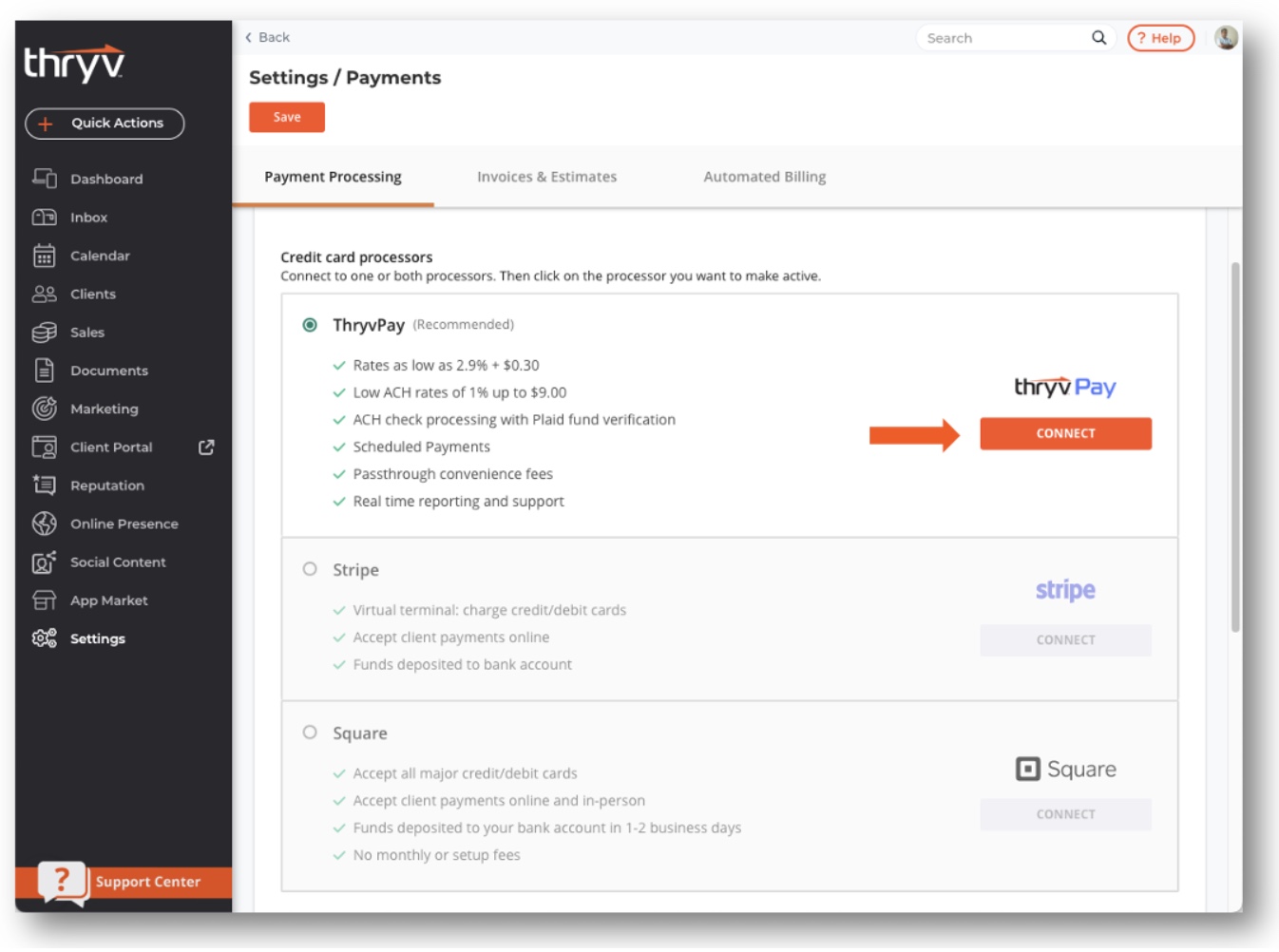 Note: Bank Transfer Transactions are not available in New Zealand
Option 2: You can also select the Sales tab, on the left-hand navigation, then select ThryvPay. From the ThryvPay tab click on the sign up for ThryvPay button.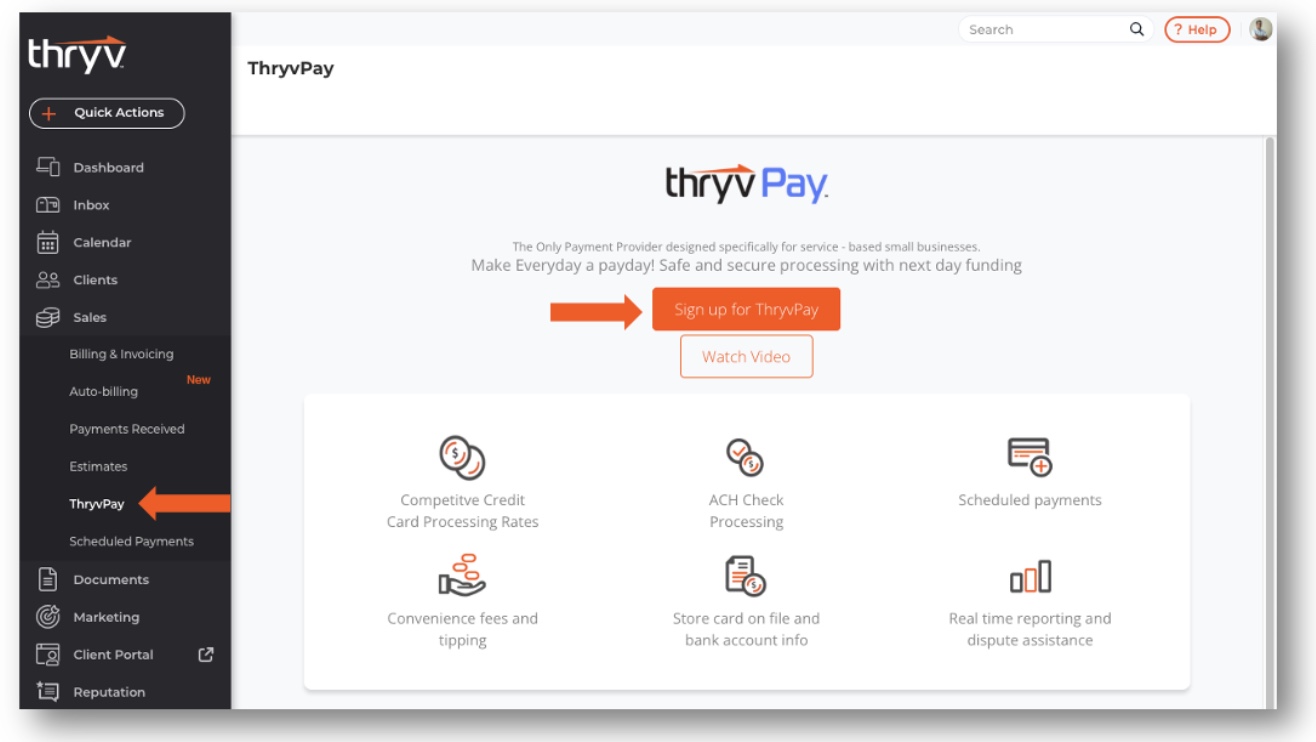 Filling out the ThryvPay Application
After you select the sign up or connect button, you'll be taken to the ThryvPay application. Complete the required questions in order to submit your ThryvPay applications. 
Step 1: Select your company type.
 Sole Proprietorship
Private Partnership
Private Corporation
Public Corporation
Non-Profit
Individual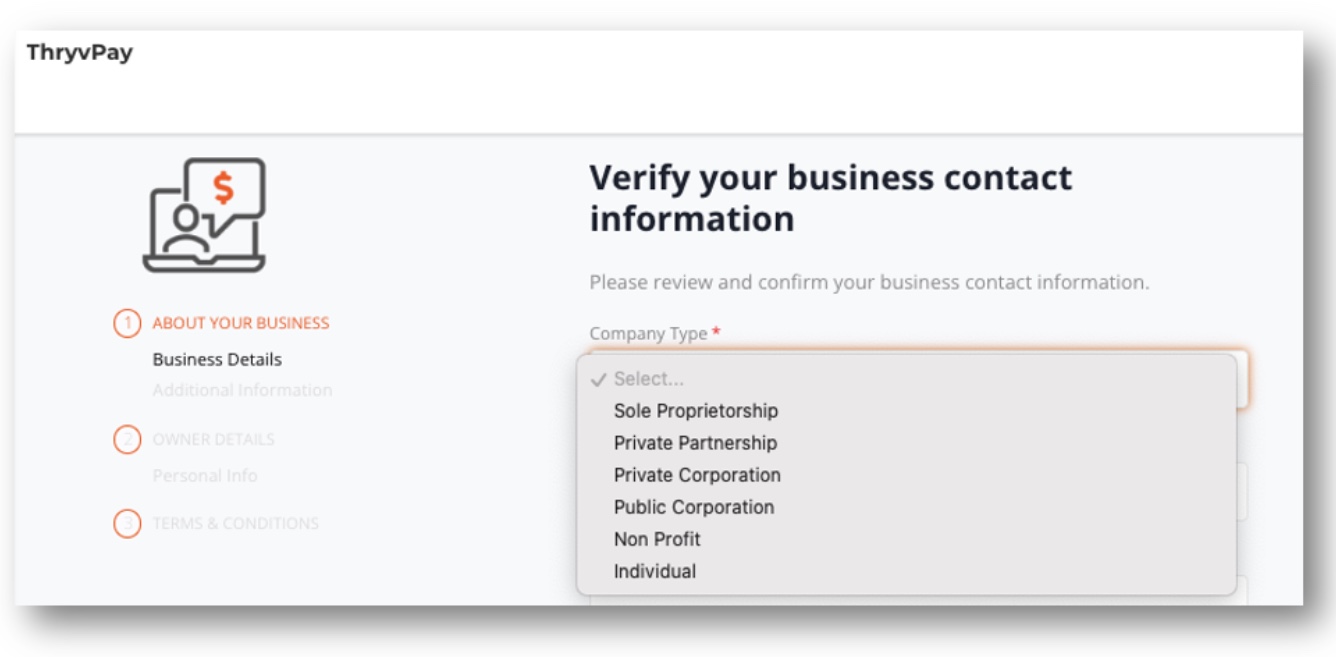 Step 2: Fill out your business & tax information.
Enter your legal business name
Enter your Doing Business As (DBA)
Enter your NZBN tax ID number
Enter your GST tax ID number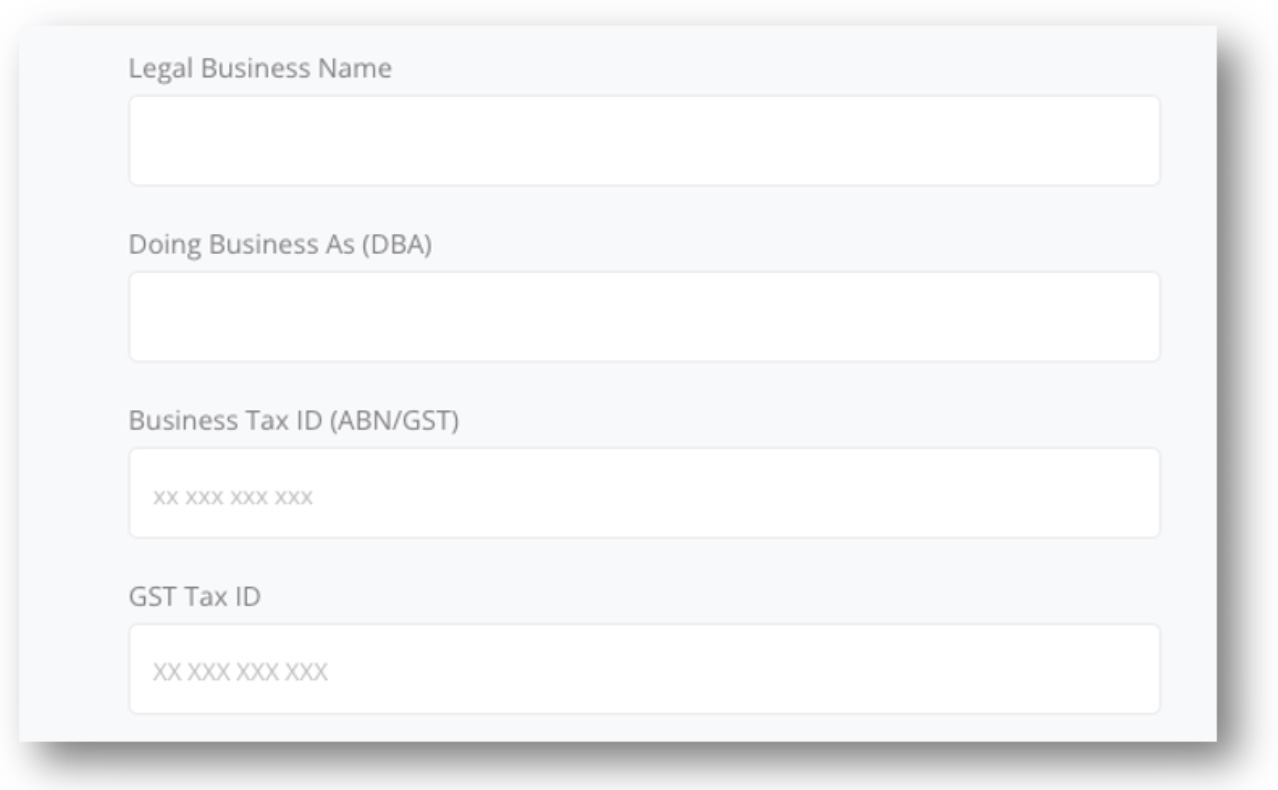 Step 3: Fill out your business information.
Enter your business phone number, street address, suburb, territory, and postcode
Enter your website URL

If you do not have a website URL, please enter your business social media profile URL or enter your products and services manually

Select

 

next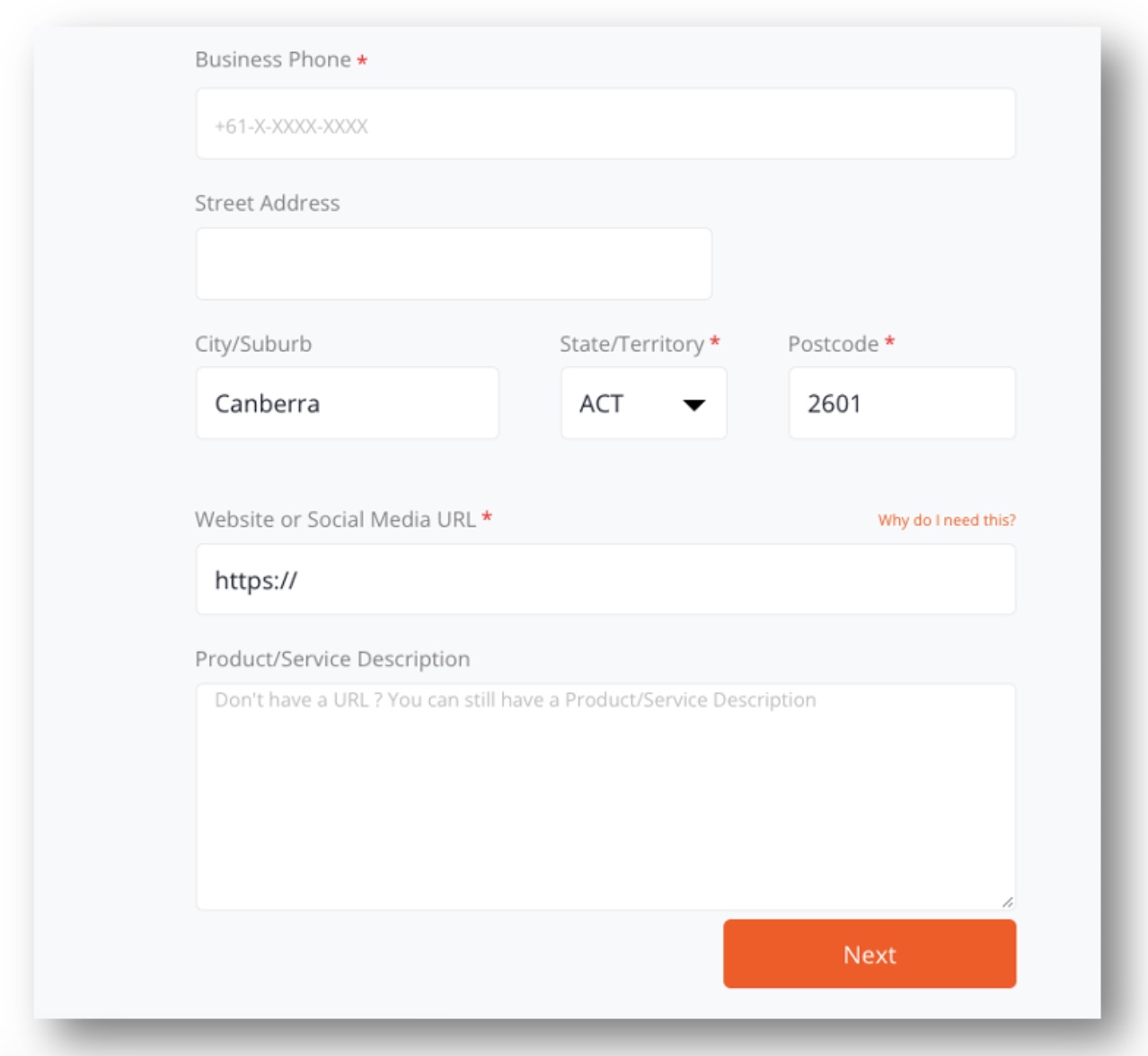 Step 4: Fill out additional business information.
Select the year your company was started
Enter your average transaction amount

This can be an approximation

Enter your estimated annual processing/revenue amount
Select your company category/ merchant category code
Select where most of your customers are located; local, regional, or national
Select

 

next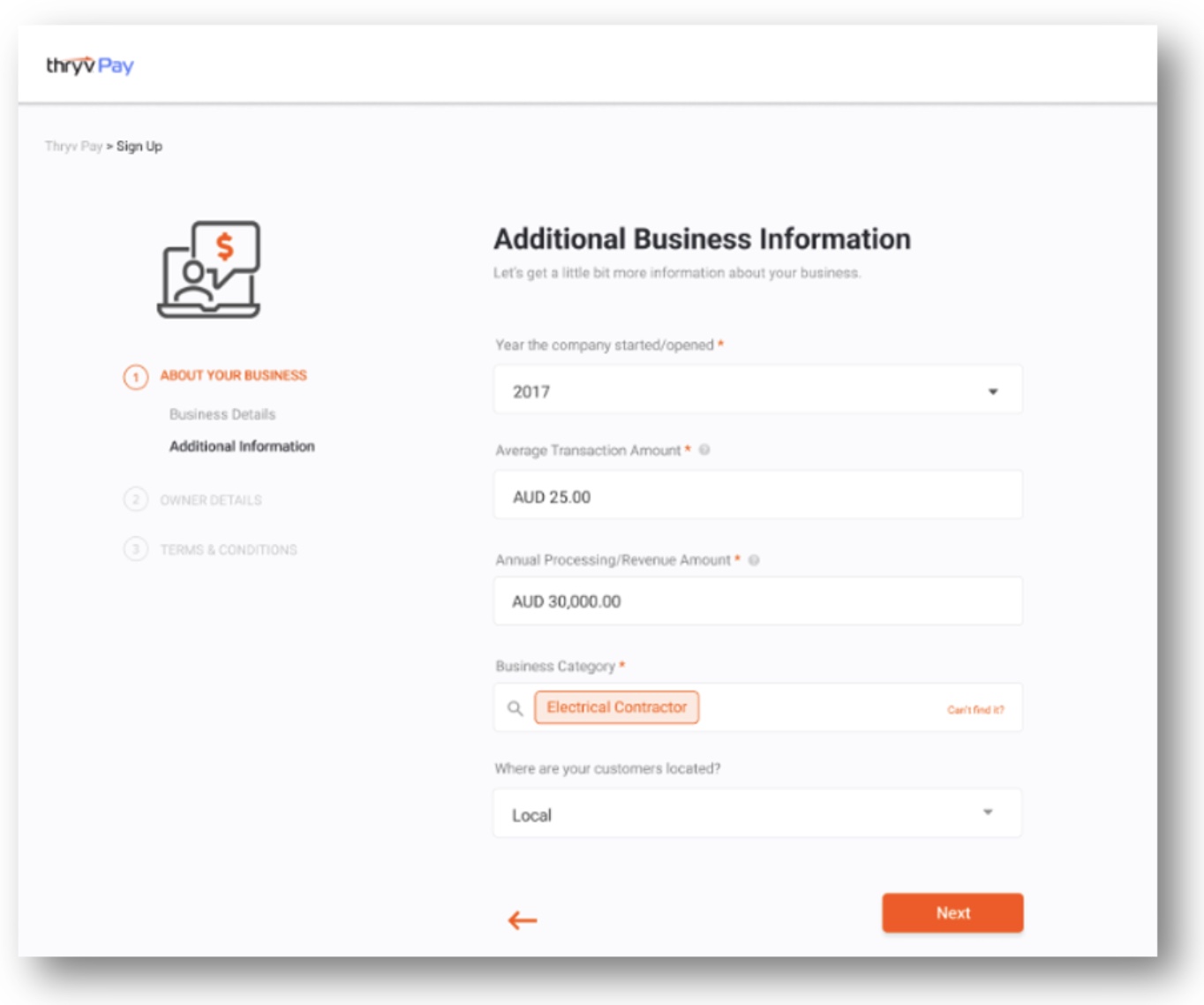 Step 5: Complete owner details.
Complete your owner details, including your name, date of birth, phone number, address, suburb, territory, and postcode
All owners that own more than 25% of your business must be included, simply select the add another owner button at the bottom of the screen
Once all owners' information is entered, select

 

next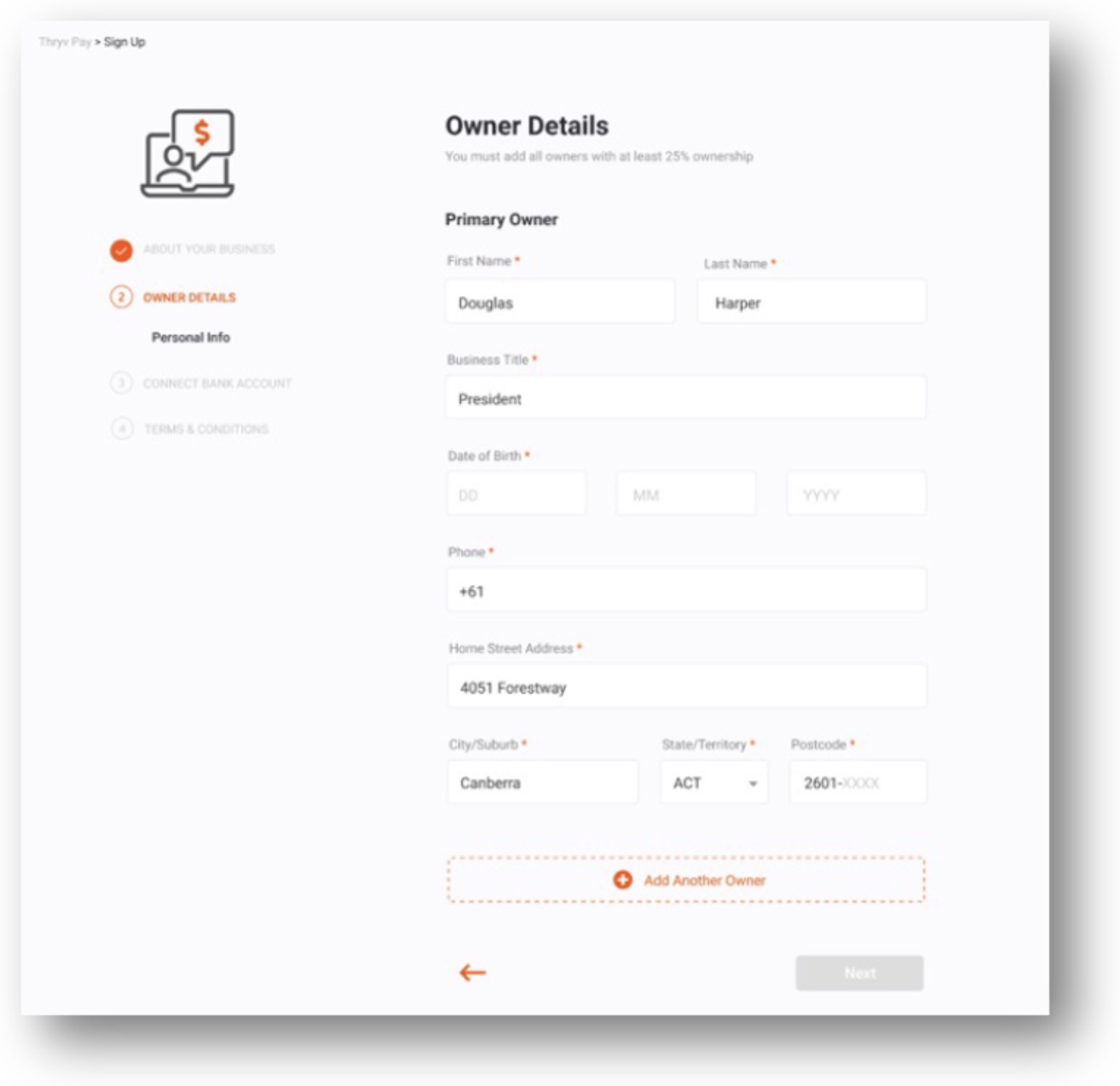 Step 6: Agree to the Terms & Conditions
Read and agree to the ThryvPay Terms of Service
Submit your application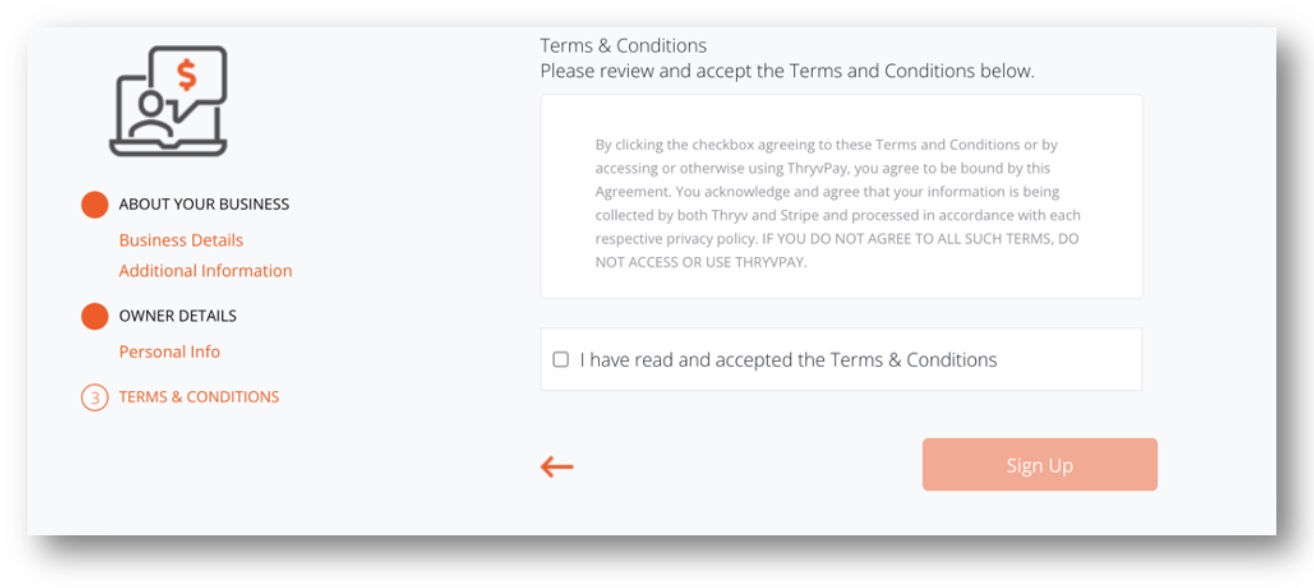 Your Application is complete! You'll be taken to a screen informing you of your application status. 
Your ThryvPay Application Status
Once your application has been submitted it may be reviewed by our risk and underwriting team. 
There are two types of application approvals:
Automatic Approval

Able to process all payment methods 
Standard funding schedule

Provisional Approval for 7 business days after the first transaction

Able to process credit cards and wallet payments online during the provisional period
Automated bank transfers are not allowed during this provisional period
Funding is withheld for 7 business days after the first transaction is processed, then funding updates to the standard funding schedule
Provisionally approved accounts may be asked to provide documentation to further validate the company or owner details

A notification will be sent to your Thryv inbox, should this be needed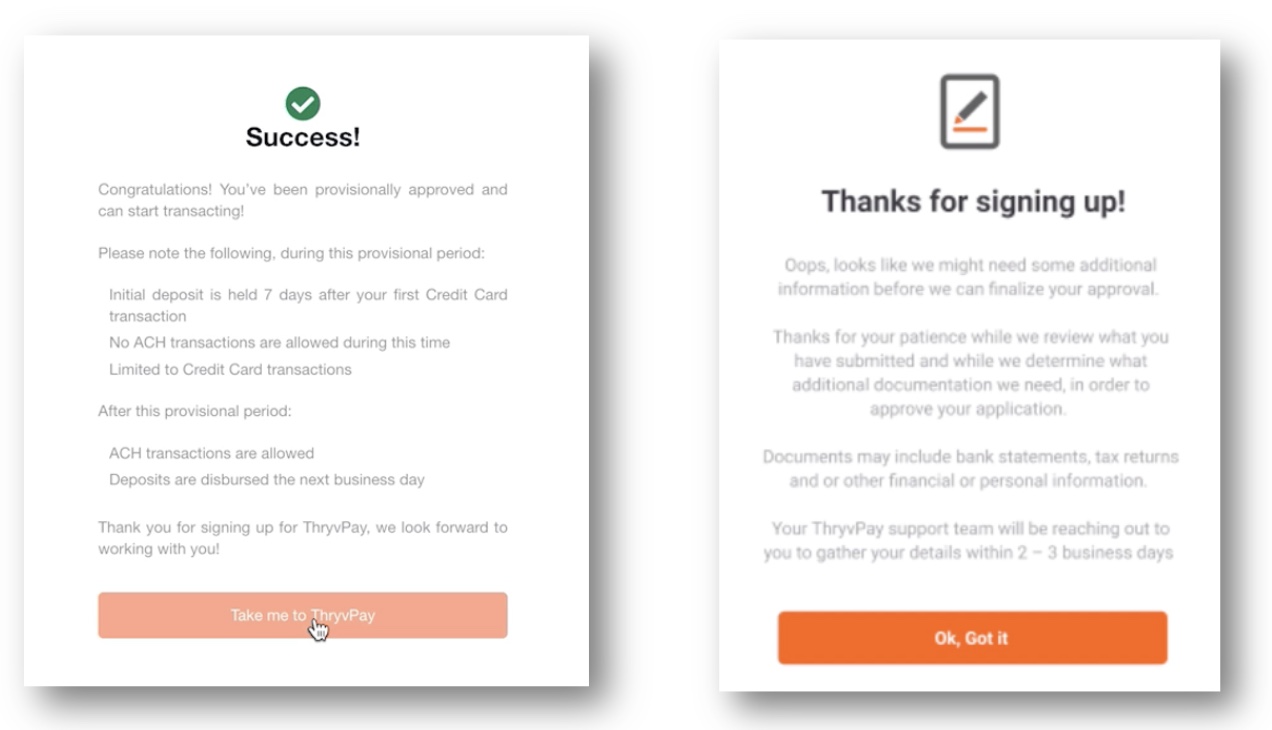 If for any reason we can't confirm or validate your submitted company information, it may result in an account denial. 
Have questions or need assistance with your ThryvPay account? Give our ThryvPay Team a call! The ThryvPay New Zealand Support team is available Monday - Friday 9 AM - 6 PM AEST.