Are you tired of staring at a blank screen, struggling to craft engaging email copy that truly connects with your audience? Imagine having a writing assistant at your fingertips, ready to help you draft compelling emails effortlessly. Well, look no further! The Pro Campaign Editor comes equipped with a built-in AI assistant that's here to transform your marketing game. In this support article, we'll show you how to harness the power of this AI-driven tool to supercharge your copywriting, saving you time and boosting your email and text marketing effectiveness. Let's dive in!
To get started, first you'll need to add a text block to your campaign. This can be either a Paragraph, Text, or Title block. First, drag your content block onto your campaign as normal.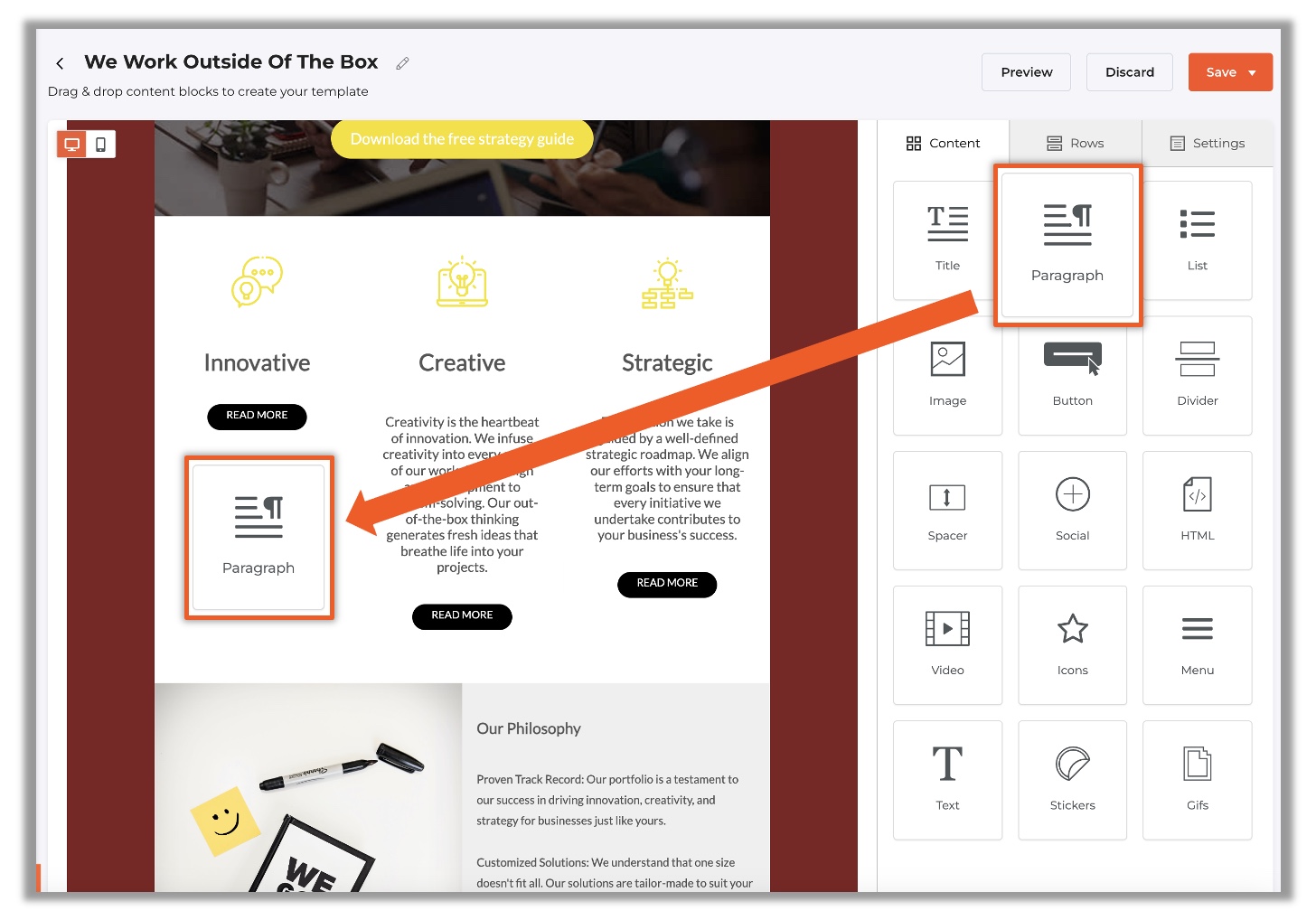 Once the content block is selected within the content area, the Write With AI button will appear on the right-hand menu. Click the button to get started.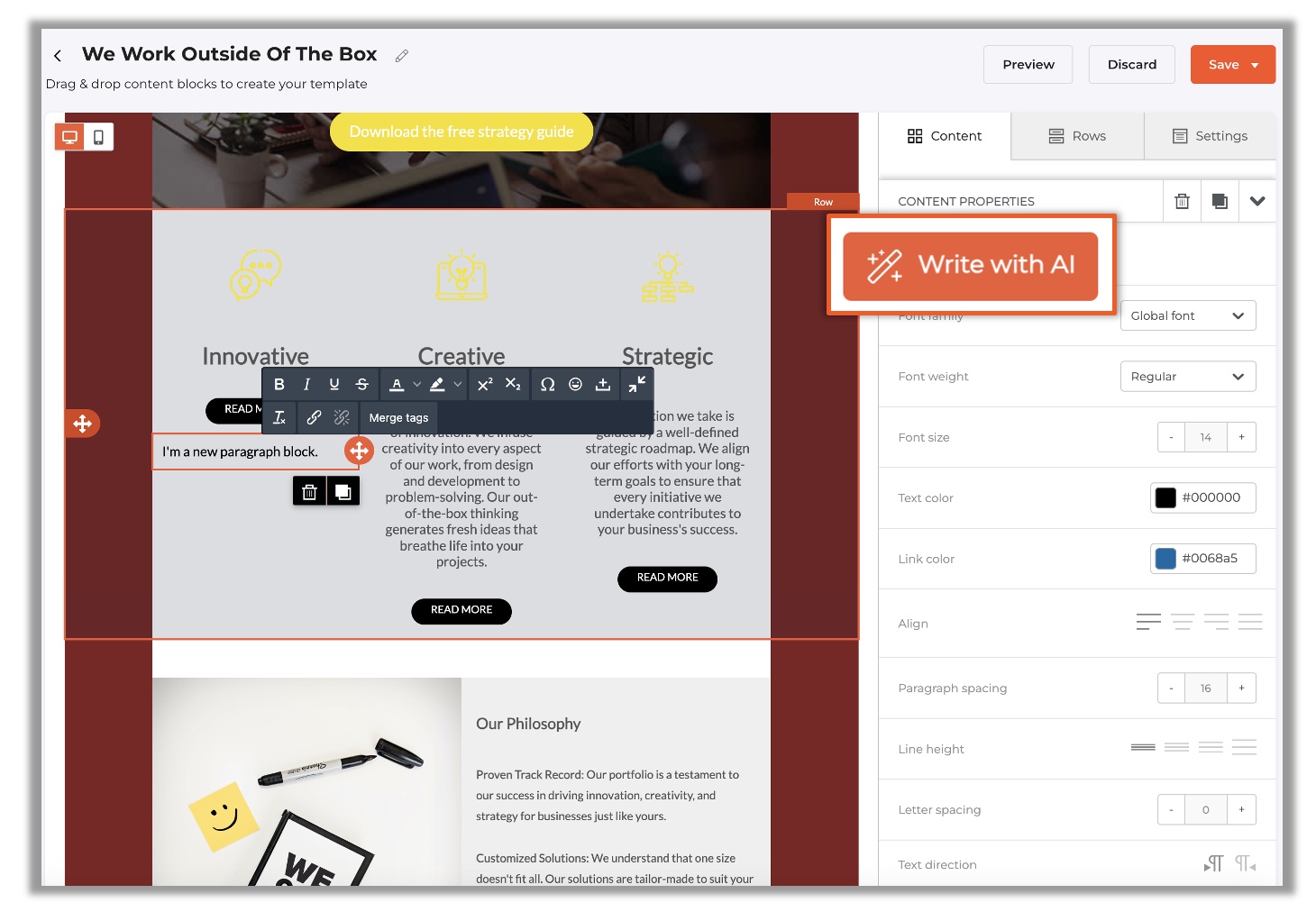 The AI Assistant will pop out from the right-hand side. At the bottom there is a text field. This is where you enter your prompt. In the context of AI, a "prompt" refers to a specific instruction or input provided to an AI system to elicit a desired response or output. It serves as a request or command that directs the AI to perform a particular task, generate specific content, or provide information on a given topic. The quality and clarity of the prompt play a crucial role in determining the relevance and accuracy of the AI's response.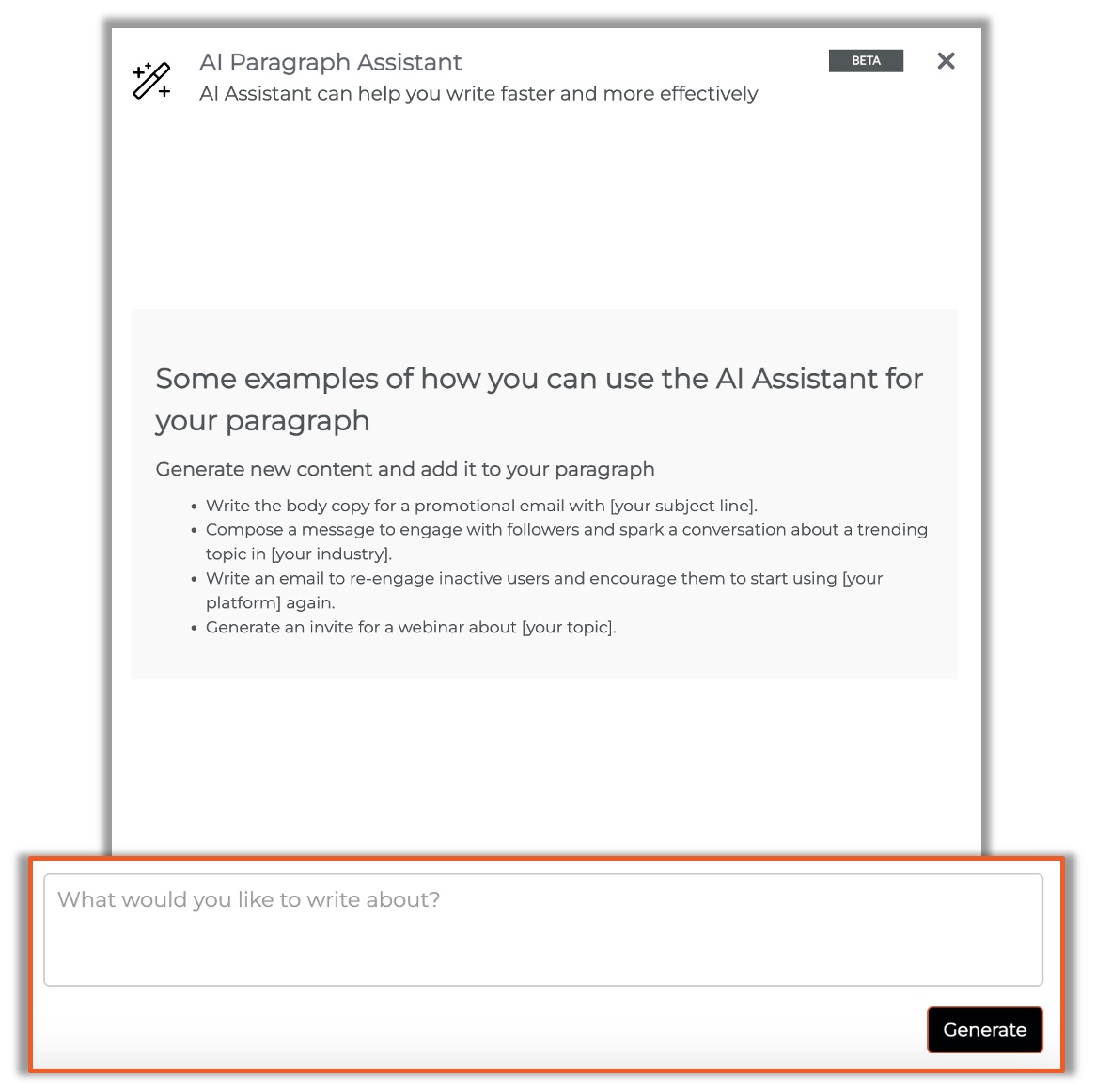 For best results, follow these tips when writing your prompts:
Be Clear and Specific: Provide a clear and specific context for your request.

Set the Tone: Indicate the desired tone and style for the email.

Ask Open-Ended Questions: Use open-ended questions to encourage comprehensive responses.

for example:

"How can I describe our product's unique features and benefits in a compelling way?"

Use Examples: Offer examples or snippets of content for better understanding.

Iterate and Edit: Refine and customize the AI-generated content as needed.

Experiment: Try different prompts and approaches to generate diverse ideas.

Maintain a Human Touch: Infuse your own creativity and personal touch into the final email copy. Remember, at the end of the day, you still own your message, and have final say over what gets sent out. Don't hesitate to edit the AI Assistant's output as you feel necessary.
Once you've entered your prompt click on Generate. Then, allow several seconds for the AI Assistant to generate a response. The output will appear in the area above the prompt. To automatically insert the output to your content block, click on Apply. That's right, you can write a whole paragaraph's worth of copy in one click!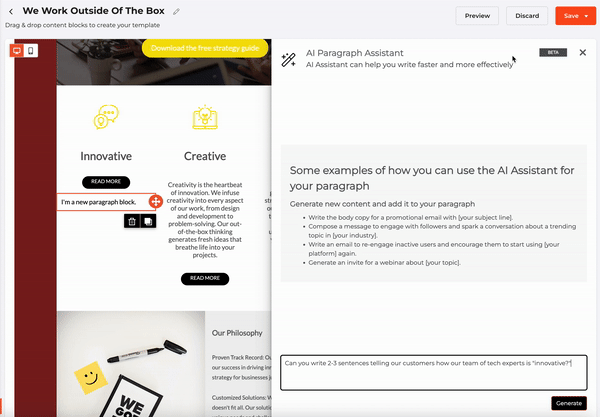 If the first response isn't resonating with you or doesn't feel right, don't sweat it! Experiment with different prompts and techniques until you find something write for you. Entering AI prompts is a skill all on its own, and takes practice like any other. It's completely normal to have to use multiple prompts to get the content exactly right. 
Research indicates that users often achieve satisfactory responses within 2 to 5 prompts on average.

If you decide you want to start over, you can click Clear Results under the prompt field and start fresh!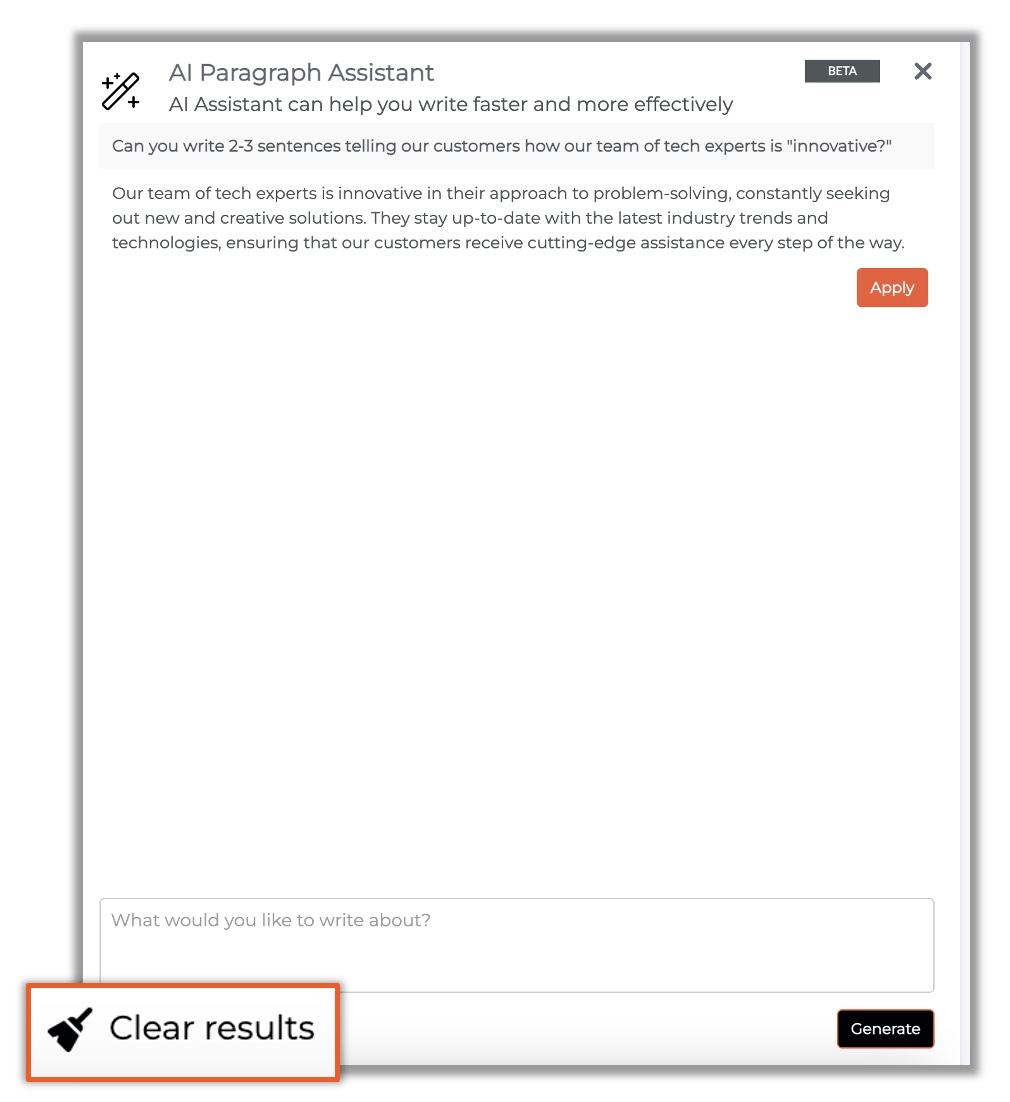 From here, you are able to repeat this step as often as you like for each content block. You can use the AI Assistant for all of your copy, just when you need it, or anything in between. And don't forget to edit each response to make it sound just like you!