While Thryv offers a handy mobile app to view your calendar on the go, sometimes you want to have it on paper to hand out or post for your team, or backed up to your device. The advantage to exporting your calendar is the ability to print or send your calendar with custom fields of your choosing, so that you can have all of the information about the appointment readily available. Some examples of how this would be used are:
Print the appointment history for a single client
Pull a report of appointments done for one service
Generate a report of appointments done by one staff member
Create a daily schedule you can print and post for your staff members to view
To start the export, in the top right click on More Actions>Export Booking Data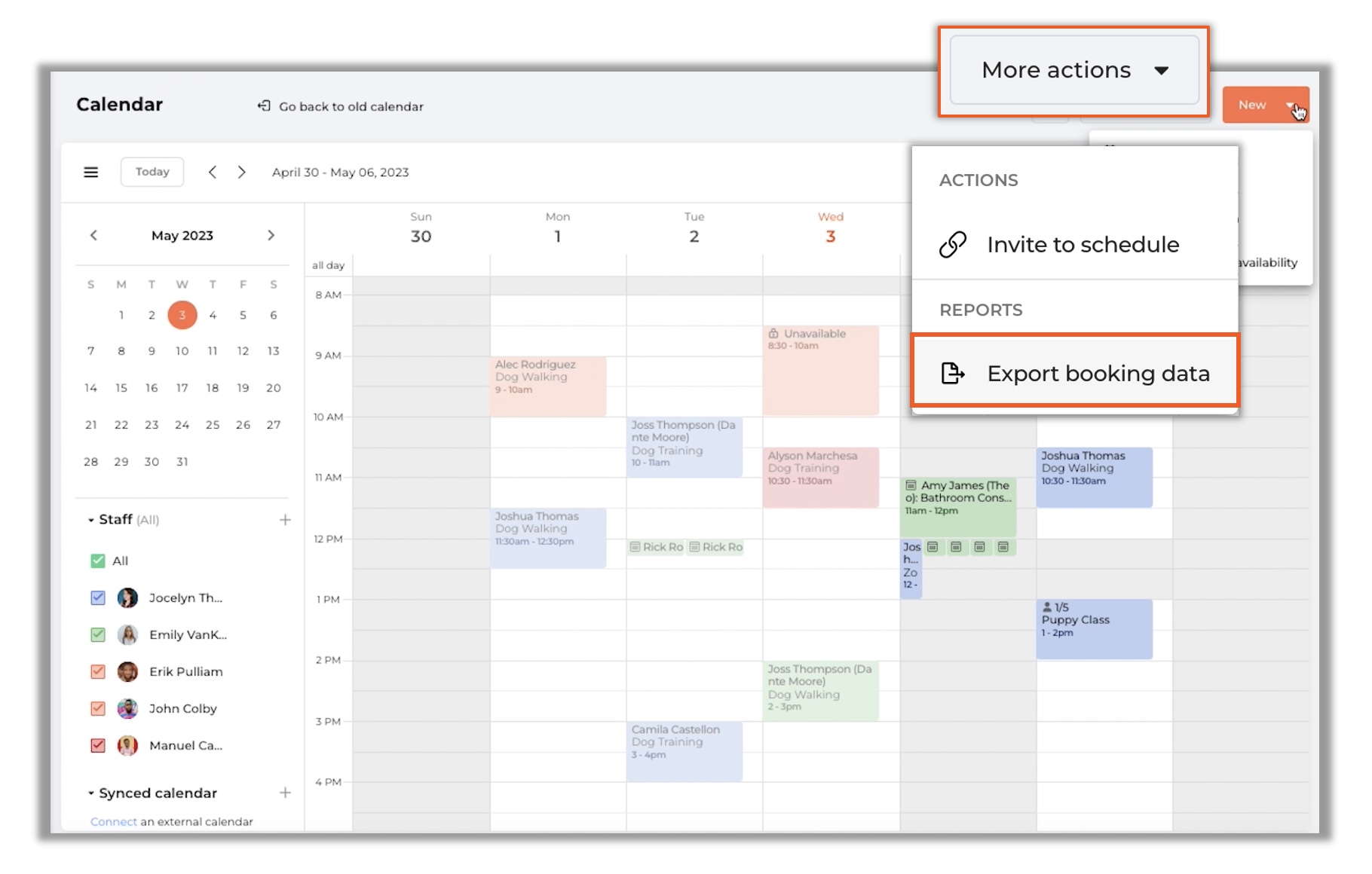 The export window will appear. First, confirm the date range you want to export. If you are creating a daily schedule, set both dates to today's date. Make sure the date range selected here matches the date range in the view you selected above so the information will match.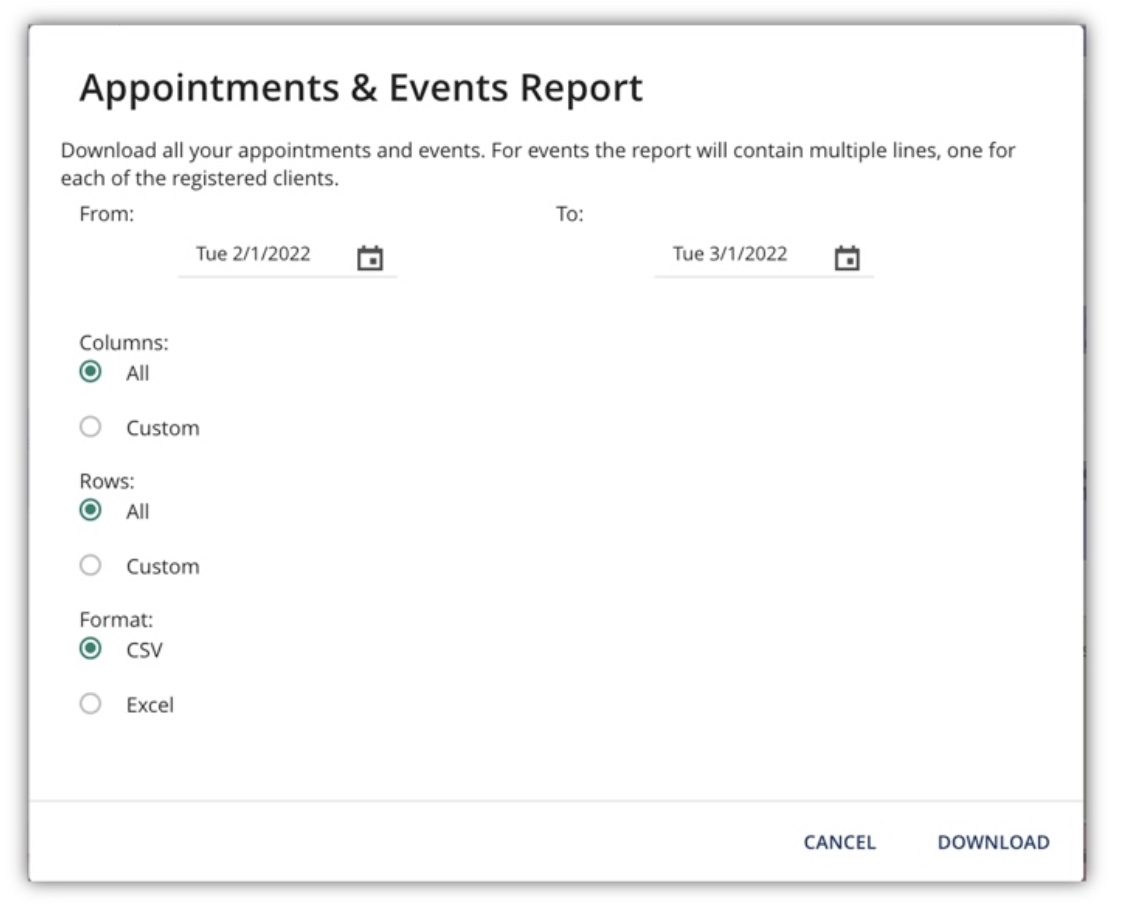 You will then be prompted to select Rows and Columns for your export. 
Columns

 

refer to fields about the appointment including appointment information and client information. Fields including appointment date/time, as well as client fields such as contact information and any custom fields created would appear here.

Make sure that any information you want your staff to see easily is included here, and feel free to exclude any fields to make it easier to read

Rows

 

refer to staff members. Make sure the same staff are included here as in your view above so the export will match.
Next, select the format for your download, either a CSV, or an Excel file. 
Once you have the export set up, click on Download to start the export. The file will download into the Downloads folder of your web browser, or the destination determined by your device's settings. 
The result will be a CSV or Excel file of your appointments for the selected time period. This file can then be printed onto paper, attached to an email, or backed up to a device for later use.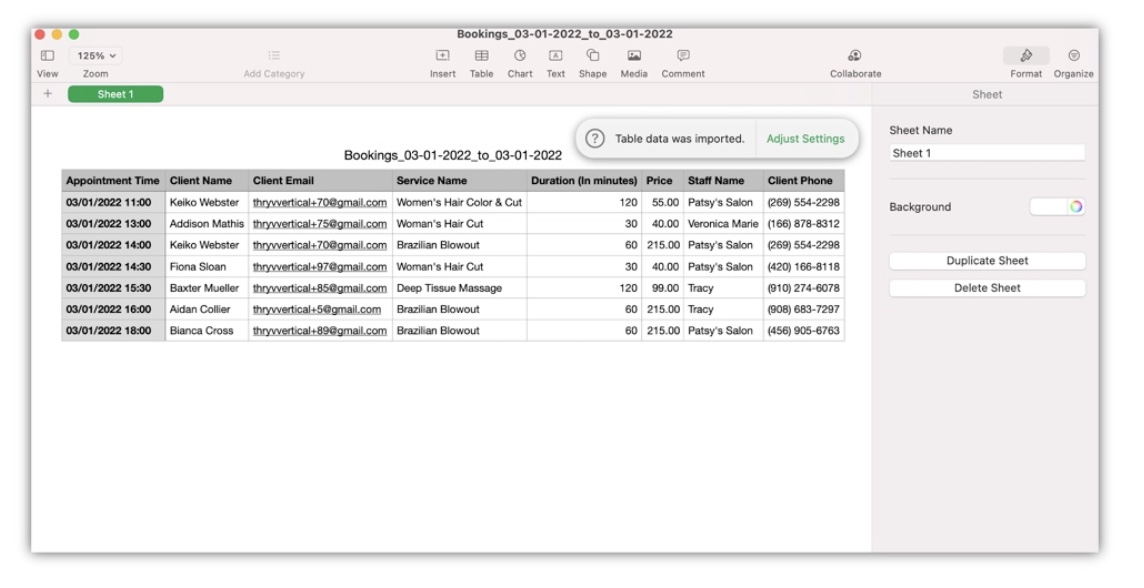 Still looking for ways to make your calendar even easier to use? You can also color code your calendar by services! Click Here for a full guide!