Do you have additional content you would like to display on your online listings, such as product lists, menus, accessibility options, brands, and associations? Would you like to gain more insight into your online listings? Then the Yext Advanced App is the perfect solution for your needs. With this app, you can add valuable additional content to your listings and gain additional analytic reports about your listings' performance. The Yext Advanced App will bring you in-depth analytics on your customer's interactions and focus on wherever you are listed. Yext Advanced gives you additional control and reporting your business needs.

Article Contents
Initial Setup
To get started, navigate to the App Market tab and select Yext Advanced. Then select launch this app.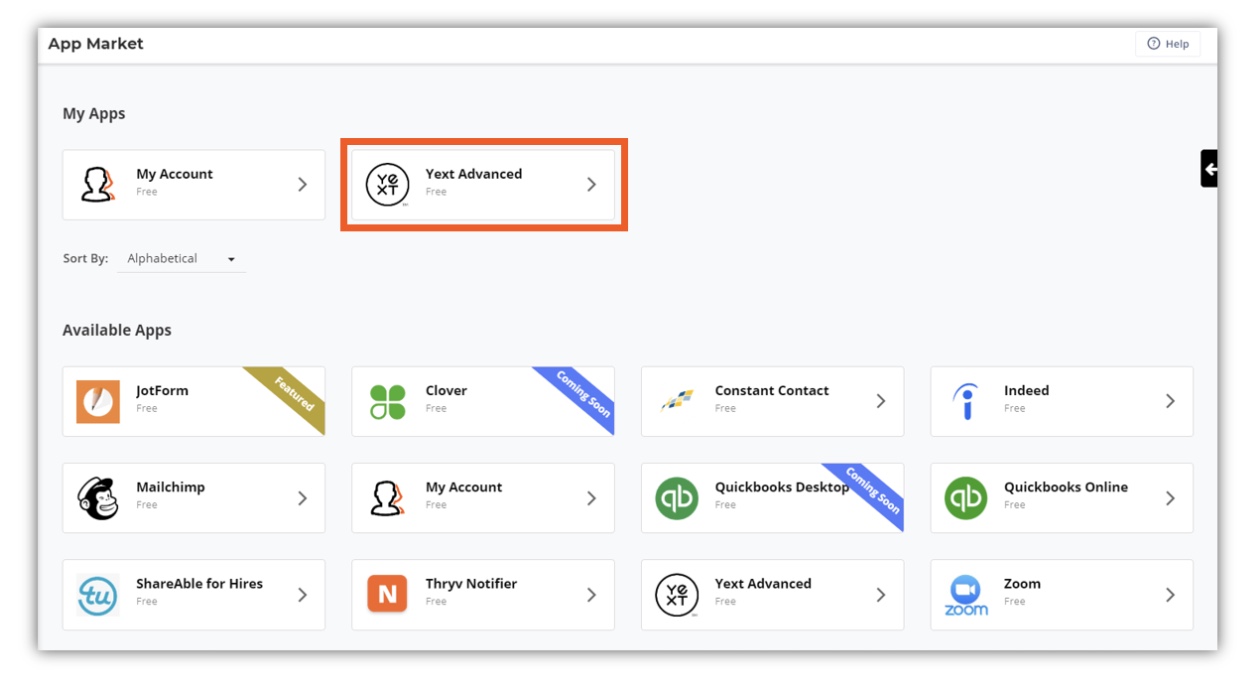 Grant permissions for Yext to access your Thryv account.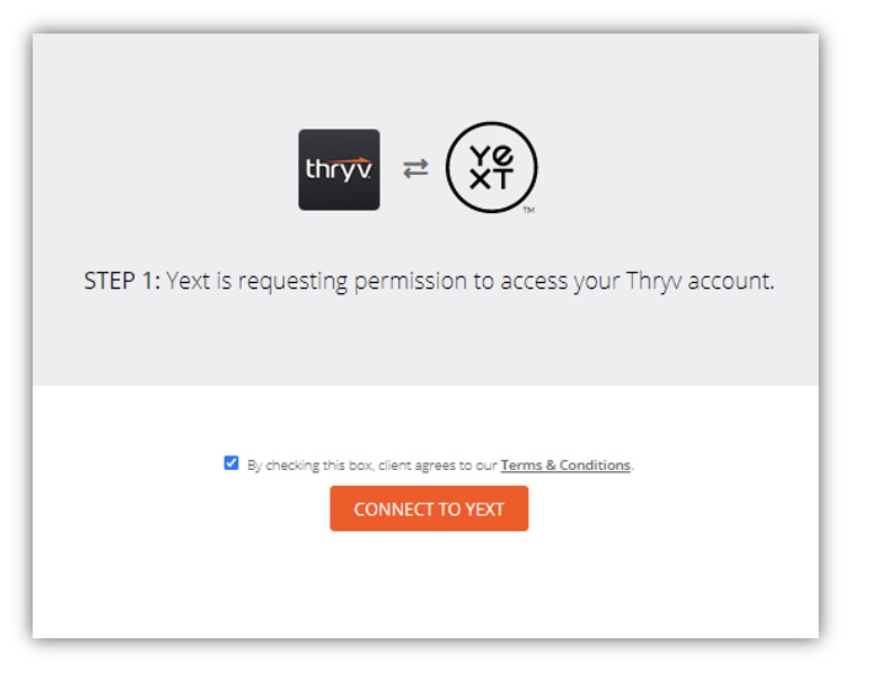 You will be brought the knowledge graph screen.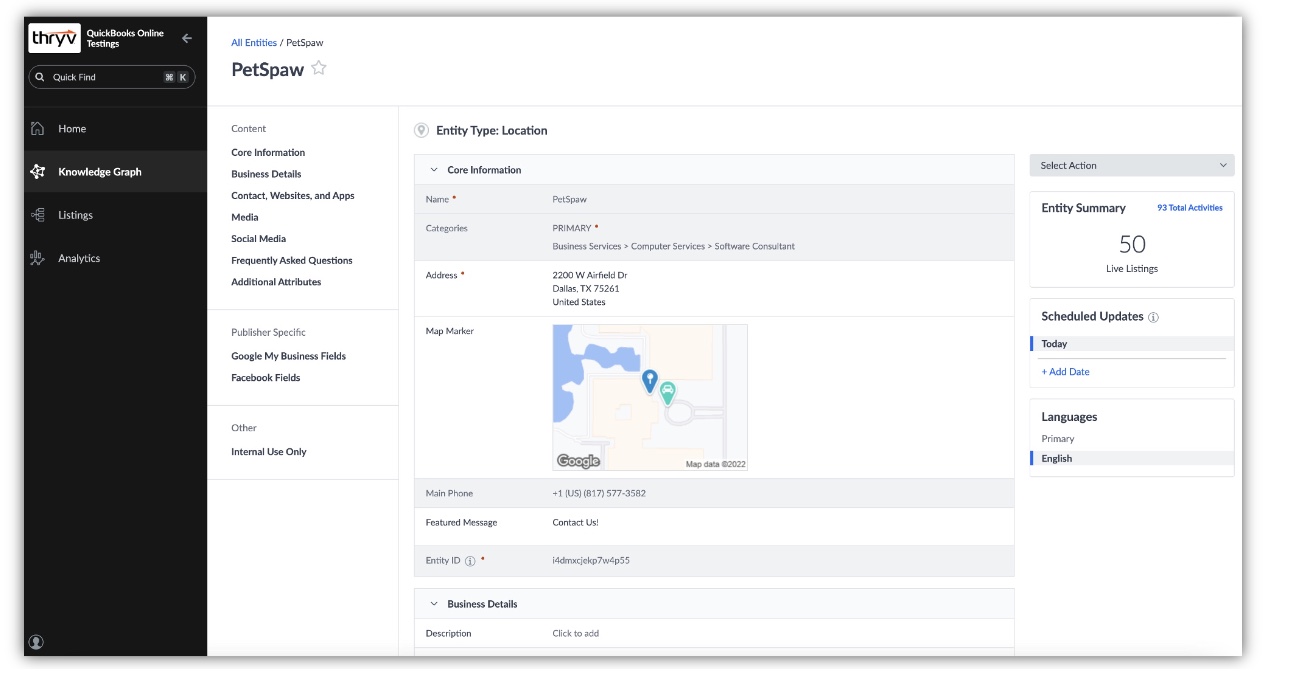 The Yext Dashboard is broken up into three categories: Knowledge Graph, Listings, & Analytics.
Knowledge Graph
The Knowledge Graph dashboard will allow you to review all the information that is live on your online listings. You can also add additional content to really enhance your listings and provide all the important information that consumers really value and that will make your listing stand out from other competitors.
Navigate by using the left-hand menu or scrolling down the page.
Some fields are greyed out. Those fields are pulling from your Thryv software. Those fields can be edited from the business and listings settings in Thryv.
For all the other fields, you can edit and add any content.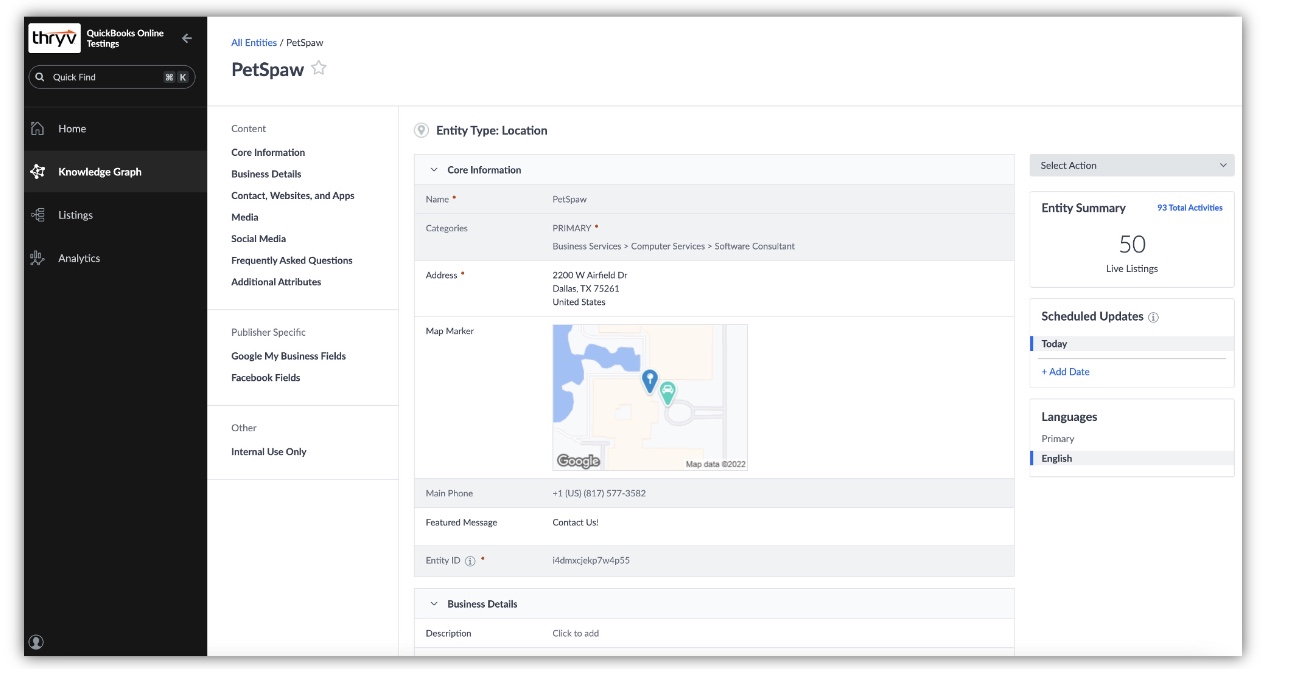 Yext Advanced is also the place to go to Add Photos to your listing. A detailed photo gallery is one of the best ways to help your listing rank well and catch the eyes of your searchers. to add your photos, scroll down to the section Media and click on Photo Gallery>Click To Add. You can upload photos from your device or provide links to the images. Remember, more images is almost always better. Some good photos to use are pictures of your business location, inside and out, if applicable, samples of your product or service, and business logos.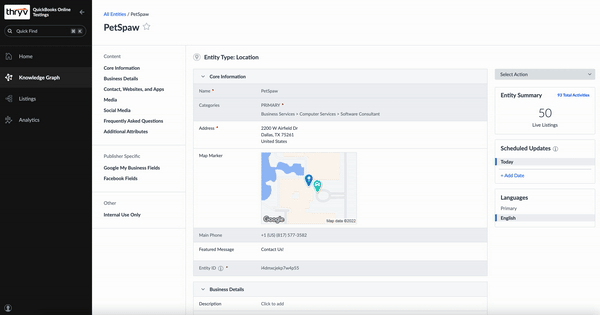 Fields that are only available with the Yext Advanced App are the Enhanced Content Lists, FAQs, and Additional Attributes. Add a list of products and services available. Add Calendars, Staff Bios, and Menus. Add Specialties, Associations, & Brands.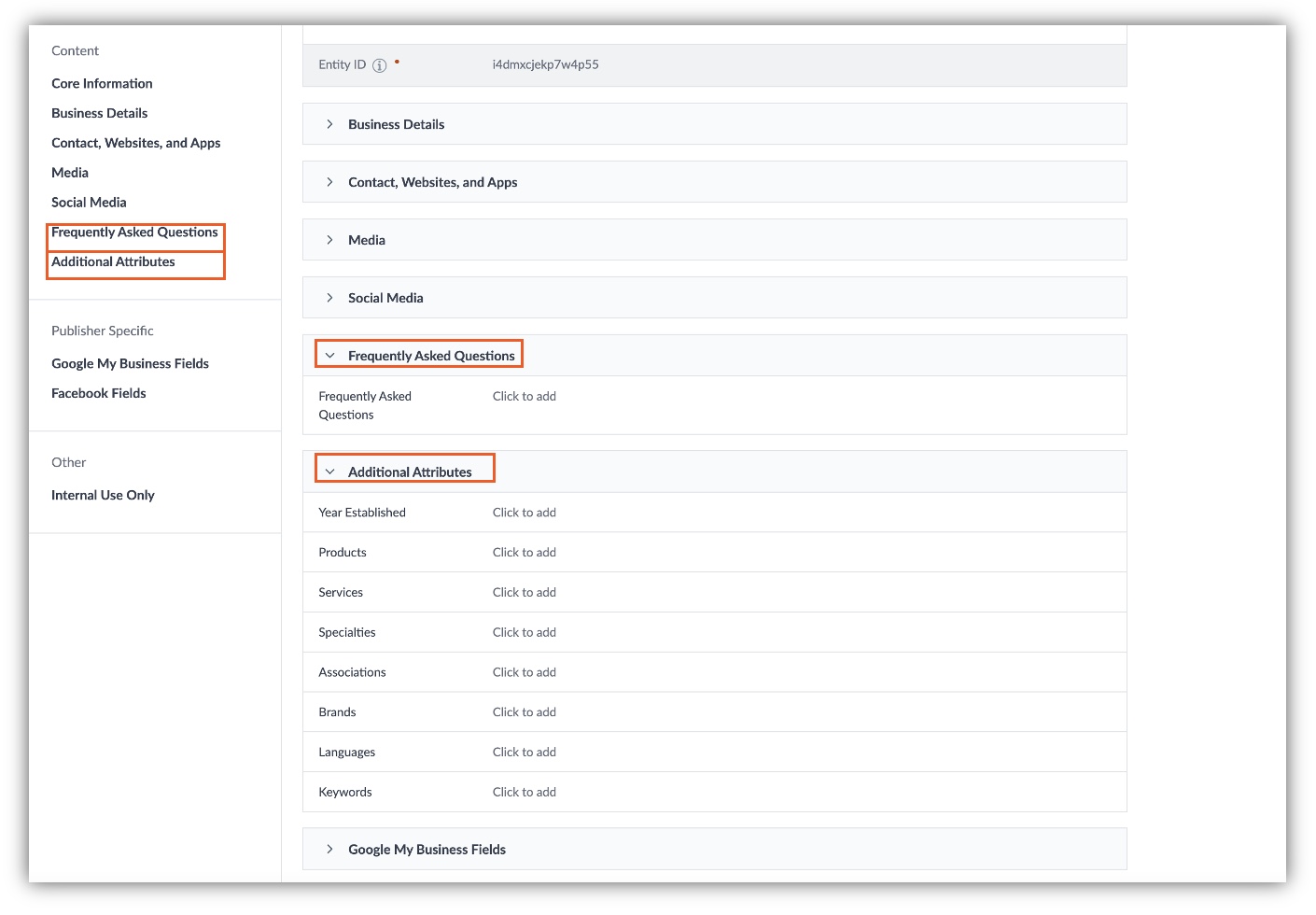 Add additional content to the Google business listing, including the cover and profile photo, accessibility, amenities, highlights, offerings, payments, planning, and service options.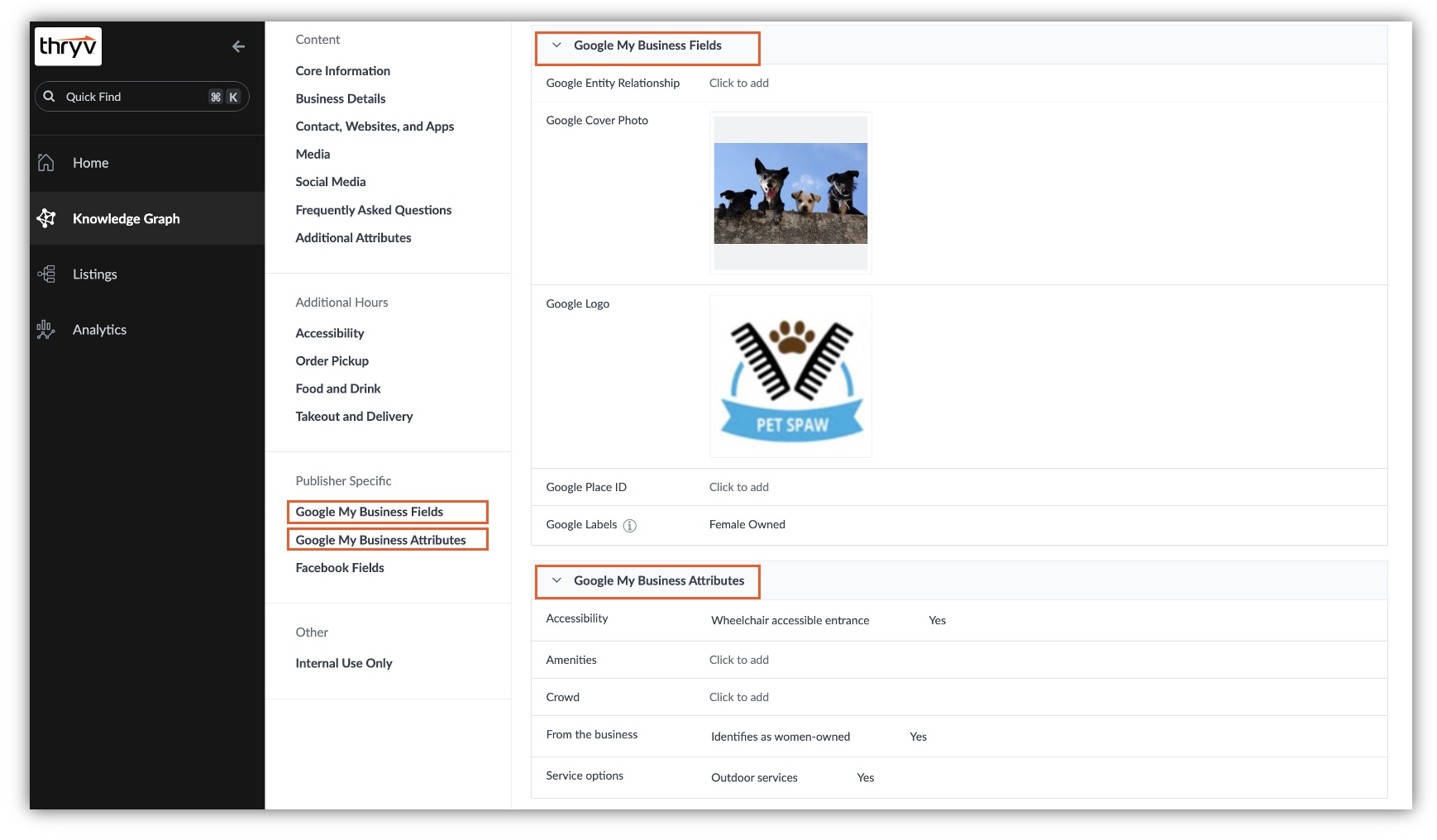 Add additional content to the business Facebook page. Update the cover and profile picture, the call-to-action.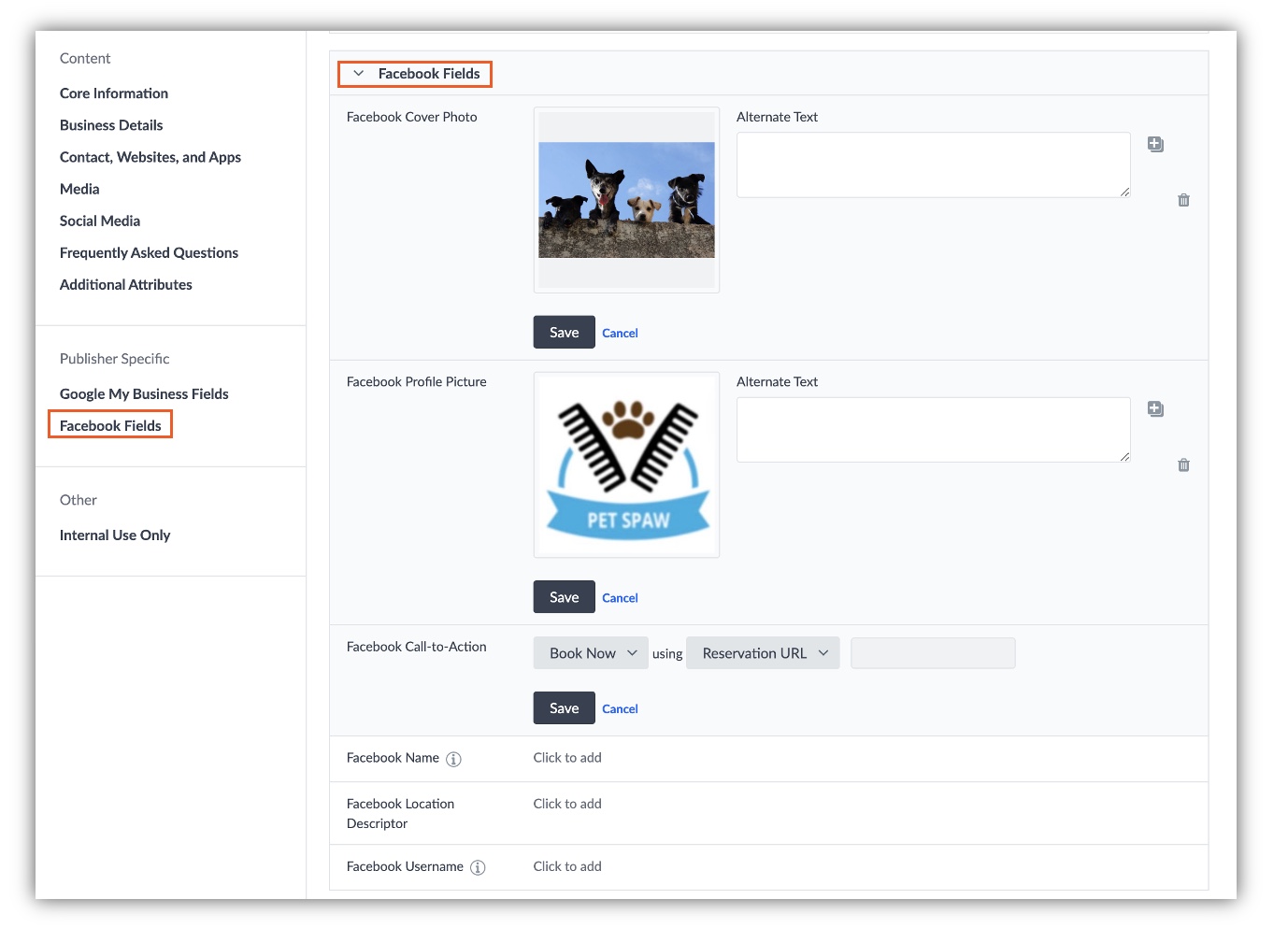 Listings
The Listings dashboard will report which of your listings are live, processing, opted out, and unavailable. It will report engagement with your listings, such as profile views, phone calls, directions requests, and clicks to the website. It will report the percentage of locations search queries are direct, discovery, and branded. This dashboard will also break down how your business is found across devices, i.e. desktop, mobile phone, and tablet.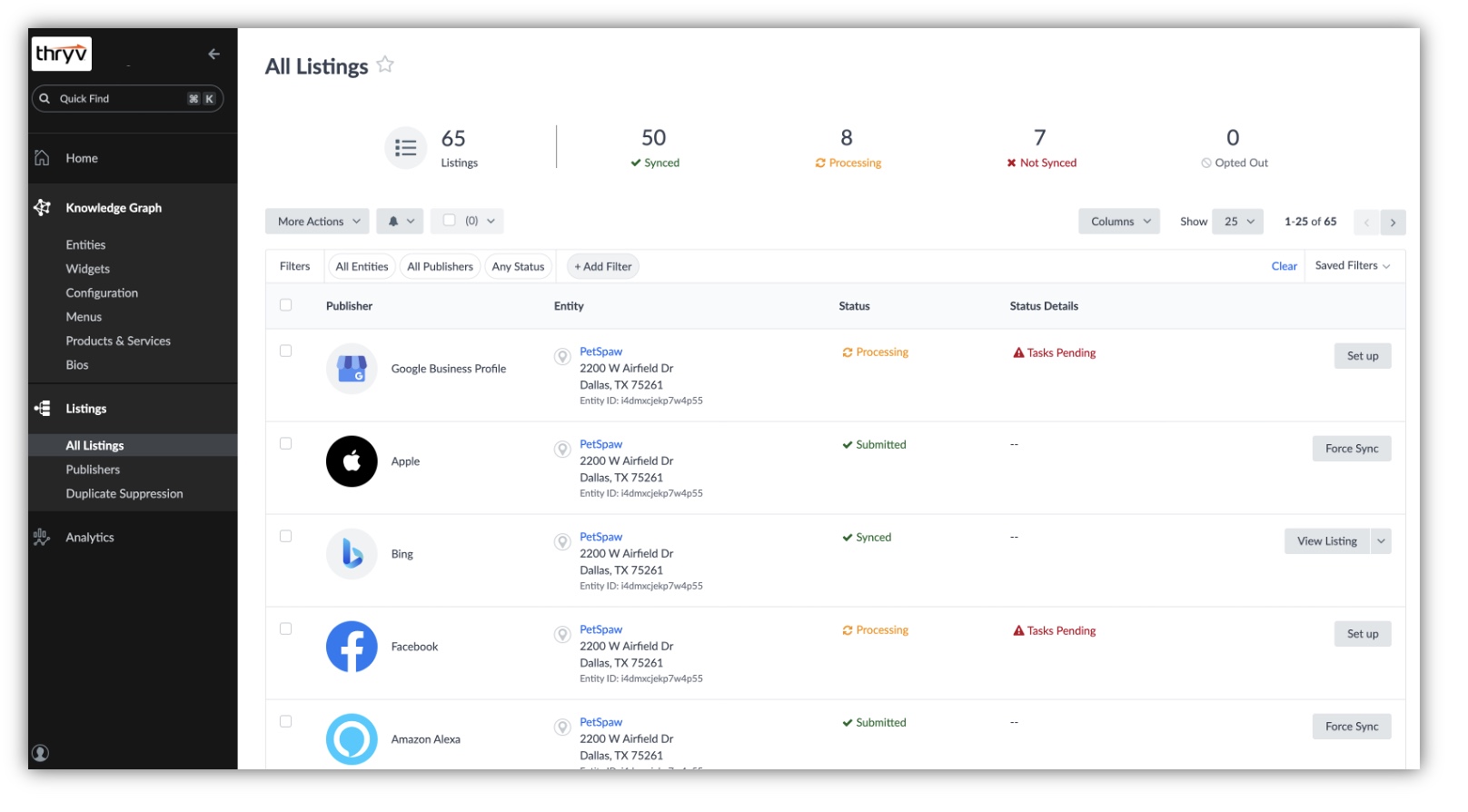 Duplicate Suppression
Yext Advanced also proactively scans for any potential duplicates to your listing. If any suspected duplicates are found, they will display here.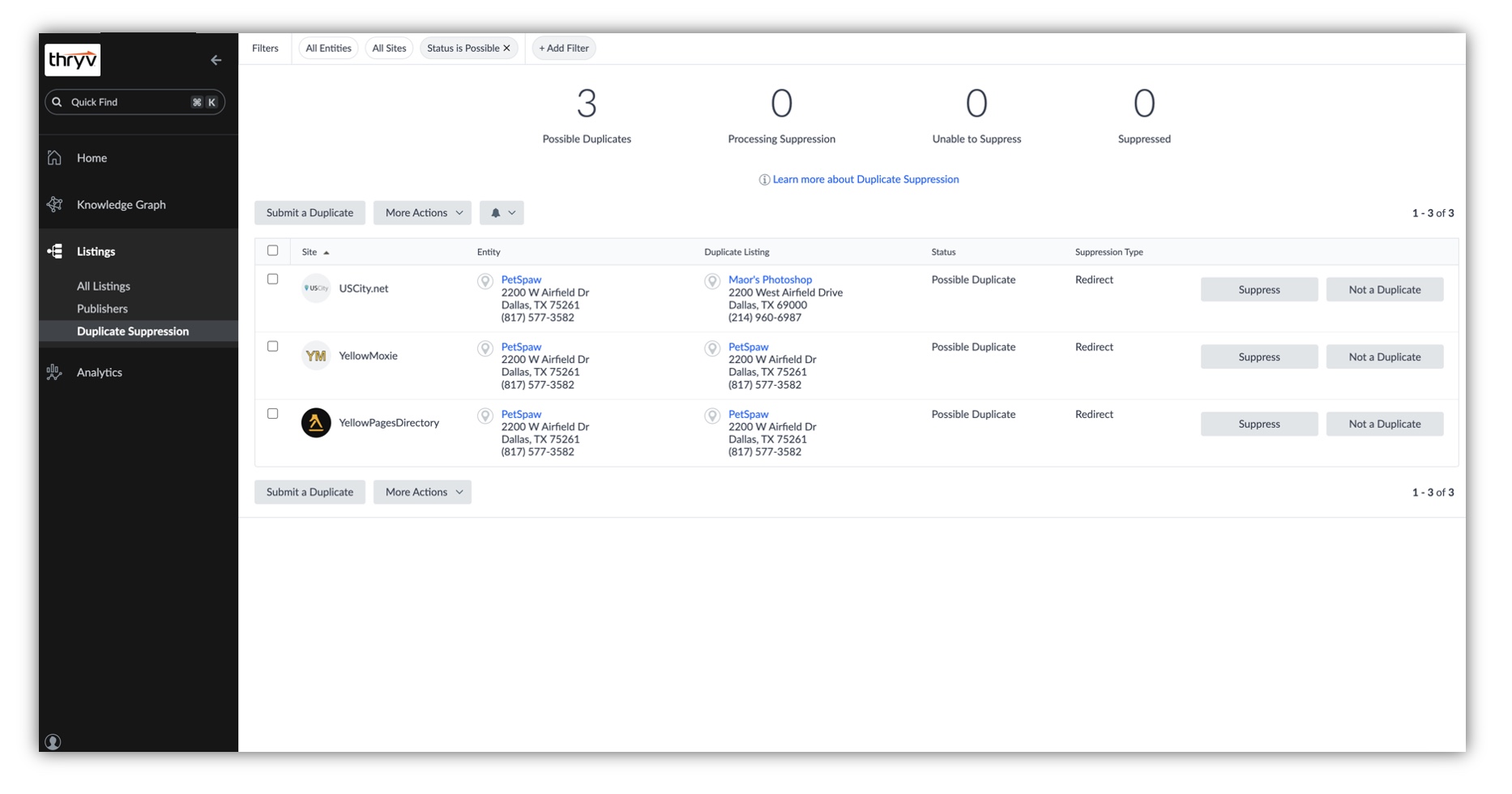 If you believe the listing is a true duplicate, click on suppress and a request will be sent to the publisher to suppress that duplicate listing. If your request is unsuccessful and the duplicate appears again, contact support for further options.

If you feel this listing is appearing in error and is not a true duplicate, click on Not A Duplicate and the listing will be removed from this list.
Connect Google My Business
To connect your verified Google My Business Page, first navigate to Listings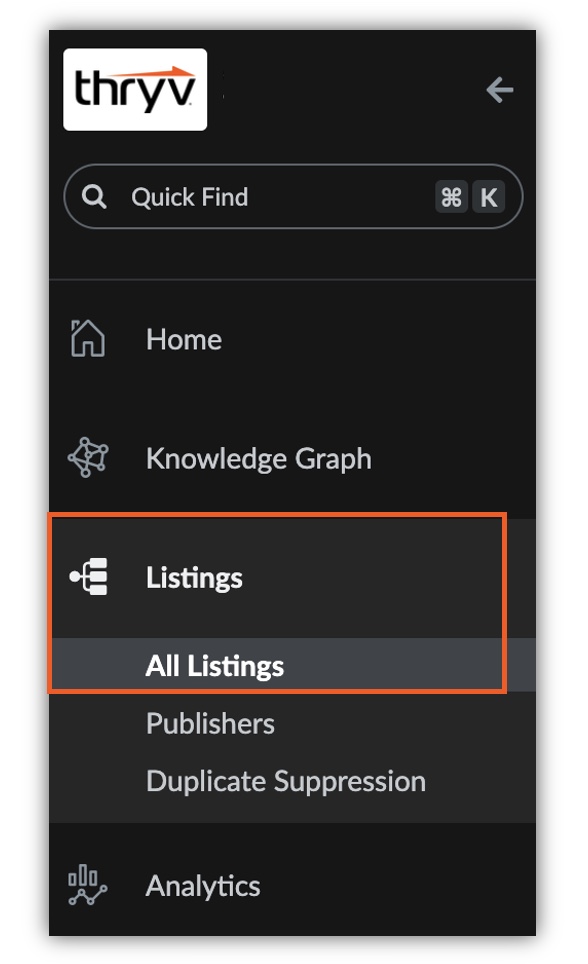 Then, click on Set Up next to Google Business Profile on the Listings screen. (Only complete this step if you already had a verified Google My Business listing prior to purchasing Thryv).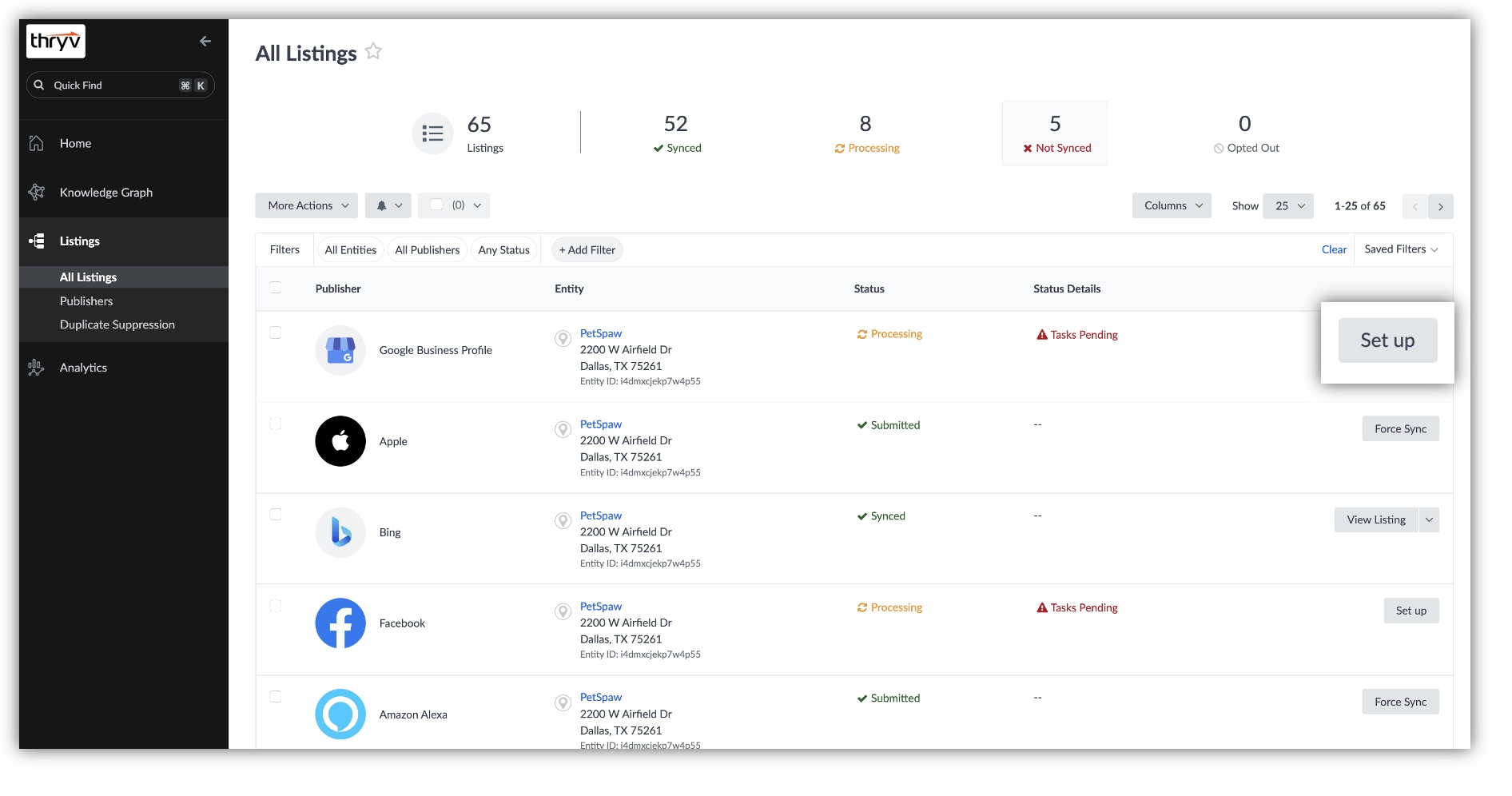 You will be prompted to sign in to the Gmail account that manages the GMB listing. Click on Sign In With Google to sign in.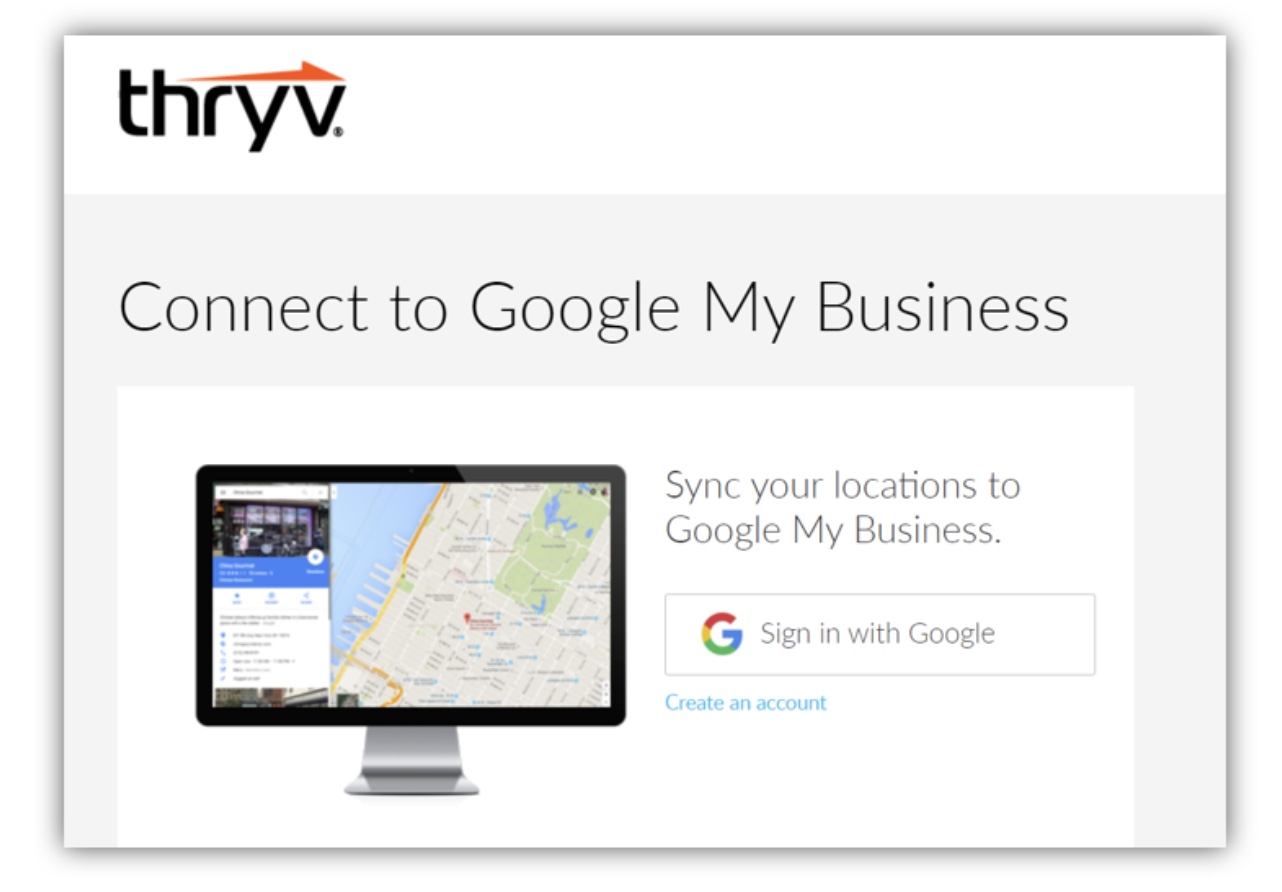 Once you are signed in, select the verified listing you would like to sync, and it will be connected to your Thryv listings. Are you interested in optimizing your Google My Business listing to rank better on Google? Click Here to fill out all of the information on your Google My Business profile!
Connect Facebook
Navigate to Listings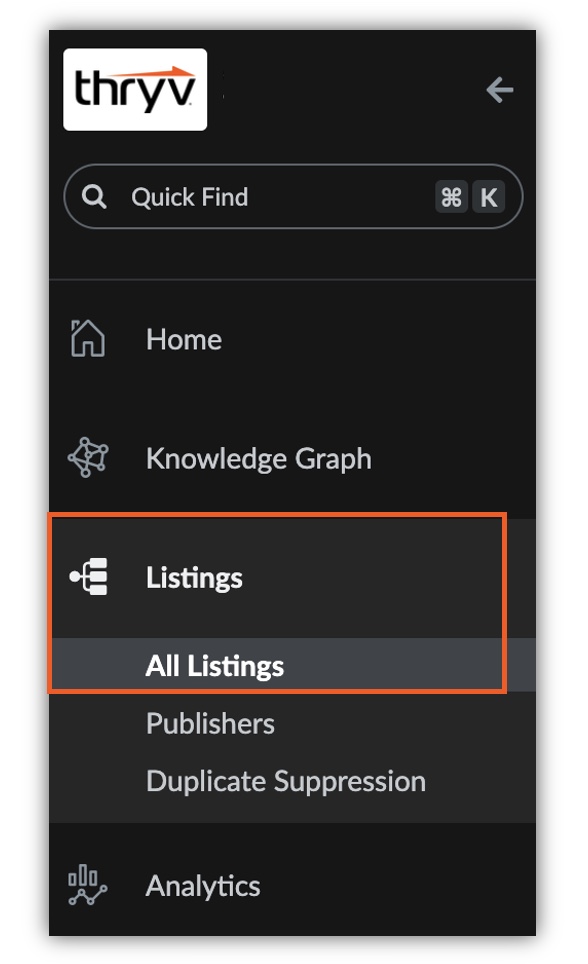 Click on Locations on the top bar, then scroll down until you find Facebook. Click on Set Up on the right.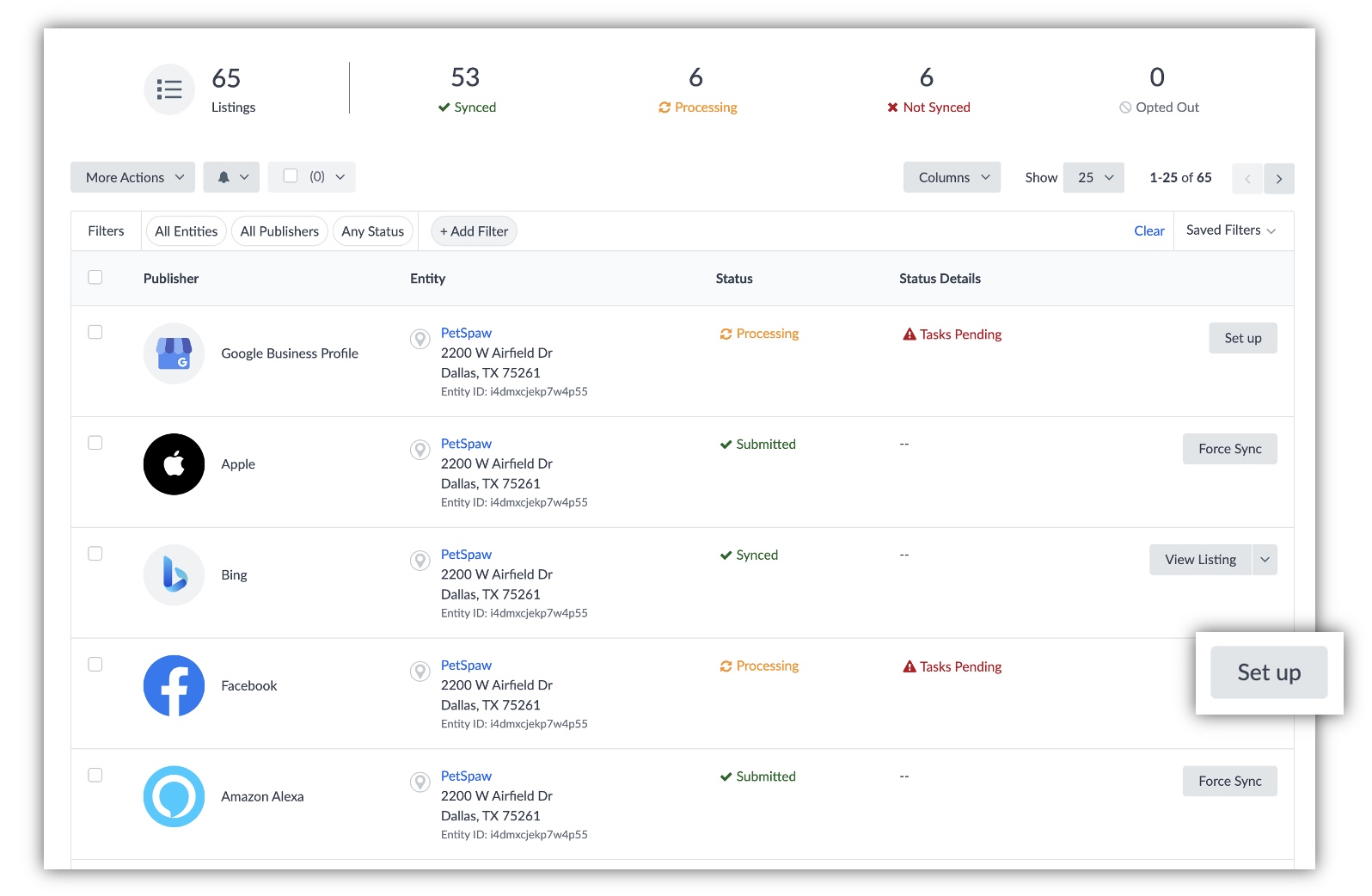 From here, you will be prompted to log into your Facebook profile. Note that you will need to log into your personal profile first, and then the business. This is not giving Thryv or Yext any access at all to your personal page.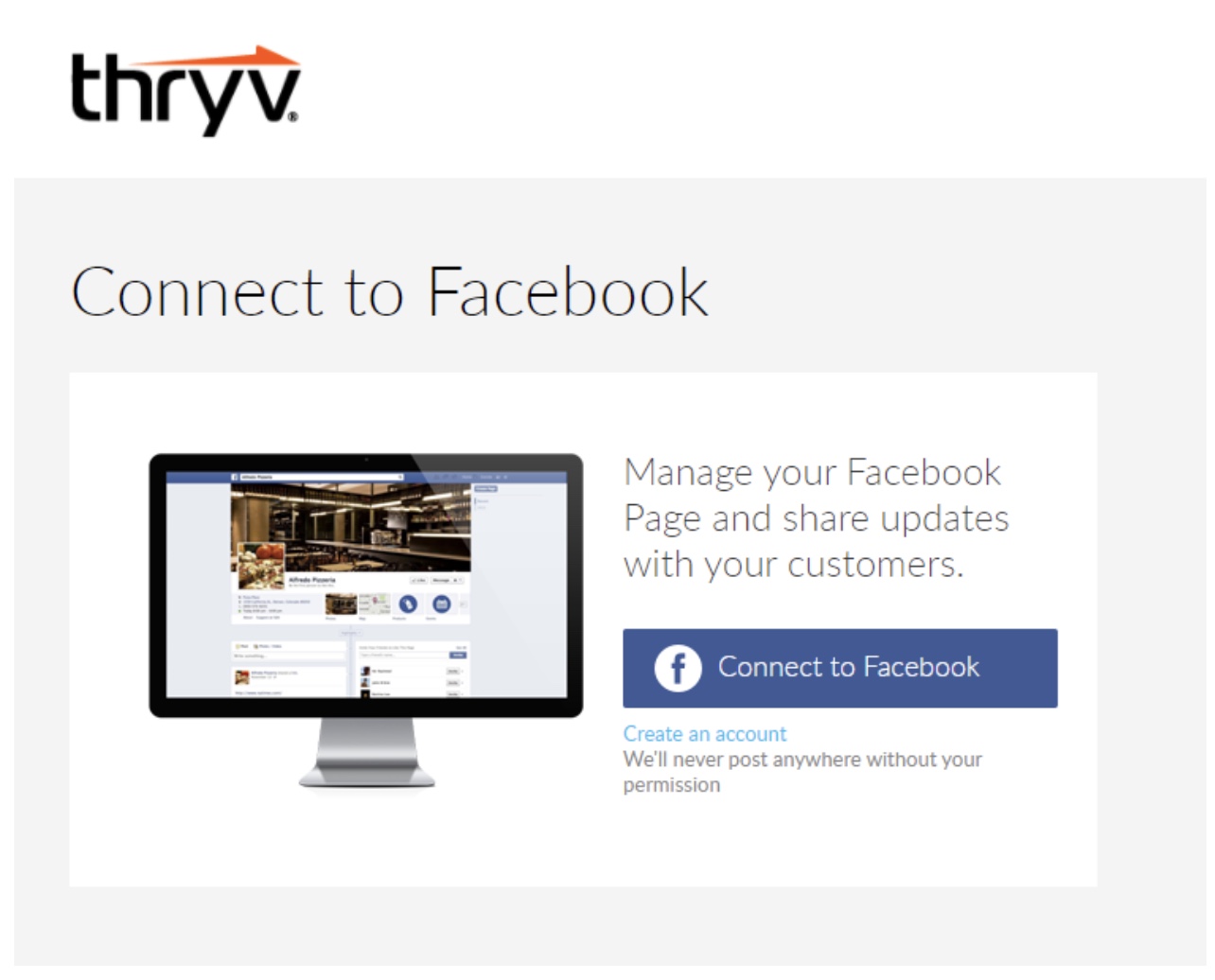 This will connect the Listing section of your Business Facebook page to your Yext profile within Thryv. (Note: This is not the same access needed for posting if your plan includes managed social content. To give admin rights to Thryv please call support at 844-998-4798 for assistance). Interested in using Thryv to post to Facebook as well? Click Here for our guide to Facebook posting!
Analytics
The Analytics dashboard provides summaries about your listings activities that you are able to configure and export. Some of the reporting summaries available:
Listings Profile Views
Listing Device Usage over time
Listings Device Usage by Weekday
*Google View on Search & Maps
*Google Customer Actions
*Google listing must be synced to pull this reporting data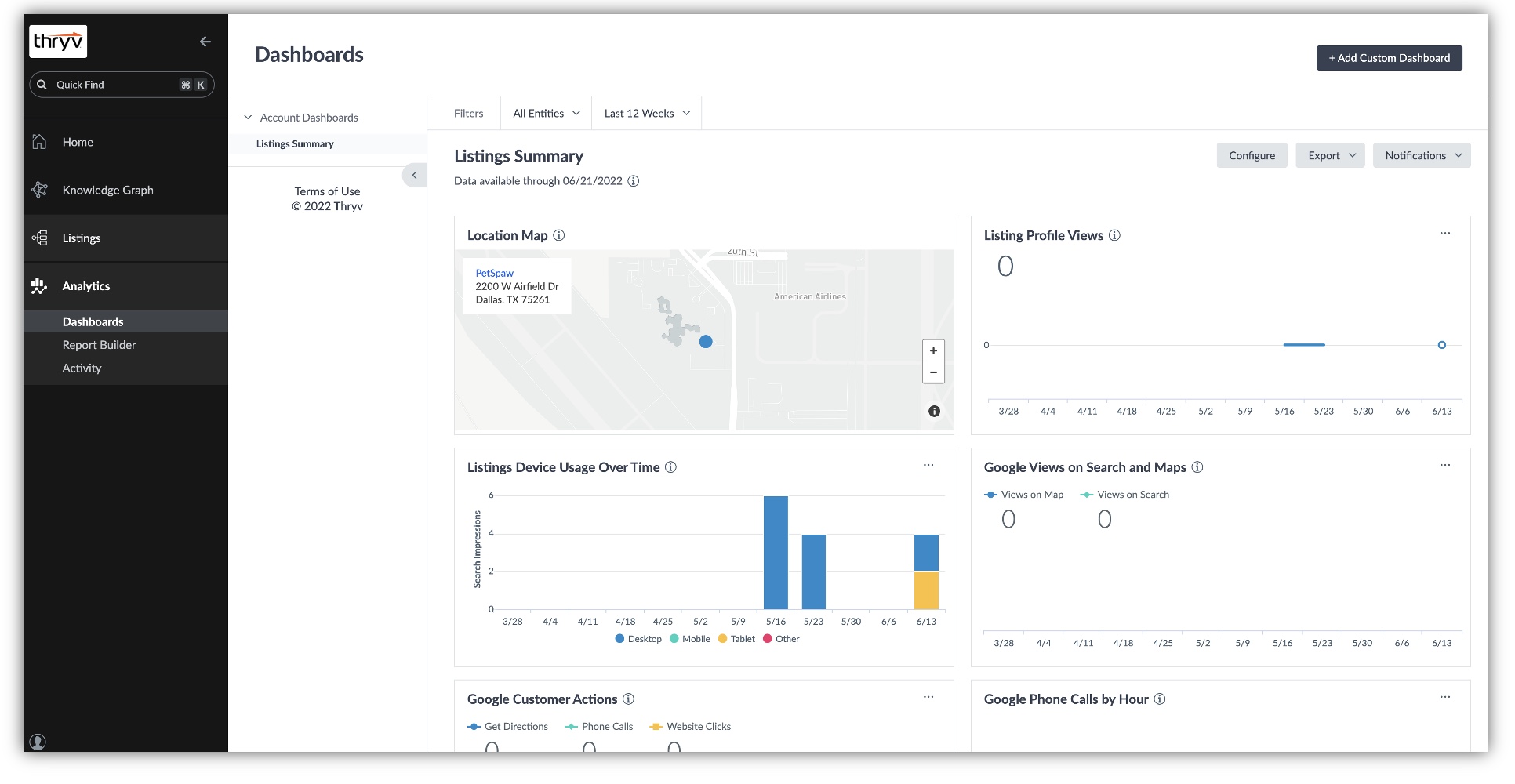 These additional analytics allow you to really deep dive into how your business is being found online by your clients. You can identify client trends and really get to know how your prospective clients behave online.
You also are able to create your own analytics dashboard, so that information that is important to you is readily available. To do this, click on Add Custom Dashboard. From here, select the data that is important to you, and it will be displayed in that order on your dashboard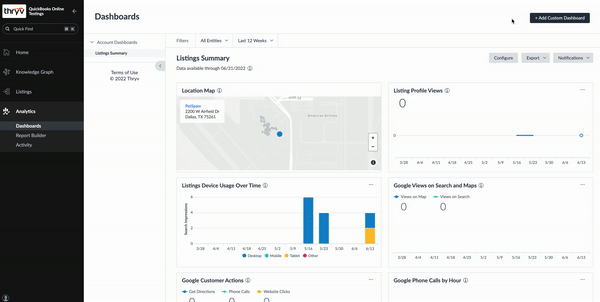 Activity
Click on Activity to view the activity log. This will show, in chronological order, all activity taken by publishers on your listings. This will keep a record of when information is changed or synced. You can use the filters on the left click on Advanced Filter to break down this information by date as well as by publisher.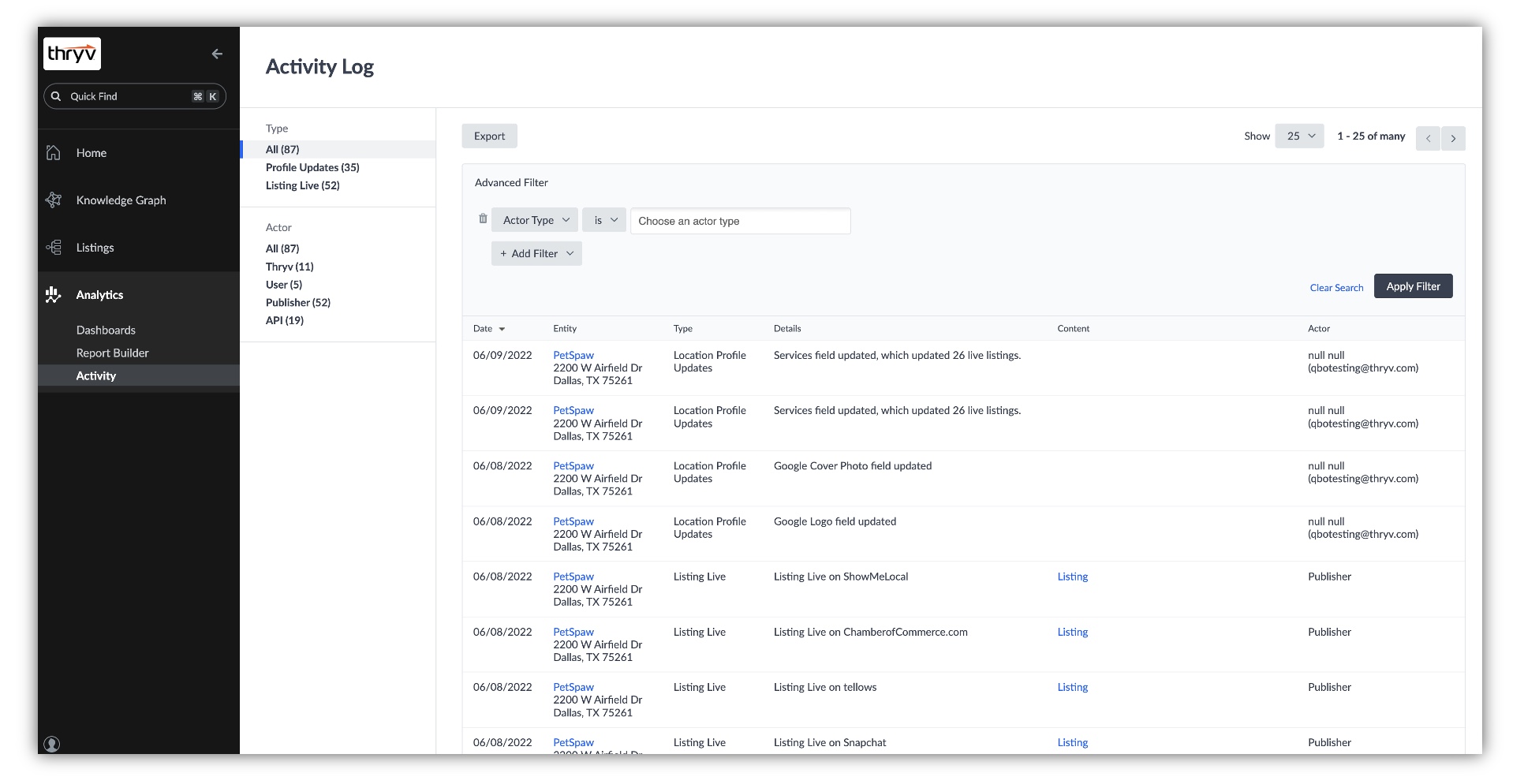 Report Builder
You can use the report builder to create custom reports, including exactly the information you want to see, in the exact format you want it.
There are several pre-made Basic Reports you can select from to get started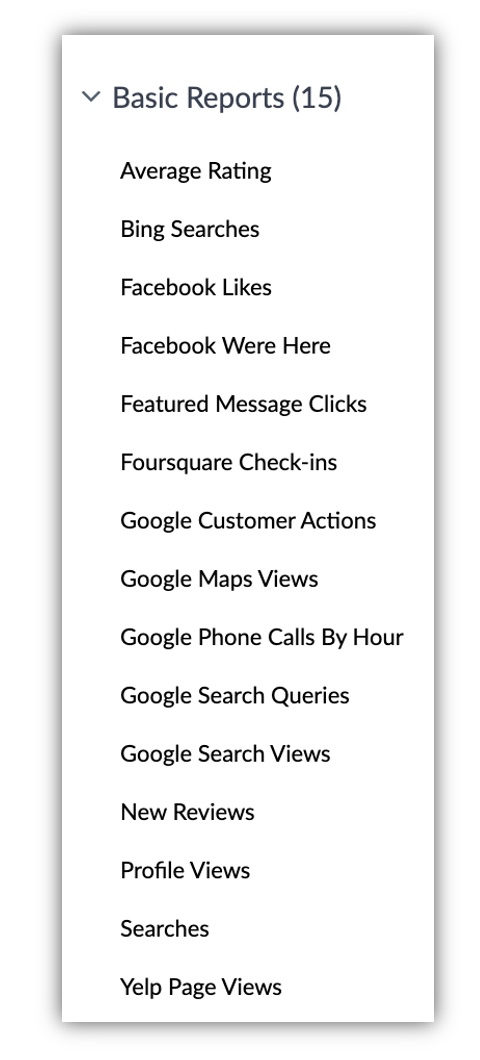 To build a custom report, first make the following selections in the Data section:
Time Range
Metrics

Use Add Metric to create a report of multiple metrics at once

Dimensions - how your data will be broken up. You can also select multiple at once
Filter By - You can also choose to filter your report by a dimension
When you've made your selections, make sure to click on Apply Changes
Select the Chart Type from the available options. This does not actually change the data selected, just the way it is displayed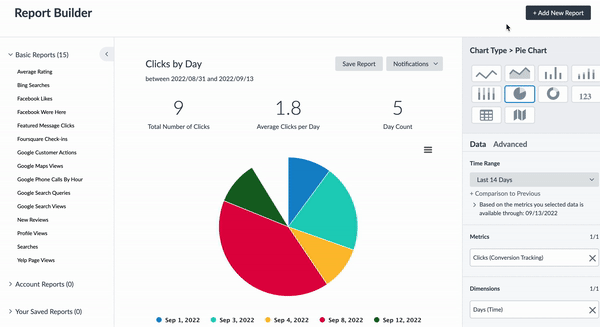 If this is a report you plan to use often, you can click on Save Report above the chart. The report will be saved under Your Saved Reports.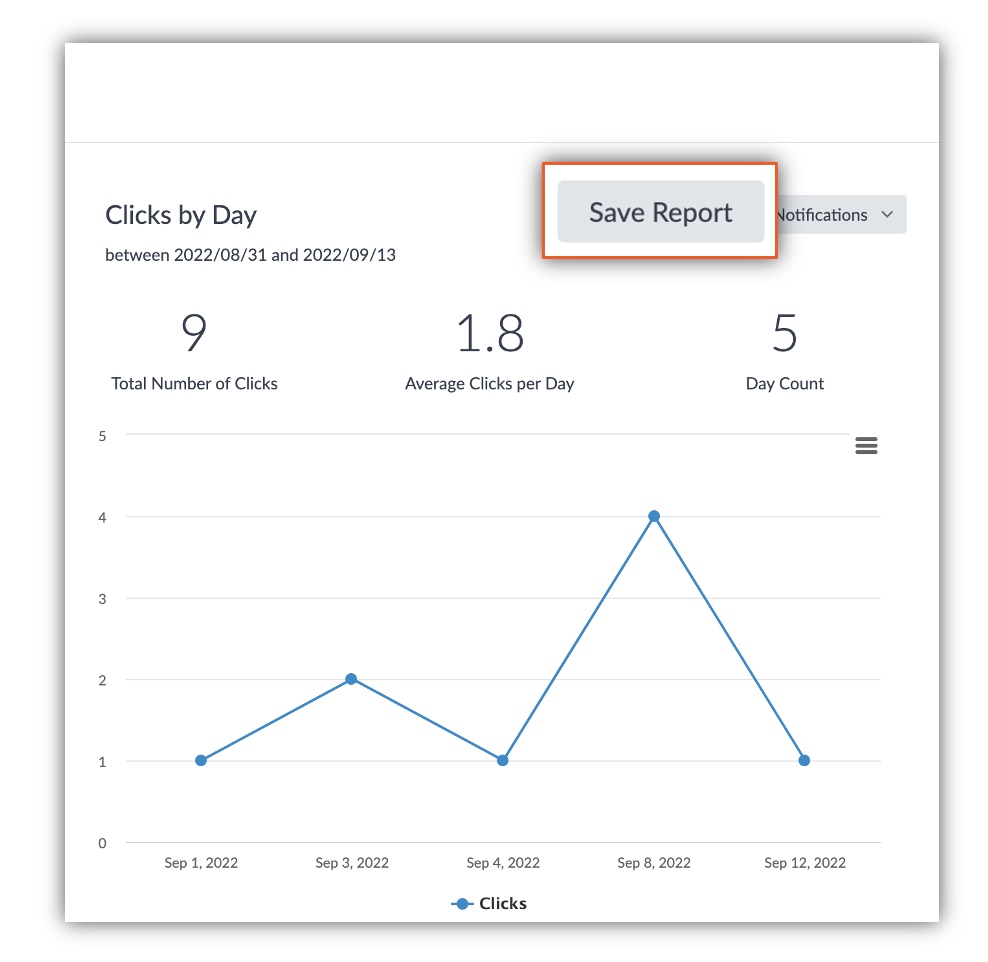 You're also able to export the report by clicking Download as CSV or Download as Excel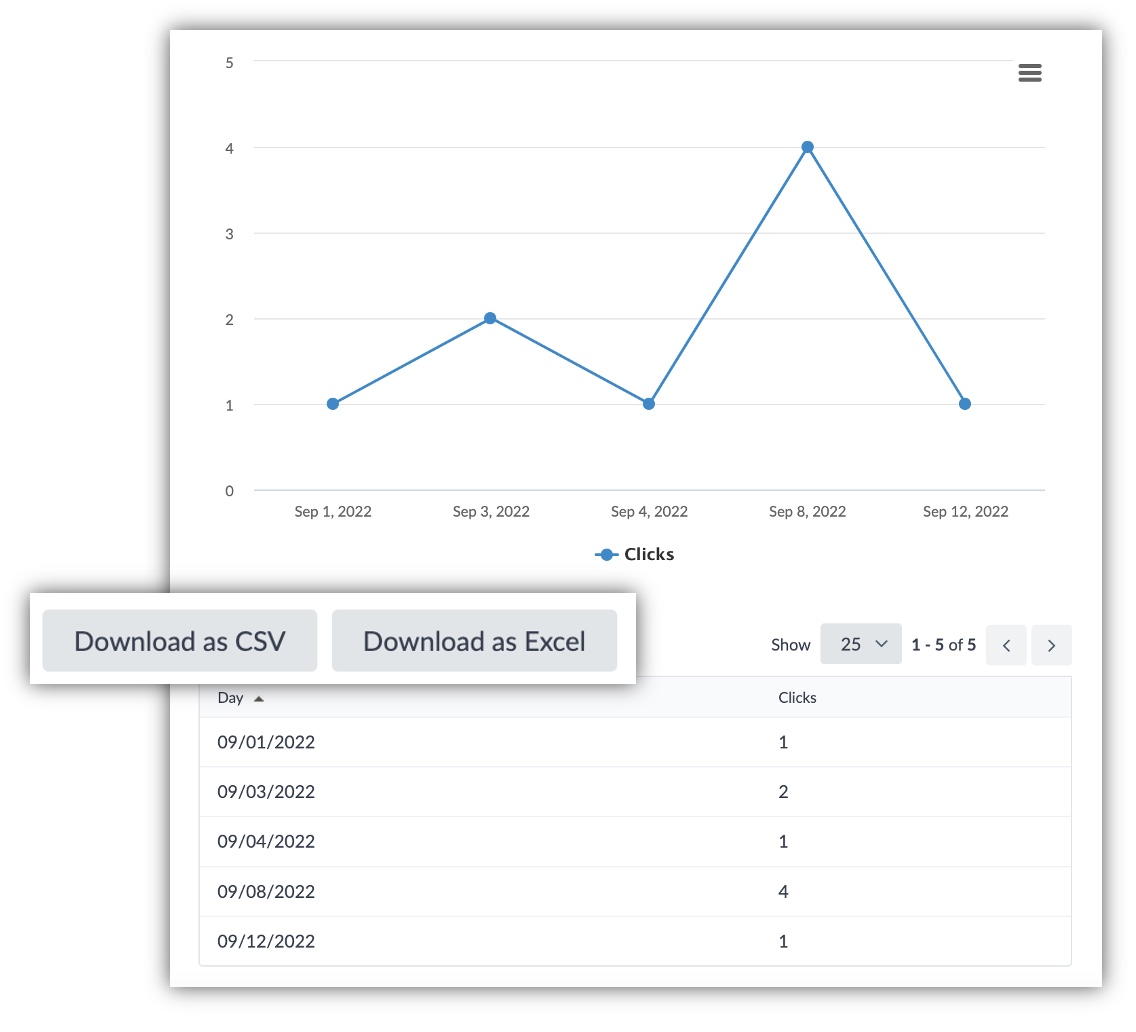 Want to make sure your Google My Business Profile is completely optimized? Click Here for a full guide!