Thryv makes it easy to manage your staff and their clients, but sometimes you just want to focus on the work you are doing. You can use the toggle to view all clients or only those assigned to you. This guide will show you how.
Locating the View All/Only Me Toggle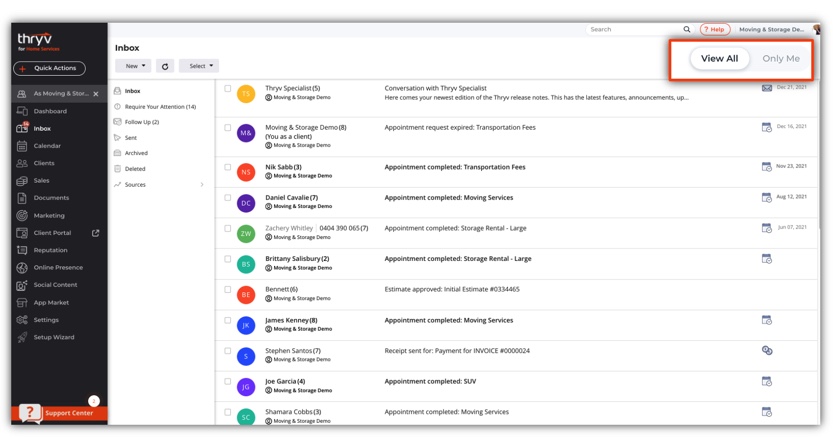 The View All/Only Me Toggle will appear in the top right corner of every screen in Thryv. Note that it will only appear for the following staff roles:
Admin
Manager
Collaborator
It will not appear under:
To toggle between the View All and Only Me views, all you need to do is click on the toggle. The view will switch based on which words are bolded in the toggle.
What Appears Under View All
When in the View All view, you will be able to see all clients in your Thryv, as well as all of their appointments, invoices, documents and other items, regardless of what staff member they are assigned to. If you are trying to look up an item for a client that is assigned to one of your staff members, this is the view that you need to be in.
What Appears Under Only Me
When you are in the Only Me view, you will only see clients that are specifically assigned to you. Any client in your system, along with their invoices, appointments, payments, and other items, will be hidden. You can use this view to narrow your results to clients you are directly working with.


Troubleshooting FAQ
A Client/Invoice/Payment/Appointment I am searching for is not appearing in my search results?
The View All/Only Me Toggle is the most likely cause of not being able to find an item in Thryv. If your search is unsuccessful, the first place you should look is the toggle, and ensure that you are in View All mode. If the toggle does not appear and you can't find your client, you will need to ensure with your Admin that the client is assigned to you.
If I change the toggle to either View All or Only Me, will it default that way the next time I log in?
Yes. The toggle will default on the next log in to the position it was in when logged off. If your intent is to switch to Only Me on a temporary basis, make sure you set the toggle back when you are done working to avoid confusion the next time logging in.
For further questions on Staff Permissions, please read the article Here.