Want a website that can enable quick 2-way communication with your customers? Use the WebChat app to add this feature to your website! This guide will cover how to install the app, use it to communicate with leads and customers on your website, and cover frequently asked questions.
Article Contents
Installation
WebChat is a live chat feature that Thryv adds to your website. It can be added directly to your Thryv website, or we can provide the HTML code if your website is housed elsewhere. 
To enable WebChat, navigate to the App Market, then click on the WebChat App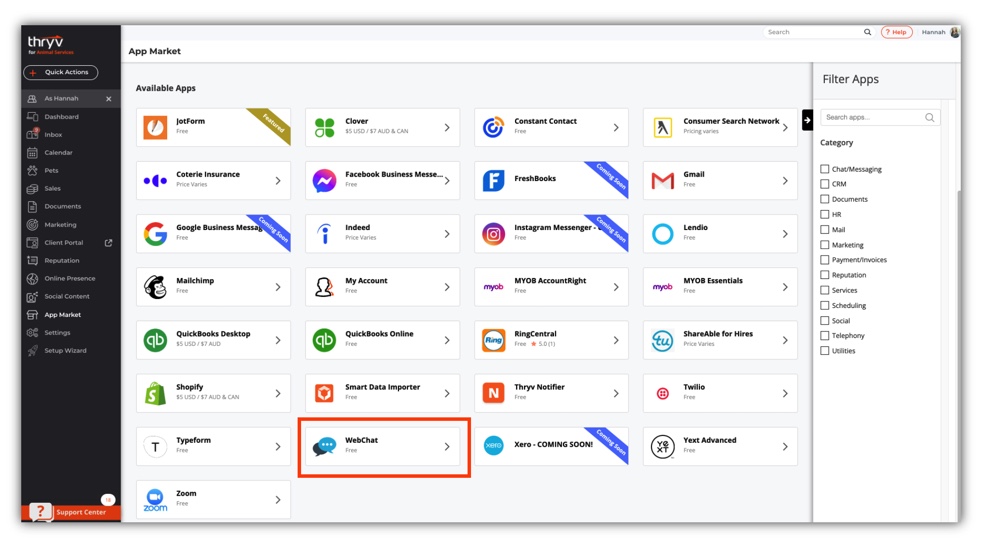 Next, click on Get This App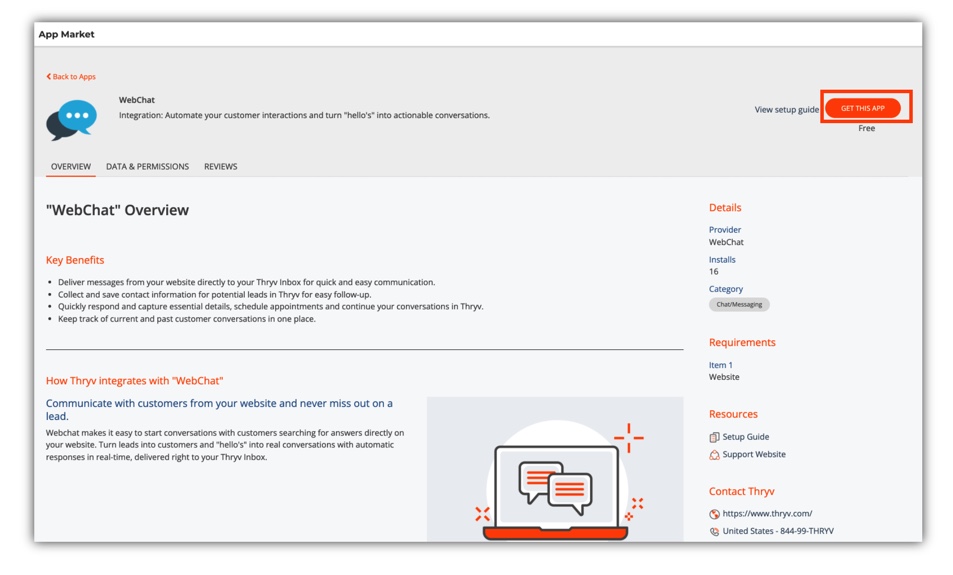 To get started, customize the Header Color, Text Color, and Action Button Color for your WebChat.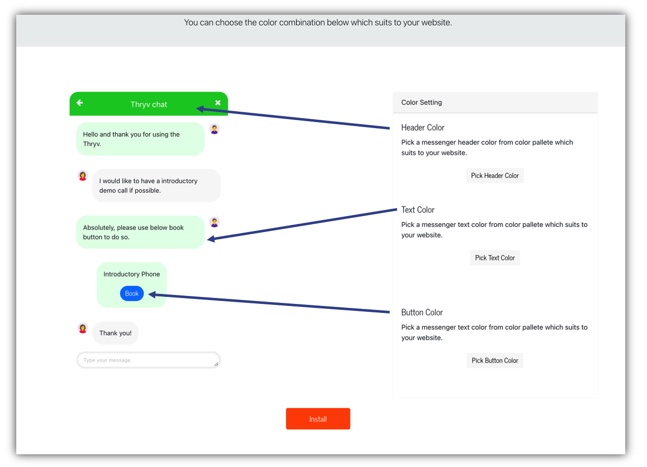 Click on Pick Color 
for each item (Header, Text, and Button) to open the color picker. You can select a color by clicking on it in the square, and using the brightness slider to adjust. You also can enter a HEX Code or RGB code as well. Note: The exact RGB Code for your website can be found by navigating to Online Presence>Website Widgets.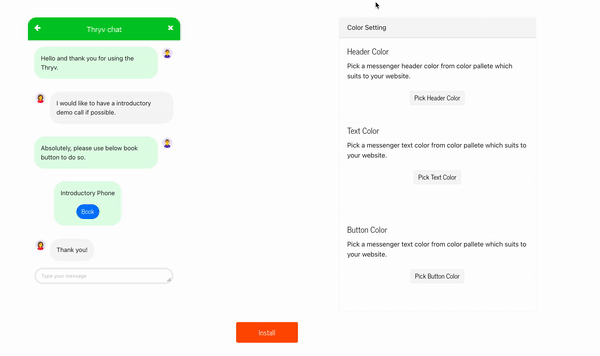 Once you have customized the color for all 3 items, click on Install
For an Internal Site, meaning your website is managed by Thryv, click on Alert Web Team. This will alert Thryv's web team to add the WebChat widget to your website and make sure everything is running smoothly.
For an External Site, meaning your site is managed by someone other than Thryv, you will need to copy the HTML code and paste it at the end of your header in the code for your website. If you're not able to add the script to your site right away, you will receive a message in your Thryv inbox that contains the Script, so you can do so when you are ready.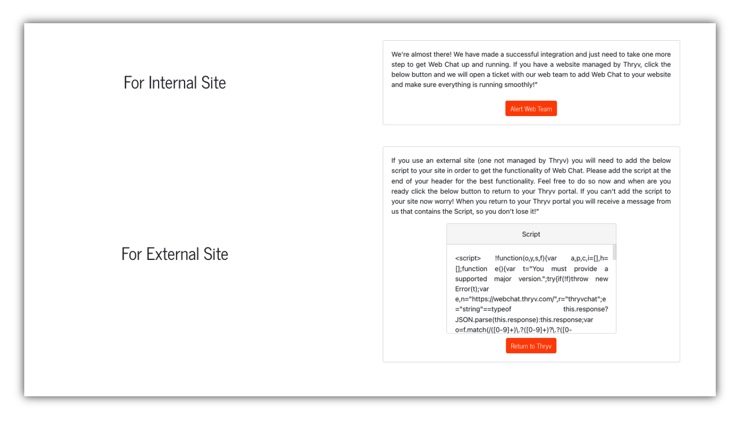 After this step, the install is complete! Please allow 24-48 hours for our web team to add the WebChat widget to your Thryv site. Alternatively, for immediate service, you can call us directly at 866-239-8317 to have WebChat added. Between 8am to 2am CST, Monday through Thursday, Friday between 8am to 7pm CST, Saturday 10am to 4pm CST, and Sunday 5pm to 2am CST.
To make changes to your WebChat widget, navigate back to the app. Upon visiting again, some new buttons will appear:

Update - The changes you have made to your WebChat widget will take effect
Uninstall - This will remove the app and remove the WebChat widget from your website.

Note: This option will only work if your website is managed by Thryv. If you have an external website, then to uninstall you will need to delete the HTML code for the WebChat widget from your website. 

Back To Thryv- The changes you have made to your WebChat widget will be discarded and you will be taken back to the App Market
Using WebChat to Communicate
When a visitor to your website initiates a conversation through WebChat, they will be prompted to enter their information. This is used to either create a client card for them, or associate the conversation to an existing client card.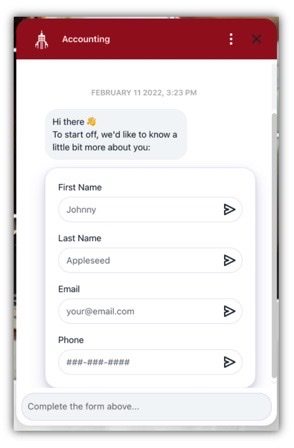 When your customer completes the form and sends their message, you will instantly receive a Thryv notification, and the message will appear in your inbox.
After sending their message:
Your customer can set up a notification in their Facebook Messenger to be notified when you've sent a response
An auto-response will be sent indicating the time zone in which your business hours operate, so the client will know when to expect a response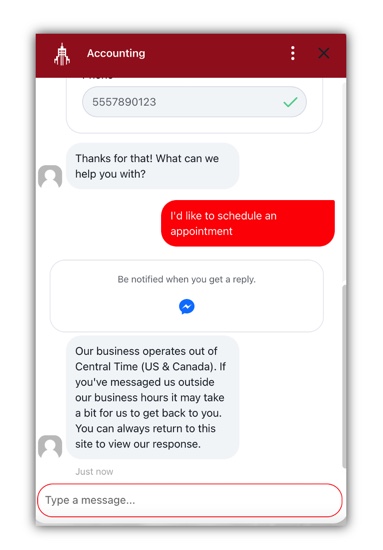 In Business Center, their message will appear in your Inbox.

Within the Conversation, an icon will display to indicate a WebChat session has started, and this icon:

will appear to indicate the message was sent through WebChat.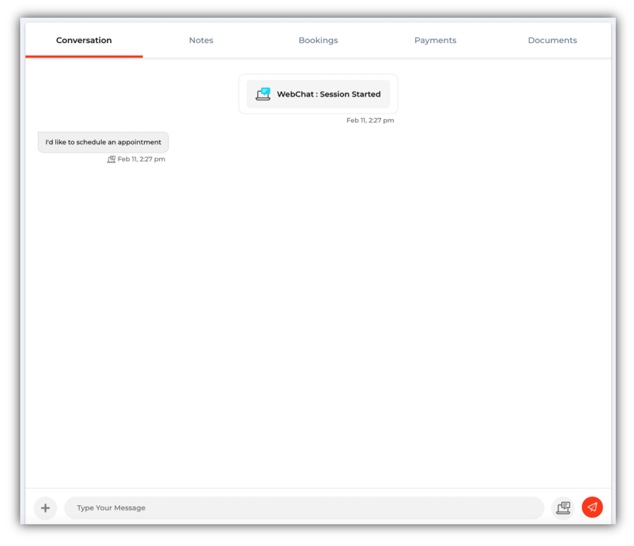 From here, you can respond to your client as normal, and you can always change the conversation channel to another method (email, SMS, Facebook Messenger, etc) by clicking on the channel icon.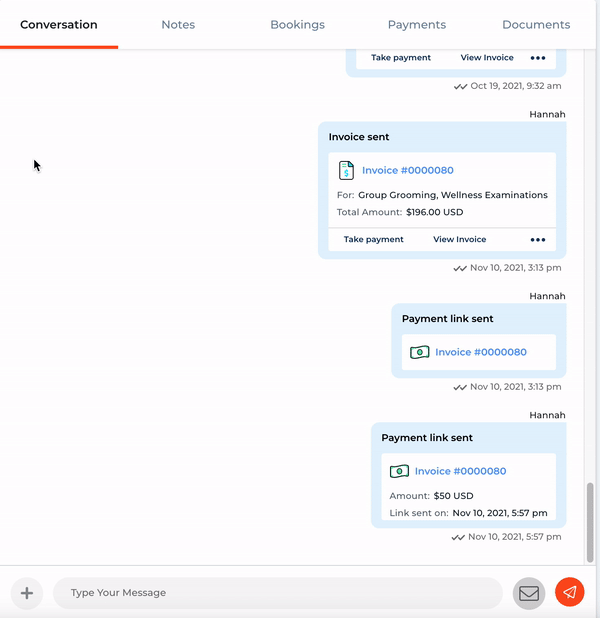 FAQ
How do I know which connected channel I received a message from? All incoming messages are organized and shown in the conversation thread under a header of the channel it was received from. Once a new message is received from a different channel a new header will appear in real-time above the new message within the conversation thread.
How long after the initial message can I respond to a WebChat conversation?From the initial message, you can respond to the customer directly from your inbox to WebChat. A WebChat session ends after 1 hour of no activity from your customer. You can then only respond to the customer by selecting SMS or Email if the telephone number or email address is saved.
How do I capture lead contact information from multiple platforms?Messaging apps connected via the App Market include an instant-reply request feature. When a customer connects with you from any connected channel, they will receive an instant reply requesting their name and email address. All information entered automatically creates a new contact in your Business Center CRM or updates an existing contact with additional details captured.
Can I connect WebChat to my website if I don't have a Thryv Managed website?Yes! WebChat will connect to any Website that can accept using a source code. You will need to paste the WebChat snippet into the code of your website yourself. Note that this would not include a Build-It-Yourself Thryv Website
I have an external (managed by someone other than Thryv) website, and I'm trying to make changes to my WebChat widget. Do I need to copy and paste the code again?No, any changes you make in the app will update automatically using the same code, there is no need to copy and paste again.
How can I uninstall WebChat from my website?If you have a Thryv Managed website, you can remove WebChat by disconnecting the app from the App Market. If WebChat was added to your site using an Html code you will need to remove the code to remove WebChat from your site.
Want to see what other messaging platforms can connect to your Thryv Inbox? Click Here for the full guide!