Use Thryv to build an email signature that not only has a professional style, but also encourages clients to interact with your business by incorporating an easy-to-use call to action! This guide will explore the different options Thryv has available for building your own custom email signature. This email signature integrates with your 3rd party email provider (Gmail, Yahoo, Outlook, etc), and redirects the client to interact with you through their Thryv client portal.
To set your custom email signature, navigate to Online Presence>Email Signature
Article Contents:
Details
Signature Previewer
The right side of the screen will show a live preview of how your email signature will appear. As you make changes on the left, the previewer will show the effects of those changes on the right.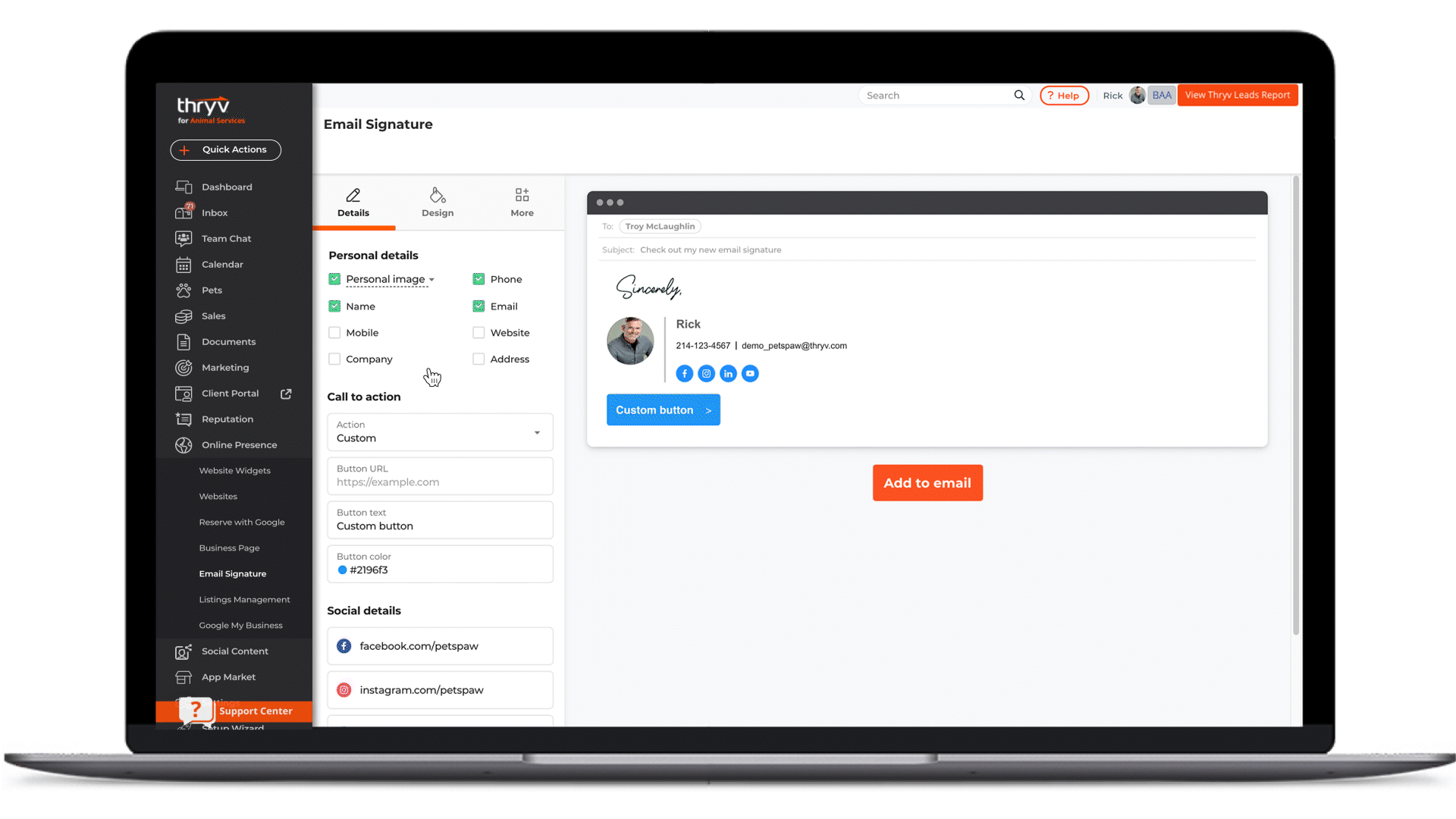 Details
Determine which personal details you want included in your signature. These will come from your staff account in Thryv.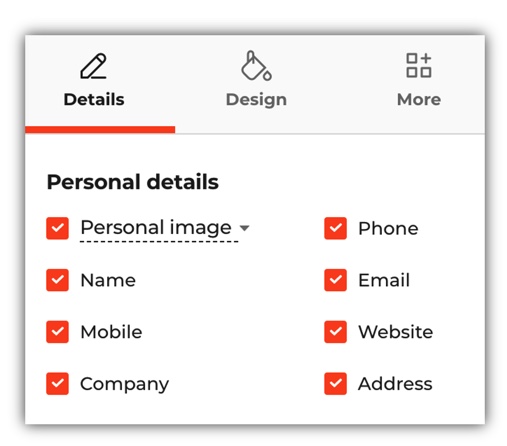 Next, add a call to action in your signature. Choose from the following actions
Schedule a meeting - the button will link to your appointment scheduler
Visit business page - the button will link to your business page
Login to client portal - the button will invite clients to login to their account
Custom - provide your own custom link
None - disables call to action button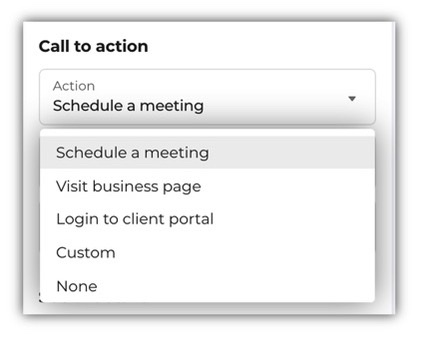 Note: if the client receiving the email is not a client in your Thryv, all of these buttons except for "Custom" will take them to your Business Page where they can take these actions
Add Your Social Accounts
Next, you can add links to all of your social accounts, which will appear as buttons on your signature. Your customers can click these buttons to visit your social media pages.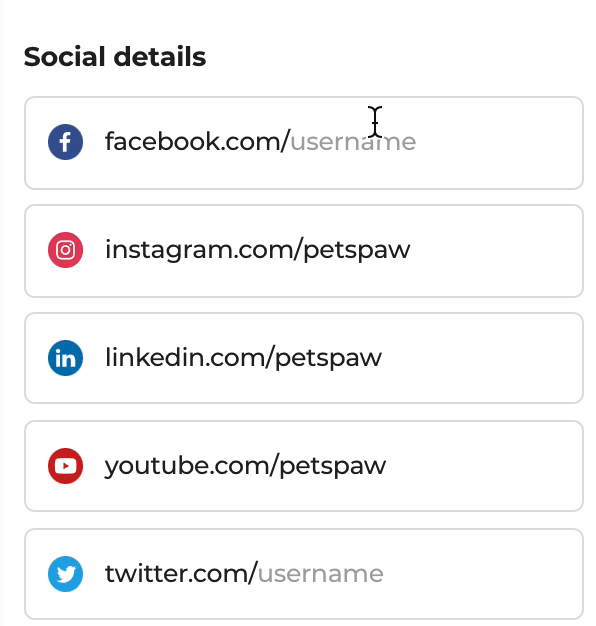 Design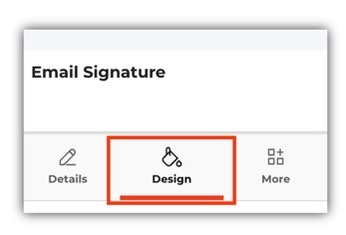 Templates
Choose between 4 different templates. Clicking on each icon will show how it looks in the previewer on the right.
Design
Next, you will make several choices about the design of your signature.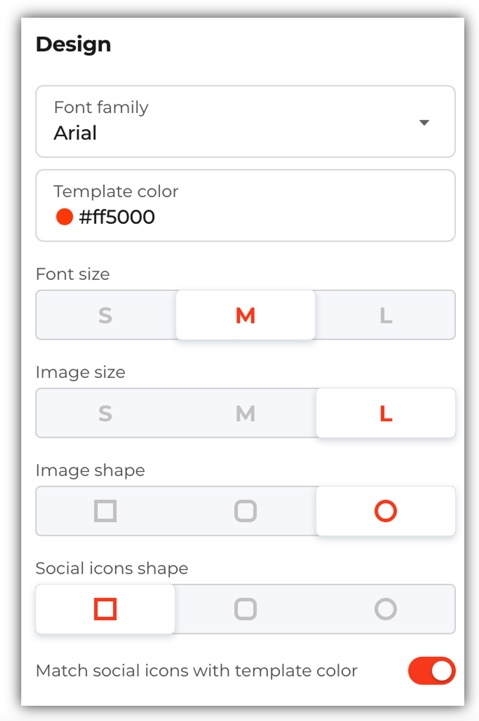 Choose a font
Choose a color

You can click on the color icon to pull up the color picker, or use HEX or RGB codes

Choose sizes for the image and font
Choose shapes for the image and social icons
Choose whether to match the social icons with your template color, or to leave them as their default colors.
More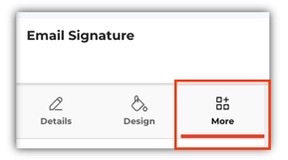 Styled Signoff
Use the toggle to turn this app on or off. In the field "Signoff Text" you can choose what you would like this text to say. Finally, select a size for the signoff.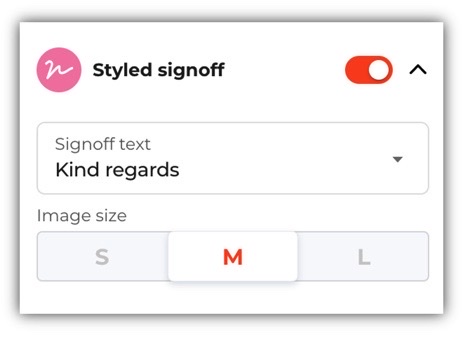 Upload a Banner
If you would like to include an image as a banner in your signature, toggle this feature on. Then click on Upload File to upload your image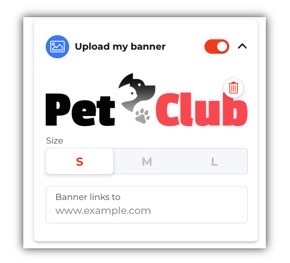 Disclaimer
Select from a list of pre-written disclaimers to attach to your email. These are designed to protect your business from liability for the various situations in which these disclaimers might apply. Note that there is an option for Custom at the bottom where you can write your own.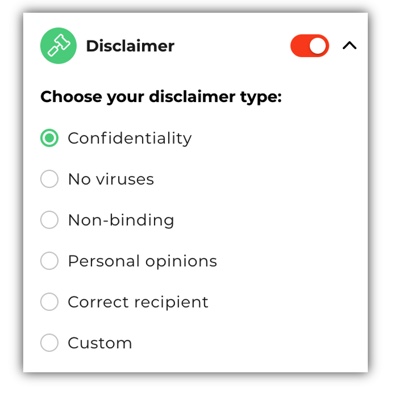 Add Signature to Email
First, select your email provider on the left hand side.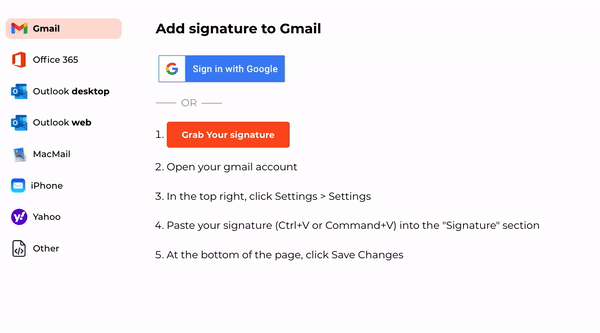 From here, the instructions will vary based on your email provider. The first step will be to click on Grab Your Signature, which will copy your email signature to the clipboard. From here, follow the unique instructions for your email provider, and your signature will be added.
Once this step is complete, you can now send emails with a sleek and professional signature that will drive client interactions toward Thryv!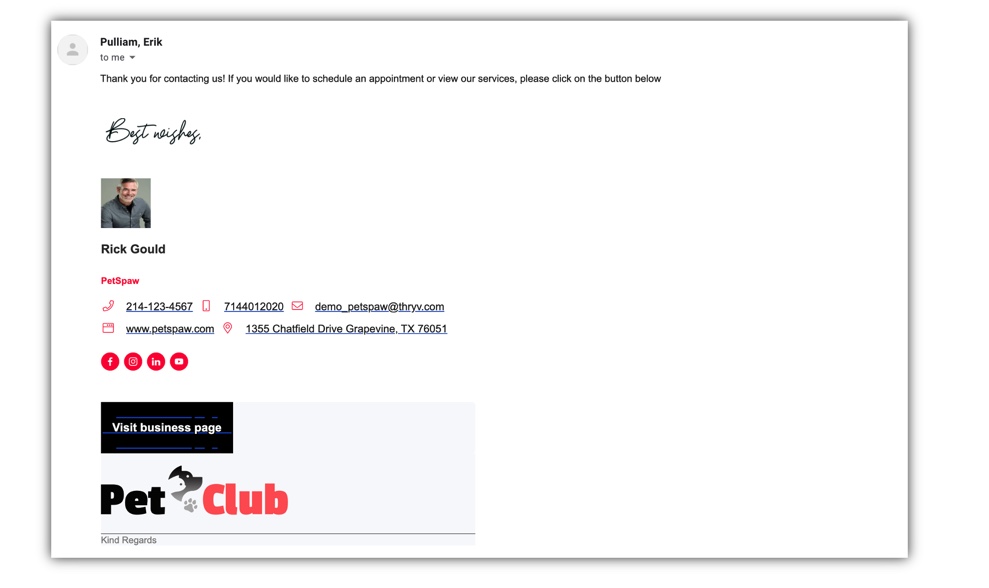 FAQ
Which Thryv packages include custom email signature
Custom email signatures are only available with Thryv Professional and Unlimited packages.
Can all staff members build a custom email signature?
Yes! The layout and design, such as the action button, logo, and colors along with selected social media links can only be updated and edited by an admin account. Staff members with more limited roles can select the personal details they choose to display in their email signature but cannot change or edit the main signature.
If I make a change to my email signature, will I need to add it to my email again?
They sync with Gmail is a direct sync, meaning it will not need to be updated. However for any other provider, you will need to repeat the process of adding it to update.
Where can I edit the personal details in my email signature?
To provide a quicker and easier experience, your personal details are automatically pulled from within Thryv. This ensures the information in your signature matches the information on your 40+ listing sites, keeping your online brand consistent. You can edit your personal details and add a personal image in the "My Profile" and "Business Info" Settings inside Thryv.
Where can I add my logo to my email signature?
While there is not a specific section to add your logo, your logo can be added to your signature in the banner section. The banner is a clickable image within your signature that can direct customers to your website, Client Portal or designated site.
Will my customized email signature show on my Thryv emails?
No. The Email Signature is intended to use with your main email accounts outside of Thryv, such as Gmail or Outlook.
Do I need to connect my social pages in Thryv to add the links to my signature?
No. The Social links in your email signature link directly to your social media pages and does not require a login. Customers are taken directly to your social pages where they can gather more information and follow you.
If I want to remove my custom email signature from my 3rd party email provider, how do I do so?
This can not be done in Thryv. To remove the signature, you would need to go to the signature settings for your email provider and delete the signature from there.
Looking for a way to send emails to all of your customers to promote your business? Click Here for a guide to sending email marketing announcements with Thryv.