Want to make it easier to find the client you are looking for? Or looking to narrow down your list to a specific group? This guide will show you how to use the many filters available that Thryv has to offer!
When you are on the Clients screen, the filters will be on the right hand side. (Note: If you have selected a different CRM Term, that term will replace the word Clients).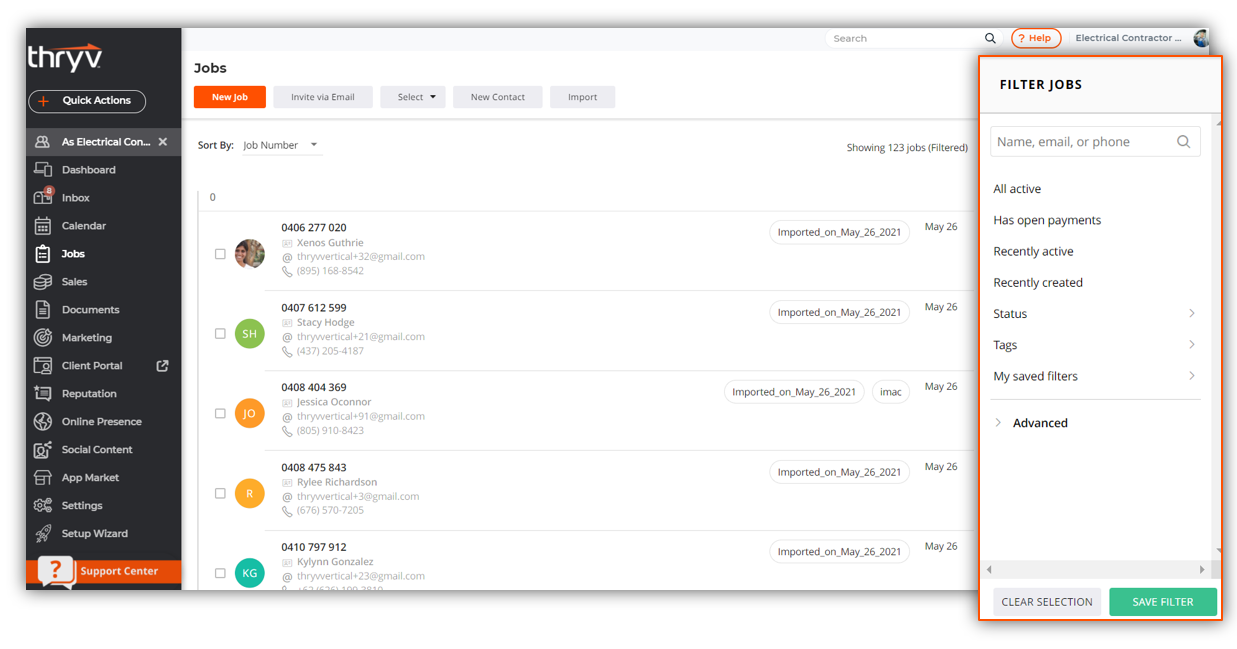 Article Contents:
Search Bar
You can use the search bar to search by a specific name, email address, or phone number. Keep in mind, the search bar can only search one name field at a time, so typing a first or last name will bring up all clients matching the first or last name, whichever is typed first.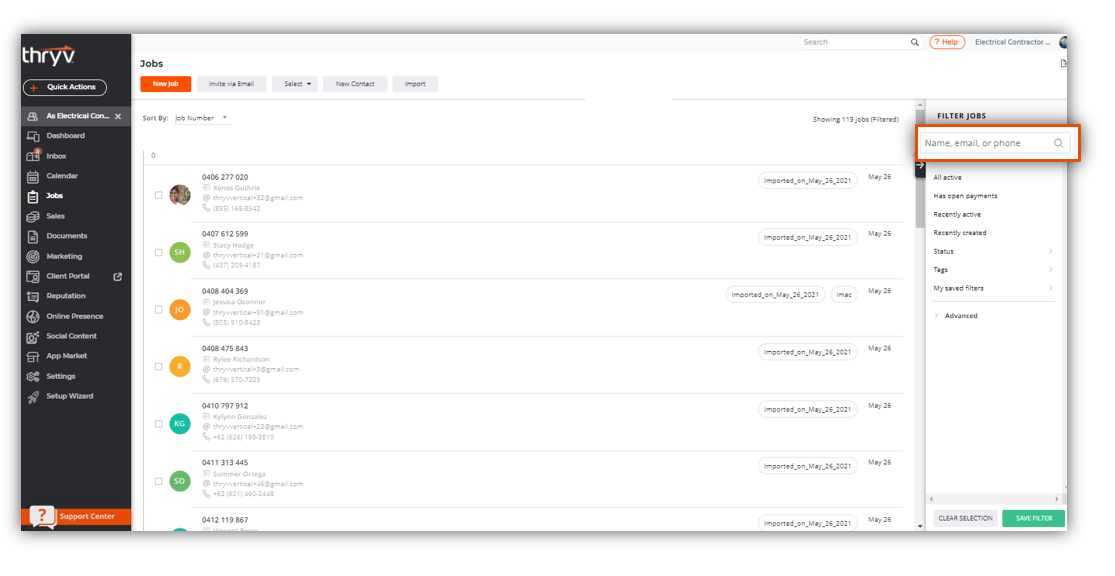 One Step Filters
These filters produce a list of clients in just one click, based on their creation date or interaction with your business.
Clicking on All Active will show all clients in alphabetical order, excluding those marked as inactive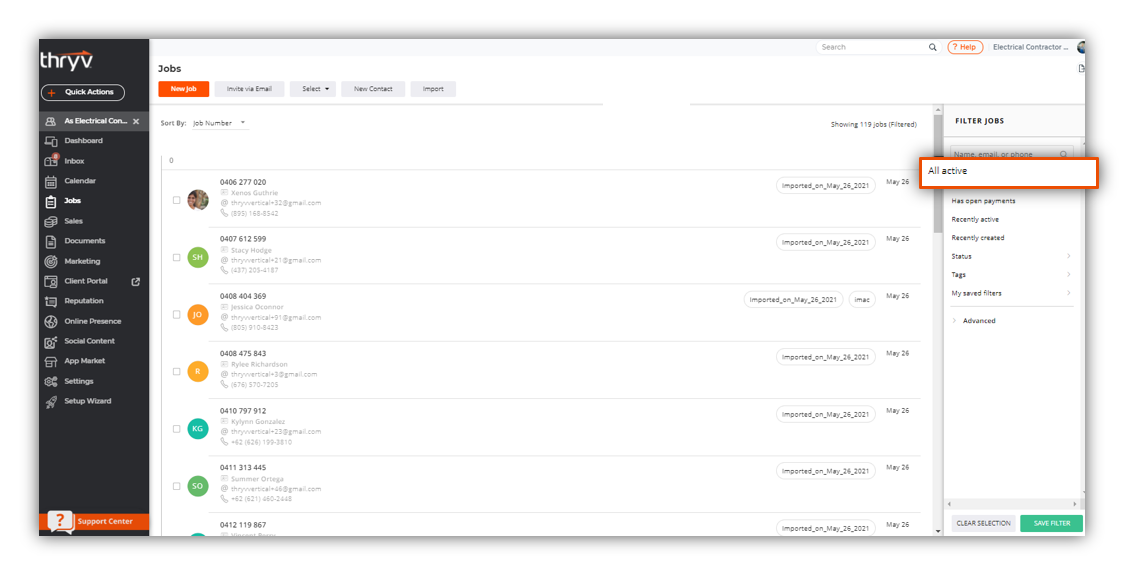 Filtering by Has Open Payments will display all clients with a charge on their account that is either Due or Overdue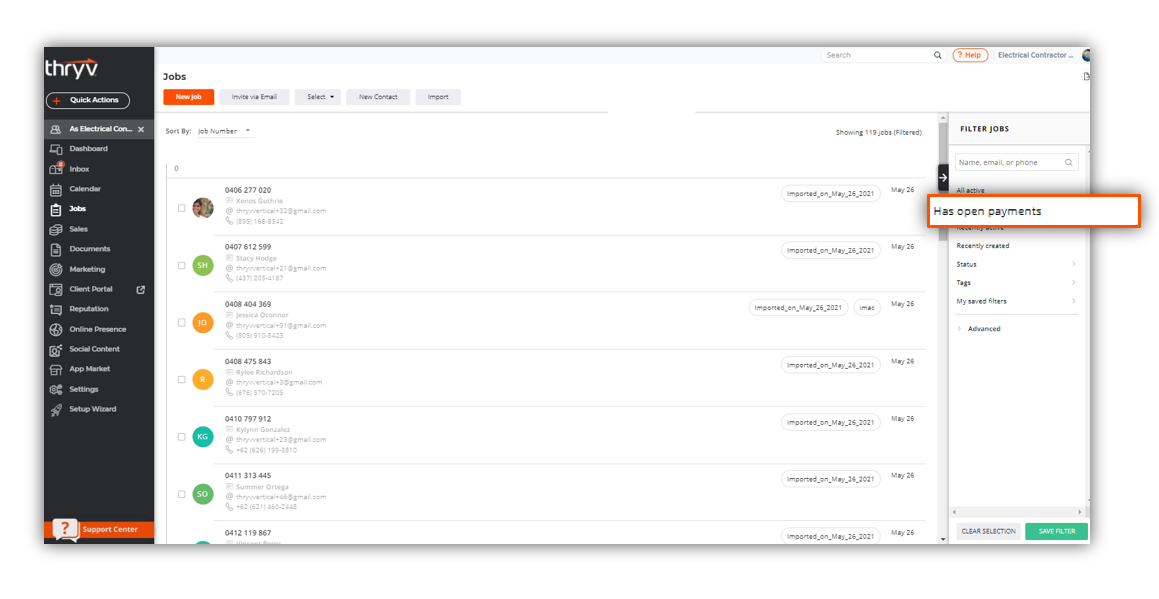 Filtering by Recently Active will sort all clients based on the order in which they most recently interacted with your business through Thryv

Recently Created will filter clients by the ones who were most recently added, whether they were entered manually by you or your staff or through the business page or client portal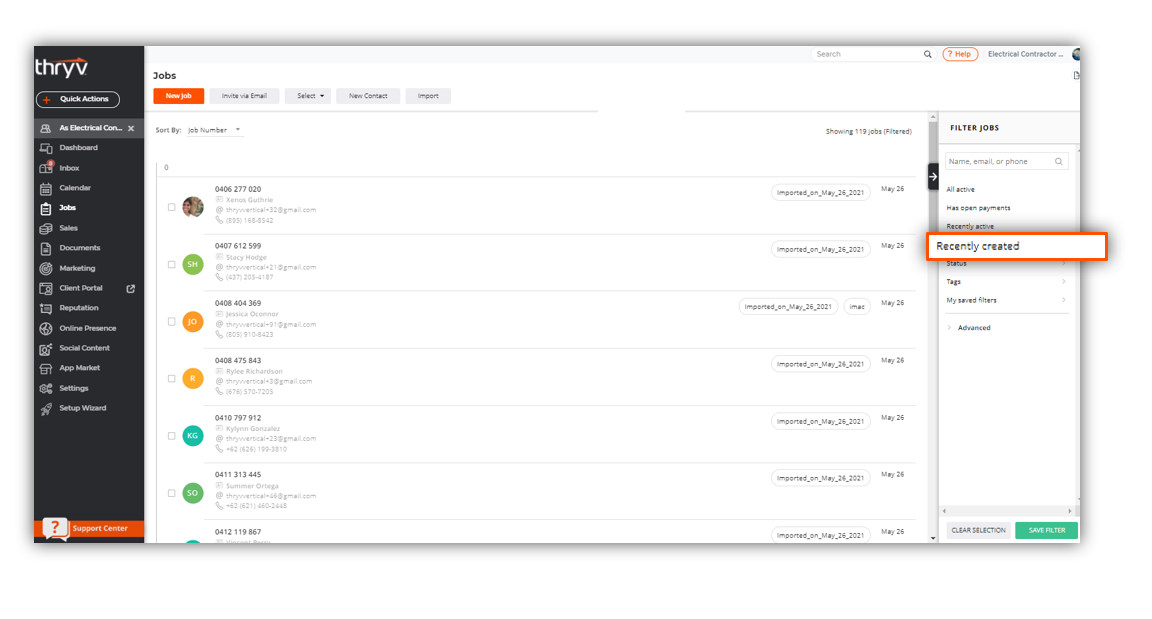 Multi Step Filters
These filters sort clients based on changes made to their information either by you or your staff or by interacting with your business. They require an additional selection to set up
Status will filter by the current status of that client:
Lead
Customer
VIP
Inactive
For a guide to understanding client statuses, Click Here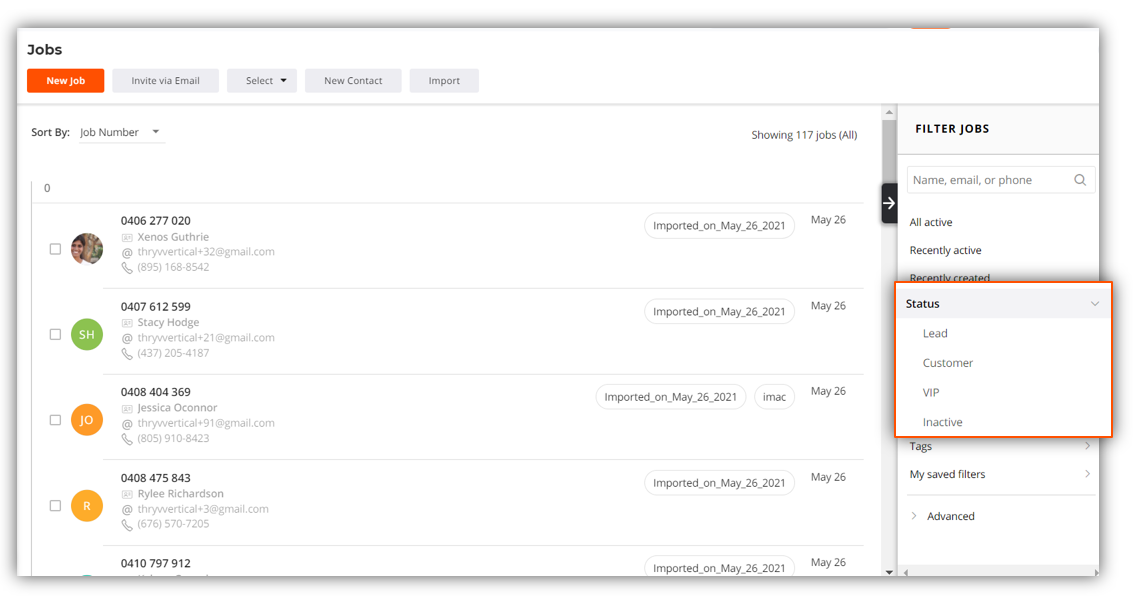 Tags will only show the clients in a tag group. Note that only one tag group can be filtered at a time this way. Searching by multiple tags can be done under Advanced.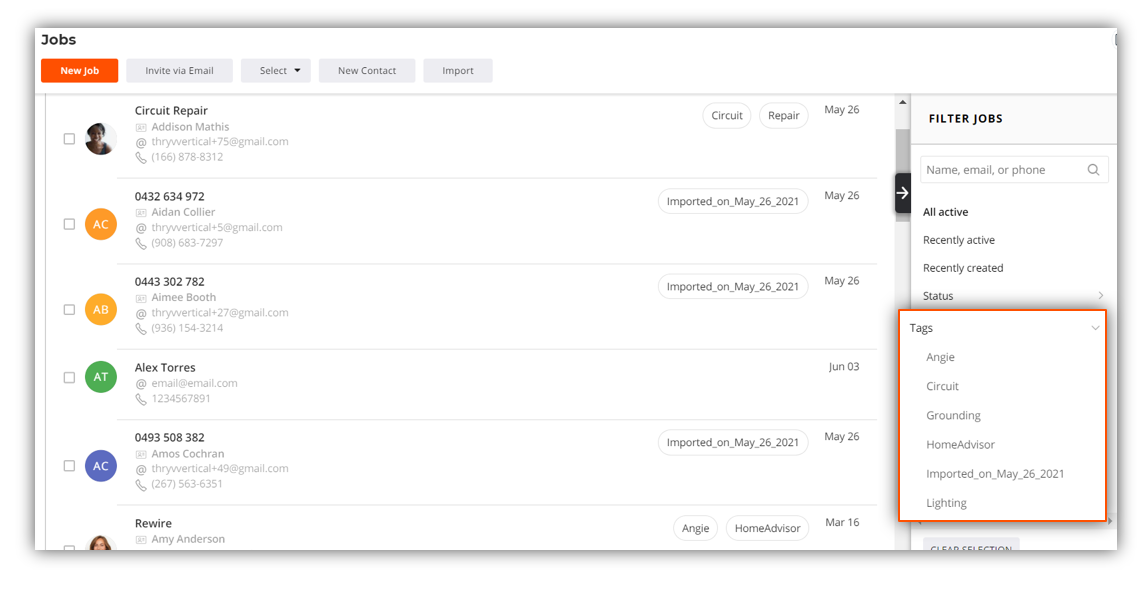 Combining and Saving Custom Filters
Advanced filtering allows you to filter your clients by Tags, Status, Source of where the client originated (i.e. entered by staff, website, etc), or any field in the client card. In addition to these extra options, you can cross-filter by multiple items. For example, you could filter for all clients with a certain status and tag, or all job types in a certain status.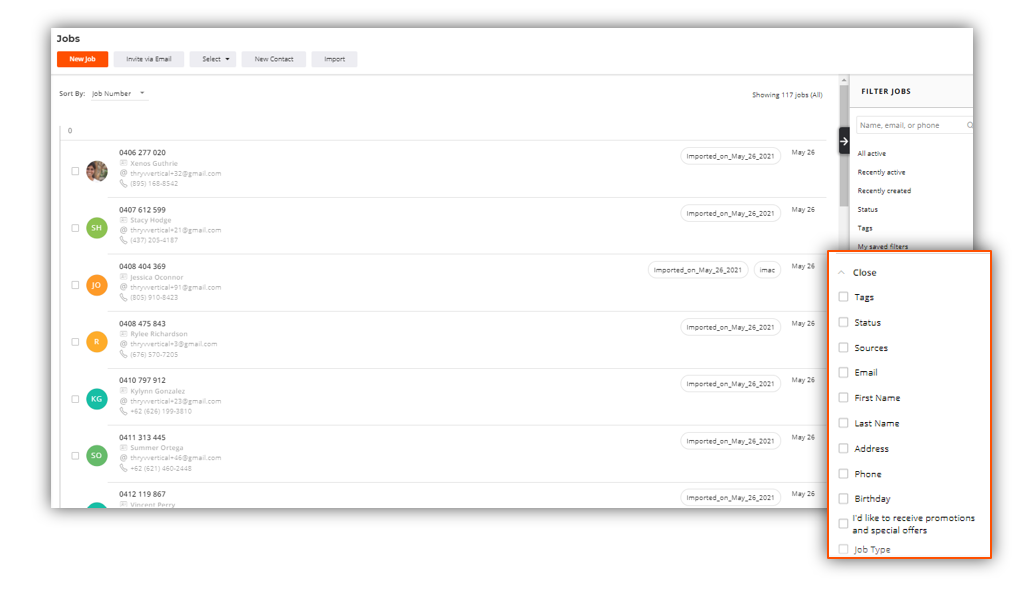 In addition to the ability to filter by multiple attributes, the advanced filter also gives you the option to Save that filter for later use. To save the advanced filter you are on currently, click on Save Filter. Note: only advanced filters can be saved.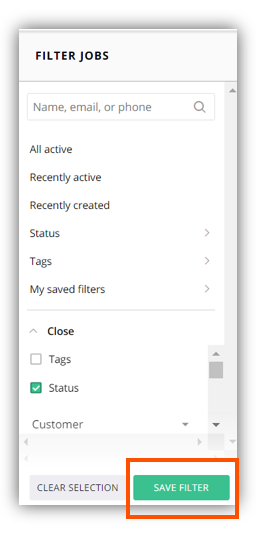 After clicking on Save Filter, you will be required to give your filter a name so you can find it later.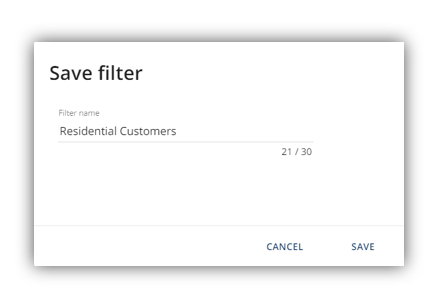 Any filter saved this way can be recalled under My Saved Filters.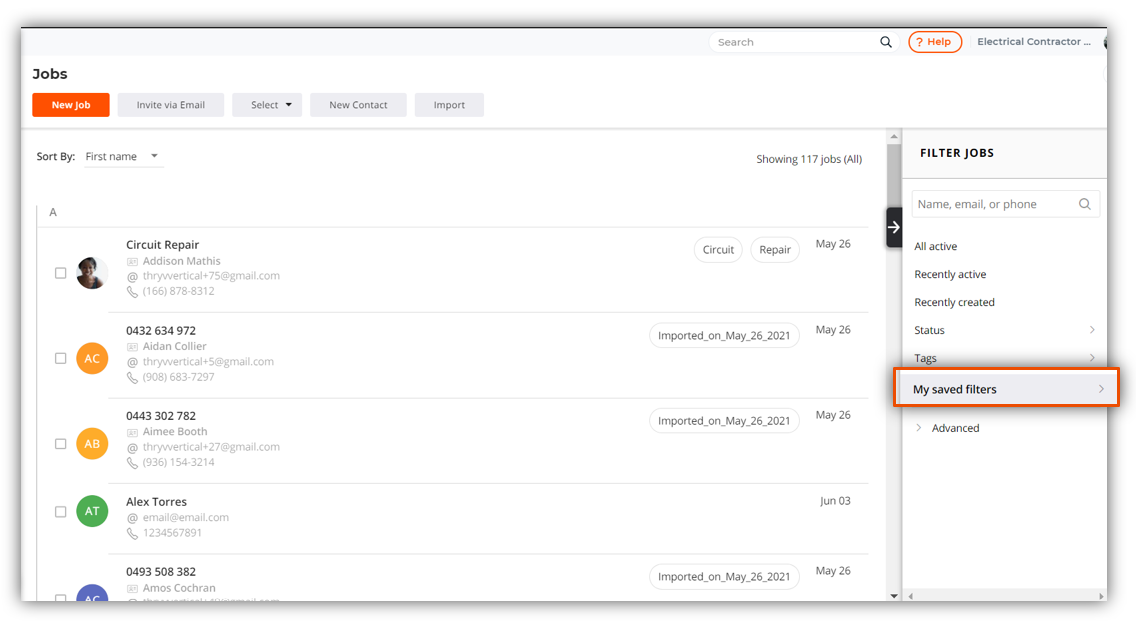 With all of the filter options available, managing your customer list has never been easier. Need help creating tags for your customers for even more options, Click Here for a guide to using tags!