Managing and optimizing your Google activities just got easier with the centralized Google Business Profile dashboard within your Business Center software! Set your business up for success by getting your business listing profile completed and published on Google!  An additional bonus of the Google Business Profile dashboard is that the information that is saved on the Google listing will automatically update across all of your listings.
Article Content:
Track Google Listing Performance
Upload Business Photos & Start Google Posts
Let's get started with your Google Business Profile (GBP) Listing!
Navigate to Online Presence, then Google Profile.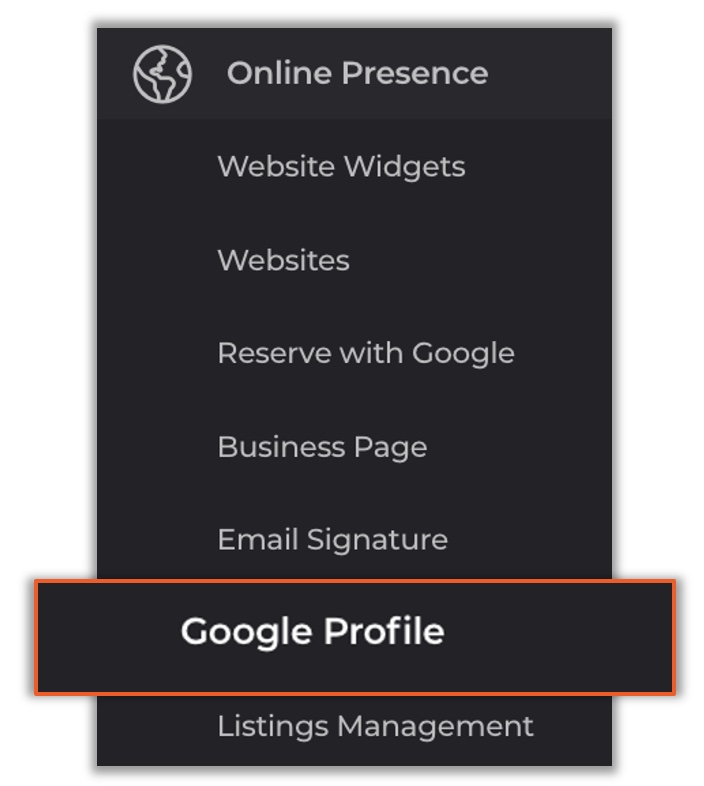 This will bring up your Google Business Profile, accessed through Business Center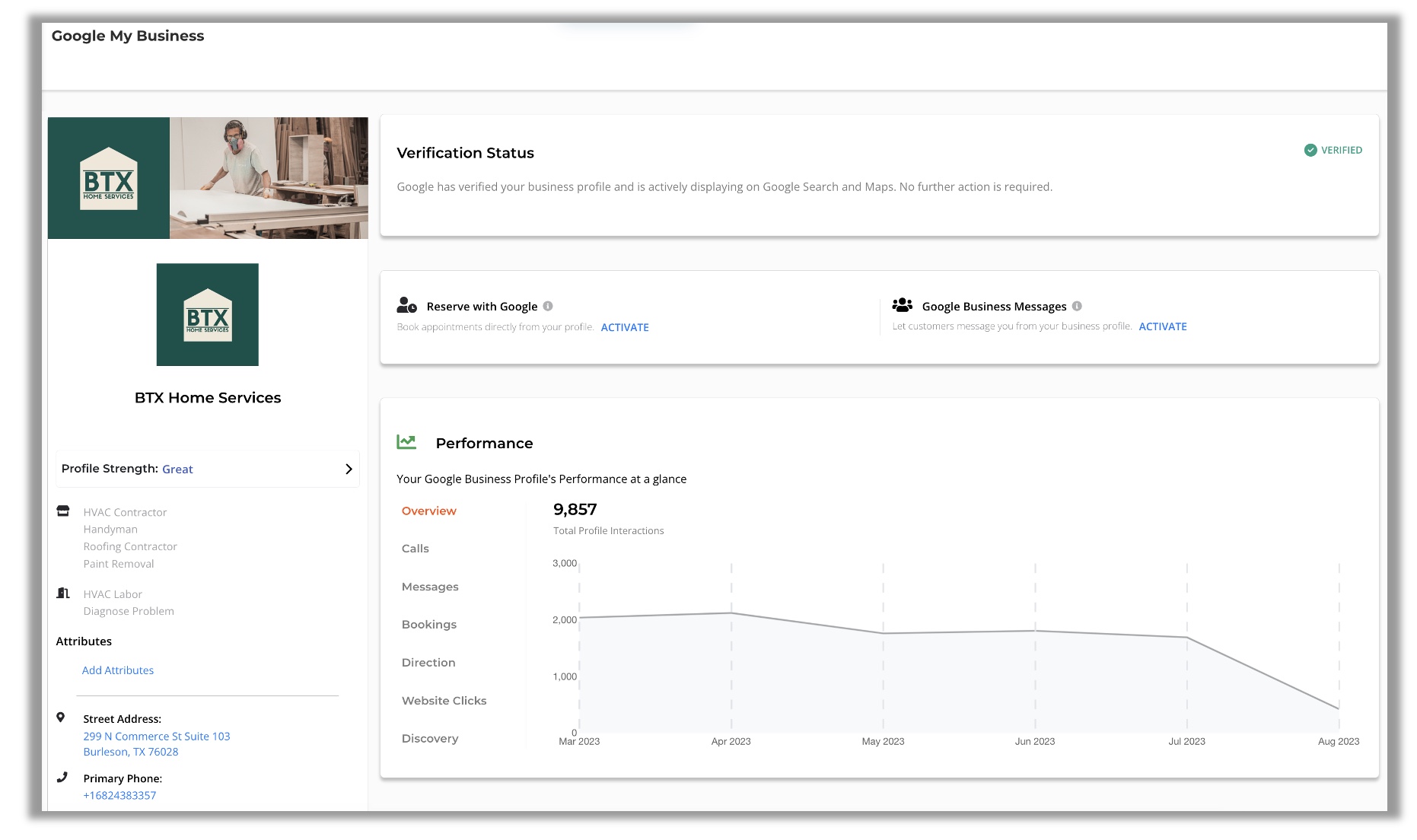 Set Business Profile
Are you ready to get your business set up on Google? From this page you will be able to complete your profile and fill out all the information needed for your Google listing. 
Once your profile is complete, you'll be able to 
View how your business appears on a Google Search & Google Maps
Activate Reserve with Google
Use Google's Business Messages

Once you turn on the message feature, customers will be able to see a 'message' button on your Google listing and be able to message you at any time. 
As you fill out your profile, pay attention to your Profile Strength Score. This is a composite approximation of how well your profile will perform on Google. To see what goes into calculating this score, click on the arrow to see each item on your profile that can be improved.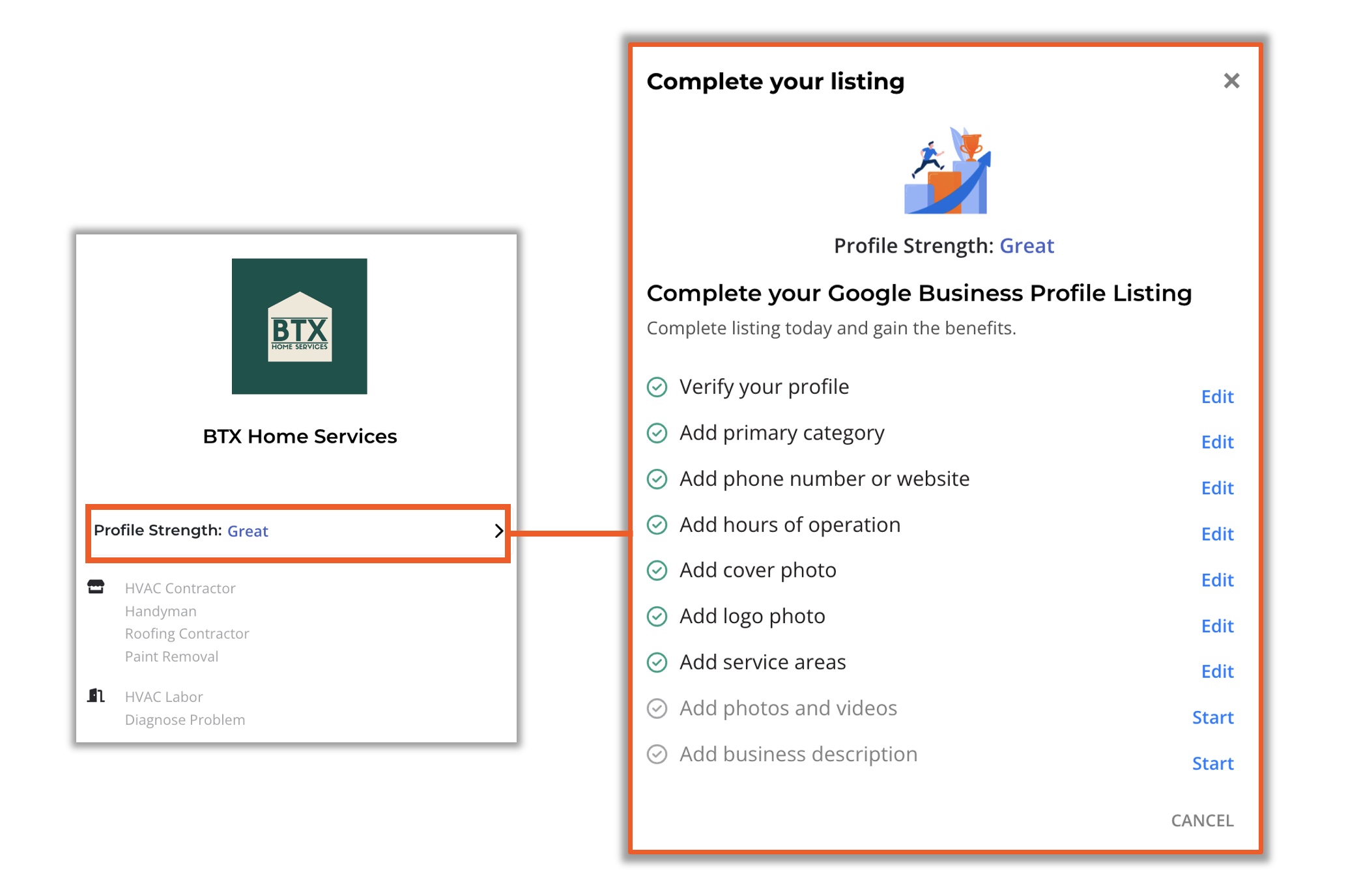 Edit Your Business Information
On the left-hand menu, you can set your business information.
Add or edit your Google Listing Cover photo

The cover photo is the first image a potential customer views when they land on your listing, and it's important to represent your business professionally. Here are some guidelines to assist you.

Add or edit business logo

It's important to add a logo to your listing, as it's a big part of your brand's identity, and keeping your brand consistent across the internet helps consumers recognize your company. Here are some guidelines to assist you.

Add or edit business description

Add a relevant and meaningful description to your listing. Tell customers about who you are, and the products and services you offer. Google sets a limit of 750 characters but will only display the first 250 characters.

Add or edit business categories

A category describes what your business is, not what it sells. You can select up to 10 categories. We recommend never using more than 5, as that may dilute the relevance of your listing.

Add or edit business services

Add services you offer and get discovered by customers.

Set business attributes

Let customers know more about your business by showing attributes on your Business Profile. These may appear publicly on Search, Maps, and other Google services.

Confirm and edit business contact info

i.e. street address, phone number, website, appointment link, etc. 

Add or edit services areas

You can add up to 20 locations when defining your service area. You can set your service area based on the city, county, state, zip code, and country. If you serve an entire county, just enter the county name instead of trying to list out all of the zip codes.

Edit and confirm business hours
Add special hours

Enter hours for days when this business has an irregular schedule, i.e.

holidays or pre-planned days that the business will be closed. 
Track Google Listing Performance
Get a glance of how well your profile has been performing in several key areas. Use the left-hand navigation to select between
Total interactions with your profile
Total number of click to calls
Messages sent through Google's Business Messages (Click Here for a guide to connect those with your Business Center inbox)
Bookings through Reserve With Google (Click Here for a guide to connecting these appointments to your Business Center calendar)
Total number of directions request from listing
Total number of clicks to view your website
Analytics on how users found your profile, both in terms of what kind of device they are using and what their search term was. 

Track Google Review Ratings
Stay up to date with our most recent reviews from your clients! Track your google rating and the number of reviews left by your clients. Select respond to reviews to be taken to the reputation tab. Use the share link to invite your clients to leave you a review on Google. Share a short link to invite customers to review you when characters are limited. Turn on an automated campaign to help drive more reviews for your listings. 

Upload Business Photos & Start Google Posts
Media
If you really want to compete with other businesses, it is essential to add high-quality, engaging photos and videos to your listing. Make sure you add clear images of the outside and inside of your building, your products and services, your employees, and your team at work. According to an internet study measuring over 45,000 Google Business locations in 36 industries, the results were conclusive that adding images to your listing drastically improves performance.
Posts
Use posts to share news, upcoming events, special offers, and new products and services.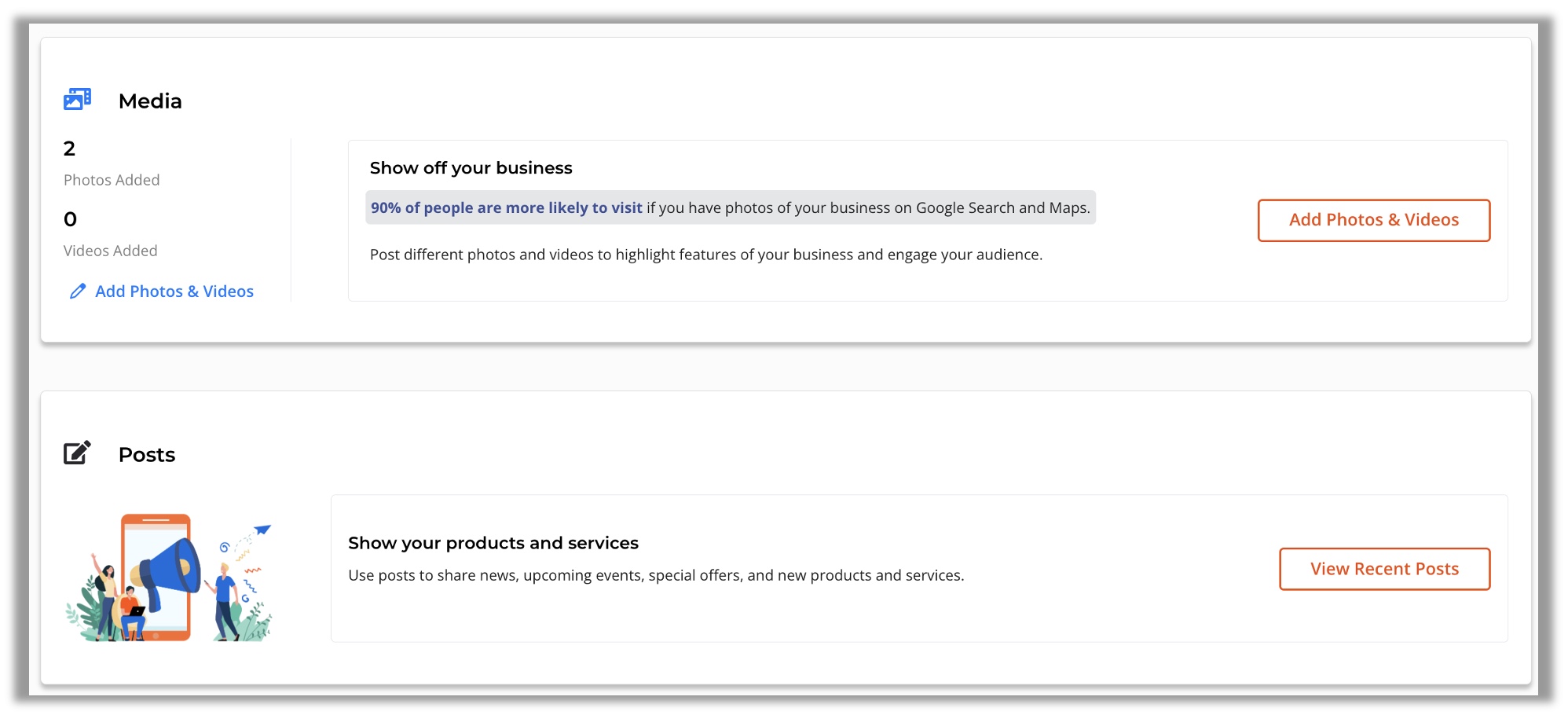 Click here to learn more about Optimizing your Google Business Profile with Thryv!