This article is for users that do not have a Thryv account. If you have a Thryv account, go here.
ThryvPay Mobile App Guides:
ThryvPay Application Guide
Article Content:
Let's activate your ThryvPay Account starting with your business information
Business Information
Click the Account Setup banner or the continue button
Start filling out your Business details by clicking Start
Select your business type; Sole Propriator, LLC, Partnership, Corp, Non Profit or Government
Now let's search for your business using Google search…
Start typing in your business name or phone number
Google will display all results related to that entry
Select your correct location
If you can't find your business on Google, you may enter the information manually by clicking the Can't find link on the bottom of the screen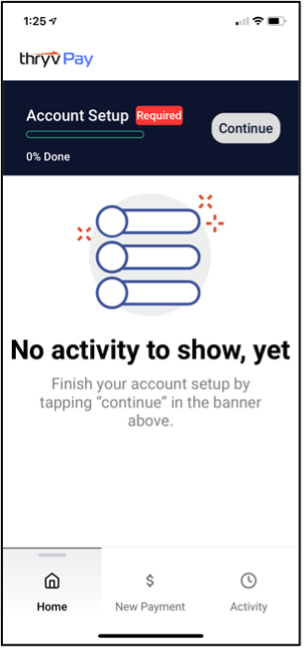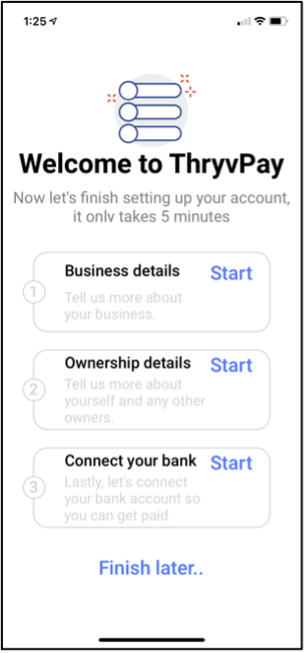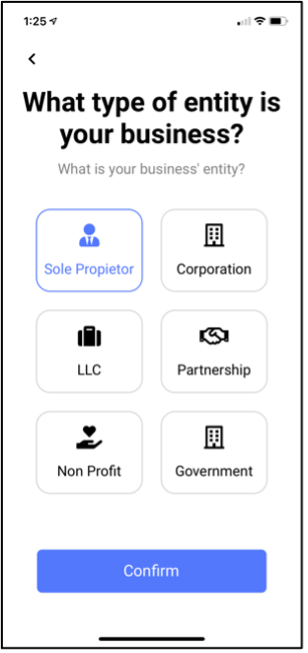 Once you have selected your business, verify that all your information is correct
Click confirm & continue
Complete the additional questions about your business
Enter your business' Legal or Tax Entity name. This is the name you file your business taxes under. If your business is a Sole Prop this is your first and last name.
Enter the year your business started or opened
Enter your business TaxID number. This is the number you use for filing taxes. If your business is a sole prop, this is your Social Security Number
Enter your average transaction amount, this is the average amount of all of your services/payments, if you occasionally have larger transactions, enter the larger amount.
Enter your Annual transaction volume assumption
Click continue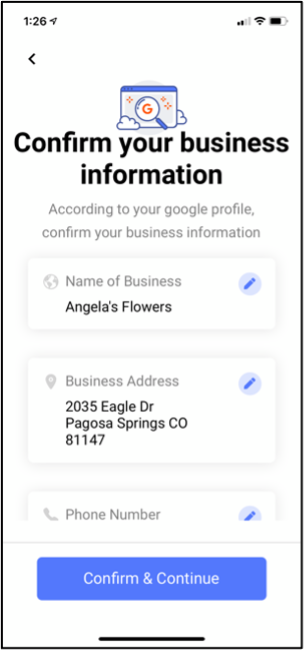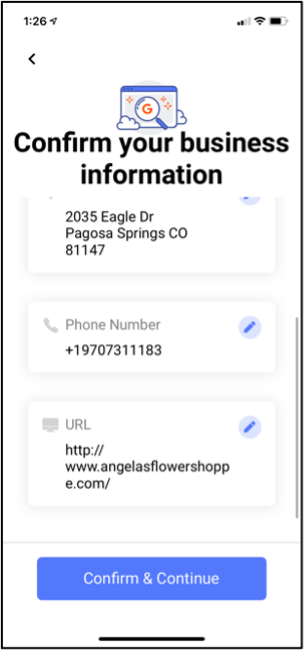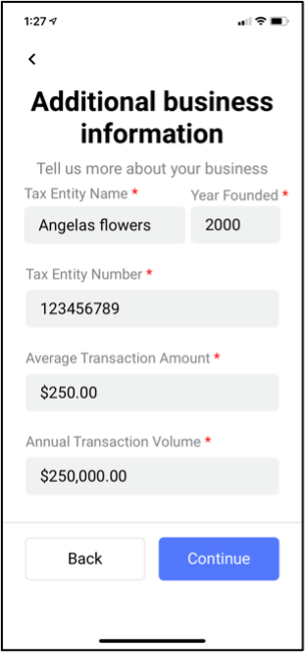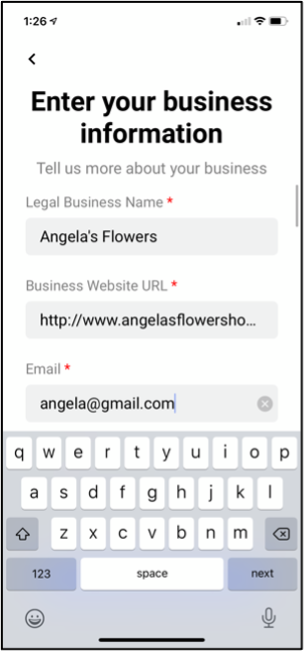 Choose your industry type – this is the industry associated to your banking category MCC code
If you don't see an exact match you can search additional industries by clicking the "can't find" link at the bottom of the screen
Start typing in your category name, if still not found you may be considered either professional or personal services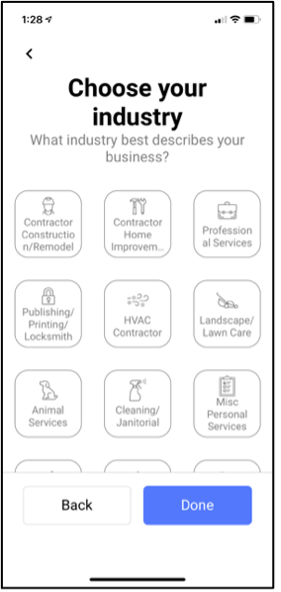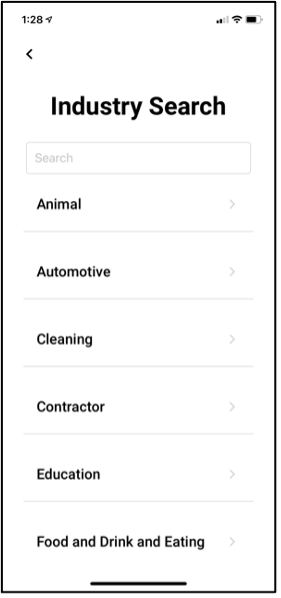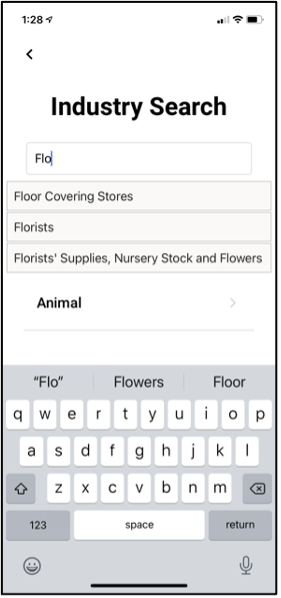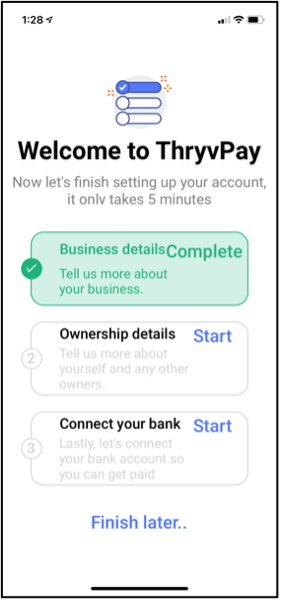 Awesome, your business details are now complete.
Owner Details
Now we need to gather all of your business owners details, for any owner that has 25% share or more of your company.
Click on the Ownership details section
You will need to complete all the questions to submit your application.
How many partners/owners own more than 25% of your business, click continue
Business title
Owner First and last name
Owner Social Security Number
Owner Date of Birth
Owner Driver's license # and State
Ownership percent for that owner being listed
Owner Email
Owner Phone number
Owner Address, city, state, and zip
Click done!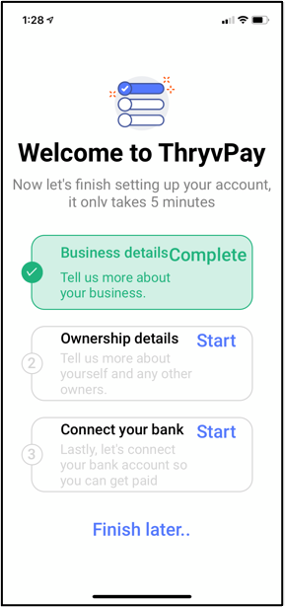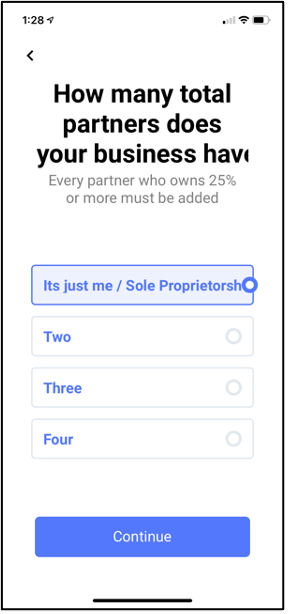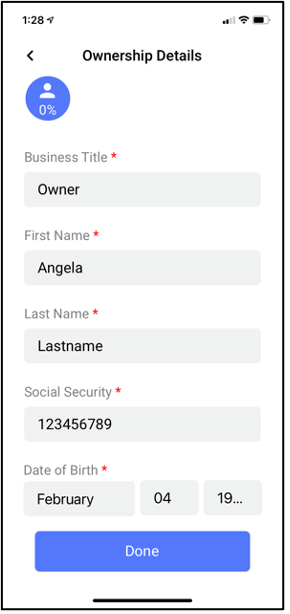 Connect Bank Account Via Plaid
Lastly, let's connect your bank account via Plaid. For more information on Plaid click HERE
Click Connect Bank and then click Continue
Search for your bank by name, and click on the correct one
Log in using your bank log in username and password
Select the business bank account you want to link to, click submit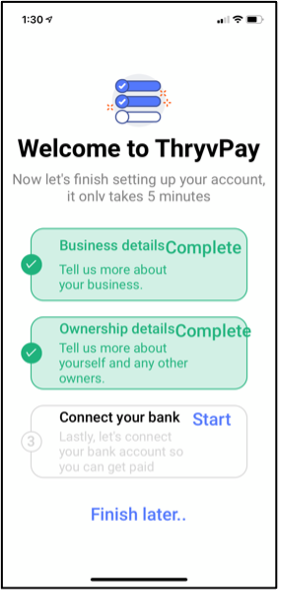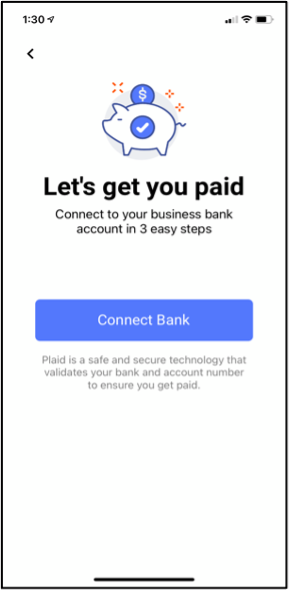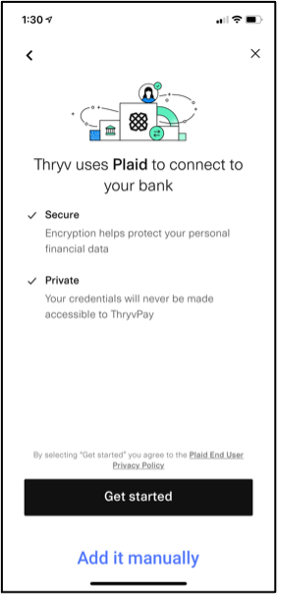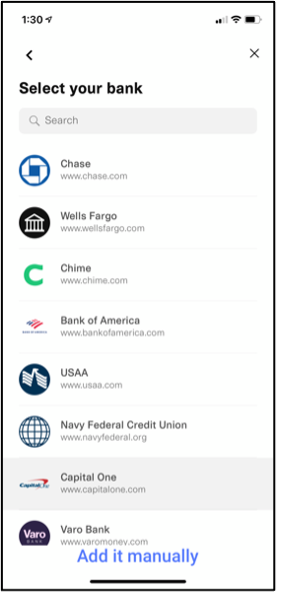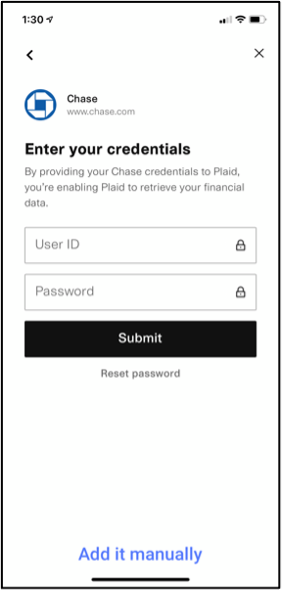 Finally, Complete the account set up and read and accept the ThryvPay Terms and Conditions
You will be required to upload an image of your Driver's License prior to completing your application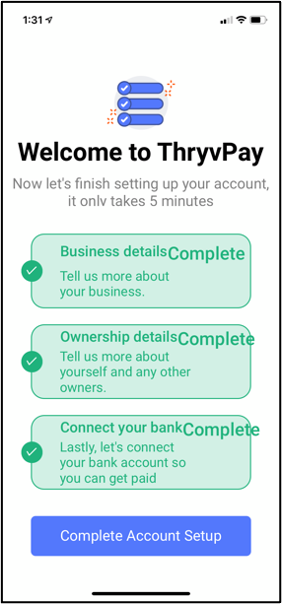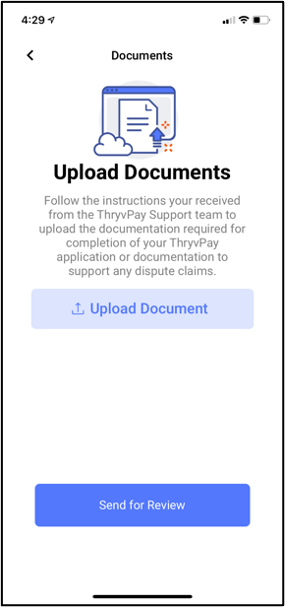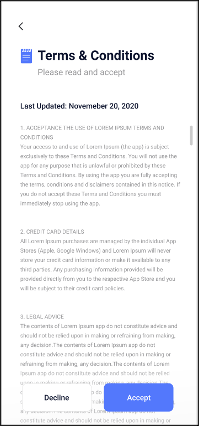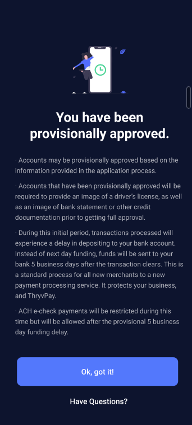 Congratulations! You are now provisionally approved.
Ready to create a payment request? Check out this article to find out how, create a payment request.
What does provisionally approved mean?
Accounts may be provisionally approved based on the information provided in the application process.
Accounts that have been provisionally approved will be required to provide an image of a driver's license, as well as an image of bank statement or other credit documentation prior to getting full approval.
During this initial period, transactions processed will experience a delay in depositing to your bank account. Instead of next day funding, funds will be sent to your bank 5 business days after the transaction clears. This is a standard process for all new merchants to a new payment processing service. It protects your business, and ThryvPay.
ACH e-check payments will be restricted during this time but will be allowed after the provisional 5 business day funding delay.
For more details on provisional approval click HERE
Learn How to Process a Payment by clicking HERE
Didn't get approved? Or have you been denied? You can contact ThryvPay@thryv.com to gather more detail regarding our decision. To see our restricted categories, click here.