To access your client list, select Clients from the left navigation pane. (Note: The term "Clients" will be replaced by a different CRM term if one is selected in Settings>Business Info)

Your Client List
Once you have added your clients in Thryv, they will present in an alphabetical list that you can search and also apply filters to find clients by activity, status, tags, and saved filters.
*Depending on the staff role, you can change the view of the client list. You can view all clients managed by all staff or only clients that you manage, by toggling 'view all' or 'only me' at the top right.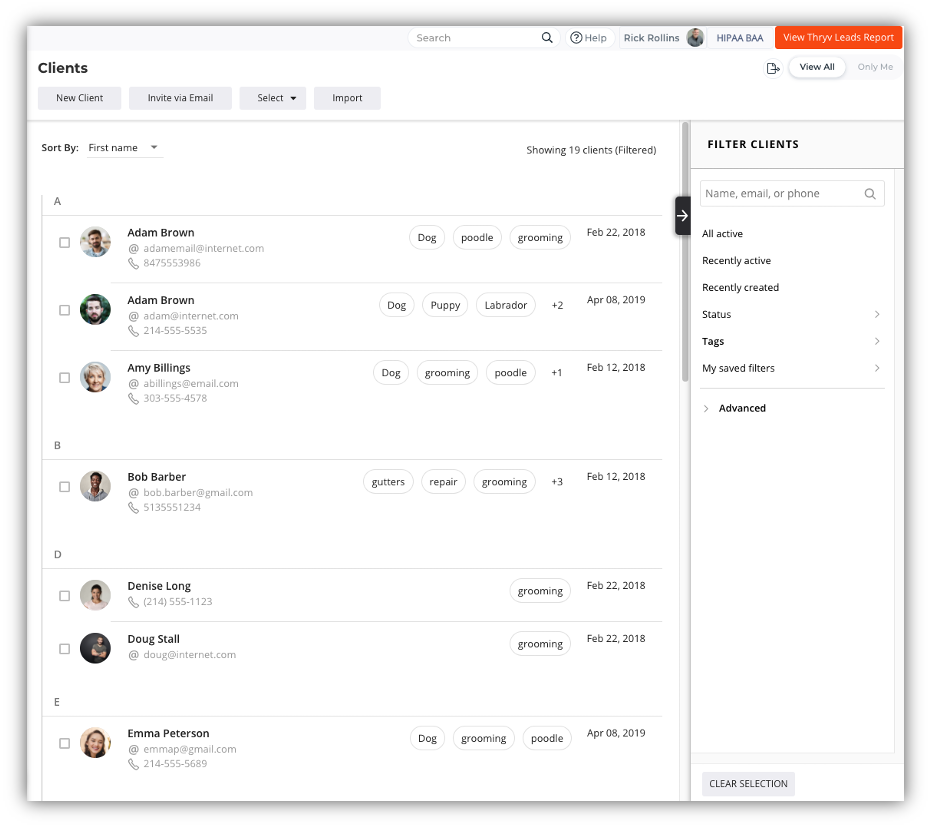 From the client list you can perform the following actions on 1 or more contacts:

New Client - Clients are automatically created on your account once they contact you on your website forms, or you can manually add clients yourself when they call or step into your office.
Invite Via Email - Choose one or multiple clients from your list and send them an invitation to connect with you through your Client Portal, or grab a link to your one of your Client Portal's actions and post them on your social media or email campaigns.
Select to perform bulk actions
Import clients into your account from your Google Contacts or from an existing CSV file.

Manage tags allows you to select multiple client contacts to add or remove a tag from those contacts.
Change status allows you to select multiple contacts at one time and change their status.
Delete allows you to permanently remove a contact from Thryv.
Merge allows you to merge two contacts together.
New allows you to select multiple contacts (up to 20) to send an email message or document.
Export your client data from your account into an Excel or CSV file. (Located at the top, right )