| | |
| --- | --- |
| | Estimated reading time: 1 minute, 33 seconds |
What is the purpose of a convenience fee?
Convenience fees are for brick & mortar merchants who choose to charge their customer's a fee for the convenience to pay for goods and services with an alternate payment channel.
What is an alternative payment channel?
Alternative payment channels consist of mail, telephone, mobile, eCommerce/online, text, invoices, and estimates.
What payment methods are applicable for charging a convenience fee?
Credit-Cards, Debit-Cards, Prepaid-Cards are all applicable forms of payment methods.
Are there any restricted types of transactions that cannot have a convenience fee?
Yes, recurring transactions cannot have a convenience fee; nor can ACH transactions.
Are there any considerations a merchant needs to take into account?
Yes, before the completion of the transaction, the cardholder must be given the opportunity to cancel or have the ability to pay by other methods such as ACH, check, cash, etc.
Does a convenience fee have a limit on how much can be charged?
The fixed flat rate fee can be determined by the merchant. It must be a flat fee, and this fee applies to all credit card transactions online once it has been activated. Convenience fees can be enabled under ThryvPay settings.
How does a convenience fee payment appear to me and my customers?
Convenience fees and tips create a secondary payment transaction, one in addition to the original sale transaction. Not only will you see this reflected in ThryvPay Transactions but your customers will see two payments from you. One for your original sale transaction amount and another for the sum of the convenience fee and any tips.
EX: A customer wants to purchase a basketball for $100 and thanks to your great customer service, the customer is tipping you $10. In ThryvPay settings, you enabled convenience fees which charges a fee to customers $5 for online purchases. You initiate the payment over the phone resulting in two charges. The customer will see two charges, one for $100 for the basketball and another for $15 due to the Tip and Convenience fee. In ThryvPay Transactions, you will see two transactions as well, one for $100 and another for $15.
Can convenience fees be used with other payment gateways, i.e. Square, Stripe, or PayPal?
Convenience fees are only available with ThryvPay.
How does that look for your customers?
When your clients select to pay from an invoice or payment link they will be directed to a ThryvPay screen that will display the invoice total, along with the convenience fee.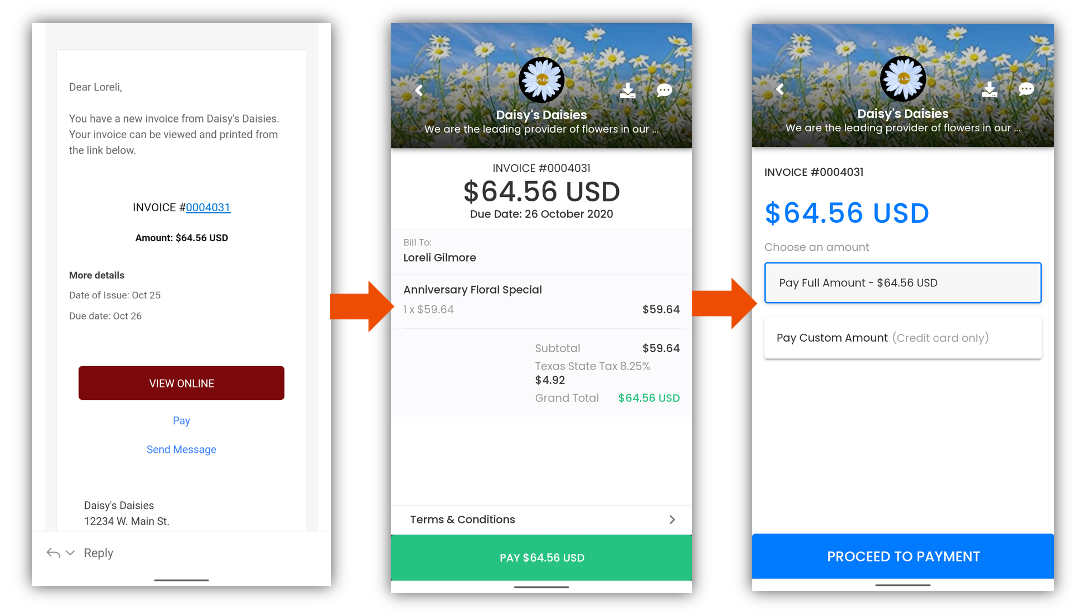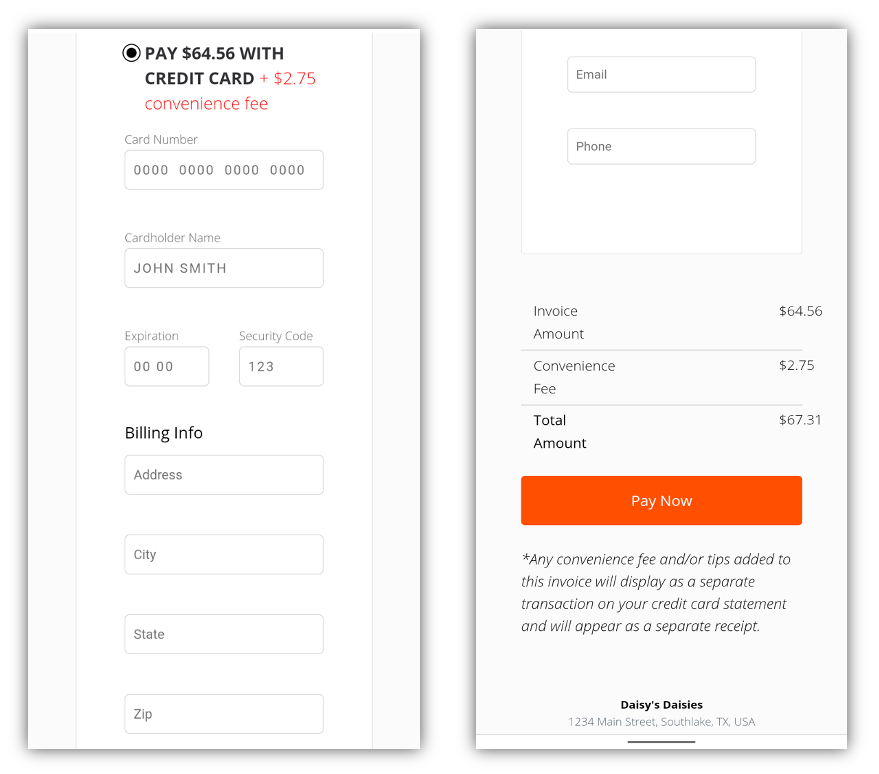 How do I add a convenience fee?
Navigate to ThryvPay Settings by selecting Settings > Payments
Select

Click here

to update your payment settings
Toggle Convenience Fee to On


Set convenience fee amount
*A Convenience fee is currently only offered by the ThryvPay payment gateway.
Click here to see the full ThryvPay Fee Schedule